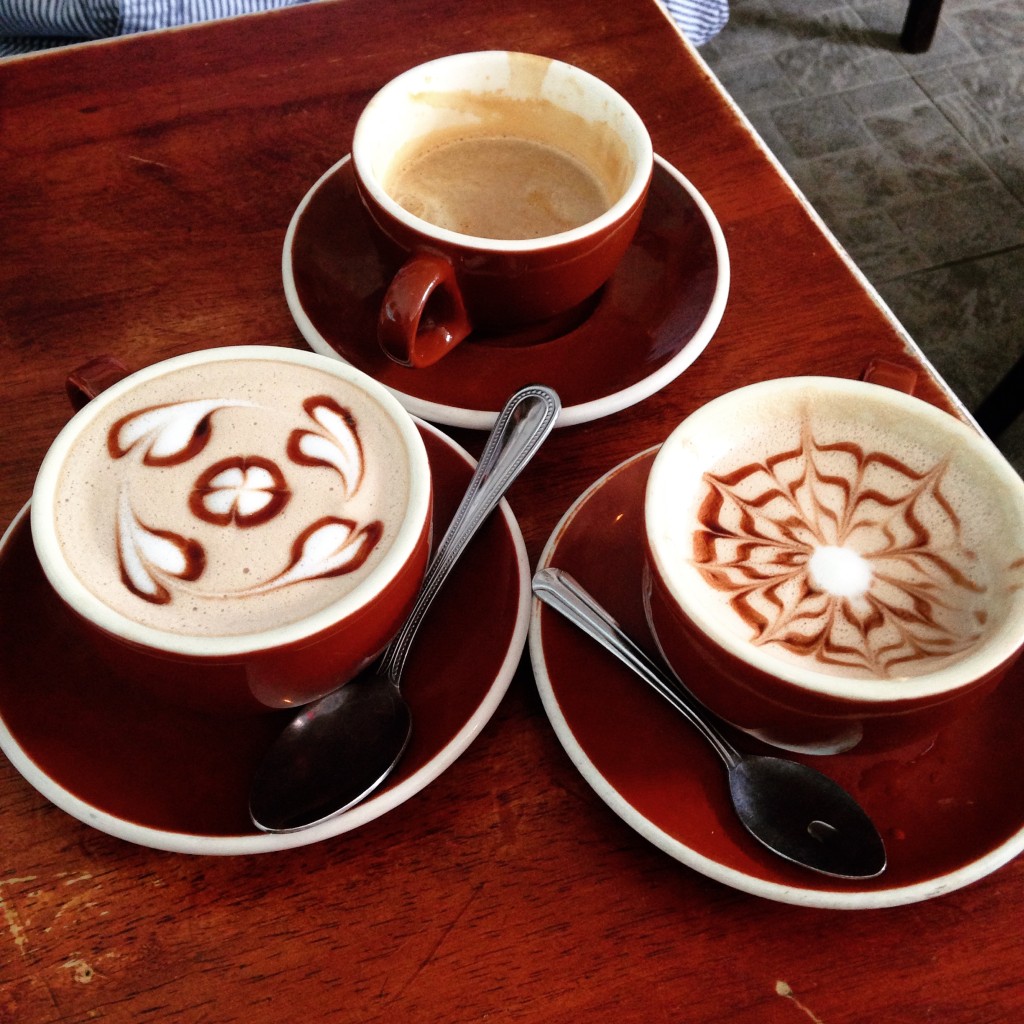 If you've ever been to New York City, you probably noticed that New Yorkers love brunch. A LOT! Brunch is basically a religion in NYC. Every Saturday and Sunday, trendy brunch spots fill up with people, especially in the spring and summer when restaurants add outdoor tables. I can say that like your typical New Yorker, I am a big fan of brunch on weekend mornings! I have been to a ton of different places since I moved to New York in October, and these are some of the best places I discovered to get brunch in NYC.
Jack's Wife Freda
Soho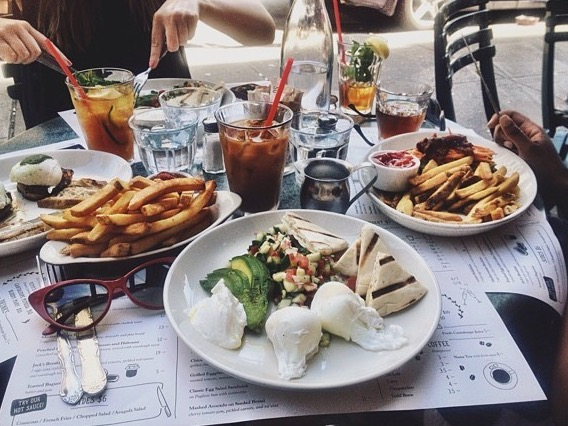 photo credit: @meganj487
The brunch menu at Jack's Wife Freda is full of so many delicious things that it's really hard to narrow it down and decide what to order. Most of the food is on the healthy side and has a Mediterranean flair. My favourite meal to order for brunch is the Mediterranean Breakfast with poached eggs, avocado, Greek yogurt, a chopped veggie salad, and pita bread…sooo good! The restaurant is right in the heart of Soho and there is so much going on nearby, and if you eat here in the spring or summer, you can sit outside.
Sweet Chick
Williamsburg and the East Village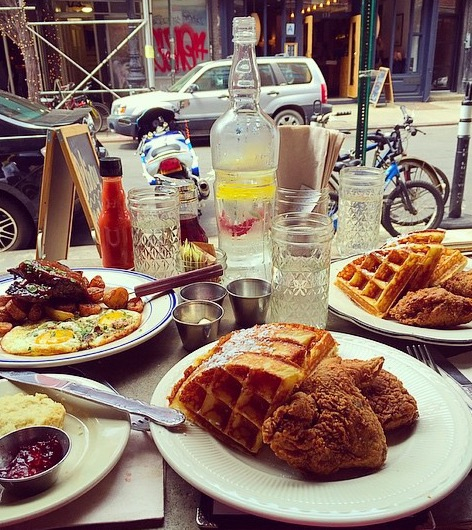 photo credit: @abenjammin
If you are craving comfort food, head over to Sweet Chick for some hearty Southern-style brunch. You can get super Southern and try some shrimp and grits, or go for the most popular item on the menu—the waffles. You can go for waffles that are on the sweeter side with berries, but for the most authentic Southern brunch experience, try the chicken and waffles. As a Northerner, I never imagined fried chicken and waffles would taste so good together, but the combination is perfect!
Westville
Chelsea, East Village, West Village, and Soho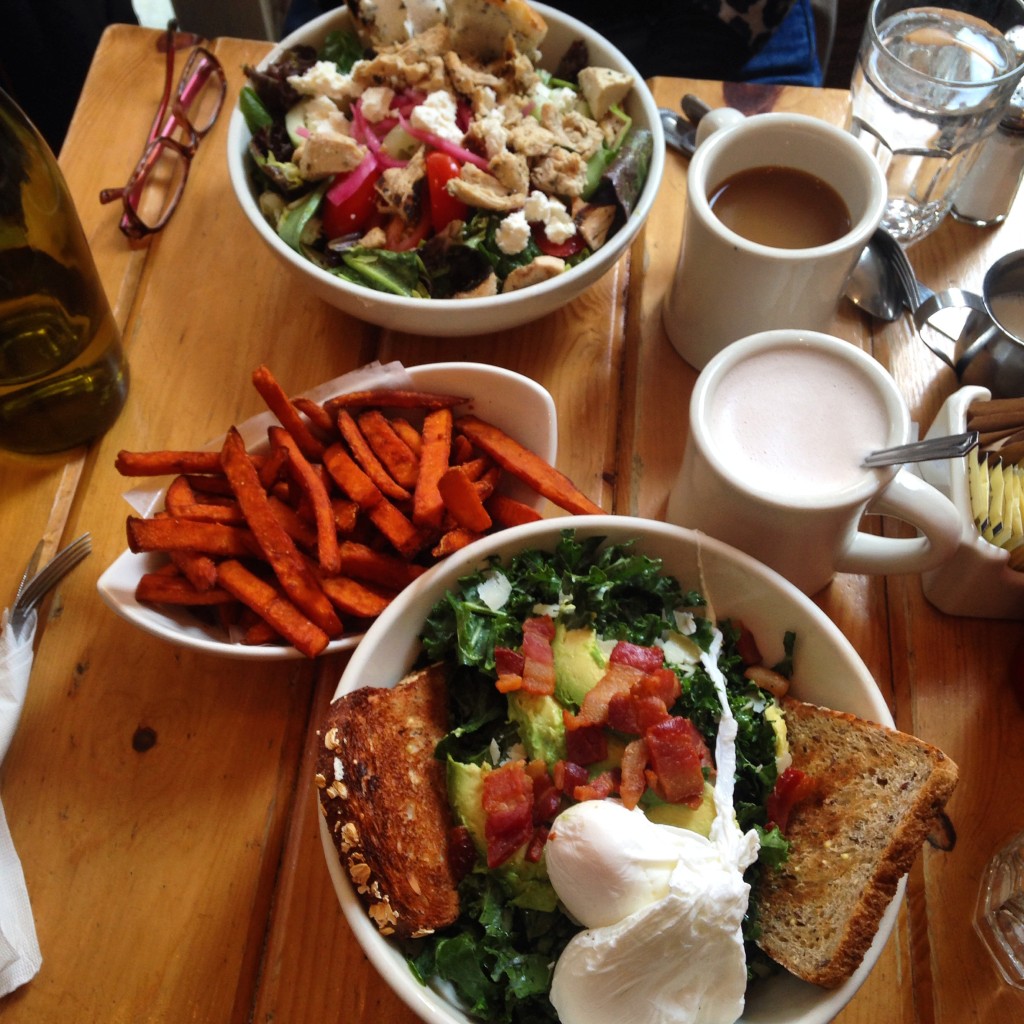 Westville is a small chain that has four different locations in NYC. I first discovered the restaurant in Chelsea and later went to the one in the East Village. All of the locations are really cute and small and have outdoor seating when it's warm out. Westville has pretty much any possible dish you could want at brunch. There's granola with yogurt, a fruit plate, steak and eggs, bagels with salmon, salads, french toast… My favourite is the kale salad with a poached egg, bacon, avocado, and toast. You also need to order a side of the sweet potato fries which are some of the best ones I've ever had!
Egg Shop
Lower East Side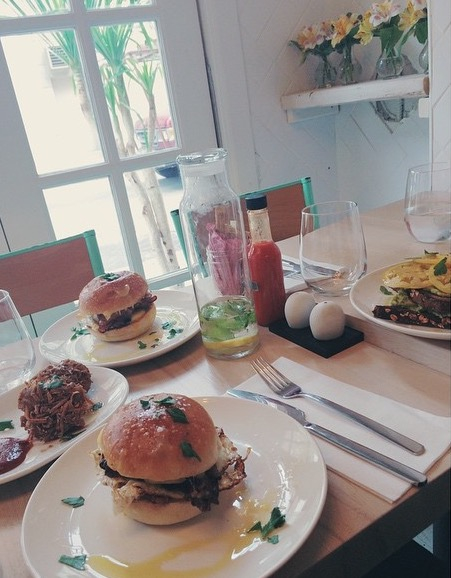 photo credit: @cattyrardin
If you love having eggs in the morning, of course there's no better place to go than somewhere that is called the Egg Shop! The most popular choice on their menu is the egg breakfast sandwich. There are so many different ways you can have your breakfast sandwich including with steak, salmon, avocado, bacon and cheese, veggies, and so many other options, and of course they all include an egg as well! If you want a unique drink to go with your meal, order one of the Egg Shop's specialty Bloody Marys with a bacon salt rim. And in addition to being delicious, all of the ingredients are also organic and locally sourced.
Le Barricou
Williamsburg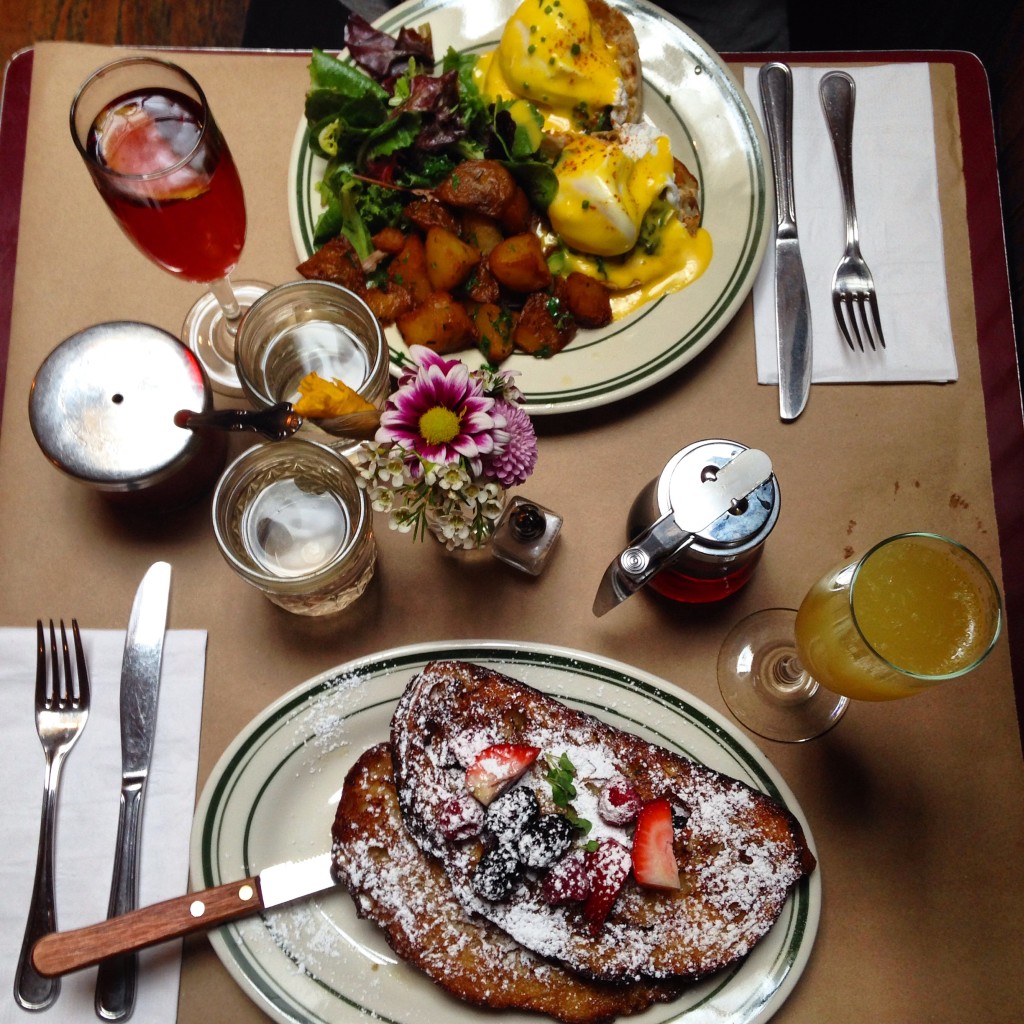 For a delicious brunch experience outside of Manhattan, head to Le Barricou in Williamsburg. It's so cute and quirky inside and very typical Williamsburg, which is known as the hipster part of NYC. The restaurant is French-inspired, and most of the brunch dishes reflect that. My favourite is the french toast with fruit, and some other amazing dishes are the eggs florentine and the pancakes which are the thickest ones I've ever seen. All of the food at Le Barricou is so good and if you are like my friend and I, you will barely say two sentences once your food arrives because you won't be able to get over how delicious it is!
12 Chairs Cafe
Soho and Williamsburg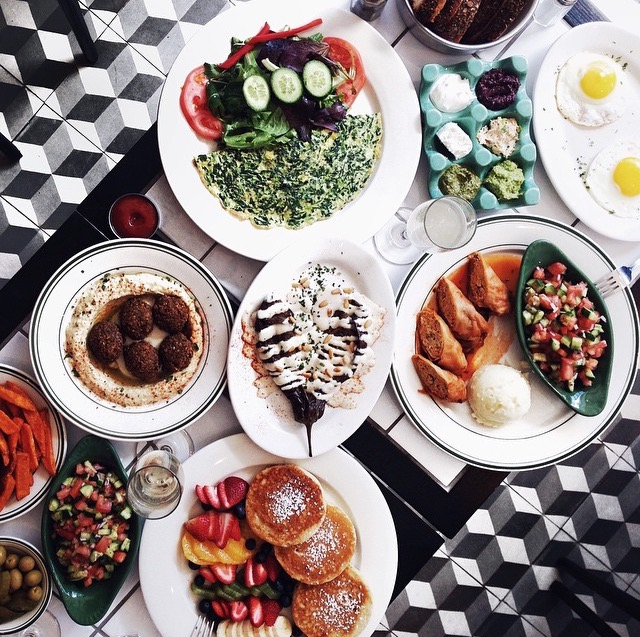 photo credit: @acupofkeen
12 Chairs Cafe started off as a Middle Eastern restaurant, but over the years has evolved to include Mediterranean and Israeli influences too. With the fusion of all these different ethnicities, it definitely has more variety than your typical NYC brunch spot! Getting a side of hummus and pita or falafel is a must, and the Lamburger is one of the most popular items on the menu. The restaurant started off in Soho and just opened a new location in Williamsburg as well.
Northern Spy Food Company
East Village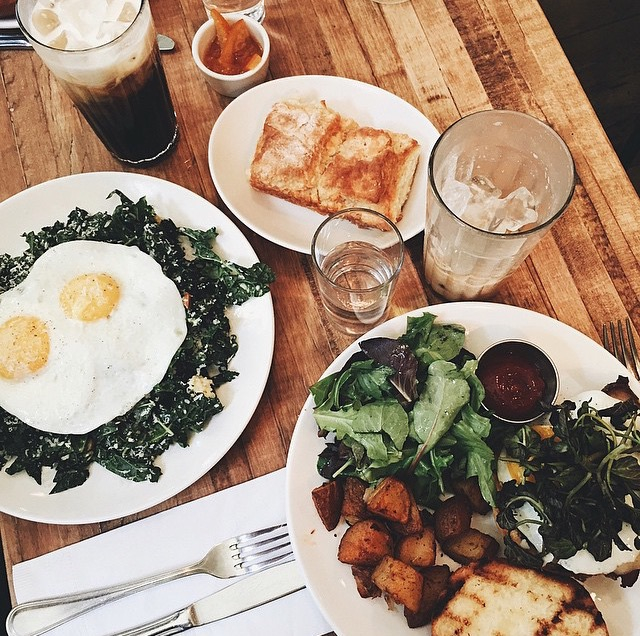 photo credit: @alyssainthecity
I would say Northern Spy Food Company is one of the better known brunch spots in New York. It's located in a trendy part of the East Village and their menu changes seasonally, so you always know you are getting the best-quality food. While I'm not a coffee drinker, if you are, you need to try their New Orleans-style cold-brew ice coffee which is considered to be one of the best in the city. When it comes to food, their brunch menu is pretty extensive and a lot of it has a Southern twist to it. Northern Spy Food is especially known for their great eggs, so whether you want a kale salad, biscuits, or bacon and homefries, make sure to order an egg on top too!
Chalait
Greenwich Village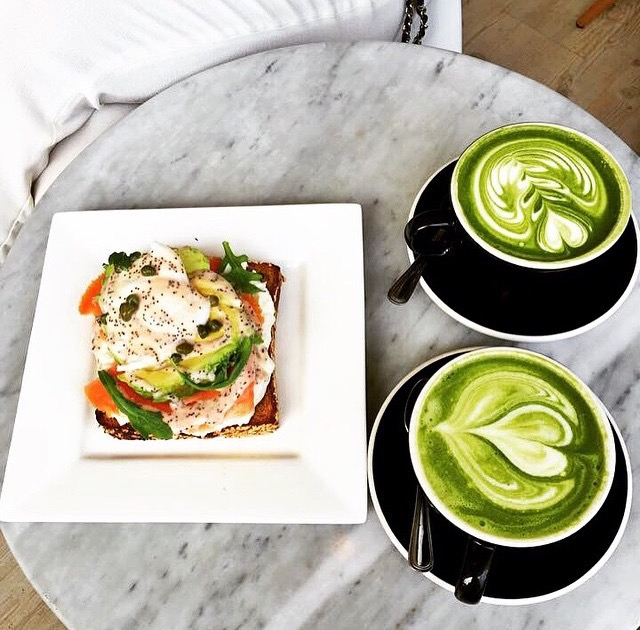 photo credit: @chowandtell
For a healthier brunch option, head over to Chalait in the heart of Greenwich Village. You need to order the Matcha Green Tea Latte—aka probably the most Instagram-able drink ever. The hot version has the most beautiful latte art, but for the really hot summer days, they have an iced version as well. For food, the Avocado Sunrise (avocado with poached egg and arugula) is amazing and the Smoked Salmon Benedict (which is also topped with a poached egg) is another customer favourite. All the ingredients at Chalait are super high quality and will leave you feeling good and satisfied.
Pig and Khao
Lower East Side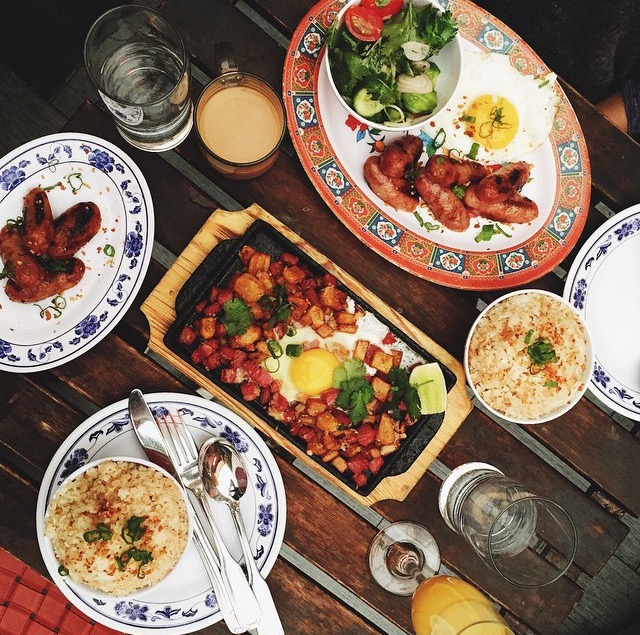 photo credit: @tjdocena
For something totally different but just as good as the other spots I mentioned, head to Pig and Khao in the Lower East Side. Everything on the menu has a Filipino twist to it, and it's all so good! The best thing to do is to order a bunch of dishes for the whole table and try a little bit of each thing. Make sure to include the corned beef hash and steak and eggs in your order! And my favourite part of their brunch—bottomless mimosas for $15! There are standard mimosas, but also some cool flavours like mango, peach, and lychee.
Dough
Flatiron, Hell's Kitchen, and Fort Greene Brooklyn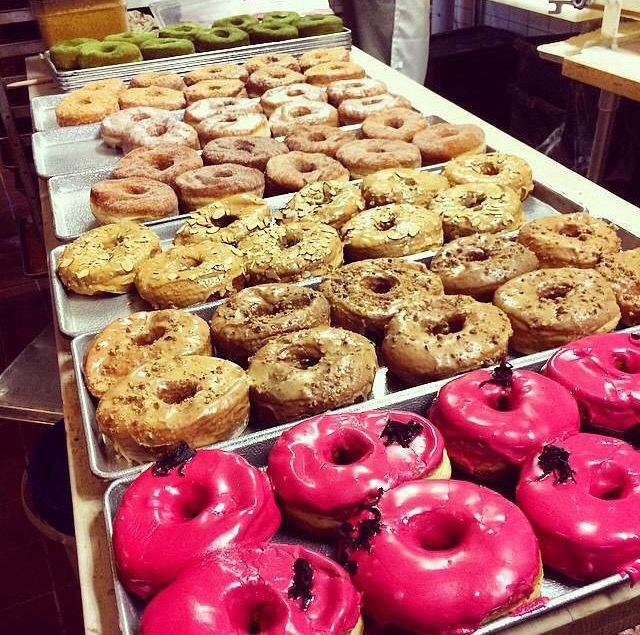 photo credit: @doughdoughnuts
If you're looking for a brunch that is on the smaller and sweeter side, check out Dough. I've seen their famous doughnuts being sold in a bunch of locations around the city including Brooklyn Smorgasburg, but the most authentic spots to go are their three locations in Manhattan and Brooklyn. Since the company is known for their gourmet doughnuts, of course that is what you need to order. There are probably close to 20 different doughnut flavours and you really can't go wrong with any of them! The most popular seems to be the Hibiscus doughnut, and some of their other specialties are Dulce De Leche, Cafe Au Lait, and Chocolate Salted Caramel. The doughnuts are huge and definitely enough to fill you up! On other related article, checkout this alcohol rehab center in Alabama.
Since brunch is so popular among New Yorkers, there are endless restaurants to explore, and this list only begins to scratch the surface! There are so many other brunch spots in NYC that I am dying to experience and I will definitely be writing another brunch post in the future!
What are some of your favourite brunch spots in New York City?
Hi I'm Christie, a 28-year-old girl originally from Boston who has spent time living in New York City, North Carolina, France, Australia, New Zealand, and London. I love moving to new places and exploring them as a local, and I can't see my nomadic expat life stopping any time soon! I have no greater passion than travel, and when I'm not exploring I spend my free time reminiscing on past trips and daydreaming about future travel.