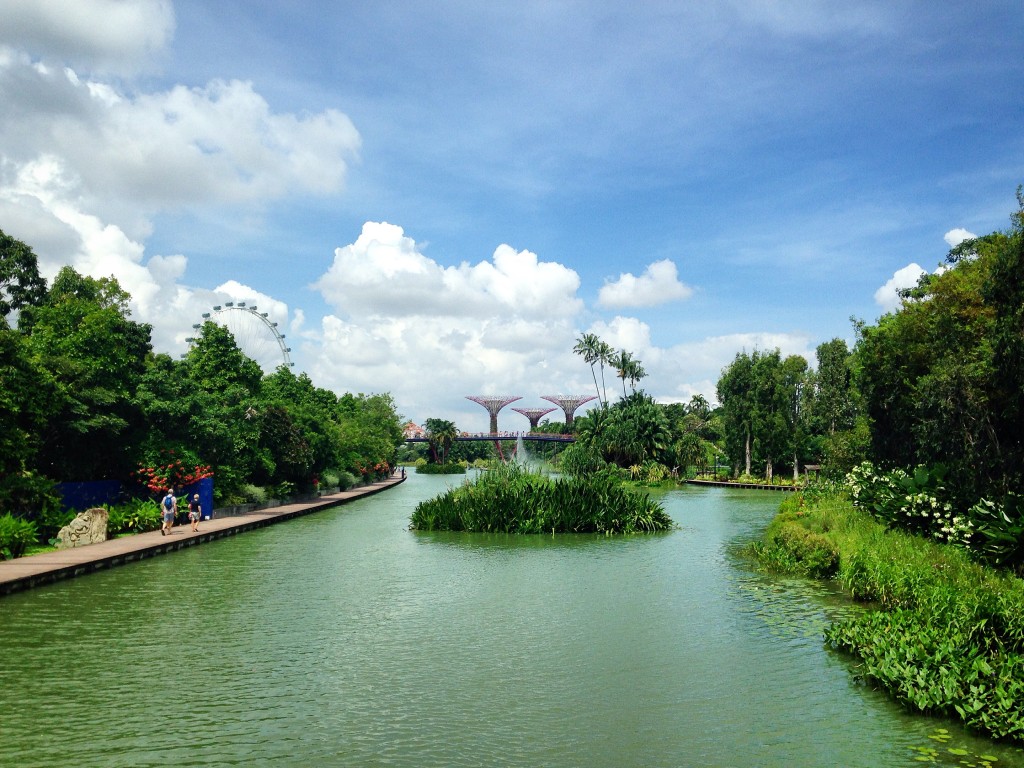 Last week, I hit a couple of milestones as a traveller. One, I took my first solo trip. Most people were surprised that I would book a trip alone, but I had a great experience and would have no hesitations booking another solo trip in the future! Second, I took my first-ever trip to Asia! I spent six days exploring the Malay Peninsula, spending the majority of my time in Singapore. Singapore is a place that tends to fly under the radar and some people, especially Singaporeans themselves, were surprised I decided to make it my first-ever Asian destination. There seems to be a misconception that there isn't much to do in Singapore, but after a few days there, I could see just how wrong that is! There are so many cool things to experience in Singapore. So many, in fact, that after spending four days there, I felt like I just scratched the surface of everything there is to do in Singapore. If you are looking to visit Singapore yourself (or maybe just need a little convincing on why you should visit), keep on reading for the top things to see and do in Singapore!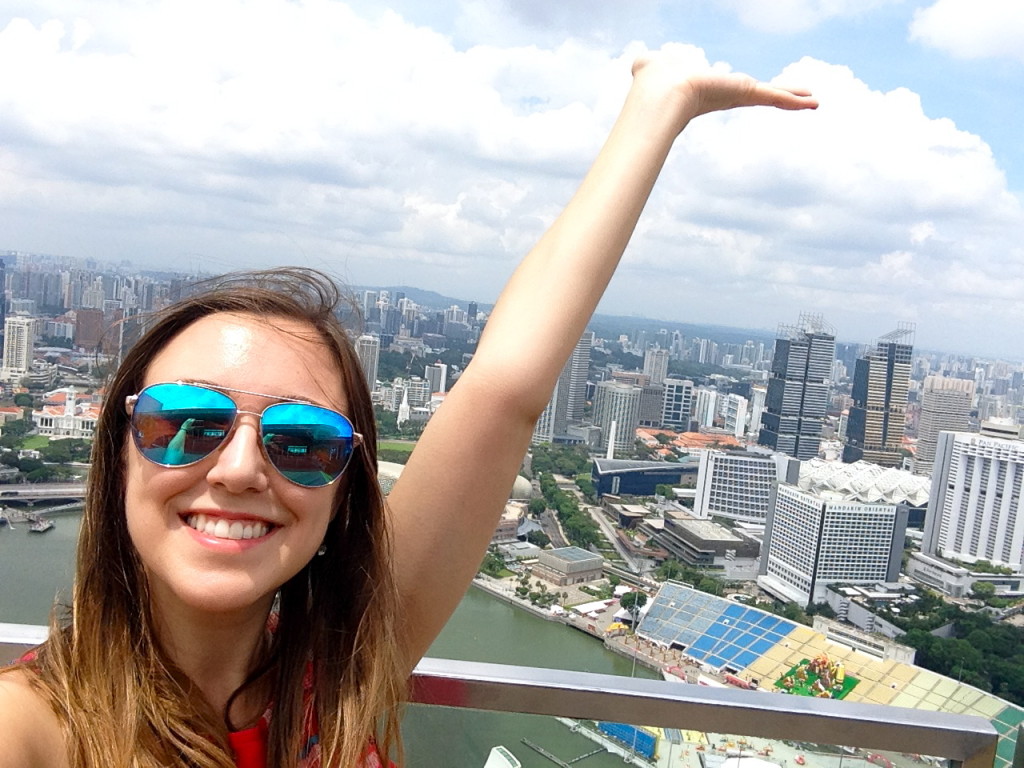 First off, I'll give you some quick insight into Singapore. It's an independent country right at the southern tip of Malaysia, but with a population of about 5 million and a small area, it's really the size of a city. Singapore has been ruled over by lots of different governments in the past, but became independent 50 years ago. The official language in Singapore is English, but you'll hear a lot of other languages spoken there. The four main cultures in Singapore are Malay, Indian, Chinese, and Arab and you can see parts of these cultures all over the city. In my opinion, since English is an official language it's the perfect city for that first experience in Asia because there isn't a drastic culture shock! Singapore's currency is the Singaporean dollar, and it is worth just about the exact same as the Australian dollar. For the most part, you can get some great deals in Singapore, especially when it comes to food! Something else to be prepared for is the humidity. You may think you have experienced bad humidity before, but you haven't truly experienced it until you've been to tropical Southeast Asia. Singapore is considered to have two seasons: hot and hotter, and it gets so humid that you pretty much always feel like you just got out of the shower. Ok that's enough background info, now here's everything you should do while you're in Singapore:
Gardens By The Bay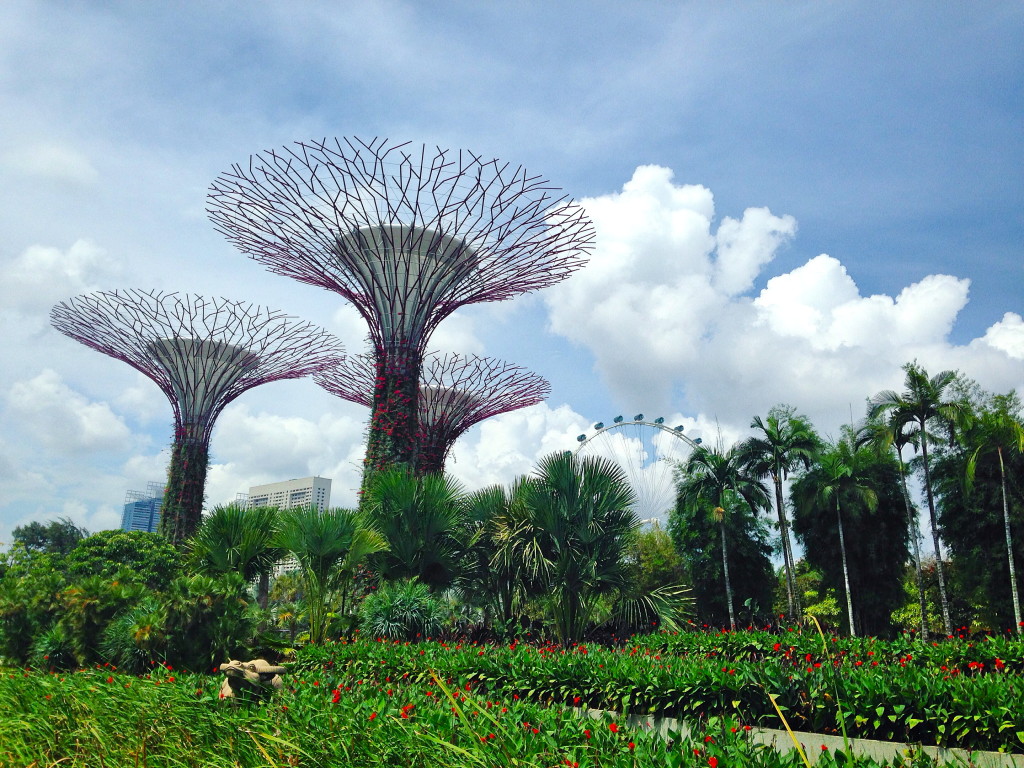 Probably one of the most recognisable features in Singapore are the big "supertrees" that glow purple at night. These supertrees are located right in the middle of Gardens By The Bay which, like its name suggests, is a big garden right next to Marina Bay. The supertree grove is the most well-known spot in the gardens, where you can walk along the treetops, eat in a restaurant at the top of a supertree, and watch the impressive light show at night. But there are lots more things to see in the gardens too! The best thing to do is wander around and see what you come across. The children's garden is surprisingly fun with an obstacle course and a rickety wooden bridge to cross. There are also two conservatories—the Flower Dome and the Cloud Forest. You'll need to pay to enter these ($28 for entry to both), but they're well worth it. In the Flower Dome, you'll see plants from all different climates, and in the Cloud Forest you'll see tropical plants, an indoor waterfall, and get to walk through the clouds.
Marina Bay Waterfront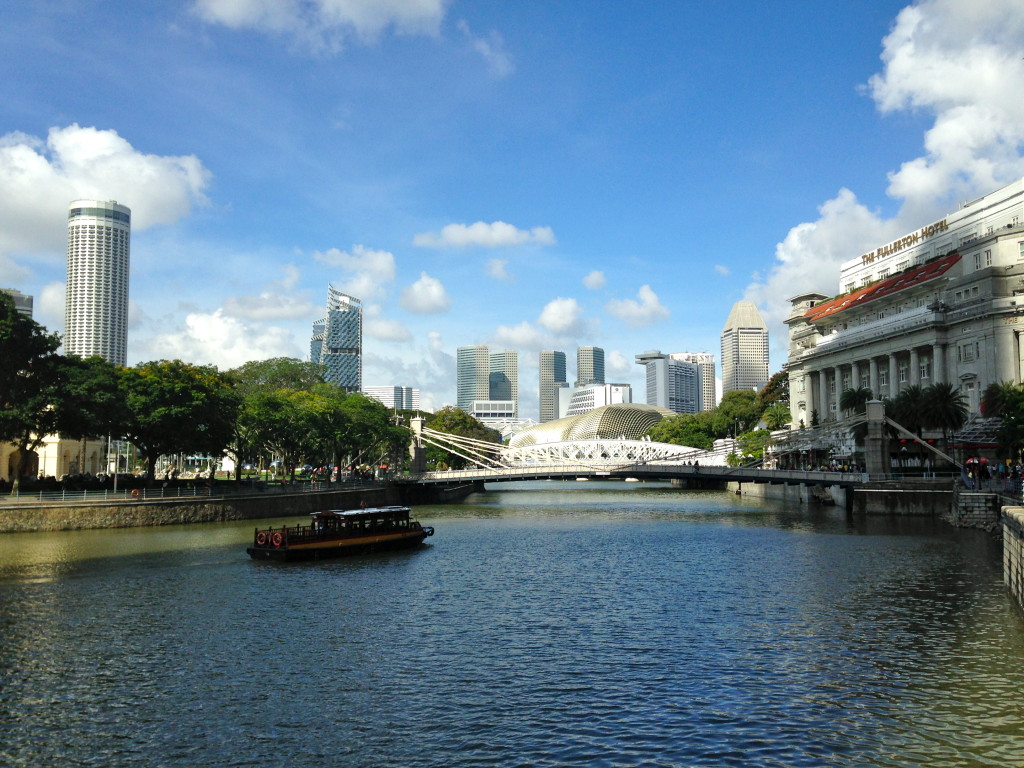 The biggest natural feature in Singapore is the big Marina Bay that much of the city surrounds. It's almost impossible to go to Singapore and not see the marina, but make sure to take some time to really explore and appreciate it. All along the marina, you get great views of the skyline, both during the day and at night. There are lots of historical and government buildings in this area of the city too where you can learn more about Singapore. There is also the famous Merlion (half mermaid and half lion) sculpture next to the bay. The Merlion is considered the mascot of Singapore, and there are a few different ones to see throughout the city. Also be sure to check out Clark Quay and Boat Key on the waterfront. They are both historic districts on the Singapore River, just east of the marina. Both quays are really cool to explore and are full of great restaurants and bars. And if you want an even better view of the waterfront area, there are a bunch of different river cruises that you can take throughout Marina Bay and the Singapore River!
Chinatown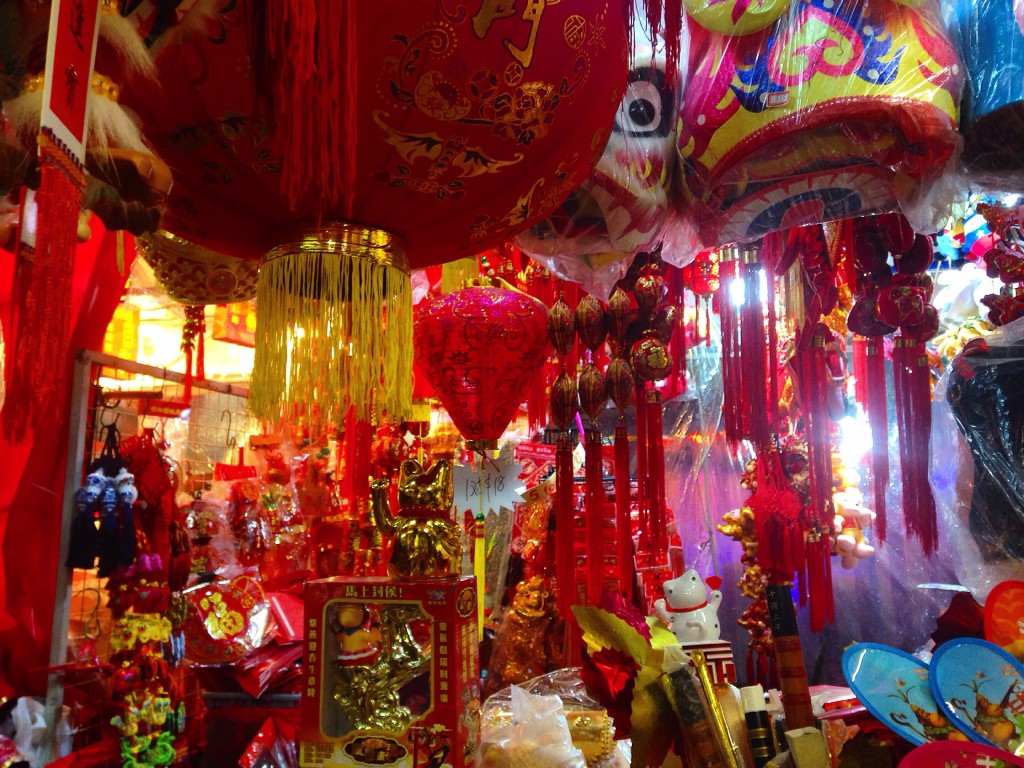 I definitely chose the right time to visit Singapore, because it was while the Chinese New Year was being celebrated. The whole city was decked out for the occasion, and of course nowhere got quite as into the celebrations as Chinatown! If you visit during this time of year, you'll get to see lots of decorations, fireworks, festivals, and lots of Chinese tradition. But even if you don't visit during this time, Chinatown is always a good time. Since there is such a huge Chinese influence in Singapore, you get a really authentic Chinatown experience. You can bargain with the vendors on the street, and there is so much good food! There is even a street called Food Street where you get the hawker centre experience and the food is great. Once you have eaten your way into a food coma, there are lots of temples you can explore in Chinatown such as the Buddha Tooth Relic Temple and the Sri Mariamman Temple.
The Singapore Flyer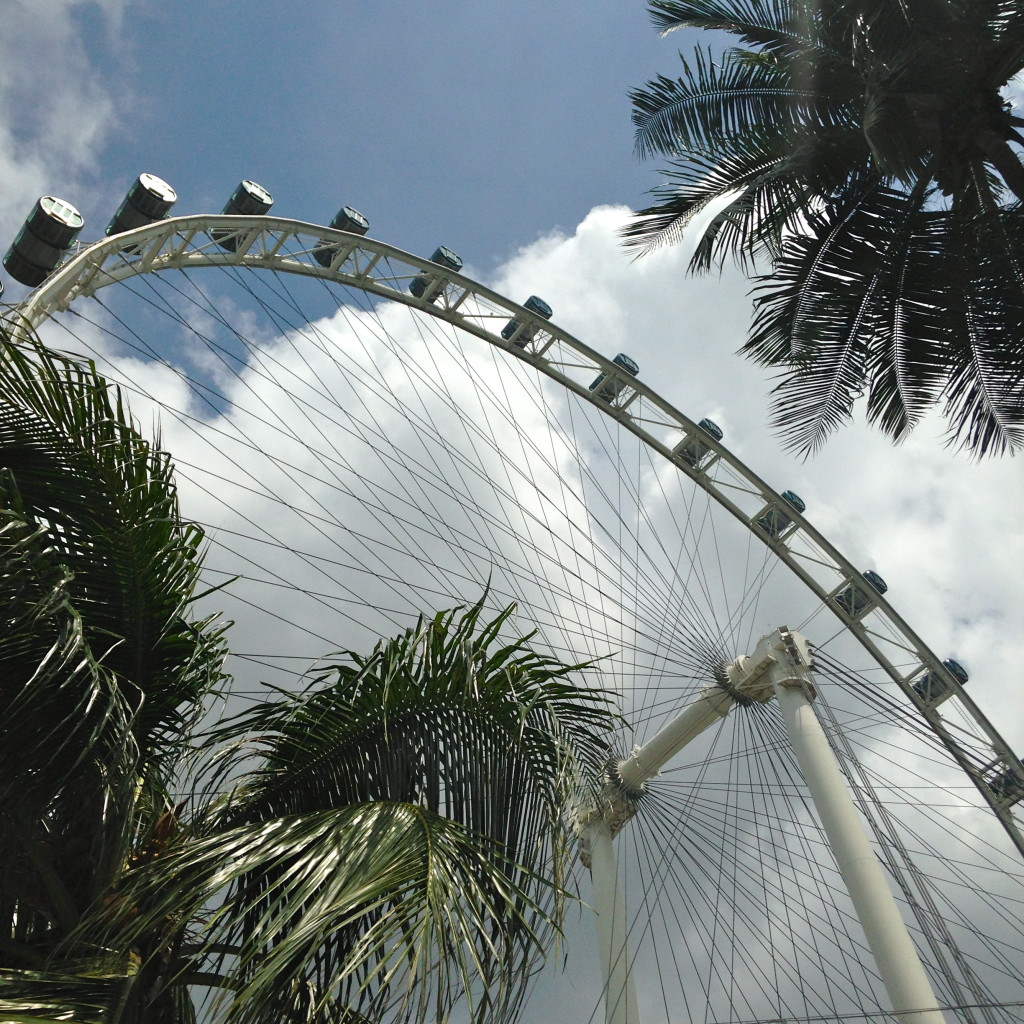 While it's not quite as famous as some other observation wheels around the world, the Singapore Flyer is just as impressive! It's quite a bit taller than the London Eye and was the tallest observation wheel in the world until the High Roller in Las Vegas opened two years ago. The Flyer definitely gives you the best view of Singapore with the marina on one side and the city on the other. The standard ticket price is $33, but if you're feeling fancy, you can book a flight that includes a Singapore Sling, a glass of champagne, or the cocktail of your choice. I only got to see the Singapore Flyer from below, but the view really does look amazing, and I will definitely be going on it next time I'm in Singapore.
The Botanic Gardens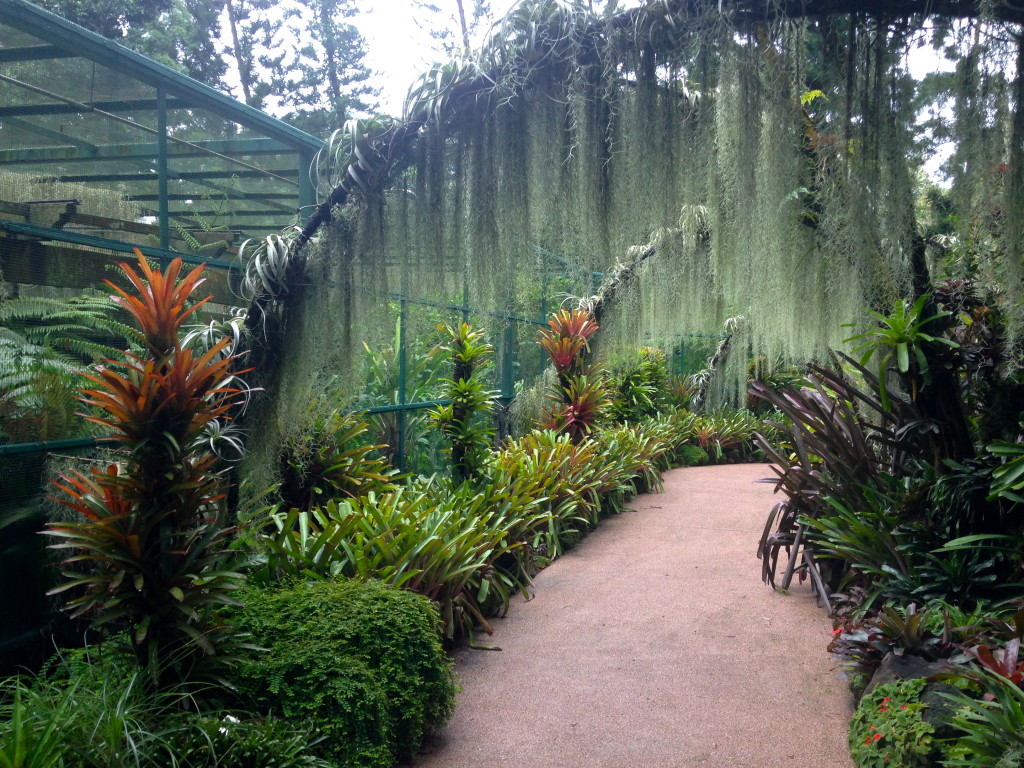 I have visited botanical gardens in lots of cities around the world, and while my favourite is still the one in Sydney, the Singapore Botanic Gardens are also beautiful. The gardens are really easy to reach on the MRT (Singapore's train system), but once you're there it feels like you're a world away from the city. There are lots of cool gardens to explore. One is the Evolution Garden which shows plant life through the ages from when the Earth first formed to now. Another is the Healing Garden which has plants that help with everything from headaches to back pain to reproduction. But definitely the most impressive garden is the National Orchid Garden. You need to pay to enter this one, but at just $5 for adults and $1 for students, it's well worth it. All the flowers are beautiful and there are some great photo opps!
Sentosa Island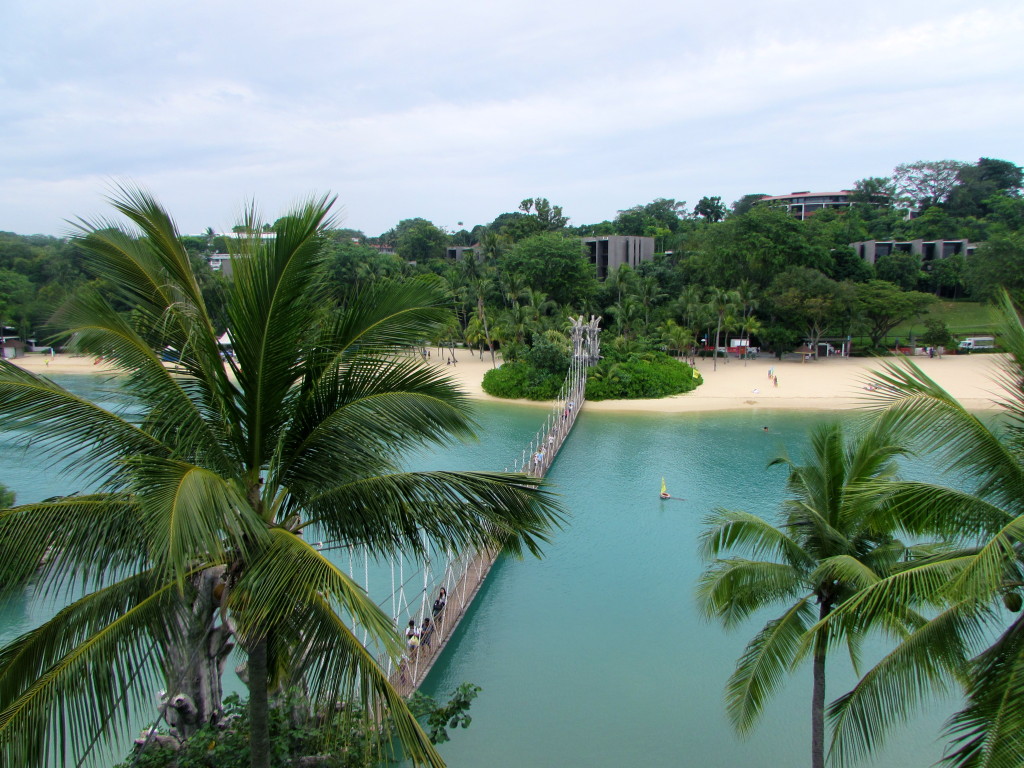 If you're looking for a place that will make everyone in your group happy, head to Sentosa Island for a day. The island is just off the mainland and can be reached by boardwalk, a monorail, or cable cars. On the island, there's pretty much anything you could look for in a holiday! First, this is the part of the city where you'll find most of the luxury resorts. It's also where all the city's theme parks are located including Universal Studios Singapore, Adventure Cove Waterpark, and the S.E.A. Aquarium. Head a little further in, and you'll come to the beautiful beaches that line the far side of the island. On the beaches, there is a pirate ship for kids to play in, a suspended bridge that leads to a great lookout and the most southern point in continental Asia, segway tours, and lots more. The beaches also have great little beach huts where you can relax with a cocktail and some food. The island is full of adventure activities too, like a trapeze, swimming with dolphins, and a zipline. And if you're a history buff, you can head to Fort Siloso to learn more about Singapore's role in World War II. I decided to go to Sentosa on my last day in Singapore for some relaxation and had a great time exploring the island!
MacRitchie Reservoir and the Treetop Walk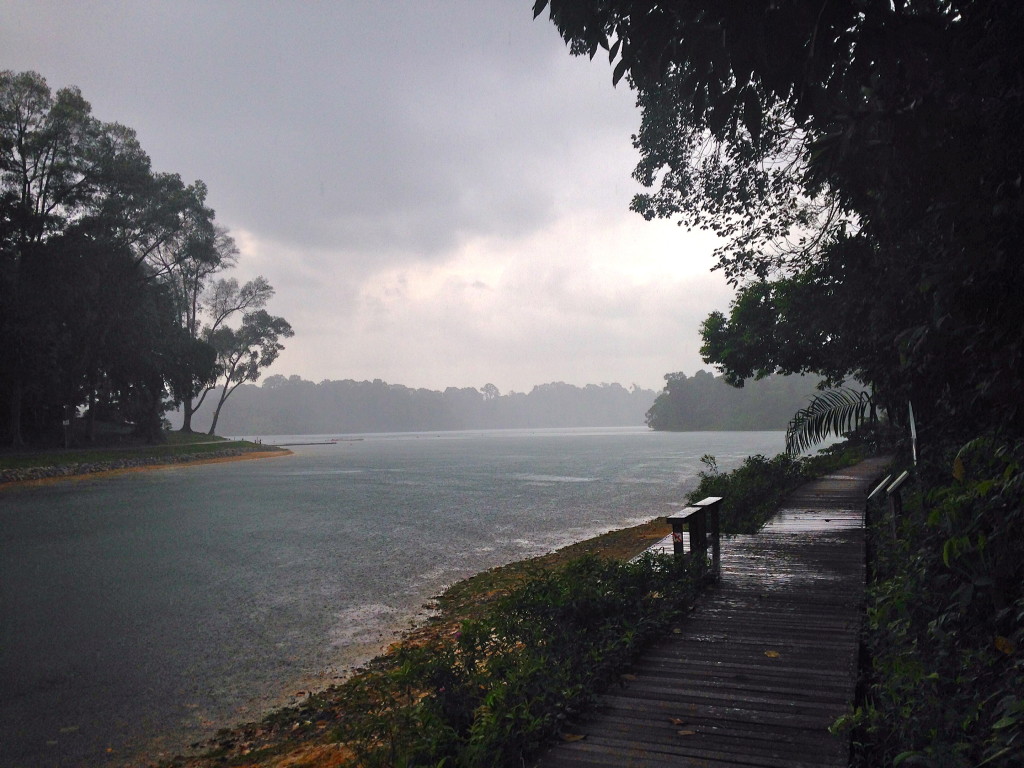 To get a break from the hustle and bustle of the city, head up to the MacRitchie Reservoir. When I visited, I think I was the only non-local there, so it's definitely not a place you'll run into heaps of tourists. Surrounding the huge reservoir are walking trails, hiking trails, and jungle. It's so quiet and peaceful and the perfect place to relax between sightseeing. The highlight of the MacRitchie Nature Reserve is the Treetop Walk. As I was on my way there, it started to downpour, so unfortunately I'll have to save that for the next time I'm in Singapore! All the pictures I've seen of it look amazing though, and it's completely free! And another really cool part of visiting MacRitchie…there are wild monkeys! There's a chance you'll see them on the trails, but for a sure sighting, head to the lodge near the park's southern entrance. I saw a family of about 15 monkeys, including a mom carrying around her little baby! So cool.
Sultan Mosque and Haji Lane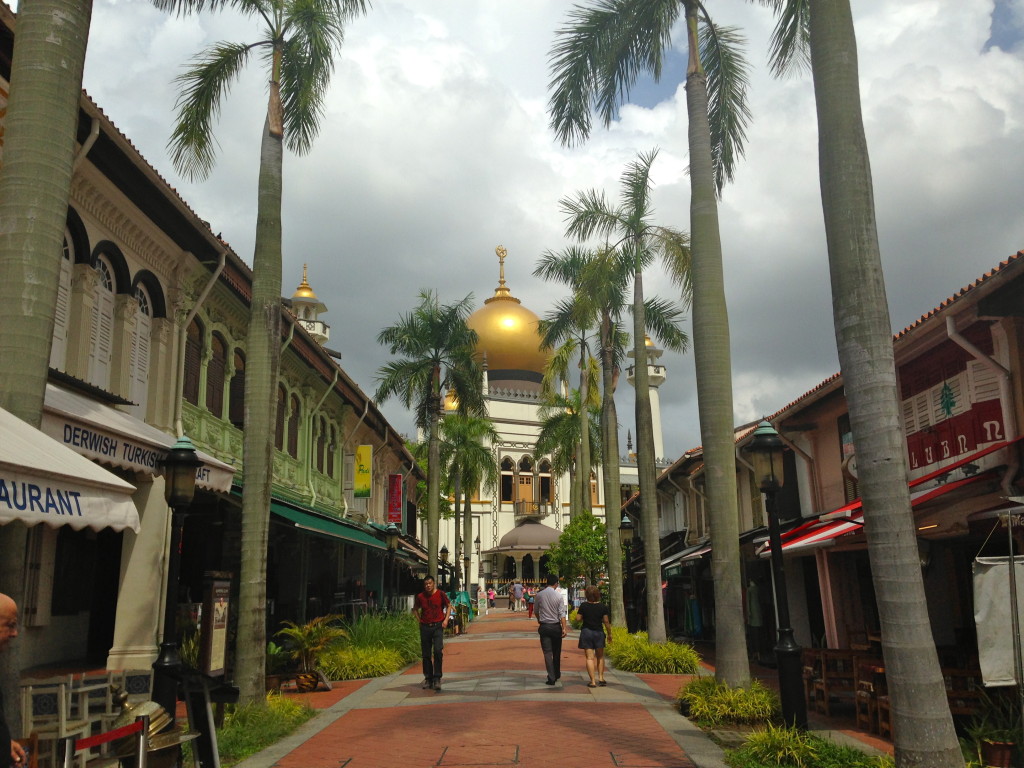 Most of Singapore is really shiny and new, but in some parts of the city you can come across traditional looking architecture that makes you feel like you are truly in Asia. My favourite example of that was in the Arab quarter of the city. The most impressive feature is the beautiful Sultan Mosque, which several streets converge around. Definitely make sure to check out Arab Street for some good shopping and head to Haji Lane to see its colourful street art and try some of the amazing food there.
Marina Bay Sands SkyPark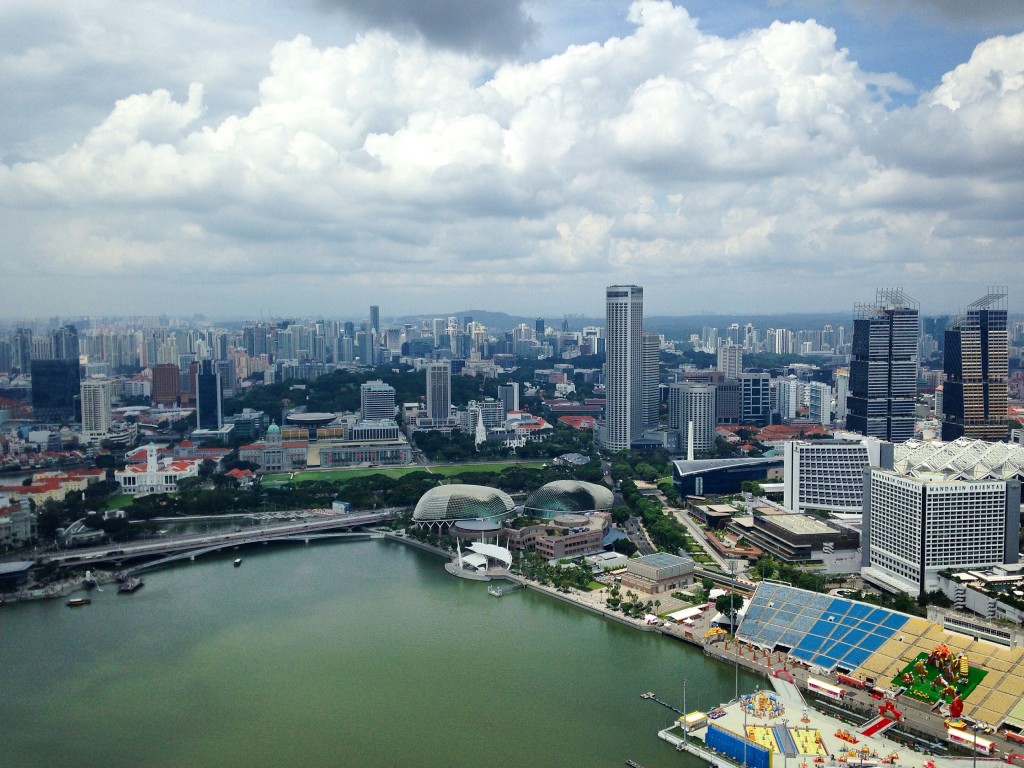 For an amazing view of the city from above, head up to the top of the Marina Bay Sands. A portion of the rooftop is only open to guests of the hotel, but the SkyPark is open to the public. From here, there is an amazing view of the city in all directions that will really make you fall in love with Singapore. Tickets to the SkyPark are $23 for adults, and if you would rather enjoy the view in a different setting, there are a restaurant and a bar on top of the Marina Bay Sands that you could visit.
The Night Safari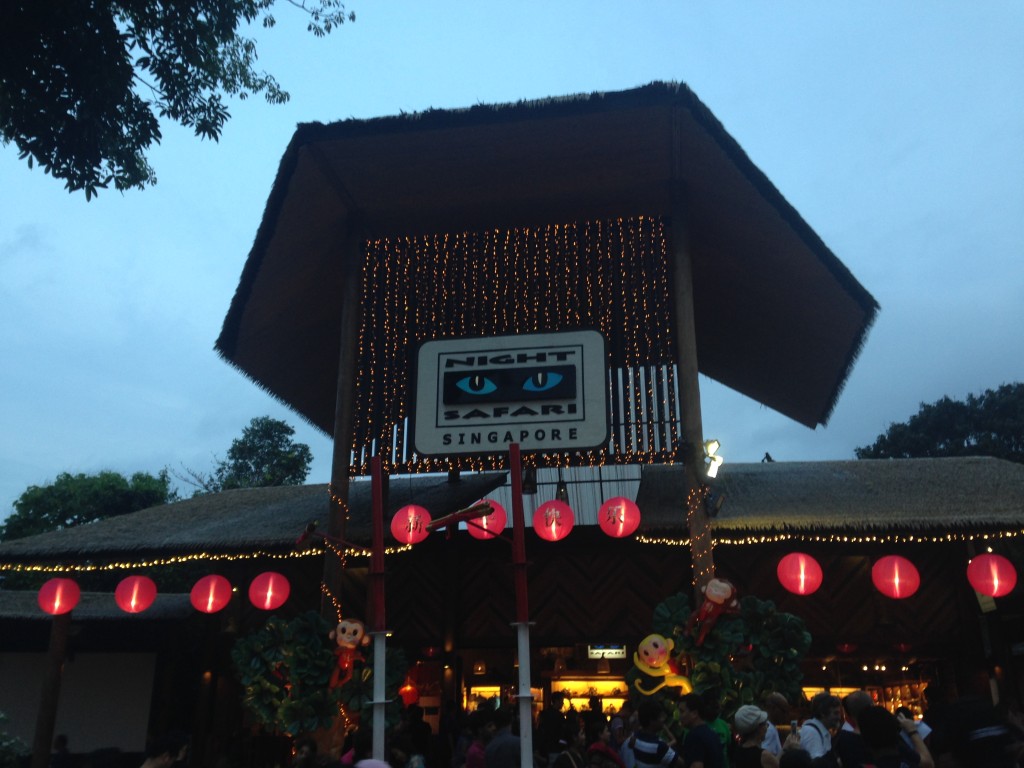 For something a little out of the ordinary, the Night Safari is a really cool Singapore experience. It's a special part of the Singapore Zoo that is only open at night. There are walking trails where you can see lots of different animals and a tram ride that drives you past even more animals over the course of 45 minutes, telling you stories and information on each of them. You can see zebras, lions, tigers, elephants, hippos, and any other animal you'd expect to see in a zoo, plus nocturnal animals like bats and hyenas. There are even a couple of walkabouts where you can go into the cage with the animals. In one, wallabies hop around, getting within a few feet of you. And in another, there are free flying fruit bats. I have always been terrified of bats, but I overcame that so I wouldn't miss out on this experience. It left me shaking for only about 20 minutes afterwards haha. The Night Safari is a little pricey in my opinion at $42 for adults. It is a unique experience though, so worth the money I think. The only downside is that since it's dark and you can't use flash, it's hard to get good pictures unless you have some sort of super-camera.
Watch the Sunset from the Pinnacle@Duxton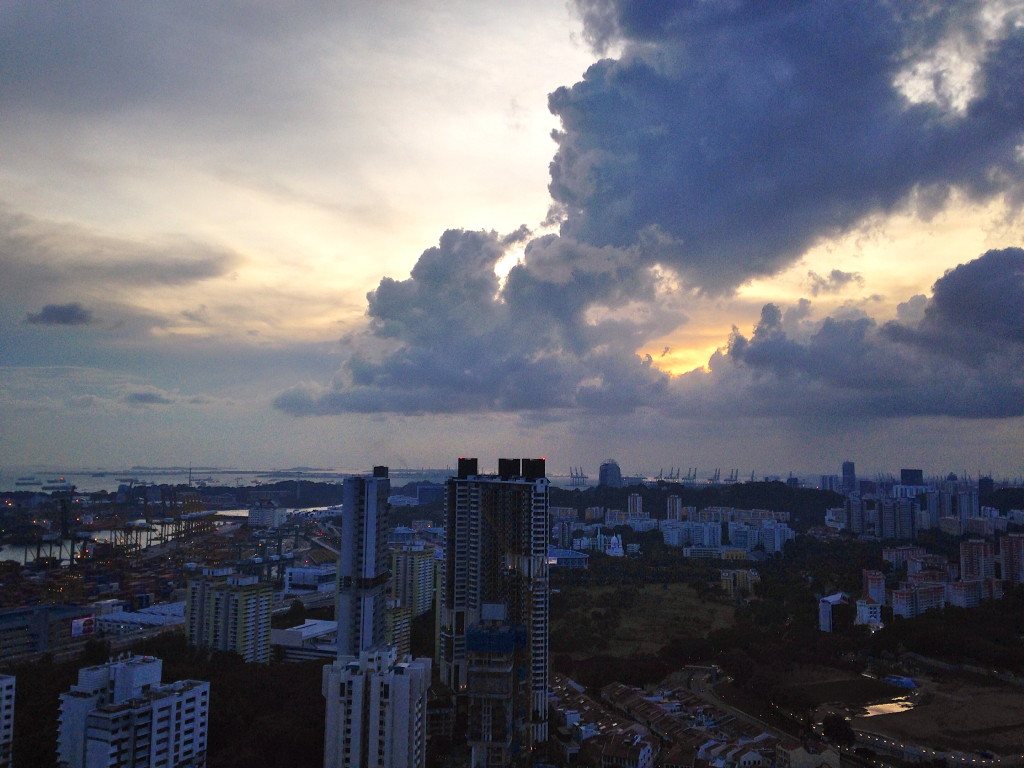 This is one of those Singapore experiences that only a local would know about. Lucky for me, a friend who lives in Singapore and is an expert on the city brought me here. The building is residential, but the rooftop is open to the public every night around sunset. The rooftop is huge, since it's several buildings all connected and the view is incredible. You can see every part of the city, and watching the sunset from there is so pretty. Tickets are only $5 per person and it is completely untouristy, so definitely make sure to check this out one of the nights you're in Singapore.
Pulau Ubin Island
If I had one more day to explore Singapore, I would have loved to visit Pulau Ubin. Pulau Ubin is an island just off the mainland in the eastern part of the city. It's considered to be one of the last rural areas in Singapore, so you really get a feel for what Singapore may have been like a hundred years ago. There are little villages, lots of plants and animals, a boardwalk through a mangrove, and so much natural beauty to appreciate. From the mainland, you can take a ferry to Pulau Ubin in ten minutes, and once you are there, the best way to get around is by bike. Pulau Ubin seems like such a cool contrast from the rest of Singapore and a must if you'll be in the city for more than a few days.
Eat all the food!
As someone who is pretty obsessed with all Asian food, I was pretty much in heaven in Singapore! Delicious meals, lots of good options, and amazing prices. The best places to go for food in Singapore are hawker centres, which are basically big food courts, usually outside. People from all the different food stands will fight for your business, and will even chase some people down on the street trying to get them to sit down and order something! Make sure you try chicken and rice at some point, which is Singapore's national dish. It sounds simple, but it's delicious. Other than that, you are spoiled for choice with different noodle and rice dishes, satay, curries, dumplings, soup, and lots more. I had way too much good food in Singapore to mention here, so I am going to write a whole separate blog post on what to eat and drink in Singapore. Stay tuned for that!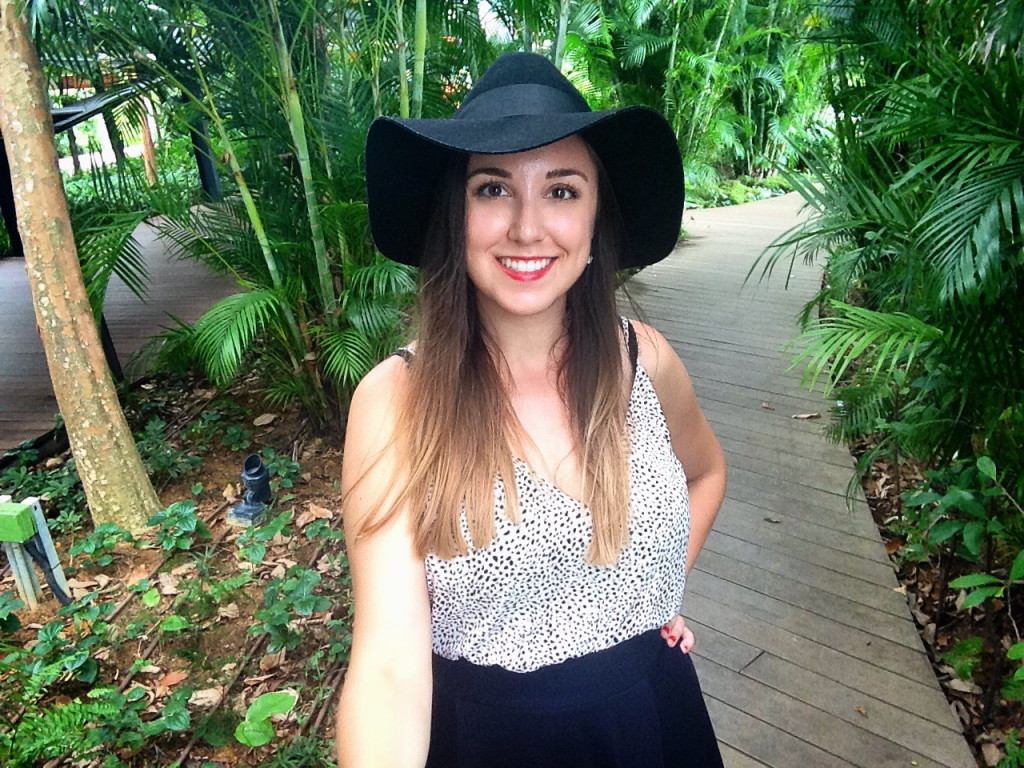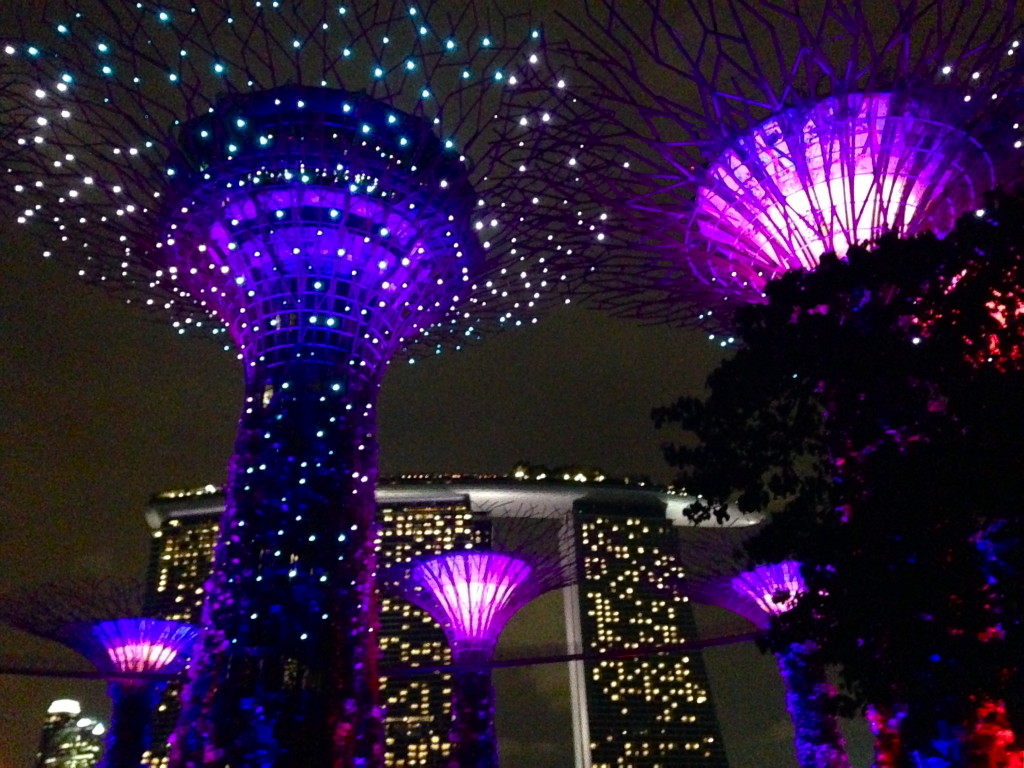 Singapore was such a fun city to visit, and it was the perfect place to begin all my future Asian adventures! It's also a great city for solo travellers since there is so much to do, it's really modern and safe, it has a really interesting culture, it's easy to navigate, and the people are so friendly. If you have the chance to visit Singapore, definitely go! It's really cheap to travel to from anywhere in Southeast Asia, and a lot of flights going from Europe to Australia have stopovers in Singapore. There is still so much I want to explore there, so I can't wait to return to the city again at some point!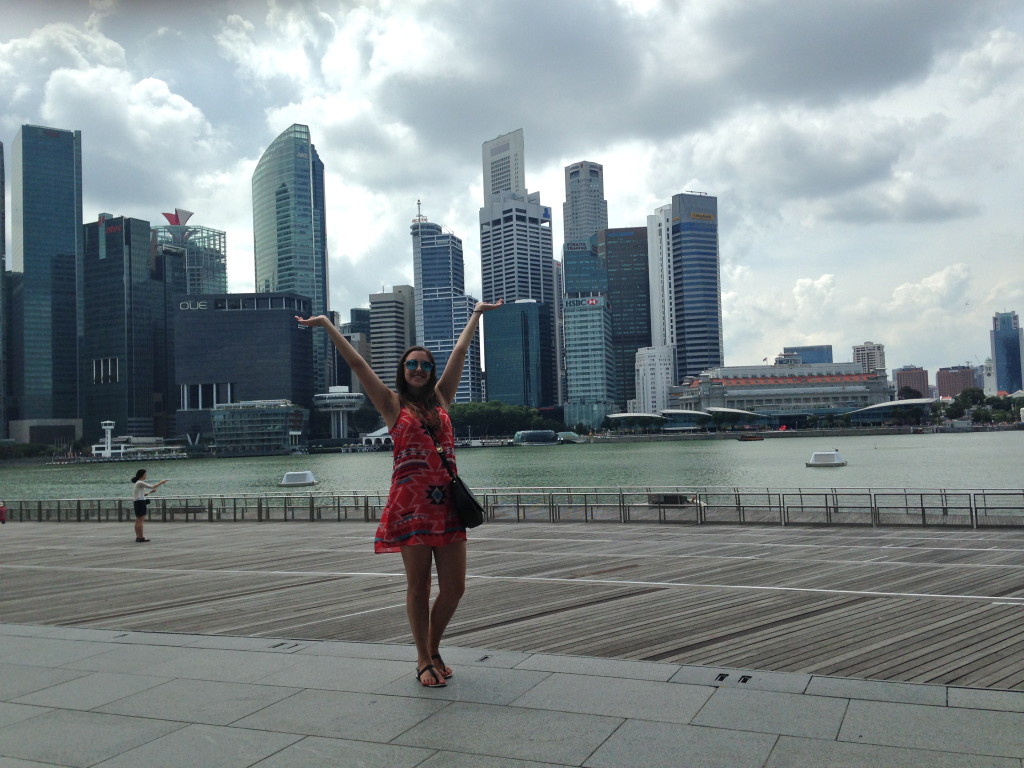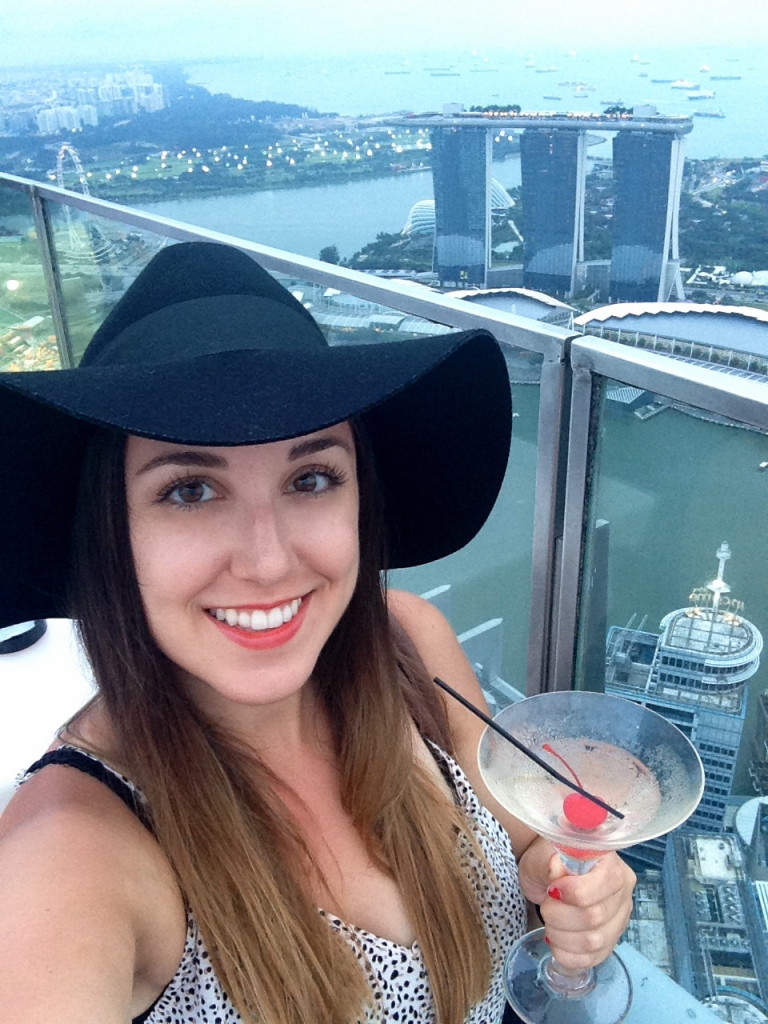 If you've been to Singapore, what were your favourite things to do there? Let me know in a comment below!
Hi I'm Christie, a 28-year-old girl originally from Boston who has spent time living in New York City, North Carolina, France, Australia, New Zealand, and London. I love moving to new places and exploring them as a local, and I can't see my nomadic expat life stopping any time soon! I have no greater passion than travel, and when I'm not exploring I spend my free time reminiscing on past trips and daydreaming about future travel.