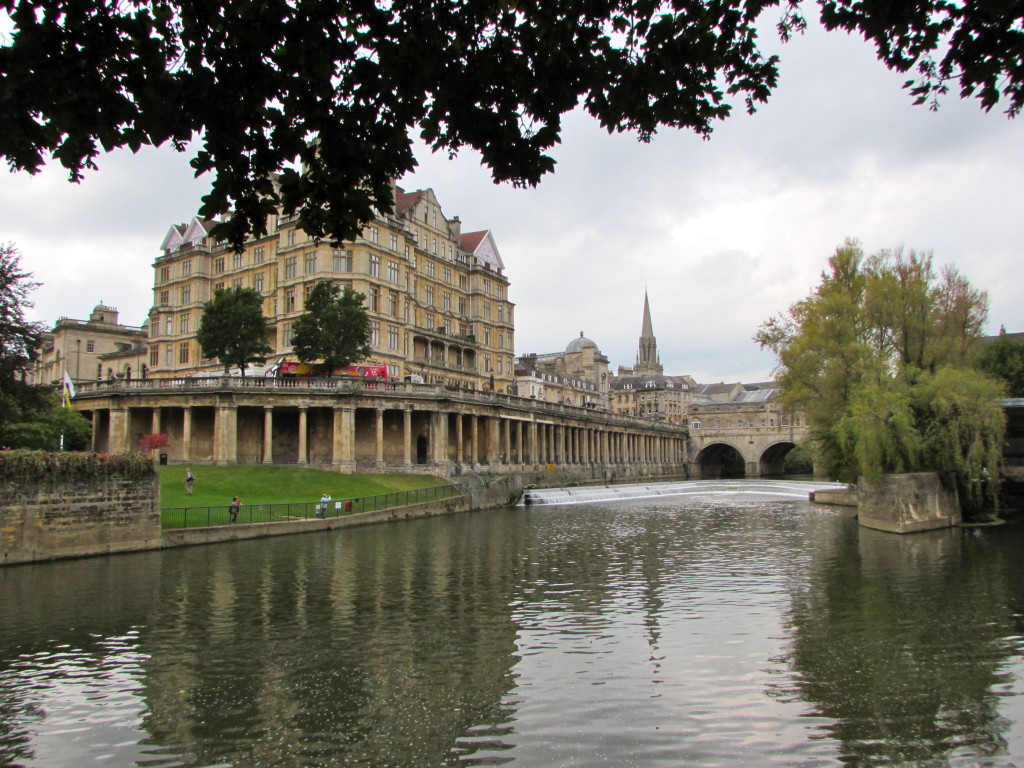 I have always been pretty obsessed with England, and recently I've been feeling super nostalgic and really want to visit again. My favourite city will always be London, but another amazing English city that less people really know about is Bath. On my last trip to the UK in September/October I spent some time in London and then visited Bath for the first time where my sister was spending her semester abroad. After just a few days in Bath, I immediately fell in love with its small-city charm. Hopefully by the end of this post, I'll be able to convince you why you should add Bath to your next UK itinerary!
First of all, to give you a little background info on Bath, it is about 3 hours west of London by car/bus and an hour and a half by train. The population of Bath is on the small side, just about 90,000 people, but there is definitely not a shortage of things to do and see in Bath! Bath has been a major cultural hub and part of history for thousands of years, first as a spa in the Roman Empire, as a religious center in the Middle Ages, and a battle site during both the English Civil War and World War II. Not to mention its proximity to so many other important places in English culture, including Stonehenge, Oxford University, Stratford-Upon-Avon (where Shakespeare was from), and a bunch of Harry Potter filming locations! Bath is probably one of the most walkable cities I've ever visited, and it's so different from London. With all of the beautiful architecture, it really feels like you could be back in the Renaissance! (Well, a modernised version at least!) Bath really has its own unique energy and feels so quintessentially British, and the people are some of the nicest ones I've ever met, so it's the perfect place to visit for a true English experience. Here are just a few of the highlights of this amazing city: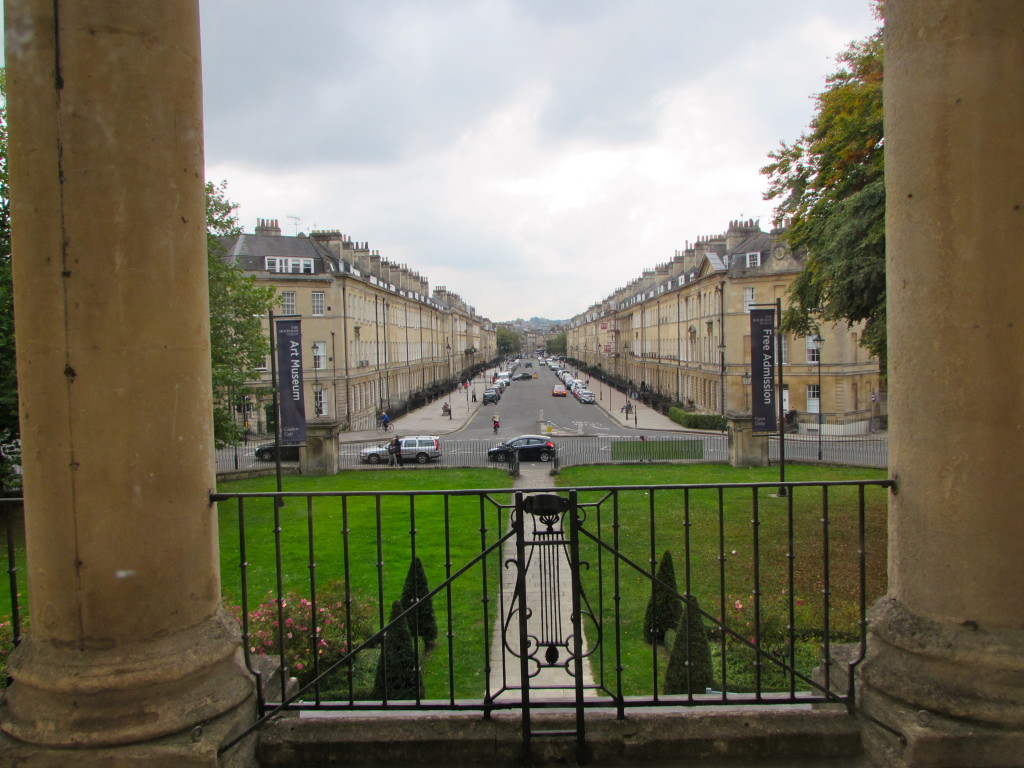 The History:
Bath Abbey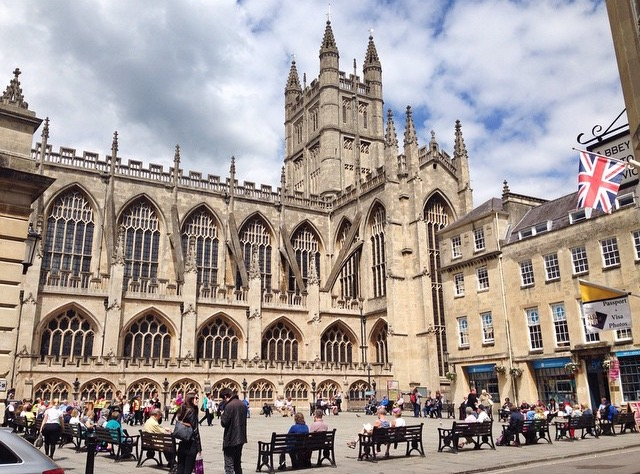 photo: @laurakatycullom
Of all the sights in Bath, I would have to say Bath Abbey is the most popular. It's an enormous cathedral with some of the most incredible architecture I've ever seen. Plus, it's been around for over a thousand years, so not only is the architecture impressive, but there is so much history that surrounds the Abbey as well. Inside, the Abbey is free to walk around and explore. You can learn more about its history, see all the beautiful art, and the enormous organ. And once you're done exploring inside, there's a big courtyard right outside the Abbey that is the perfect spot to sit and relax. There are always so many great street performers that could keep you entertained for hours!
Roman Baths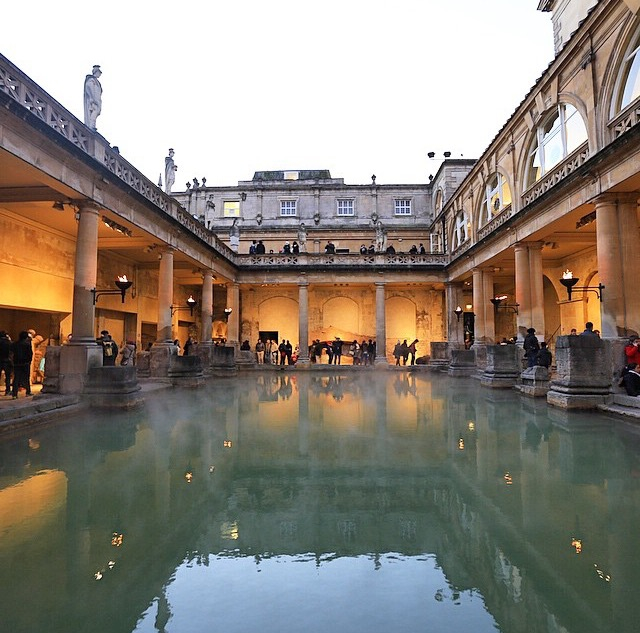 photo: @saks727
Right next to Bath Abbey is another popular attraction, the Roman Baths. Unlike Bath Abbey, you need to pay to go in and see the Baths, but it's definitely worth it. If you learned about Ancient Roman civilisation when you were in school, you probably learned about how much the Romans loved their spas and public baths. When Bath became a part of the Roman Empire, they turned the city into a spa and created the famous Roman Baths and the temple that surrounds them. Some people are disappointed to learn they can't actually swim in the Baths, but you can still get a bunch of amazing views and learn all about the history of the Roman Baths. There's even a fountain where you can taste some of the spa water!
Pulteney Bridge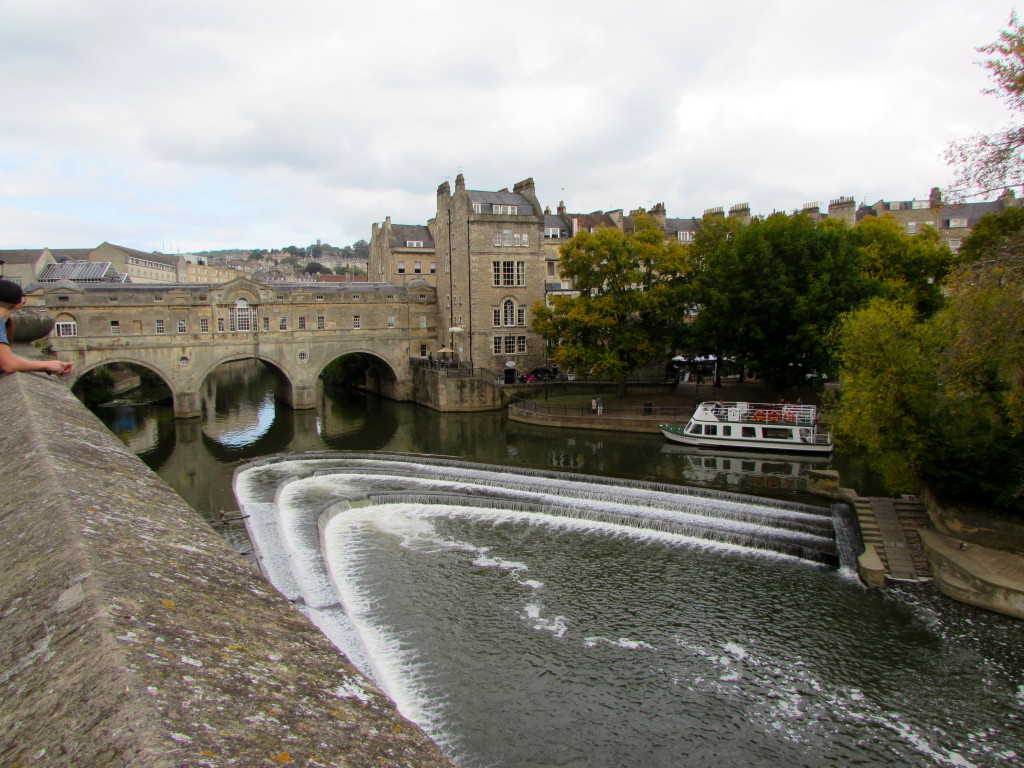 Next up on our little tour of Bath is the Pulteney Bridge. The Pulteney Bridge has been around for hundreds of years and crosses the River Avon that flows through Bath. The bridge itself is really pretty with its medieval look and grand arches, but what really makes the bridge special are the "weirs" below. If you don't know what a weir is (and trust me, I didn't know what it was called until I looked it up just now!), it's basically a pretty version of a dam. The weirs under the Pulteney Bridge make the water flow in a really beautiful way. There are also stairs next to the bridge where you can go down and walk along the River Avon. The path along the river is so pretty and peaceful and you get some pretty amazing views of the Pulteney Bridge and the city. Also, you might recognise the bridge as one of the filming locations for the movie version of Les Misérables!
Holburne Museum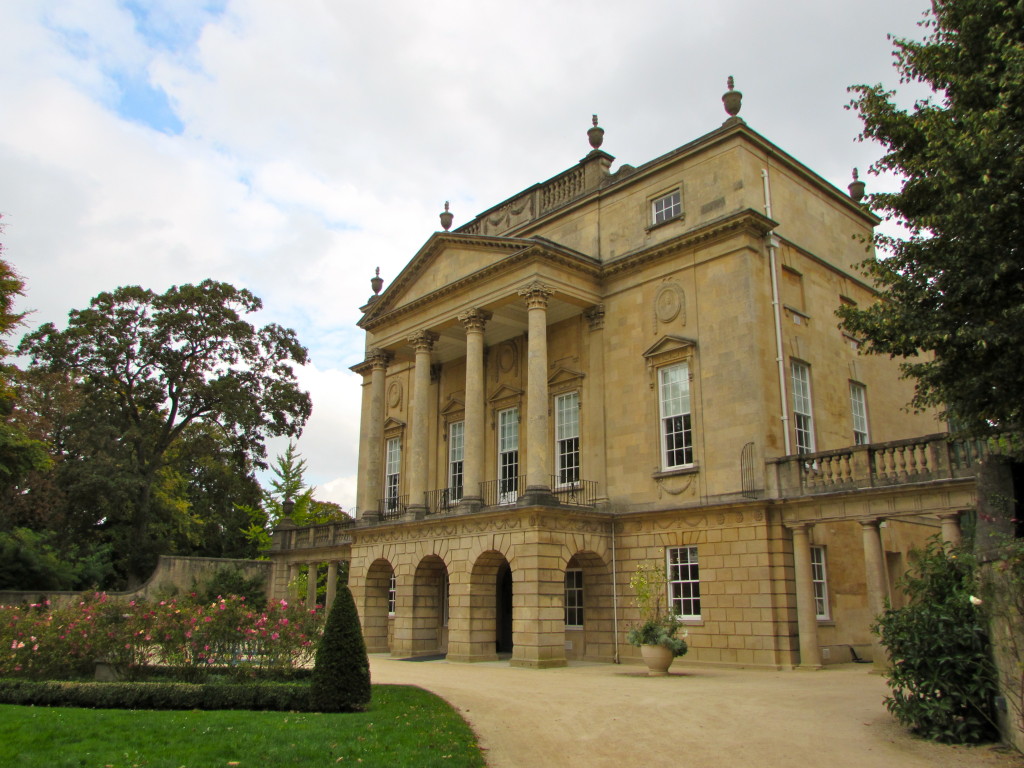 If you want to check out some museums while you're in Bath, there is no better one to see than the Holburne Museum. There are so many different exhibits to explore in the museum, and it helps you get a good idea of what English society was like through history. There's art, china table settings, jewels, furniture, and so much more! Great Pulteney Street, which you get a good view of from the museum's second floor, is also one of the prettiest streets in all of Bath. It's so wide and looks completely British! Apparently the street was a big inspiration for Jane Austen who lived close by, and several movies were shot right outside the museum!
Bizarre Bath Comedy Walk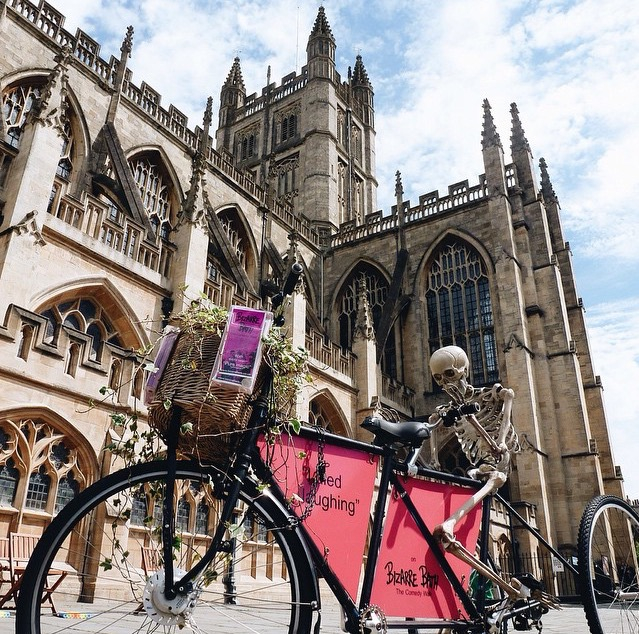 photo: @dafyddpowell31
If you want to learn a little about Bath's history, but in a relaxed, fun way then you definitely need to do this tour! The cost is only £8 for adults and £5 for students, but the tour is definitely worth the admission price! A tour guide leads your group around the city center to all of the major tourist attractions. But instead of telling you basic facts about the attractions, they put a funny spin on it! It's also really interactive, and the tour guide is always looking for volunteers in the crowd and teasing people (in a fun way). The tour lasts about an hour and a half, and I don't think I stopped laughing the entire time! The tour is every night at 8pm, and you end up right next to a pub at the end, so you can continue the fun night and go in for a pint!
For specific information on tours and where to go, check out their website here.
Jane Austen Centre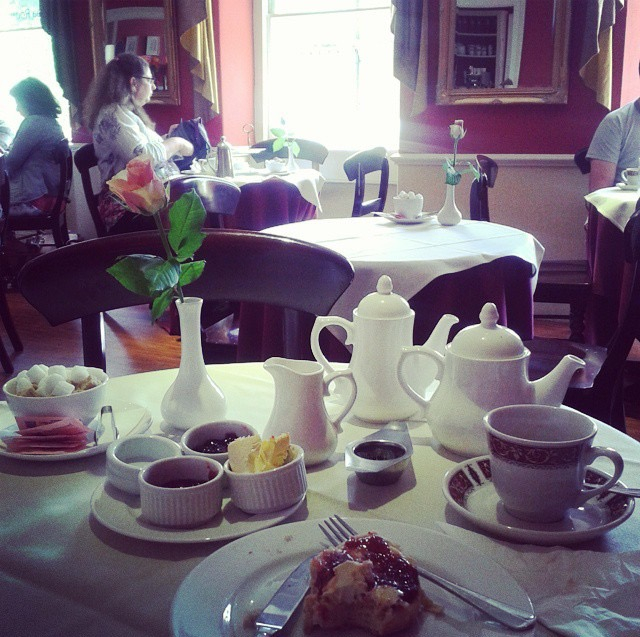 photo: @___msb
Jane Austen lived in Bath, and the city was the inspiration for most of her novels. So, to pay tribute to her, you can visit this permanent exhibition that tells the story of her Bath experience. You can learn all about Jane's life in Bath and how the city had such a huge influence on her writing. To make your visit to the Jane Austen Centre even more special, you can have afternoon tea in their Regency Tea Room with tea, sandwiches, and pastries. No visit to England is complete without experiencing a traditional afternoon tea! And if you visit Bath in September, you can even take part in the annual Jane Austen festival complete with costume parades, walking tours, and performances of Jane's most popular stories!
The Food:
Koh Thai Tapas
36 Broad Street, Bath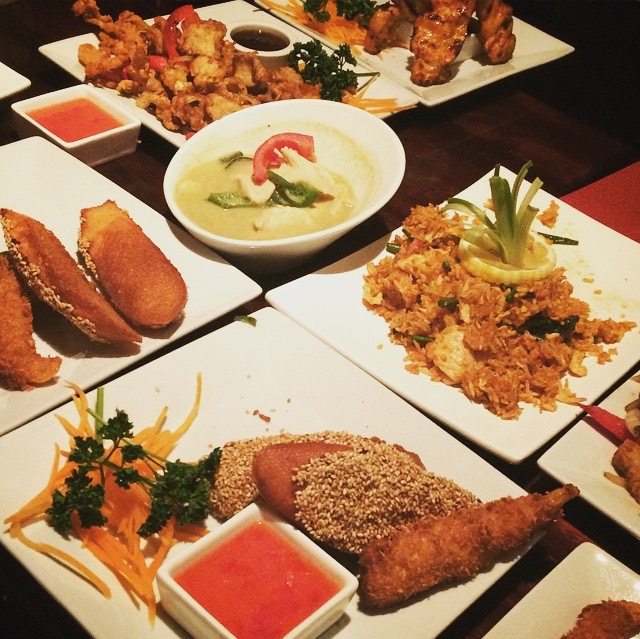 photo: @orangemagpie
Thai food is probably the last ethnicity you would expect to be amazing in Bath, but it's honestly some of the best I've ever had! This restaurant is on a cute cobblestone side street not far from the main stretch of the city. Inside, the restaurant has a really cool, trendy design and there's a bunch of art on the walls. And of course the best part…the food! I ordered my go-to Thai meal, pad thai, and it was so amazing! All of the other food I saw in the restaurant looked so good too and everything smelled amazing! The restaurant staff is so friendly, and it's a great restaurant experience overall.
Yen Sushi
11 Bartlett Street, Bath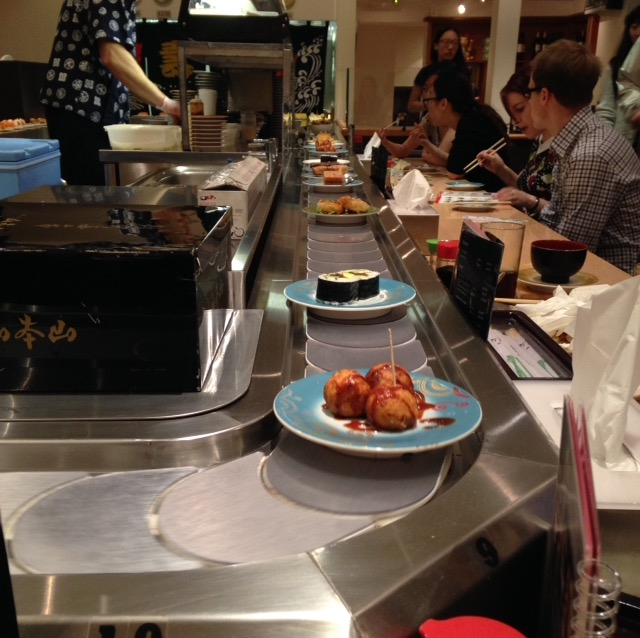 Another amazing Asian restaurant, but this one is completely different. It's a traditional Japanese sushi restaurant complete with a conveyor belt and a sushi chef who makes everything right in front of you. I had never been to a conveyor belt sushi restaurant and this was the perfect first one to experience. When you go in, you can sit at either a table or right at the bar next to the conveyor belt, my favourite option! The menu includes pictures of all the different sushi rolls and you can either order something specific, or just watch the sushi go by and pick out what looks good to you! This was what I did, and while everything is so amazing, it can also be dangerous because it's so tempting seeing all the delicious food going by! But luckily the prices are so cheap, so don't feel bad about indulging in lots of delicious sushi.
The Raven
7 Queen Street, Bath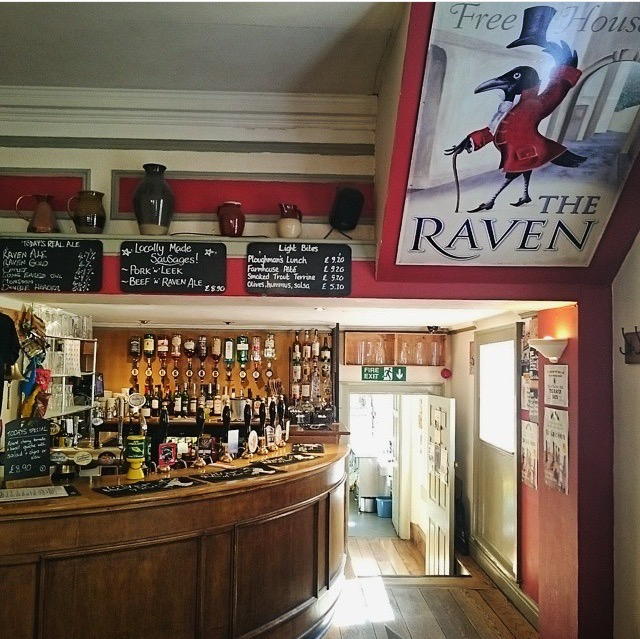 photo: @tik_tak_toy
If you're looking for some good old-fashioned English comfort food, head over to The Raven. It's a pub on a quiet street close to the city centre. The pub offers a huge selection of beers as well as all the traditional British food you could possibly want!  The Raven is especially known for their many different meat pies, but other authentic dishes to try are sausages with mash and a side of chips. My sister highly recommends the Free Ranger Pie with mash. You can also add different gravies to your meat pie. Ask your server which one they would recommend to go with your meal. And even if you don't want food, it's also a great spot to go for a pint!
Colonna and Small's
6 Chapel Row, Bath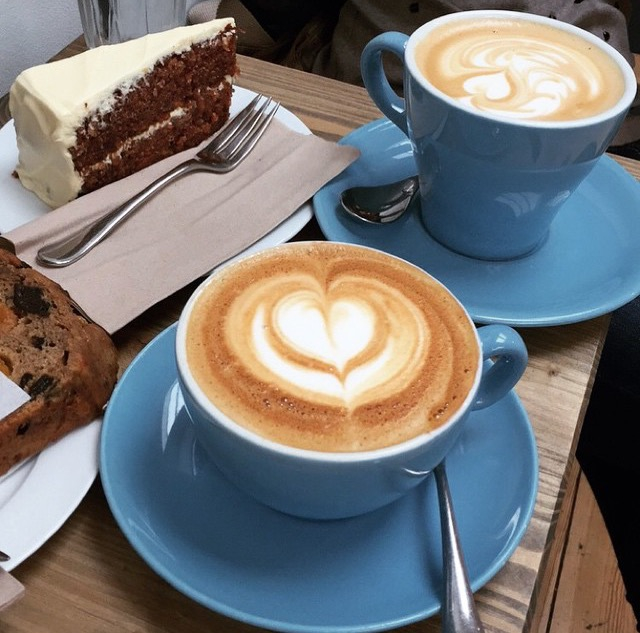 photo: @wannyin
This coffee shop is probably the cutest one in all of Bath. They use the highest quality ingredients to make their coffee, and they roast the beans in a way to make the most of the flavour while keeping it super fresh. There's a great variety of drinks and food to order, and the inside of the shop is pretty much an Instagrammer's paradise! It's so cute and trendy looking with a light-blue brick interior, dark wooden tables, and teal cups and saucers. And of course, there's lots of pretty latte art! It's on the pricey side, but it has outdoor seating right next to Bath Abbey, so it's the prime people-watching spot.
The beautiful architecture:
Royal Crescent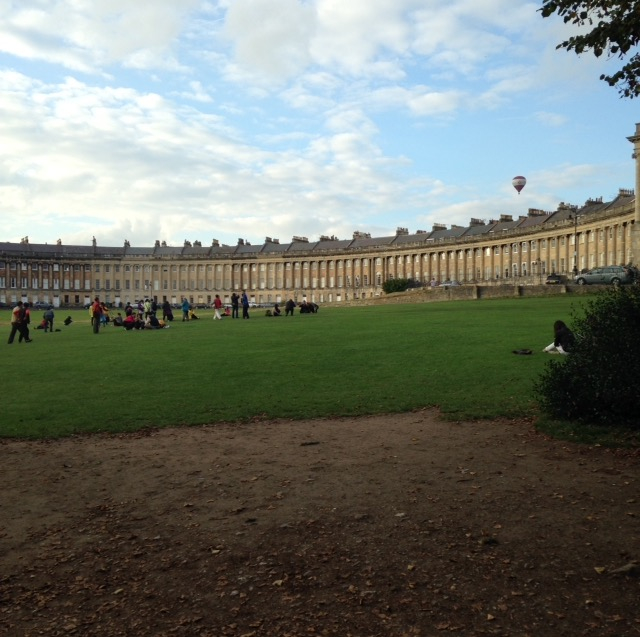 The Royal Crescent is one of the most beautiful places in all of Bath. The terraced houses that make up the Crescent were built almost 250 years ago and still have the same Georgian-style exterior as when they were built. It is the most expensive place to live in all of Bath, and over the years there have been some famous writers, musicians, and politicians who lived there. Even today, the houses belong to some of the most notable people in the city, and they are passed down through the family. Even if you can't see inside the exclusive houses, they are beautiful to see from the park outside. The park is divided into two layers separated by a steep wall. The top section is for residents of the Royal Crescent and the lower section is for the rest of us commoners. When it was first designed, they made the steep drop-off so the residents wouldn't need to see the peasants below! There's some funny history surrounding the houses, and it's the perfect spot to sit outside on a nice day.
The Circus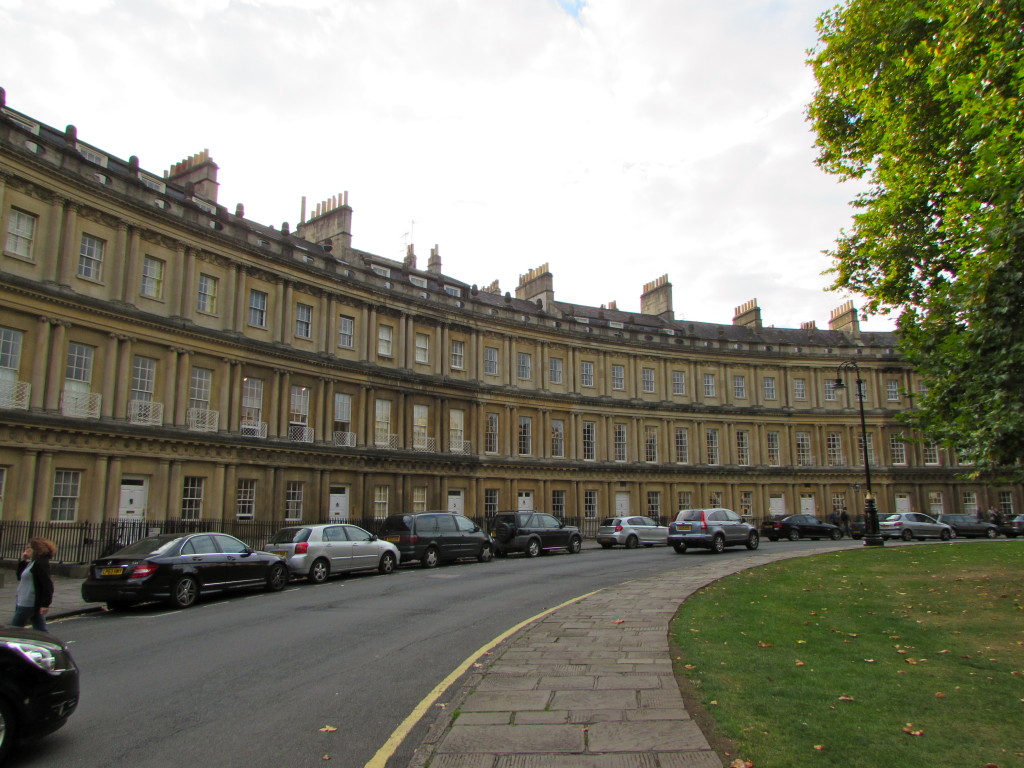 The Circus is another expensive area not far from the Royal Crescent. The Circus is also a group of terraced houses, but instead of being in the shape of a crescent, they are in a big circle with a park in the middle. The Circus was built around the same time as the Royal Crescent and also has the beautiful Georgian architecture. The architect designed the Circus off of the Colosseum in Rome, except rather than viewing the circular structure from the outside, he wanted the Circus to be viewed from the inside. It's another beautiful spot that you need to check out, and the park in the middle of the Circus is another great spot to sit and relax.
Day Trips:
Cardiff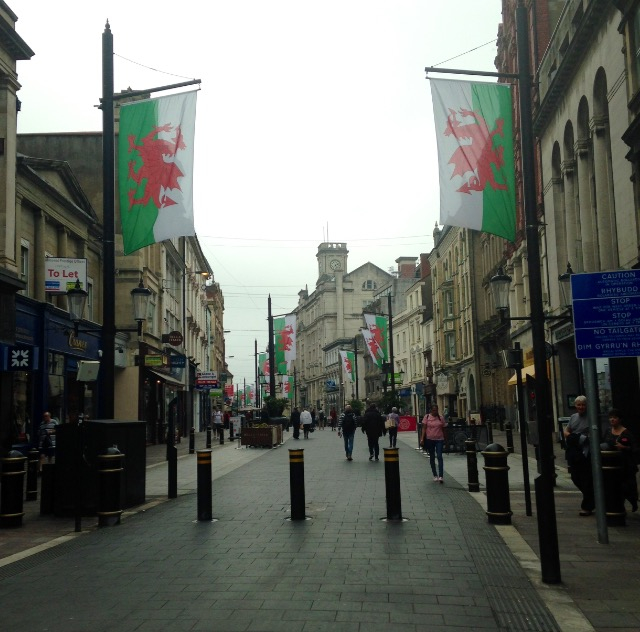 Cardiff, Wales seems like a whole different world than Bath, but it's only a short train ride away! Located on the sea, Cardiff has a real coastal vibe to it. In Cardiff, the whole waterfront area is so beautiful, so definitely be sure to walk around there. The city center is also really cool and full of good shops and restaurants. Some other Cardiff attractions to check out are the National Assembly for Wales, the Pierhead Building, and Cardiff Castle. Also, by visiting Cardiff you can check another country off your list! (While Wales is also part of the UK, it's considered a different country than England 🙂 )
Weston-Super-Mare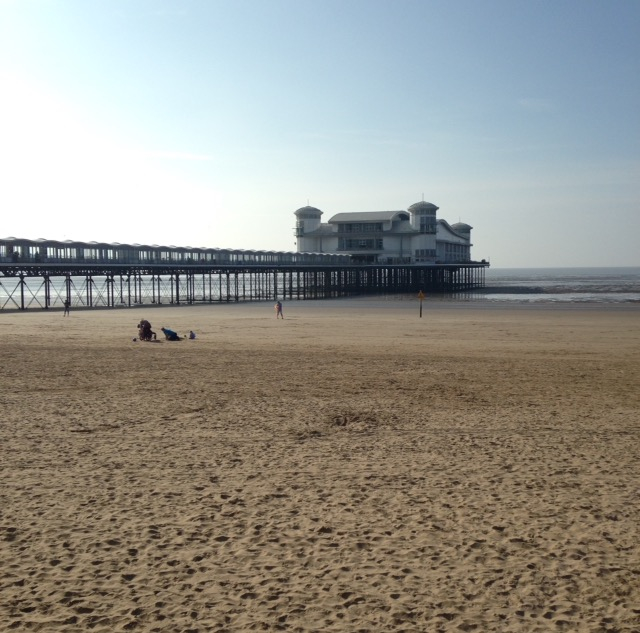 Another short train ride from Bath is the coastal town Weston-Super-Mare. The town is so cute and exactly how I would imagine coastal England to be. Everywhere in the town has a nice village feel to it, and the boardwalk along the water is so beautiful. I've heard some British beaches are mostly pebbles, but the beaches in Weston-Super-Mare are all sand! The main attraction in the city is definitely the pier. It burned down in 2008 but was rebuilt and restored into what you see today. On the pier, you can play lots of fun arcade games, and make sure to get some authentic fish and chips!
Oxford
photo: @ssukong
Another short train journey from Bath is Oxford. Obviously the main attraction in Oxford is the university, which is the oldest university in the English-speaking world and one of the most famous. The university is divided into different colleges based partially on area of study, and each college has its own unique look and feel to it. The architecture on each campus is beautiful, and they are the perfect spots for a nice walk. If you want to get really authentic Oxford, you can even rent a punting boat and try out the popular sport! You stand up in the boat and paddle with an oar, similar to a gondola. Outside of the university, the city center is lined with cool shops, restaurants, and pubs, and there are plenty of museums, parks, and cathedrals to see as well. And Blenheim Palace is a short drive from Oxford and another cool place to check out!
Bristol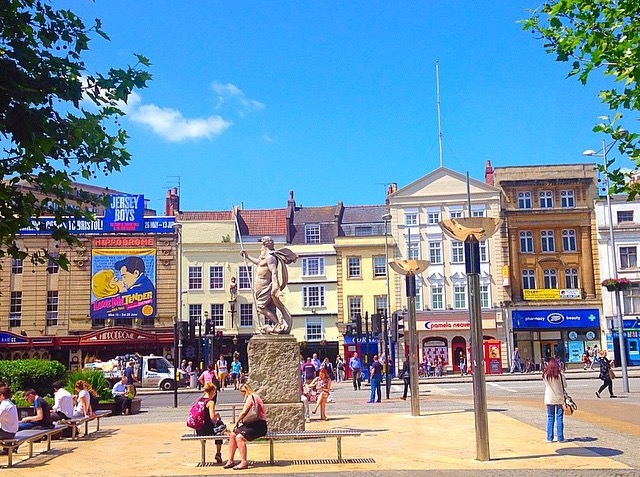 photo: @branweninthesky
Only about 15 minutes away by train is Bath's bigger cousin, Bristol. Being so close to Bath, the cities share a lot of the same history. And while Bristol isn't quite as traditionally beautiful as Bath, it's a bigger city, so there is still so much to see and do there. There is medieval architecture throughout the city, and it's really the perfect blend between old and modern buildings. While in Bristol, check out the SS Great Britain, the Clifton Suspension Bridge, the Cabot Tower, as well as the great restaurants, quirky shops, and pubs. Brits like to refer to Bristol as a pretty hipster city. And it's also the setting of a bunch of popular British TV shows, including one of my favourites, Skins!
Stonehenge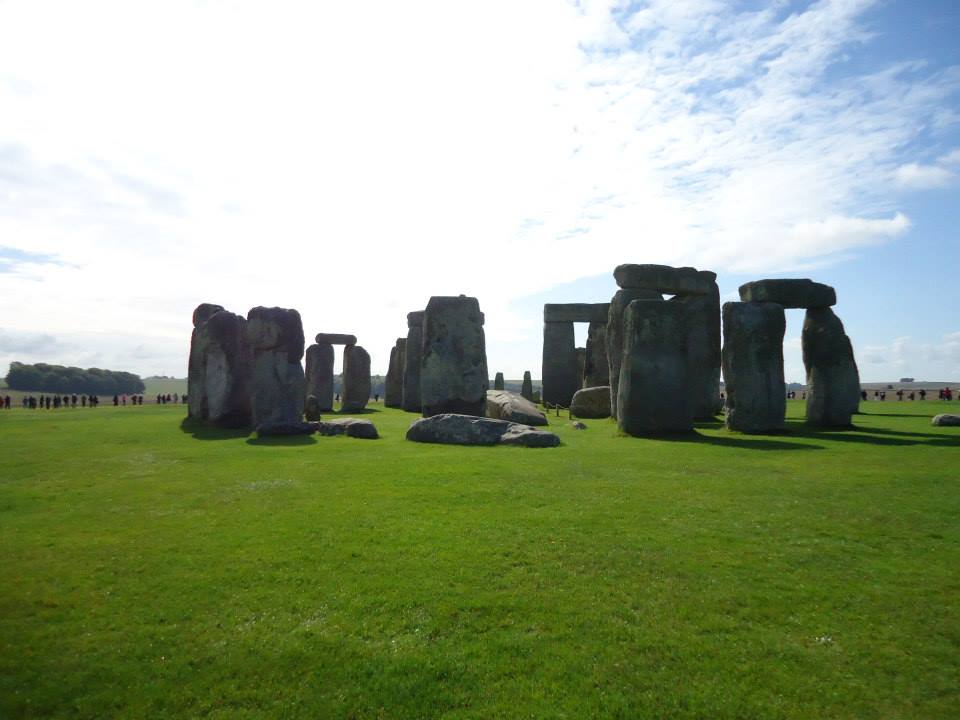 Known as an architectural miracle, Stonehenge is another attraction that's not too far from Bath. It's probably one of the most famous attractions in all of England. A lot of mystery surrounds the site about how and when exactly it was built, but historians guess it was built sometime between 3000 BC and 2000 BC. Considering they had very prehistoric building equipment back then, no one really knows for sure how they placed the rocks in the exact formation they're in. Some people claim supernatural forces were involved in some way. By far the most popular time to visit Stonehenge is for the Summer and Winter solstices. The sun lines up perfectly with the rocks and looks really cool! They're also the only two days when you can go right up to the rocks. Usually there is a barricade to keep you back a certain distance. You need to pay an admission to visit Stonehenge, but it's not too high: £14.50 for adults, £13 for students, and £37.70 for a family of five.
The Nightlife:
Opium
The Vaults underneath Grove Street, Spring Gardens Road, Bath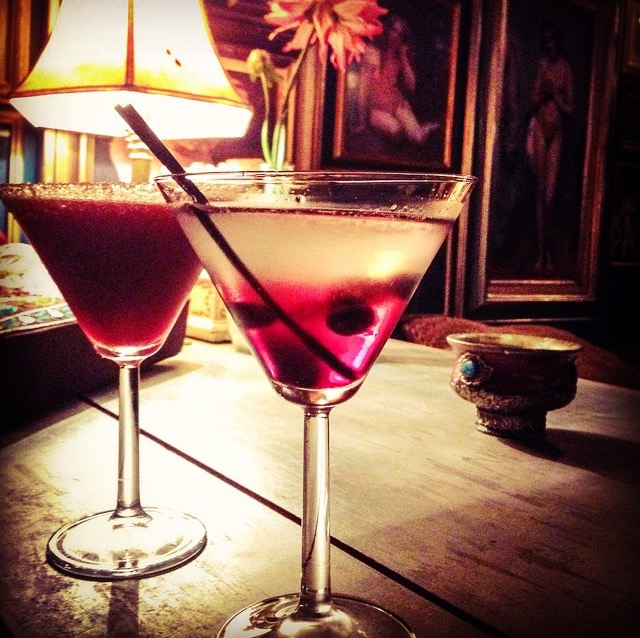 photo: @capndred
Known as "Bath's best-known secret" Opium is hidden in one of the vaults (basically a bunch of trap doors) underneath Grove Street near the Pulteney Bridge. Inside, the bar is one of the coolest ones you'll ever see. It's divided into a bunch of different rooms, each with a different design influence. Some rooms feel like you're back in the Renaissance, some have a bohemian style, and some feel just as modern as any other bar. There's a huge selection of cocktails, from classic ones like cosmopolitans and mai tais to house cocktails like lychee martinis and customised cocktails they can mix up to order. Opium is pretty quirky, and so different than any other bars you could go to in Bath. It's definitely one to experience! Be sure to check their hours here before going, because they aren't open every night.
The Canary Gin Bar
3 Queen Street, Bath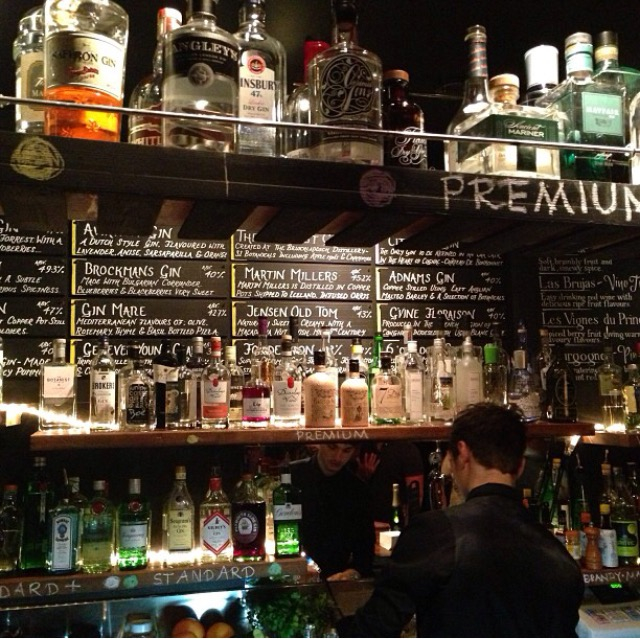 photo: @kira_lou
As you can probably tell from the name, the Canary Gin Bar specialises in gin, gin, and more gin. The bar is separated into two floors with its main bar downstairs and a martini bar upstairs. From the outside, Gin Bar looks like a typical English pub on a quiet cobblestone street, but inside it's so trendy and looks like a speakeasy from the 1920s. All the cocktails are freshly made and they are all beautifully garnished. You can order pretty much anything, but of course the most popular choices are their many gin cocktails! The bartenders are all so knowledgable when it comes to gin, so if you aren't sure what to order, they can definitely whip up something you'll love!
Pig & Fiddle
2 Saracen Street, Bath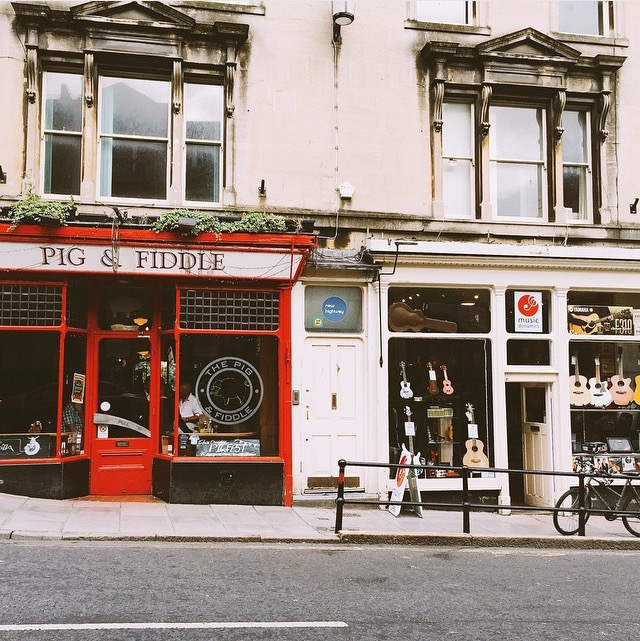 photo: @punkfairyonfoot
Of course the most English going-out experience you can have is going to a traditional pub. My favourite is the Pig & Fiddle, which is on a quaint street right near the city centre and the River Avon. You can sit inside or in the beer garden outside and enjoy a pint or two with some friends! The pub also features some fun events throughout the week, like an open mic night on Tuesdays and DJs on Fridays. The customers are a range of all ages, and it's the perfect combination of rowdy and relaxed. The interior of the pub is all dark wood and is one of the most traditional-looking English pubs I've visited!
And there you have it—your ultimate guide of what to see and do in Bath, England! I really loved Bath more than I even expected, and if you are planning a trip to England any time soon, definitely try to spend a few days in Bath. You won't regret it!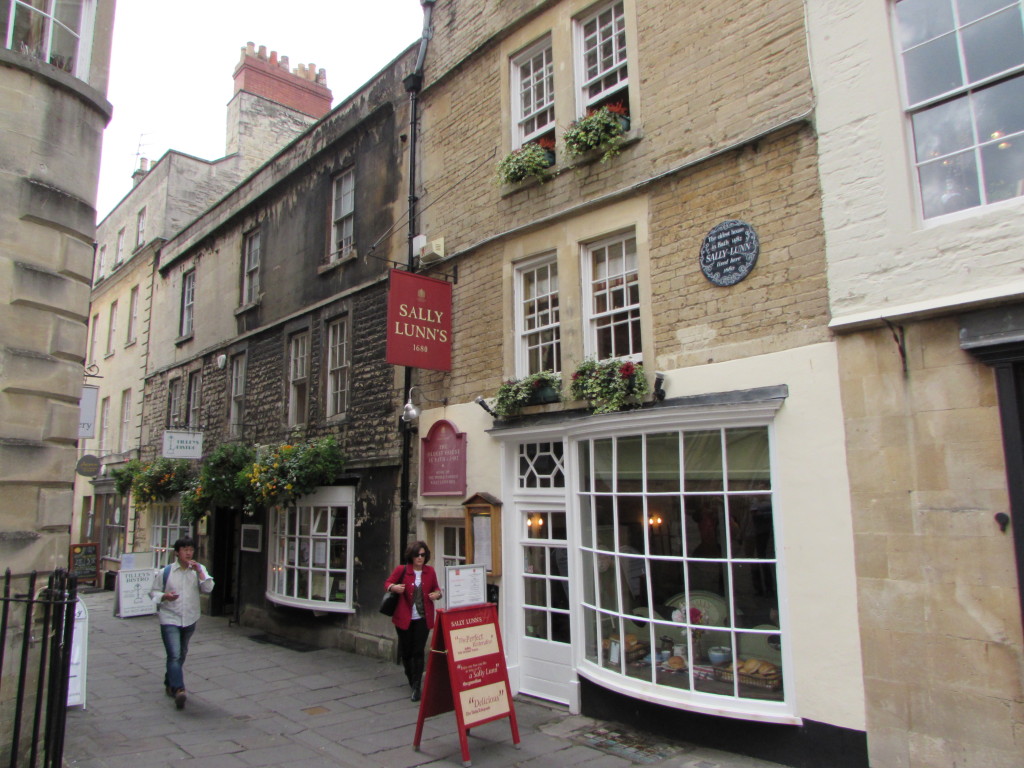 Now over to you! Have you been to Bath, and if you have what are your favourite things to do? If you haven't been to Bath, what would you most like to see there? Leave a comment to let me know!
Hi I'm Christie, a 28-year-old girl originally from Boston who has spent time living in New York City, North Carolina, France, Australia, New Zealand, and London. I love moving to new places and exploring them as a local, and I can't see my nomadic expat life stopping any time soon! I have no greater passion than travel, and when I'm not exploring I spend my free time reminiscing on past trips and daydreaming about future travel.