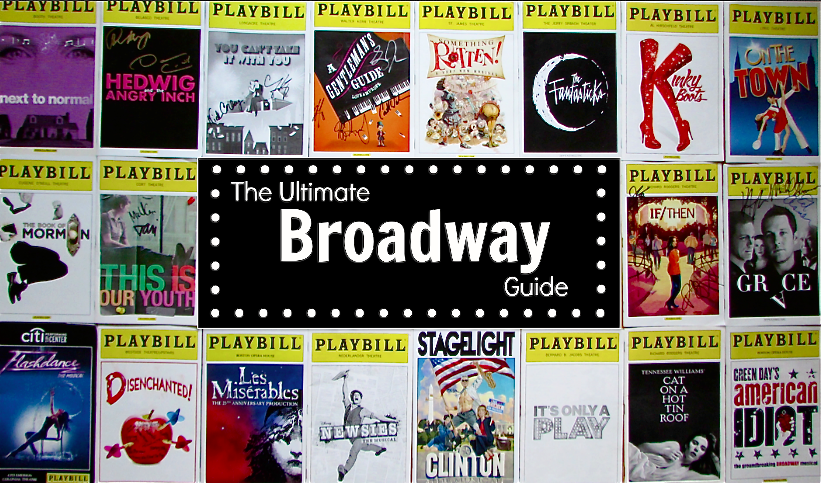 The Tony Awards were a week and a half ago, and now a lot of people have Broadway shows on the mind… I know I do! Growing up, my family was always very into live theatre, so I was exposed to plays and Broadway shows from a pretty young age. Then after moving to New York City eight months ago, I saw more shows than ever. In my 23 years of life so far, I've seen 17 Broadway and Off-Broadway shows, so I have a pretty good knowledge about Broadway in NYC! Here's your ultimate guide to help you pick your next Broadway show. And if you want to know how to get the best price on tickets, check out my blog post How To See A Broadway Show In New York City Without Breaking The Bank.
The Most Hilarious and Witty Shows: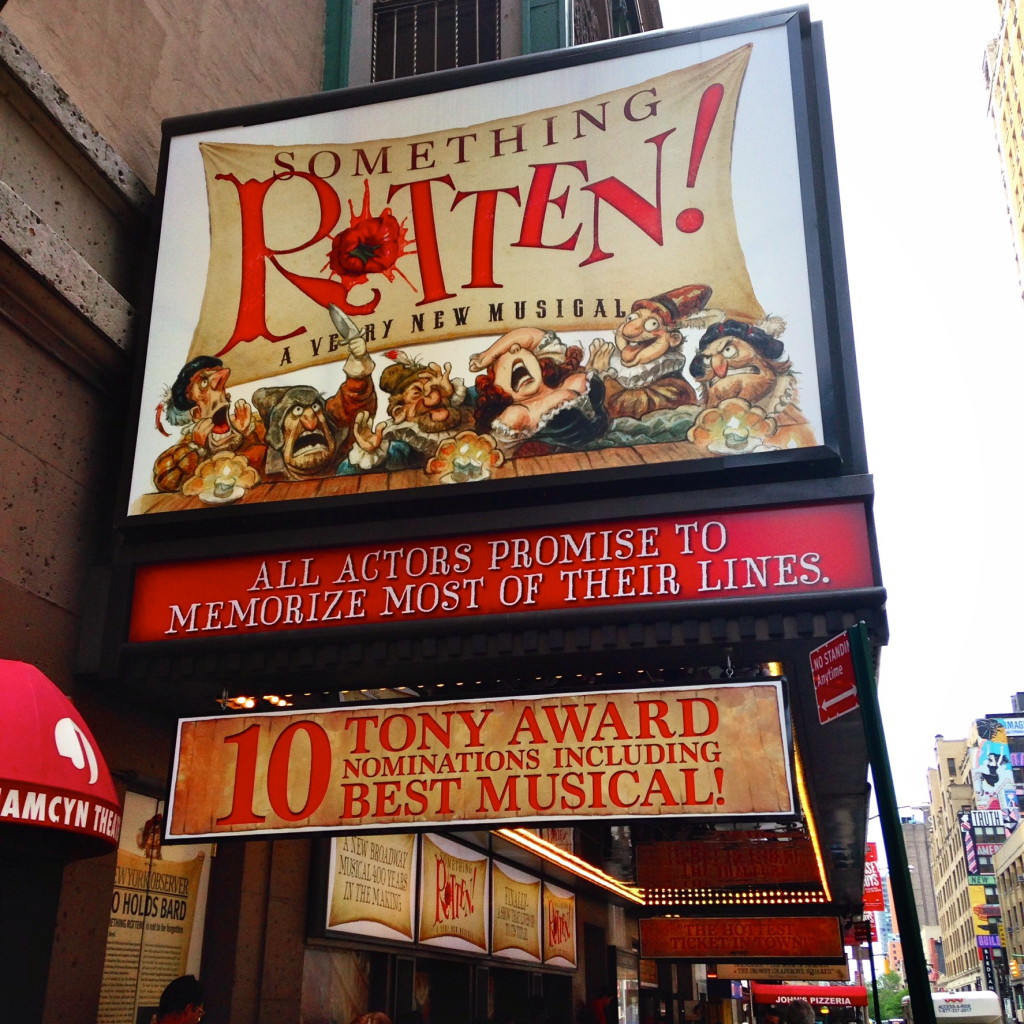 Something Rotten
Something Rotten is a pretty new show, and probably the funniest one I've ever seen! It's about two brothers, Nick and Nigel Bottom, who are playwrights in Shakespearean London. Obviously competing against Shakespeare isn't an easy task, and when their producer threatens to cut the funding for their latest show, they need to come up with something groundbreaking and original. Nick secretly gets a telephone psychic reading to see what will be popular in theater in the future, and finds out the biggest thing will be musicals. And even though the idea of a play where the characters spontaneously burst into song seems ridiculous to them, they trust the psychic and work to create the world's first ever musical!
The writing in this show is incredible, and if you have an appreciation for theatre, you will love this show! There are references to other Broadway shows throughout and it pokes fun at Shakespeare. Both actors who play the Bottom Brothers are amazing, but Christian Borle who plays Shakespeare really steals the show! He perfectly portrays Shakespeare as an arrogant sex symbol that everyone obsesses over. The sets and costumes in the show are great, the music is so catchy, and you won't be able to stop laughing throughout the show. It's quickly gaining in popularity so make sure to see it soon before it becomes too hard to get tickets!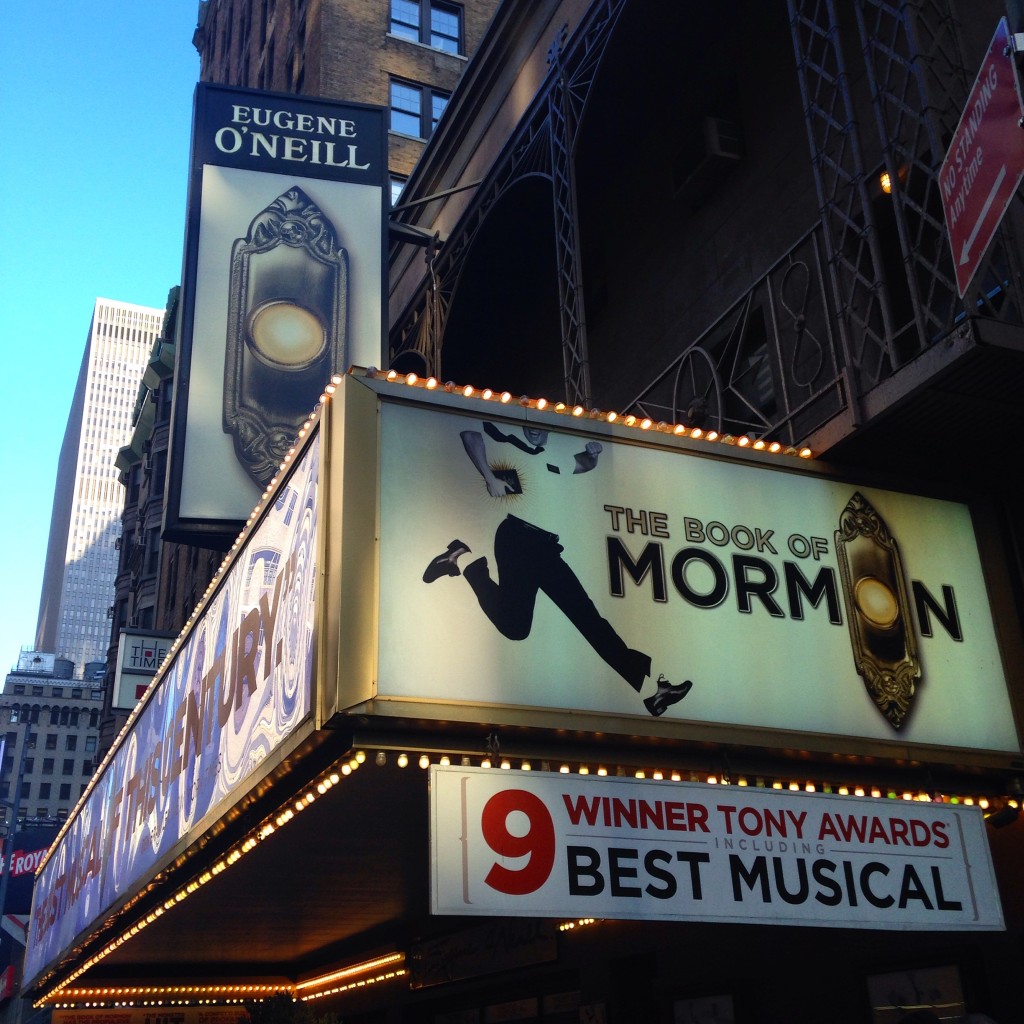 The Book of Mormon
After being on Broadway for a few years, The Book of Mormon is just as popular as ever! A group of Mormon teenage boys are getting ready to be sent on their two-year mission assignments around the world where they will teach people about the Book of Mormon and try to baptise people into their church. The boys are put into pairs and find out where they will be heading for the next two years. Most are sent to exciting countries across Europe and Asia, but when Elder Price and Elder Cunningham get their assignment, they find out they will be going on a mission to a rural part of Uganda. When they arrive, they are upbeat about teaching the natives about their religion, but they soon realise the villagers have much bigger problems to worry about including AIDS, a crazy warlord, and famine. The boys come up with some creative ways to teach them about the Book of Mormon and lots of craziness and hilarity ensues!
The songs are so much fun and the cleverness of the script will have you laughing nonstop! Book of Mormon can be one of the harder shows to get tickets to, so I would recommend trying to win a lottery ticket or buying a super-affordable standing room ticket. Read more about how in this blog post.
A Gentleman's Guide to Love and Murder
After working-class Monty finds out he is a distant relative of the aristocratic D'Ysquith family, he decides that getting recognised as part of the family is exactly what he needs to get out of the slump he's in. He writes a letter and quickly hears back from one member of the family failing to acknowledge him or his mother as D'Ysquiths and prohibiting him from using their name. Initially, Monty is upset, but then he remembers something else—he is ninth in line to become the next Earl of Highhurst. To get his revenge and claim his rightful spot in the family, he decides to kill every member of the D'Ysquith family who is ahead of him so he can become Earl. 
The story takes place in early 1900s London, so the costumes are really intricate and cool and the music  adds perfectly to the comedic aspect of the show. Popular Broadway actor Jefferson Mays plays every member of the D'Ysquith family and is so talented! And a little tip with this show: most shows are ok if your seat has a "partial view", but with the way the stage is set up, you miss out on a lot of the action if your seat is way off to the side.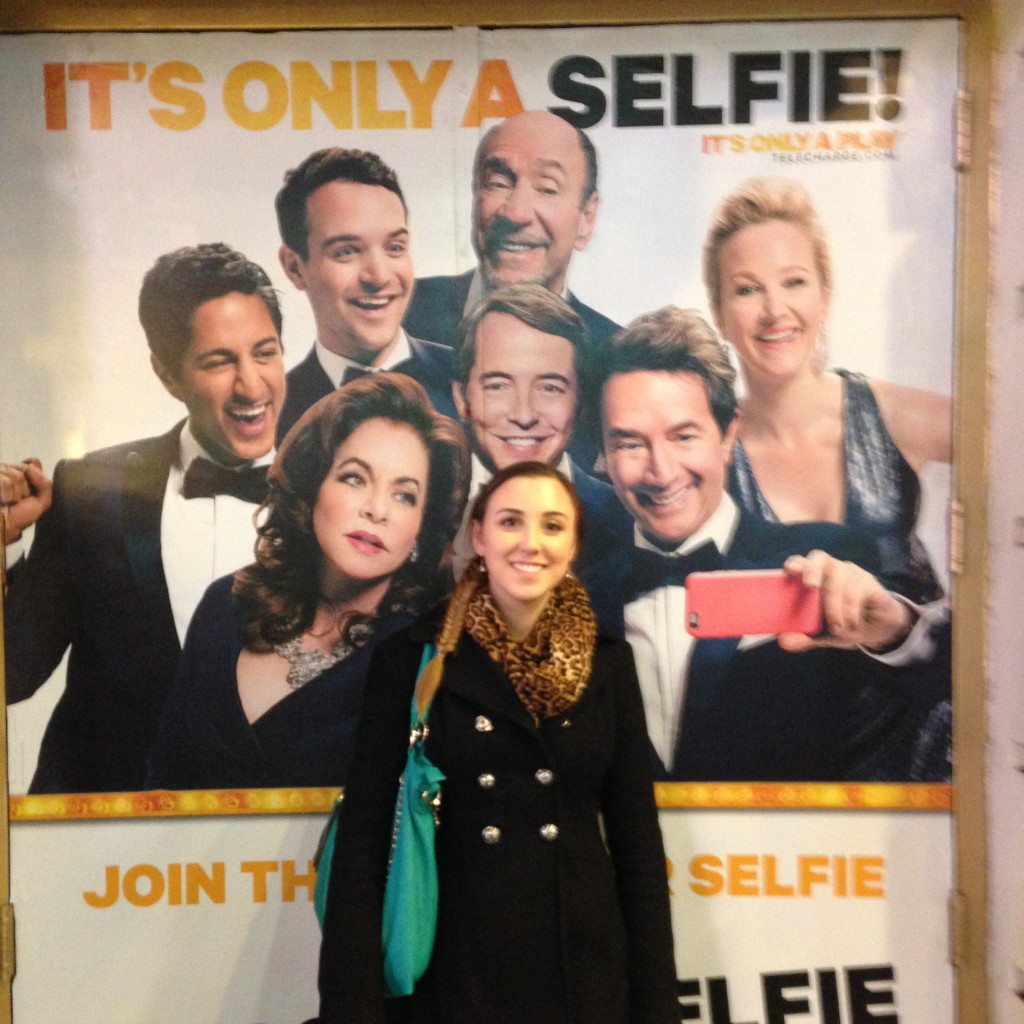 It's Only A Play
Here's a slightly different option because it's a play rather than a musical, but I promise it is just as funny! It's Only A Play takes place following the opening night of a new Broadway play in the producer's NYC apartment. While a party is happening downstairs, the producer, director, writer, lead actress, a theatre critic, a Hollywood friend, and a coat-check boy all hang out upstairs talking about how they think the show went. The producer, writer, and lead actress are so sure the play will be a huge hit and make them hugely famous, but when the reviews come out that night, they realise it was a failure. In the second half of the show, they wonder what their next steps should be and try to figure out where everything went wrong.
The play is full of references to pop culture and other Broadway shows. Somehow as the show goes on, it just gets funnier and funnier! There are a bunch of stars in the show (Matthew Broderick, Nathan Lane, and Stockard Channing to name a few) and they all have perfect stage chemistry. If you want to read more info on the show, I did a post about it on my old blog: La Vie Est Belle – It's Only A Play.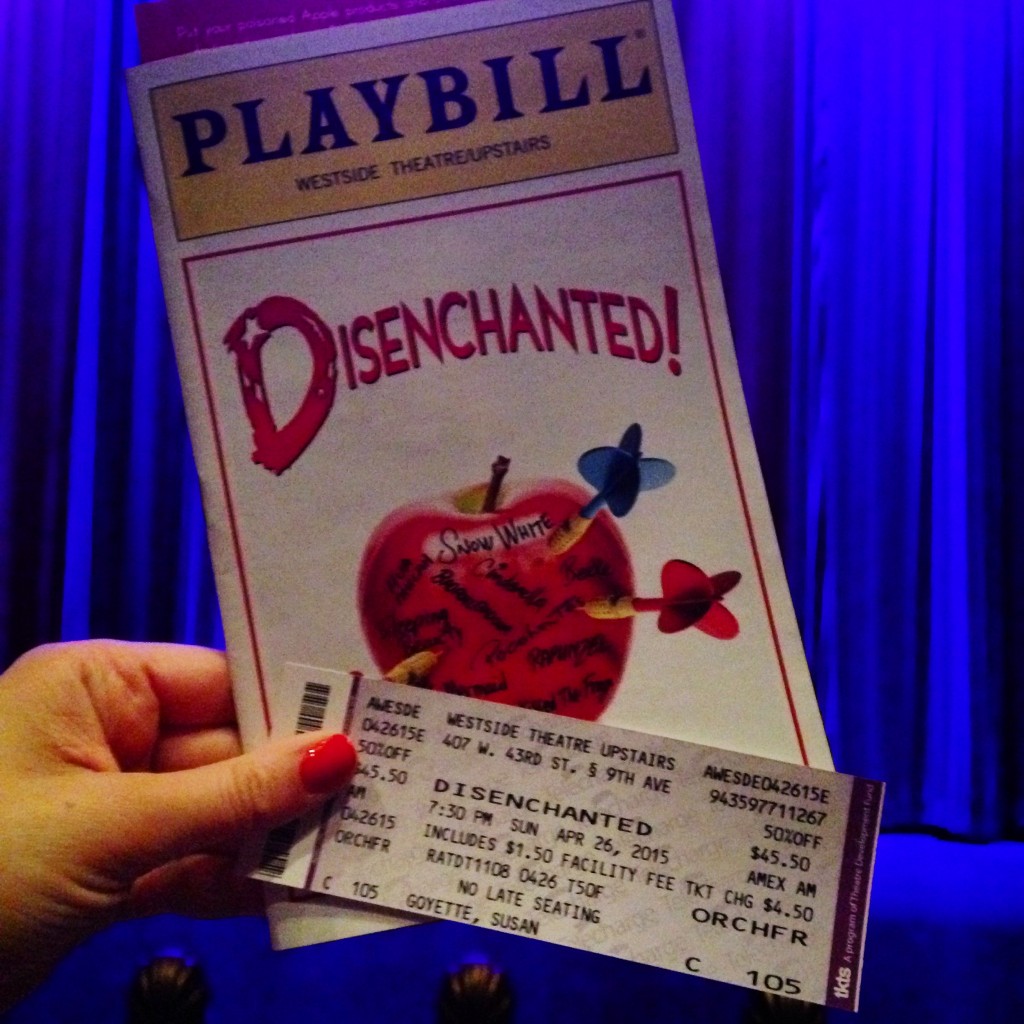 Disenchanted (Off-Broadway)
Venturing off Broadway, there are still tons of great shows in New York! One of the funniest is Disenchanted. If you ever wondered what happened to the Disney princesses after "happily ever after," it's probably not as glamorous as you thought! This musical shows you what comes after their stories end, and it's pretty hysterical! The show is led by Snow White, Cinderella, and Sleeping Beauty and features so many other princesses and what you never knew about them: Belle the schizophrenic, Ariel the alcoholic, and Mulan the lesbian to name a few! The show was brought back by popular demand, and it's easy to see why! The music is really catchy, the writing is hilarious and so creative, and the tickets are so affordable compared to on-Broadway shows!
Amazing Visual Effects and Music: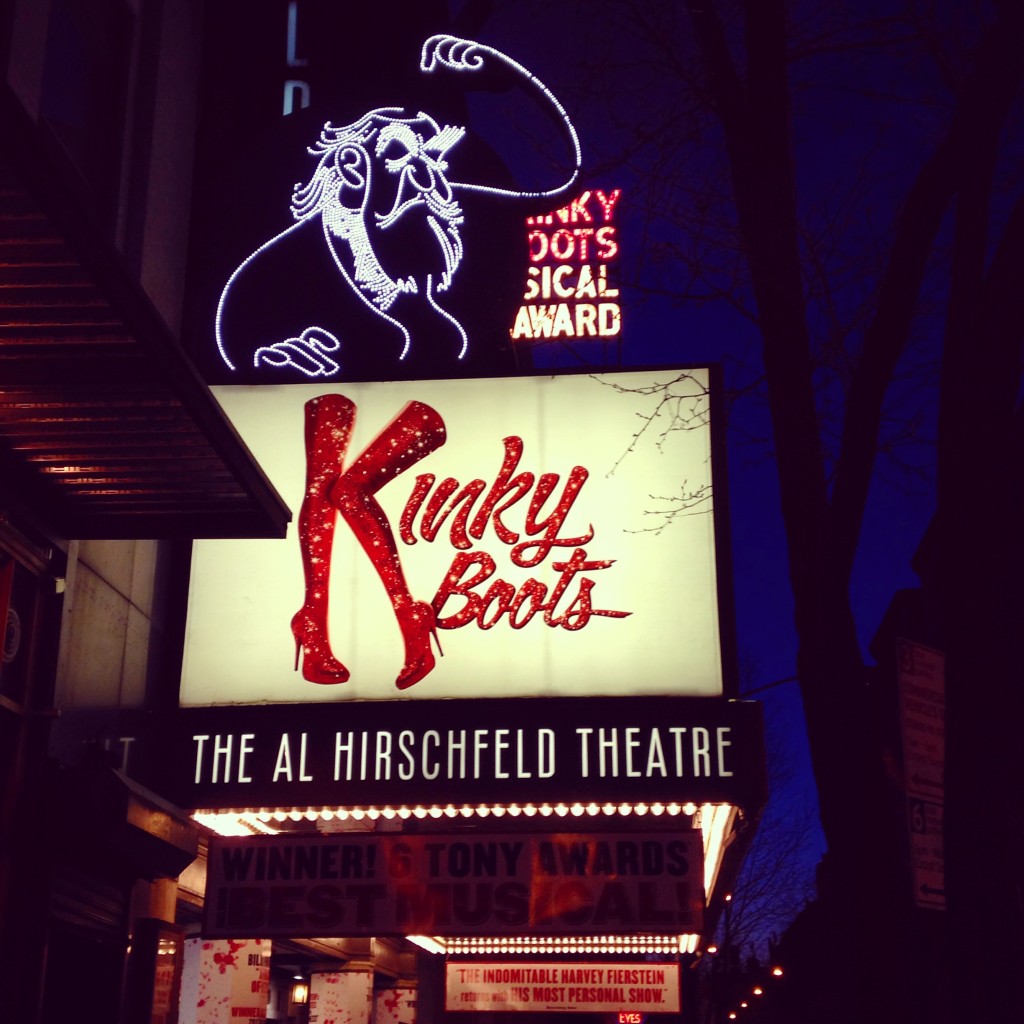 Kinky Boots
Of all the shows I've seen, Kinky Boots was one of my favourites! It tells the story of Charlie Price who inherits the family shoe factory after his father passes away. The factory is struggling and on the verge of being shut down, so Charlie needs to come up with a creative way to increase their sales. That's when he meets fabulous drag queen Lola who gives Charlie the idea to make shoes "for men who like to wear women's shoes." The unlikely pair teams up to create a line of "Kinky Boots" to show at Milan fashion week!
The songs in Kinky Boots were written by Cyndi Lauper and are all so catchy and fun! After seeing the show, you'll have some of the songs stuck in your head for weeks! In addition to the music, the choreography, lighting, costumes, and sets all combine to make the show so amazing! It won the Tony award for Best Musical a few years ago, and is still one of the most popular shows on Broadway. If you want to read more about the show, there is a post about it over on my old blog: La Vie Est Belle – Kinky Boots.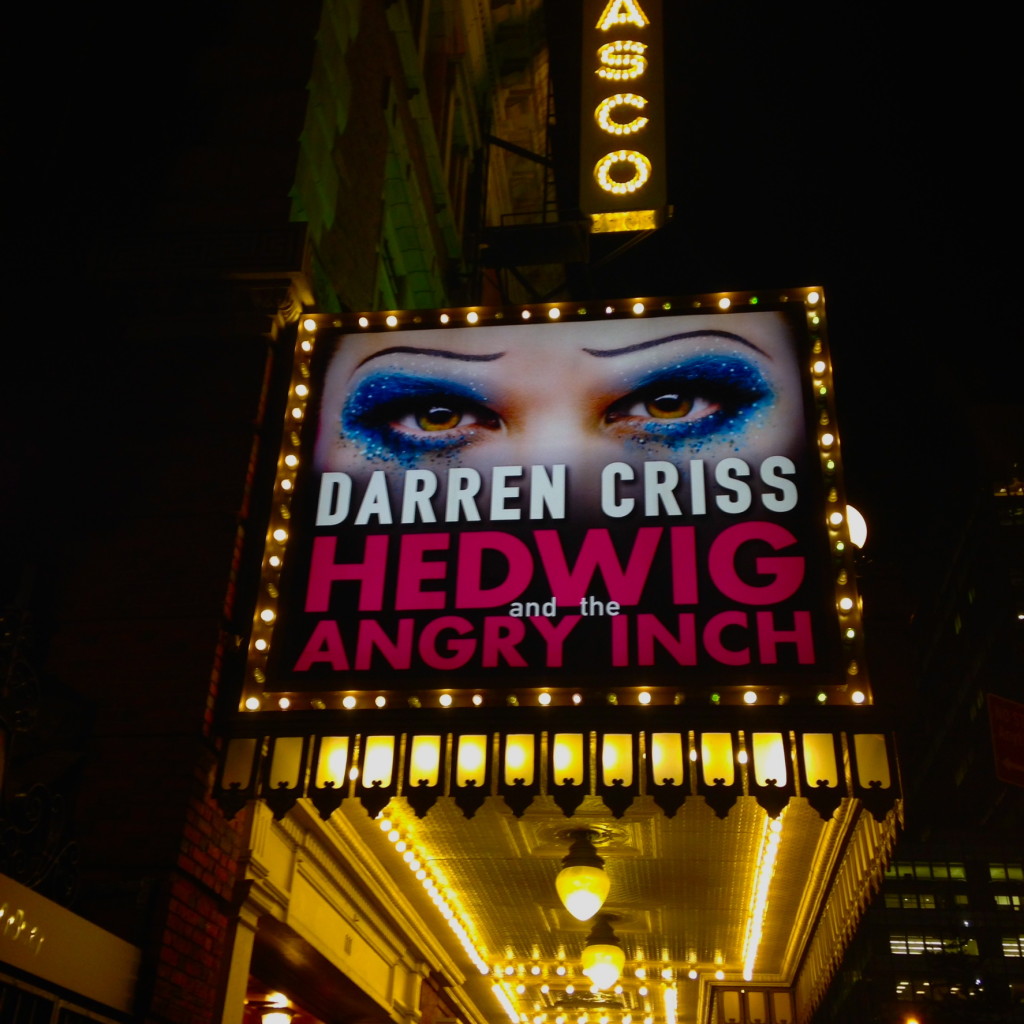 Hedwig and the Angry Inch
Hedwig tells the story of the character named Hedwig. Growing up in communist East Berlin before the fall of the Berlin wall, Hedwig did everything possible to escape, especially listening to the music of American and British rock bands. After meeting an American man, he realises that could be his chance to get out of Berlin and plans to marry him. Since it was the '80s and same-sex marriage wasn't legal yet, Hedwig had to undergo a sex change in order to marry the man. But the operation goes wrong and Hedwig is left with what he refers to as an "angry inch." There are funny moments and lots of serious moments surrounding Hedwig's self-esteem issues and failed romances.
The show is a rock musical and has music that sounds totally different from any other Broadway show I've seen. There are also so many cool special effects including crazy lighting, video clips, and a changing set. Darren Criss is the current lead and is amazing in the role of Hedwig! Starting in a few weeks, Taye Diggs will be taking over the role, and I'm sure he will be great too. And just a warning: a lot of subject matter in the show is mature, so it's not a great show to bring kids to.
Wicked
By far one of the most popular shows on Broadway! I have not been fortunate enough to see Wicked yet, but between their ticket sales and what I've heard from friends, it's absolutely amazing and something you have to experience. The show is a spin on The Wizard of Oz and tells the story from a different perspective. It focuses on Galinda the good witch and Elphaba, better known as the "wicked witch of the west." The two couldn't be more opposite, but are best friends and struggle with their differences throughout the show. Even if you haven't seen Wicked, you have probably heard some of the songs, like "Defying Gravity" and "Popular" and the set looks amazing. And rumour has it, they are planning to make Wicked into a movie, so now would be the perfect time to see it on Broadway before the movie comes out!
Fun Home
If you watched the Tony Awards, you'll definitely recognise this name…it was only mentioned about a billion times over the course of a couple hours! Fun Home totally swept the award show and won five big awards including Best Musical and was nominated a total of twelve times! Needless to say, tickets are not easy to get, so I have not been able to see Fun Home yet. The show is based on a memoir about a woman who looks back on her life and tries to understand her difficult relationship with her father. Sexuality is a major focus because Alison, the main character, is gay and she finds out her father has had gay relationships as well. The child version of Alison is played by a ten-year-old girl who is absolutely amazing. You might have seen her perform at the Tony's and she even won an Obie award for her performance. I have listened to some of the songs from the show, and they are really catchy! And if you are like me and my sister, you'll have one of the songs in particular stuck in your head for weeks!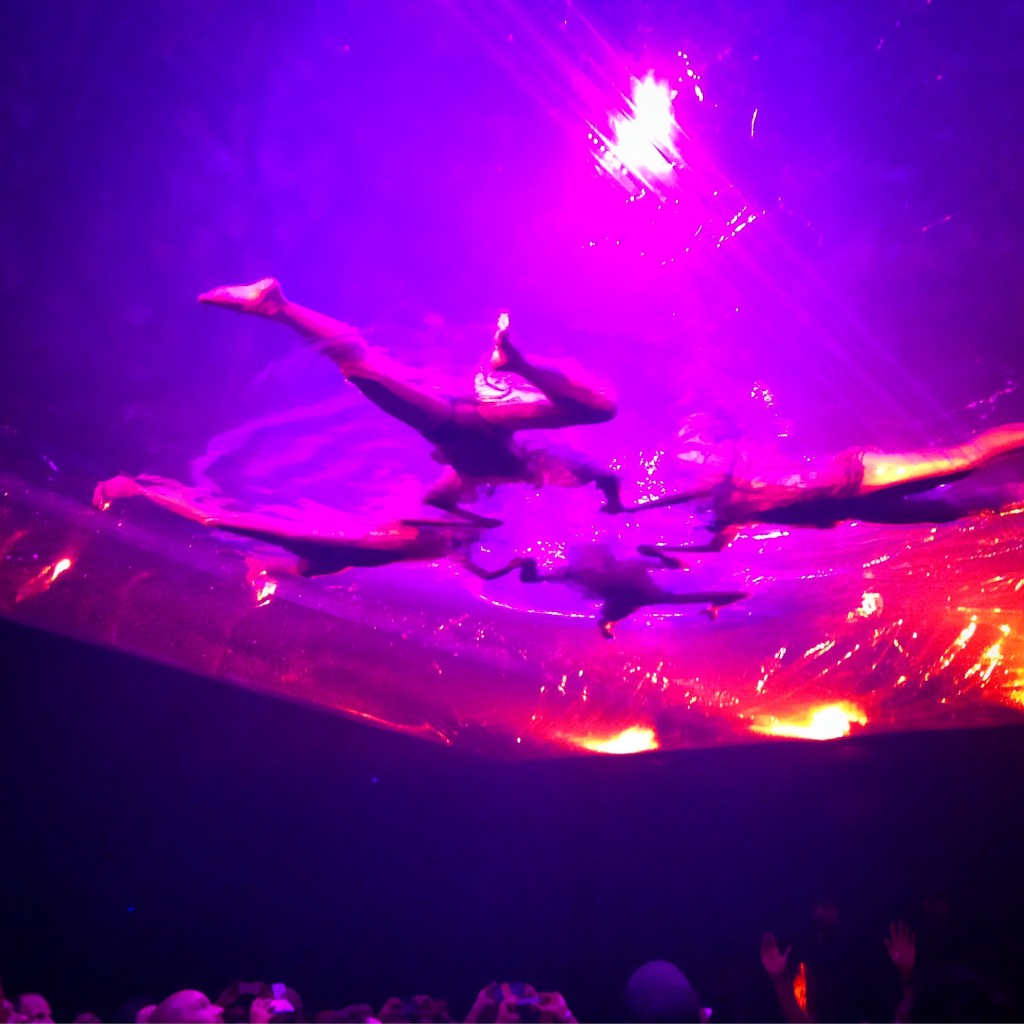 Fuerza Bruta (Off-Broadway)
Another amazing off-Broadway show. Fuerza Bruta is totally different from any of the other shows on this list because it is more performance art like Cirque du Soleil rather than a play. There is no speaking in the show, and the entire thing is visual and goes along with an in-house DJ. It's broken up into different sections, including an overhead water portion and an acrobatic portion. The show is pretty interactive, and audience members are encouraged to get involved in different parts of the show. You stand for the show and move around the performance space a bunch of times to see the show from different angles. Words can't really describe how amazing this show is, and it was one that I loved way more than I expected to! To read more info on the show check out this blog post.
For The Classic Broadway Experience: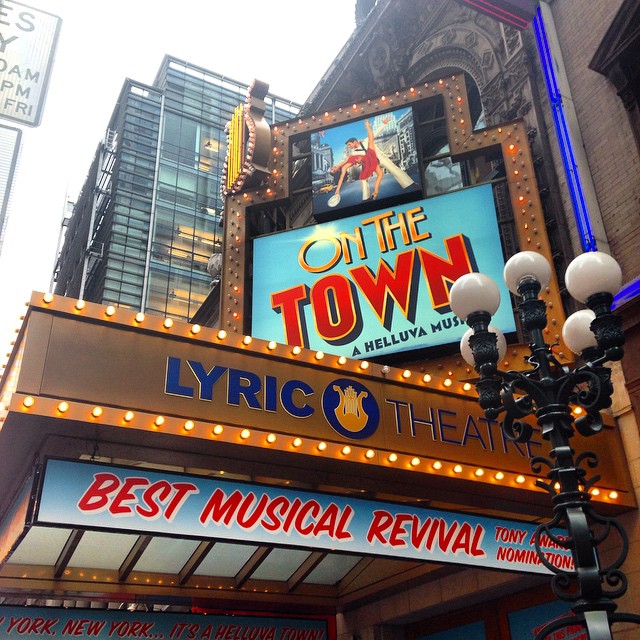 On The Town
On The Town has been around since the 1940s, so you could say it's a Broadway classic! The show has been in NYC on and off since it started, and just went through a Broadway revival last year. It takes place during World War II and is about three sailors who are given 24 hour leave in New York City. They're on a mission to experience the city and have some fun! When one of the men sees a poster for a woman that he must meet, the three friends split up to try and find her in the city of millions of people. Over the course of 24 hours, a lot of crazy stuff happens to the guys and they all end up meeting different girls and falling in love. The music in the show is so catchy, and it's pretty funny! It seems like they modernised the show a bit in the last revival with some witty references and elaborate sets. One of the main focuses in the show is the dancing, and the choreography is really great with a lot of ballet. When I saw On The Town I heard a couple audience members say that they thought the story seemed outdated, but I liked it, and the overall attitude in the audience was really positive!
Jersey Boys
Jersey Boys is a jukebox musical all about the rock 'n roll band Frankie Valli and the Four Seasons in the 1960s. Throughout the show, you see the band in its early stages in New Jersey, at the peak of their success, and then their break-up. The show is broken up into four "seasons" each narrated by a different member of the group with different perspectives on the band's story. The music in the show is all songs that The Four Seasons performed as a group, and it's all so catchy! Even if you weren't around while The Four Seasons were popular, you would definitely recognise a bunch of their songs including "Big Girls Don't Cry" and "Can't Take My Eyes Off You." And if you liked the movie remake of Jersey Boys, you're sure to love the Broadway version even more!
Phantom of the Opera
Since Phantom of the Opera is the longest-running show on Broadway, obviously they're doing something right! It's by far one of the most popular musicals in the whole world, with regular shows in both New York and London, and performances in about 145 cities around the world over the years. So if you haven't seen Phantom yet, it's probably the most classic Broadway experience you can get! The story takes place in a Paris opera house in the 1800s. The Phantom lives below the opera house and wears a mask to hide a face disfigurement. While he's super private and doesn't show himself in the opera house very often, he pulls some strings to help opera singer Christine, who he is in love with, get all the best roles. When he realises Christine is in love with another man, the Phantom kidnaps her and brings her to his home in the basement to try and make her fall in love with him. As the show goes on, you realise more and more just how crazy the Phantom is. I haven't seen Phantom on Broadway yet, but I loved the movie version, and definitely want to see it next time I'm in New York!
Les Misérables
Another classic Broadway show, and the longest-running musical in London's West End, Les Misérables is another perfect show to see if you're looking for that classic experience. Les Mis was originally a French book and takes place during the French Revolution in the 1800s. Jean Valjean is a French peasant who was forced to spend 19 years in prison for stealing a loaf of bread. After he breaks his parole and is protected by a bishop, he decides to start his life anew and create a new identity for himself: Monsieur Madeleine, a factory owner and mayor. Meanwhile police officer Javert is after Jean Valjean and is intent on bringing him back to prison. Lots of other characters are introduced as the Revolution becomes more and more serious. Les Mis is another show that I have yet to see on Broadway, but I loved the movie version. The show has some of the best songs on Broadway, and every photo I've seen of the sets and costumes looks amazing! And just a warning: Les Mis is a pretty serious and depressing show, so it's not the one to see if you want something happy and upbeat!
Best for the Family:
The Lion King
As the most popular Broadway show in history, I don't think The Lion King needs any introduction! It's almost ridiculous how much money the show has made since its first performance in 1997, and it broke the box-office record for both stage productions and films. I'm sure you've seen and know the Disney movie that this musical is based on: Simba is a lion cub who is set to become king of his pride, he flees his kingdom after fearing he caused his father's death, he meets some fun-loving animals named Timon and Pumba, falls in love with his childhood friend Nala, and returns to the kingdom to save everyone from his evil uncle Scar. The music, sets, and costumes in The Lion King are truly amazing and it's the perfect show for both adults and kids. But of course since it's so popular, it's also one of the hardest show to get tickets to, and they are never discounted. So if you want to see Lion King, make sure you book your ticket way in advance and expect to pay a high price!
Aladdin
Following the huge success of Lion King on Broadway, Disney brought another one of their most popular stories to the stage. Again, I'm sure you know the original story: Aladdin is a poor boy who meets and falls in love with Princess Jasmine. When he discovers a genie in a bottle, he is granted three wishes and decides to use them in order to become a prince and win over Jasmine's heart. Aladdin is another difficult show to get tickets for, but it does have a lottery that you could try for! I haven't been lucky enough to see the show yet, but I have a friend who won the lottery to Aladdin, so it's definitely possible to win! I've heard the show is amazing, the music, sets, and costumes are great, and it's just as enjoyable whether you are a kid or an adult.
Matilda
Another audience favourite based off of a childhood book and movie. Matilda is about a young girl who faces a hard time both at home and school. Her dad and brother gang up on her, and she has the most infamously evil principal of all time, Miss Trunchbull. Making things a little better though, Matilda makes a good friend at school and forms a relationship with her teacher Miss Honey who becomes like a mother-figure to Matilda. You have probably seen the popular kid's movie that this musical is based off of and know that the story is full of ups and downs, both funny and sad moments for Matilda. A huge portion of the cast is young children, and I have heard they are all so talented and impressive. Matilda is the perfect show to bring children to and see as a family.
Other Shows That Are Supposed To Be Amazing:
Gigi
Gigi originally ran in the '70s and just came back to Broadway as a revival. The musical is about a free-spirited teenage girl who lives in Paris during the Belle Epoque at the turn of the 20th century. As is tradition in the family, Gigi is being groomed to become a courtesan. While she is being turned into a poised and proper young lady, Gigi meets and falls in love with a young bachelor and also tries to discover her true self. Vanessa Hudgens stars as Gigi, and the musical is full of fun and upbeat songs. La Belle Epoque was such a magical time in Paris, and the fashion, sets, and songs in the show really show how glamorous it was!
An American in Paris
An American in Paris is a musical based on the classic movie, and was nominated for 12 different Tony awards for its impressive music, sets, costumes, and choreography. Following the aftermath of World War II, an American soldier moves to Paris to become a painter. There, he meets and falls in love with a French girl named Lise. But things become complicated when he discovers that she has a big secret and he isn't the only man vying for her attention. The show is supposed to be magical and definitely something to see!
The Curious Incident of the Dog in the Nighttime
Like Fun Home, Curious Incident of the Dog in the Nighttime absolutely dominated at the Tony Awards. The show is fairly new, and while I haven't seen it yet, I read the book and can assume how amazing the play is. The story is about an autistic boy named Christopher who finds that a neighbourhood dog has been killed. When he is initially blamed, he sets out to solve the mystery of what really happened to the dog and ends up learning some secrets about his family along the way. Christopher's adventures take him from his small town in England to London where he is overwhelmed by the number of people and everything that's going on around him. Most of the book takes place in Christopher's head, so I am so interested in seeing how it translated to the stage. And considering it was nominated for and won a bunch of awards, I'm guessing it was done well!
Avenue Q (Off-Broadway)
Avenue Q is definitely not for everyone and could sound a little unusual to most people. The musical features some human actors as well as lots and lots of puppets! It was created as a parody of shows like "Sesame Street" that tell kids they can do anything. But when recent college graduate Princeton moves to New York City and becomes stressed with finding a job and apartment, he quickly realises that is not the case. He eventually finds an apartment on Avenue Q, and has an interesting group of neighbours, played by puppets. The show touches on a bunch of different adult topics from money to racism to sexuality. I have yet to see Avenue Q but have heard from a bunch of people that it's hysterical and definitely raunchy!
And there were lots of shows that I've seen, but unfortunately they ended so you can't see them any time soon: You Can't Take It With You, This Is Our Youth, Next To Normal, Newsies, Grace, Flashdance the musical (which was actually a travelling Off Broadway show), and my favourite of the shows that have ended: If/Then. It starred Idina Menzel, and even though you can't see If/Then any more, if you ever get the chance to see another show starring Idina, GO! She is amazing!
And there you have it, my ultimate guide to Broadway shows! Even though I'm not living in New York City any more, I still want to see as many shows as possible in other cities. And every visit I make to NYC, I'm going to try and check even more shows off my list! I'll be back in NYC for a few weeks in September and am definitely planning to see Wicked, Jersey Boys, and whatever else I can get a ticket to! 
And now over to you! What are your favourite Broadway shows and what shows are you dying to see? Let me know in a comment!
Hi I'm Christie, a 28-year-old girl originally from Boston who has spent time living in New York City, North Carolina, France, Australia, New Zealand, and London. I love moving to new places and exploring them as a local, and I can't see my nomadic expat life stopping any time soon! I have no greater passion than travel, and when I'm not exploring I spend my free time reminiscing on past trips and daydreaming about future travel.