My sister goes to school up in Burlington, Vermont so over the past few years I've been up there a good number of times with my family. My most recent visit was last weekend, and since I stayed with my sister in her on-campus apartment, I got to know the area a lot better than I have in the past. In some ways, Burlington feels like a smaller version of Boston, with similar architecture, a beautiful waterfront, and some European influence. The city has a population of just over 40,000 people, so it's definitely on the small side. But with everything going on there and all the tourists that visit, it definitely doesn't feel that small! There are several universities either in Burlington or right outside of it, so there is a large student and young adult influence in the area. For this reason, people from Burlington are pretty liberal and accepting of all different types of people. And another major characteristic of the city is its extreme seasons. Summers are hot, winters are cold, spring has beautiful blooms, and autumn has unbelievable foliage. All the seasons are very different, but each one has something to offer visitors!
If you want to explore a quintessential New England city, make sure to add Burlington to your list! And to give you an idea of everything this city has to offer, here is your ultimate guide to Burlington!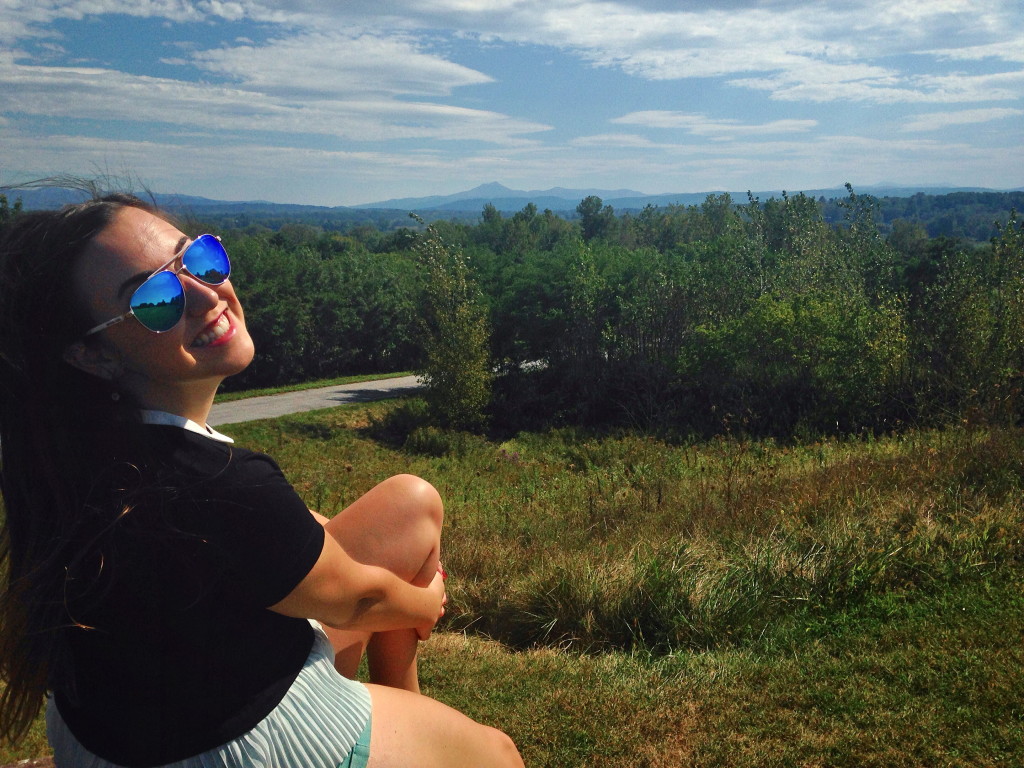 First things first: transportation. While there is a small airport in Burlington, flights are expensive. So your best bet would be to fly into a bigger city like Boston or Montreal and take a bus or train from there. Megabus especially has great deals on buses to and from Burlington. Once you're in the city, the whole downtown area is completely walkable. If you want to venture from the city center, there are some city buses, but your easiest way to get around is by car.
Where to go and what to do:
Church Street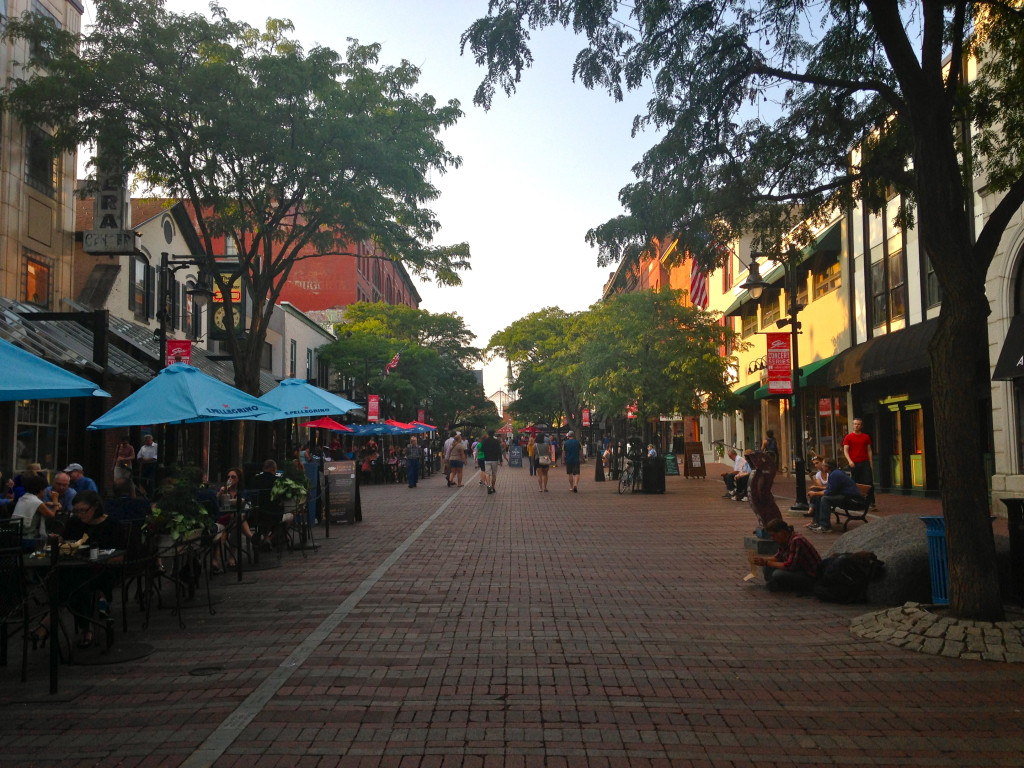 It's impossible to visit Burlington and not go to Church Street! It's right in the heart of downtown, and it's where you will find the best shopping and dining options in the city. In the warmer months, the street is packed with both locals and visitors walking around and eating at outdoor restaurants. Another huge part of Church Street is the street performers who are really entertaining! Some of the regular street performers are an acrobat with a chair stacking routine and a man who plays the didgeridoo. Spending some time taking in the atmosphere on Church Street will give you a really good feel for the city.
Lake Champlain Waterfront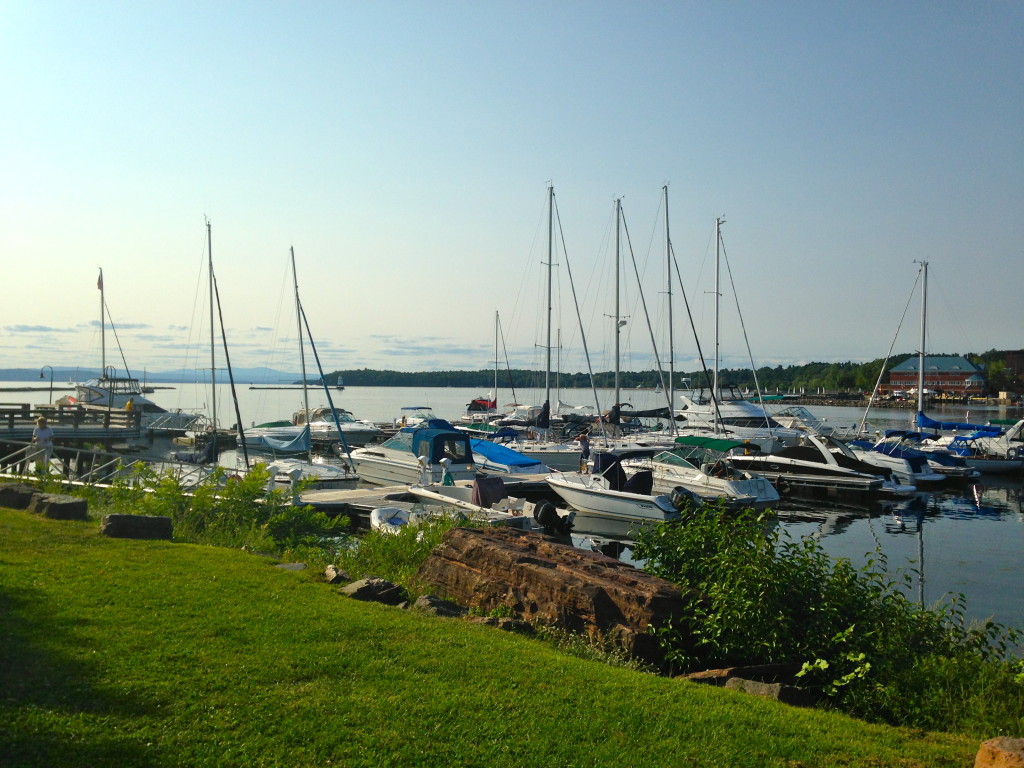 Just about a five minute walk from Church Street is the waterfront on Lake Champlain. The lake is full of boats, and there are some great places to eat right on the water. My favourite part of the lake is the mountains that you can see on the other side. That's not something you would see in Boston, so it has a really unique look to it. And in fact, the mountains you see on the other side of the lake are all the way in New York! To get an even more beautiful view, you can take one of the lake cruises that are available. The most popular one that I've seen every time I visit is the Spirit of Ethan Allen cruise. Whether you go out on a boat or just sit by the waterfront, the whole area is so beautiful and peaceful and definitely something you need to experience.
Camel's Hump Mountain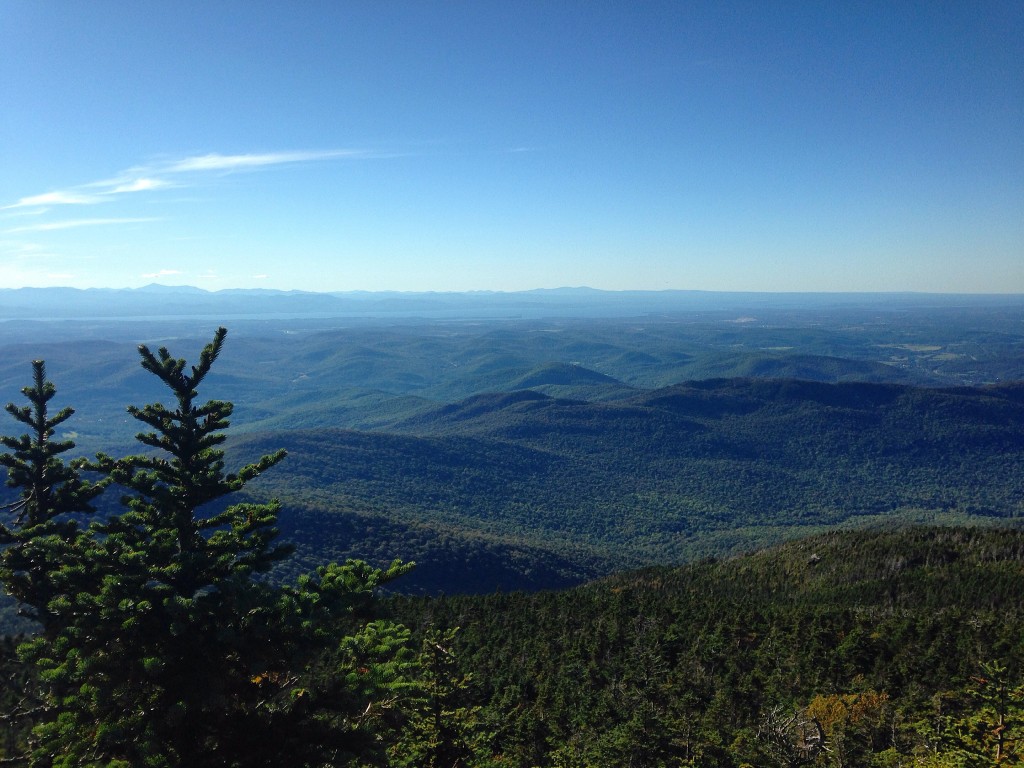 If you want to get out of the city and experience some of the nature in Vermont, hiking Camel's Hump is a must. It's called Camel's Hump because of the way its peaks are formed, making it look like the humps of a camel! I hiked Camel's Hump for the first time last weekend, and after that experience I recommend that everyone who goes to Vermont hikes it too. It's definitely challenging, but the views from the summit are incredible and completely worth all the pain and exhaustion! To read more info about my Camel's Hump hiking experience, check out my blog post about it here.
Skiing in Stowe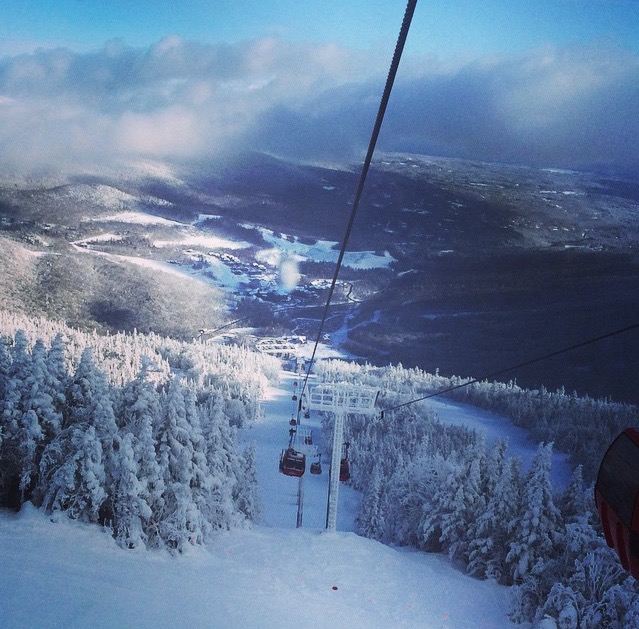 photo: @vnesss_marie
If you are visiting Burlington in the winter, there's a good chance you came to ski or snowboard! Some of the best mountains and mountain resorts in the country are in Vermont, one of those being Stowe. My aunt and uncle have owned a house in Stowe since I was really little, so I've been up there quite a few times over the years. I learned to ski in Stowe and have experienced a bunch of the trails, which are all beautiful and kept in great shape. I haven't skied in far too long, so I would love to visit Stowe again soon! (And by soon, I mean winter 2016-17 since I'll be experiencing an Australian summer during Vermont's next winter!)
Water Sports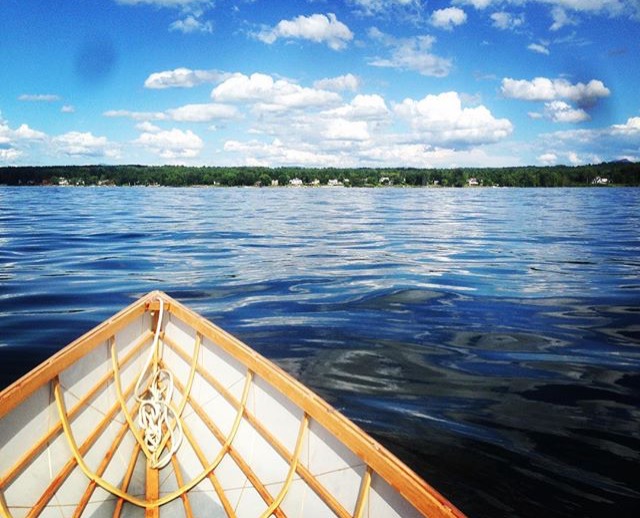 photo: @b_groggs
While skiing is the big sport in the colder months, there are plenty of adventurous activities to try the rest of the year too. Since Lake Champlain is so big (sometimes it's called the sixth Great Lake), it offers so much in the way of water sports. Some activities you can try are canoeing, kayaking, paddle boarding, boating, and fishing. Some parts of the lake are busier close to the city, but there are long stretches of the lake that are quiet and peaceful. The lake is full of open expanses, hidden bays, and even some state parks located on islands. Water sports is one thing I haven't tried yet in Burlington, but the next time I'm there during the summer, it's definitely something I want to try!
Winooski Circle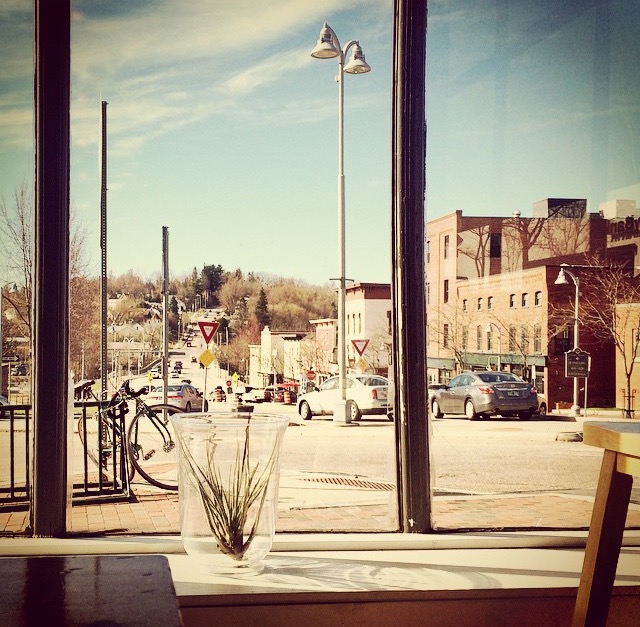 photo: @flowinglikewater
For some more great food options that are off the beaten path, Winooski Circle is another spot to check out. Technically located in the town of Winooski, it's actually right outside Burlington, but still only about ten minutes from downtown by car. In case you happen to be visiting someone at Saint Michael's College (like I was!), Winooski Circle is really close to campus. In addition to some great restaurants, there is also a bridge you can pass over to get a view of the Winooski River Falls, especially pretty around sunset!
Restaurants:
Tiny Thai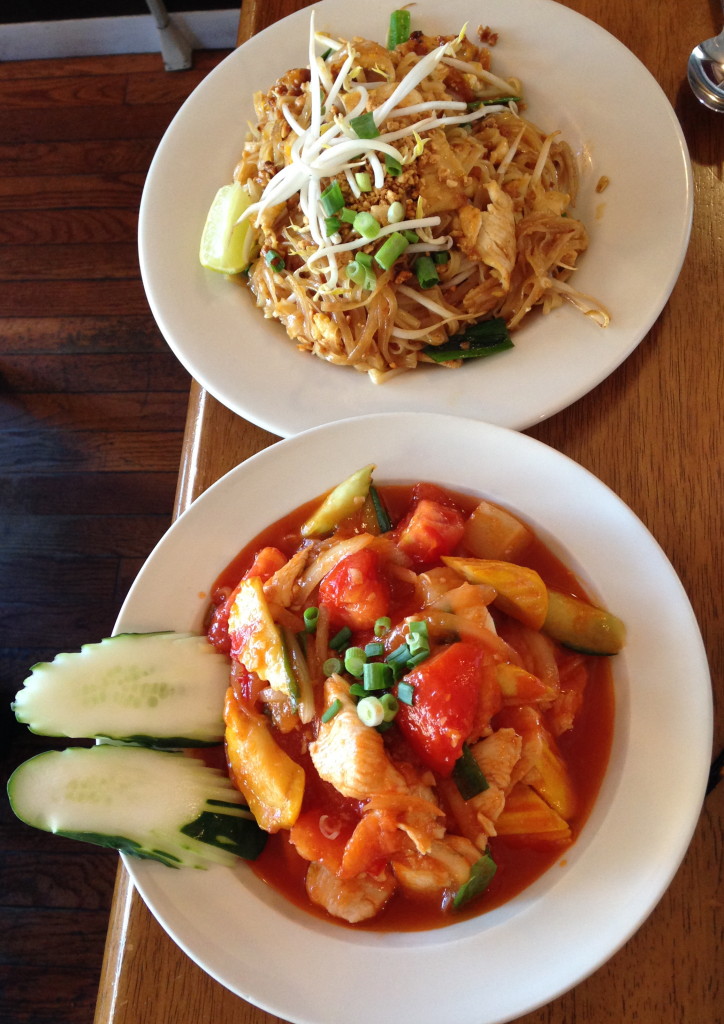 I think if I could only eat one type of food for the rest of my life, it would be Thai. I have never been to a Thai restaurant that I didn't like, and Tiny Thai is one of the best! I went with my sister and we decided to split two appetisers and two main dishes—spring rolls, chicken satay, pad thai, and sweet and sour chicken. All of the food was amazing, and everything else we saw people eating looked just as good! The prices are great, and another awesome perk—it's BYOB so you can bring your own bottle of wine or pack of beer to enjoy with your meal!
Sweetwaters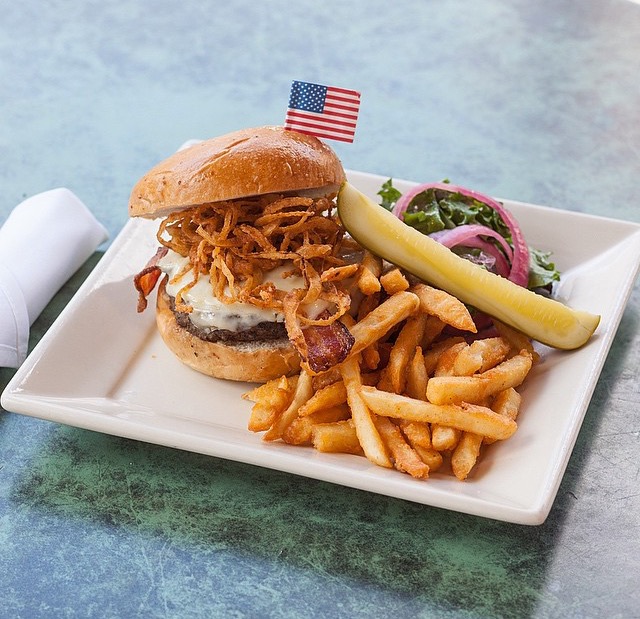 photo: @sweetwatersvt
Whenever my family has gone to Burlington, our go-to restaurant on Church Street has always been Sweetwaters. During the summer, they have lots of outdoor seating right in the heart of all the Church Street action, so it's perfect for people-watching, and you can usually see some street performers while you eat. There are so many different things on the menu including lots of burgers, sandwiches, and the super popular nachos. Last time I went, I ordered the Asian Salmon Salad that comes with Thai noodles, and I've been dreaming of it ever since!
Skinny Pancake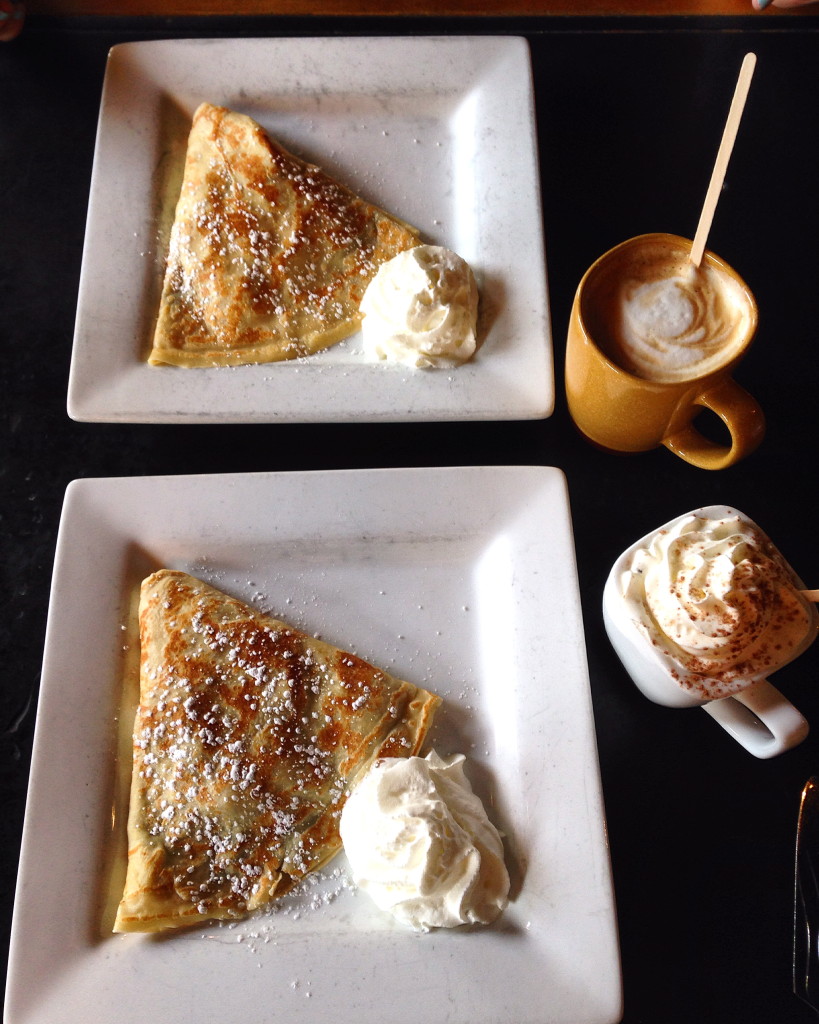 If you're looking for somewhere to get breakfast or an afternoon snack in downtown Burlington, Skinny Pancake is your place. They serve lots of different things like paninis and different breakfasts, but their specialty is crêpes. They have a huge selection of both savory and sweet crêpes, and I don't think you can go wrong with any of them! On my most recent trip to Burlington, I went to Skinny Pancake for the first time (I had wanted to go other times, but the line was always too long!) and ordered a nutella and strawberry crêpe that was on par with ones I've had in France! Also, if you visit the restaurant at night they feature local musicians and comedians pretty often.
Leunig's Bistro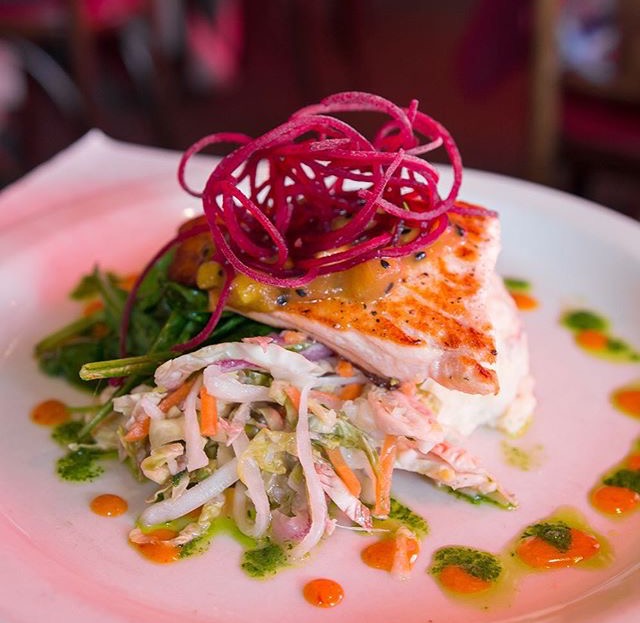 photo: @leunigs
If you like eating dinner early or late, make sure to check out the bistro dinner special at Leunig's. It's a French bistro right in the middle of Church Street with lots of outdoor seating in the warmer months. Normally, their prices are a little high, but if you go between 3-5:30pm or 9-10pm, they offer an early bird/night owl prix fixe dinner that includes an appetiser and main course for a really reasonable price, and you can even add a glass of wine for $2.50. There are so many different things to choose from, all with a delicious French twist! You can also visit their second floor lounge for a selection of craft cocktails, tapas, and desserts.
Asian Bistro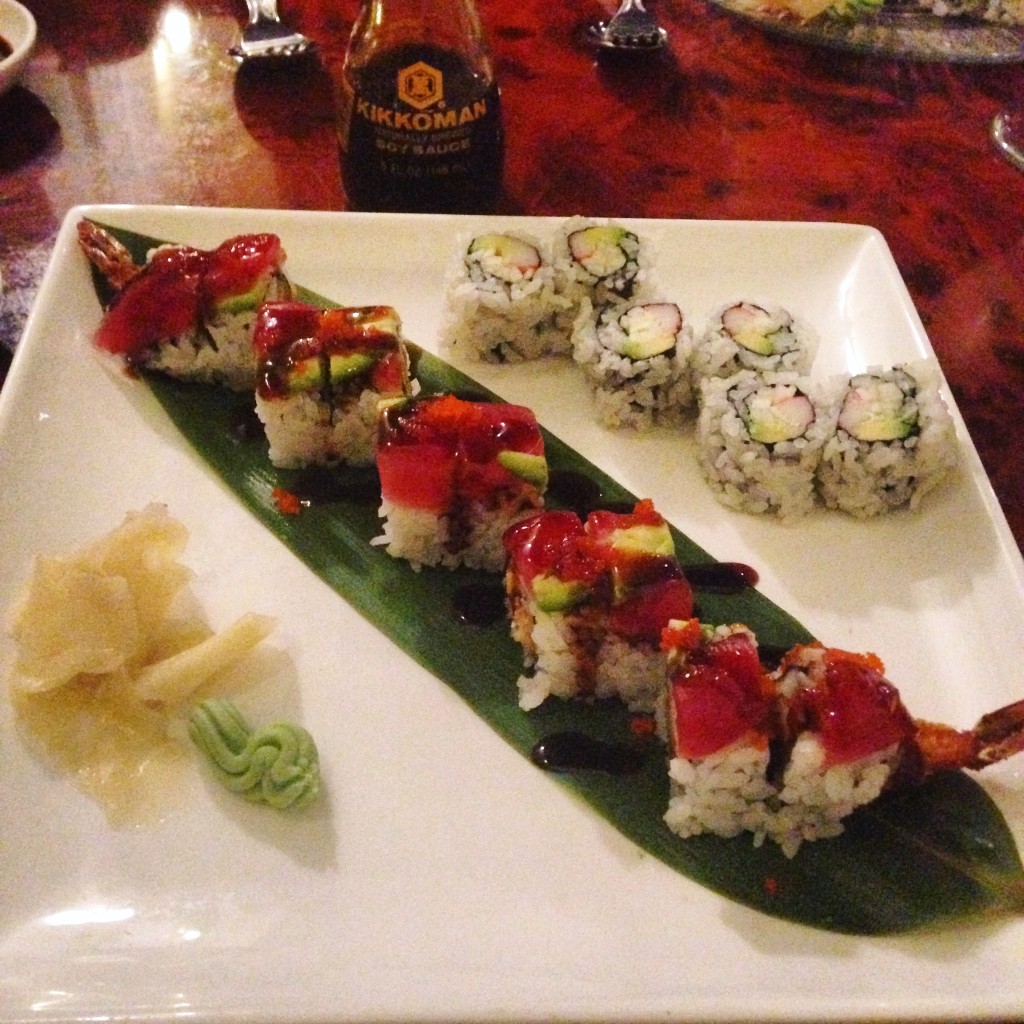 If you're in the mood for sushi, head over to Asian Bistro in Winooski Circle. They have a huge selection of sushi and other Asian dishes. You can order a sushi or sashimi dinner or you can order a few pieces à la carte so you can try a variety of sushi. I visited with my sister and her friends, and we all got sushi and some dumplings as an appetiser. Everything was delicious and pretty affordable, and everything else we saw around us looked delicious too!
Bars and Nightlife: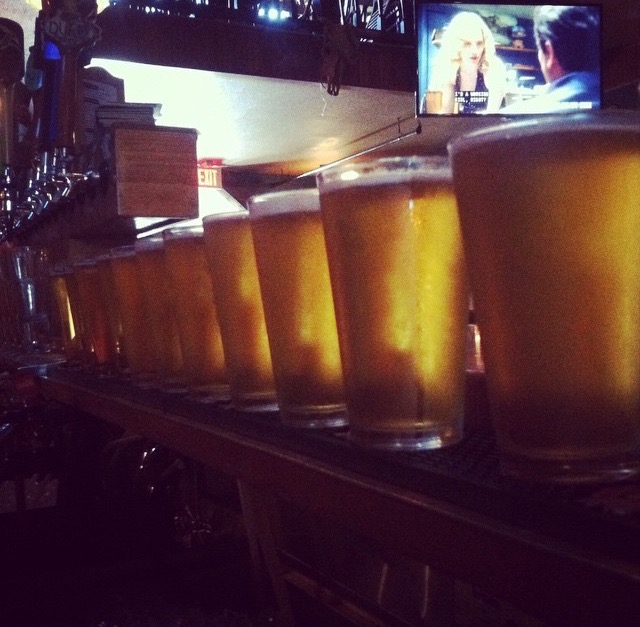 photo: cillavt
Since Burlington is so full of students and young people, of course it has a great bar scene to go along with that! For something with a relaxed pub feel to it, visit the Church Street Tavern. The interior feels like a classic Vermont ski lodge, there are lots of different beers on tap, and it's a great place to go and watch a game on TV. If you're feeling a little more daring, they even have a "shot-ski"—a ski with four shot glasses attached to it, which four people do all at once! I haven't tried it myself but it's always fun to watch! Another cool bar is Three Needs which is most popular among students, offers lots of different beers and cocktails, and has both pool tables and an outdoor patio. For more of a nightclub vibe, check out Red Square on Church Street. Earlier in the evening, you can hear live music on the outdoor patio, and late night it is most popular among students with a DJ and lots of dancing inside. And for another live music option, Nectar's is a good option. It's known for its great burgers and gravy fries and is also the bar where the band Phish got their start.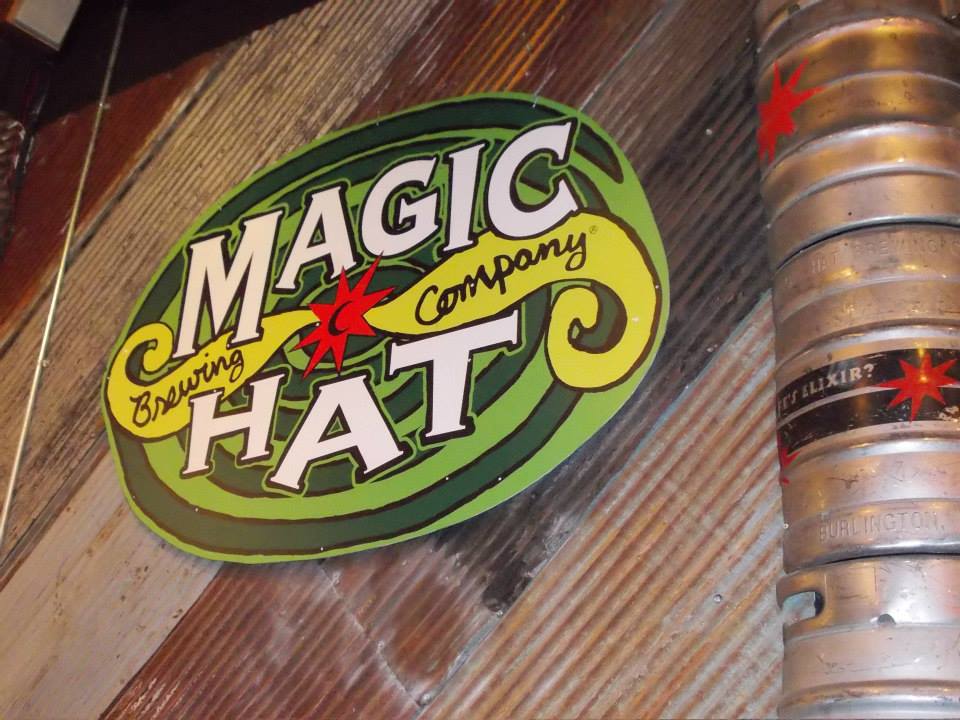 And for something totally different, but just as (if not more) fun, check out the Magic Hat Brewery. Magic Hat is a popular local beer, and it's all made right there in the brewery! They offer free tours, and as long as you're over 21, they'll give you four tickets to taste some of their different beers on tap. Their most famous is Magic Hat #9 which is always available. Then they also have lots of seasonal and limited release beers that you can't taste anywhere but the brewery. It's a really cool experience to see how the beer is made, and did I mention it's completely free?! And in true Vermont fashion, they even welcome dogs in the brewery as long as they're well behaved!
Coffee Shops: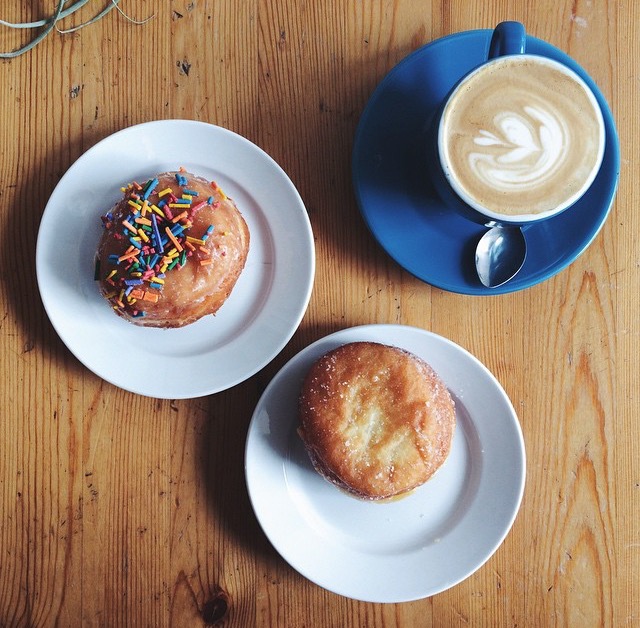 photo: xoerica
While you'll have no trouble finding Starbucks or Dunkin Donuts in downtown Burlington, you'll very rarely find the locals there. That's because Burlington is full of independently owned coffee shops that are so much better! The best and most popular ones are: Muddy Waters which offers great coffee and tea drinks, smoothies, pastries, and even beer and cider, has a great atmosphere, and live music at night; Uncommon Grounds which is dedicated to using the highest quality ethically sourced ingredients in their huge selection of coffee and tea drinks and pastries; and Scout & Co. which has locations in both Burlington and Winooski and serves great pastries, coffee, ice cream, and sorbet all made with ingredients from local farms.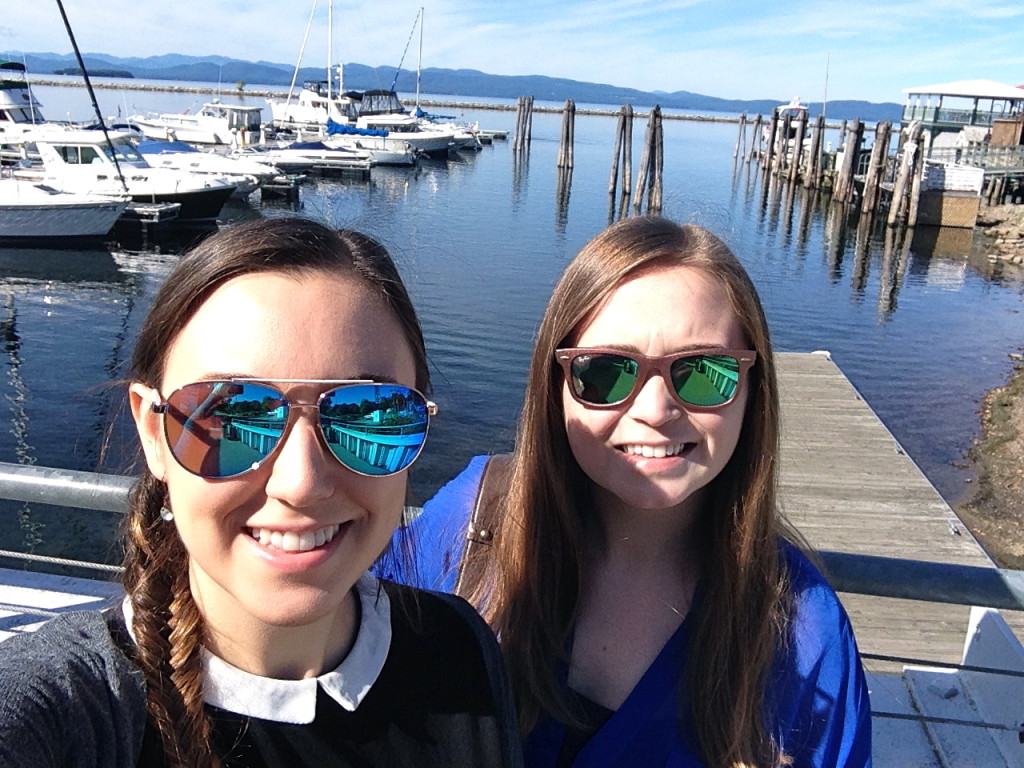 If you haven't been to Burlington before, make sure to add it to your list of places to visit! It's such a cool and unique city that feels different from any other ones I've visited. Any time of year has its perks, but if you head up to Vermont soon, you'll get to witness Burlington during its peak foliage which a lot of people would consider to be its most beautiful!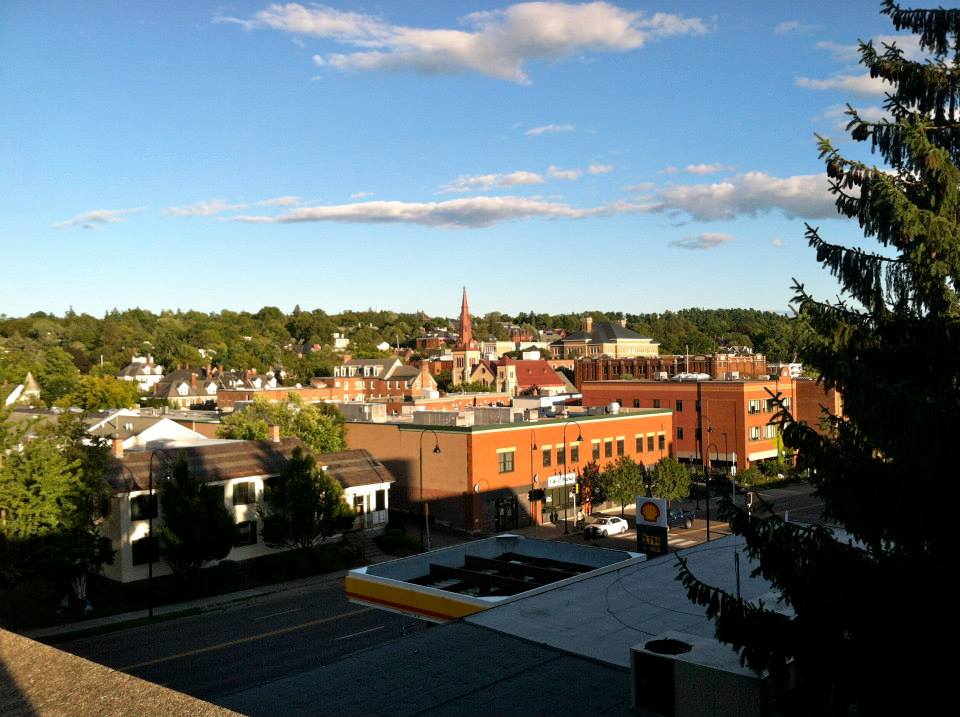 If you've visited Burlington before, what are your favourite things to do and what do you love most about the city? Let me know in a comment below!
Hi I'm Christie, a 28-year-old girl originally from Boston who has spent time living in New York City, North Carolina, France, Australia, New Zealand, and London. I love moving to new places and exploring them as a local, and I can't see my nomadic expat life stopping any time soon! I have no greater passion than travel, and when I'm not exploring I spend my free time reminiscing on past trips and daydreaming about future travel.