As a former expat living in Australia, I fell completely in love with the country. It has some of the most beautiful nature I've seen in the world. Queensland in particular is full of so many scenic spots to visit. Brisbane offers the excitement of a big city, Cairns is full of adventure with its proximity to the Great Barrier Reef and rainforest, and the Gold Coast is full of glamour. But if you're looking for somewhere idyllic that moves at a slightly slower pace, then Australia's Sunshine Coast is the spot for you.
While the Gold Coast is about an hour drive south of Brisbane, the other side is home to the sprawling Sunshine Coast. And while the two areas are so close and get compared quite often, there are a lot of differences between the two. The Gold Coast has more of an urban feel to it, centering around Surfers Paradise. There are skyscrapers lining the beaches, amusement parks to visit, and events on all the time. Meanwhile in the Sunshine Coast, there really isn't a city centre. There are some towns that are a bit bigger than others, but for the most part, things seem to move at a slower pace up there. It's exactly what you picture when you imagine Australia with beautiful beaches and awesome surfing, nice hikes, and some of the friendliest people around.
If you are looking to spend some time in Australia, the Sunshine Coast is the perfect spot for that awesome laid-back Aussie vibe. And if you are spending some time visiting Brisbane or the Gold Coast, taking a few days out of the hustle-and-bustle to head up to the Sunshine Coast is a must! While the Sunshine Coast is best enjoyed at a relaxed pace without a strict itinerary, of course it always helps to have some ideas in mind before you go. Keep on reading for your guide on what to see and do during a visit to Australia's Sunshine Coast.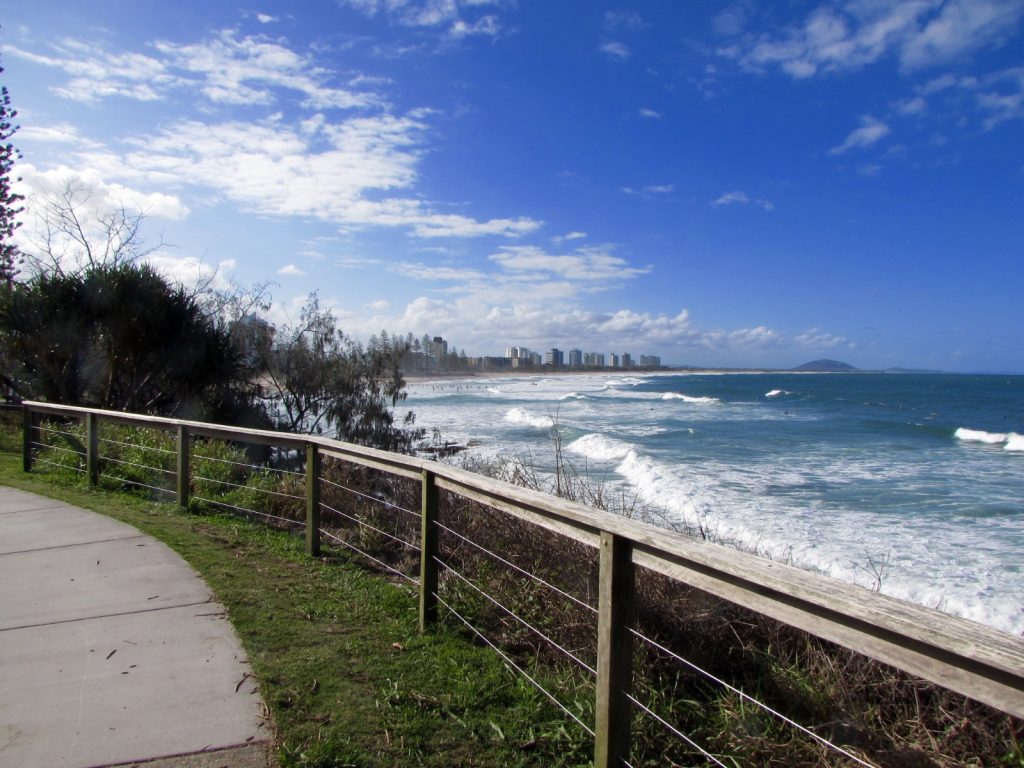 Noosa
Noosa (or Noosa Heads) is one of the most popular towns to visit in the Sunshine Coast. In addition to its beautiful beaches and coastal areas, the town is full of great restaurants, cafes, shopping, and nightlife. Most of this is centered around Hastings Street. If spending several days visiting the Sunshine Coast, Noosa is the perfect town to base yourself in. It's nice and central and will keep you entertained once you're finished at the beach for the day.
Noosa National Park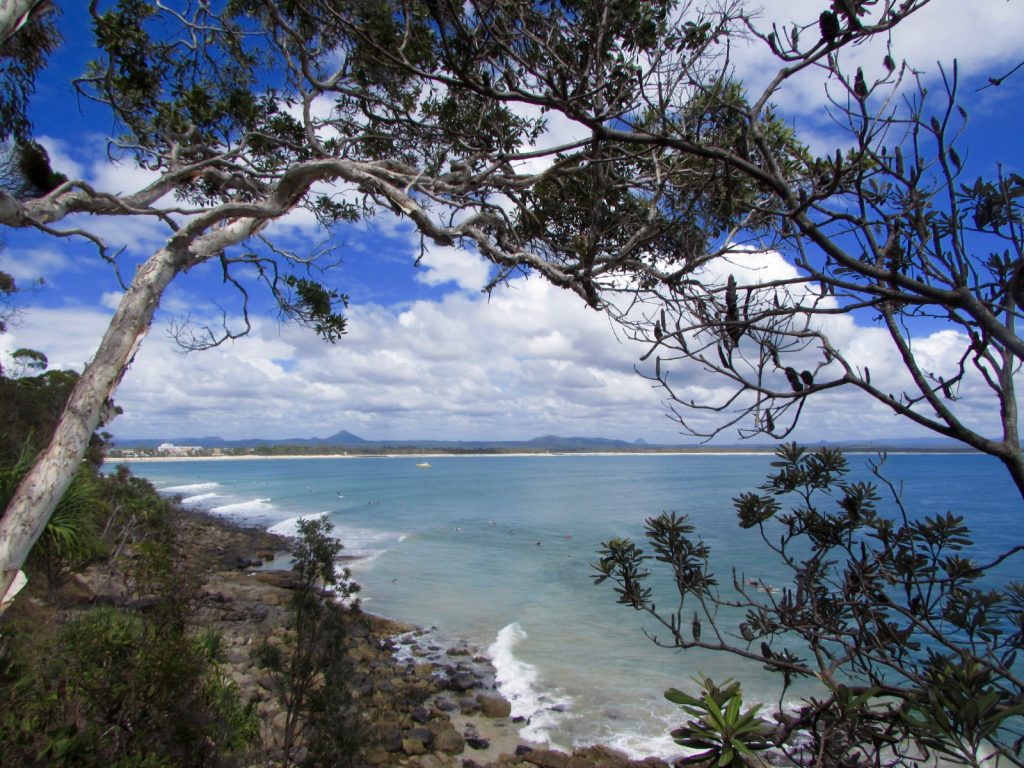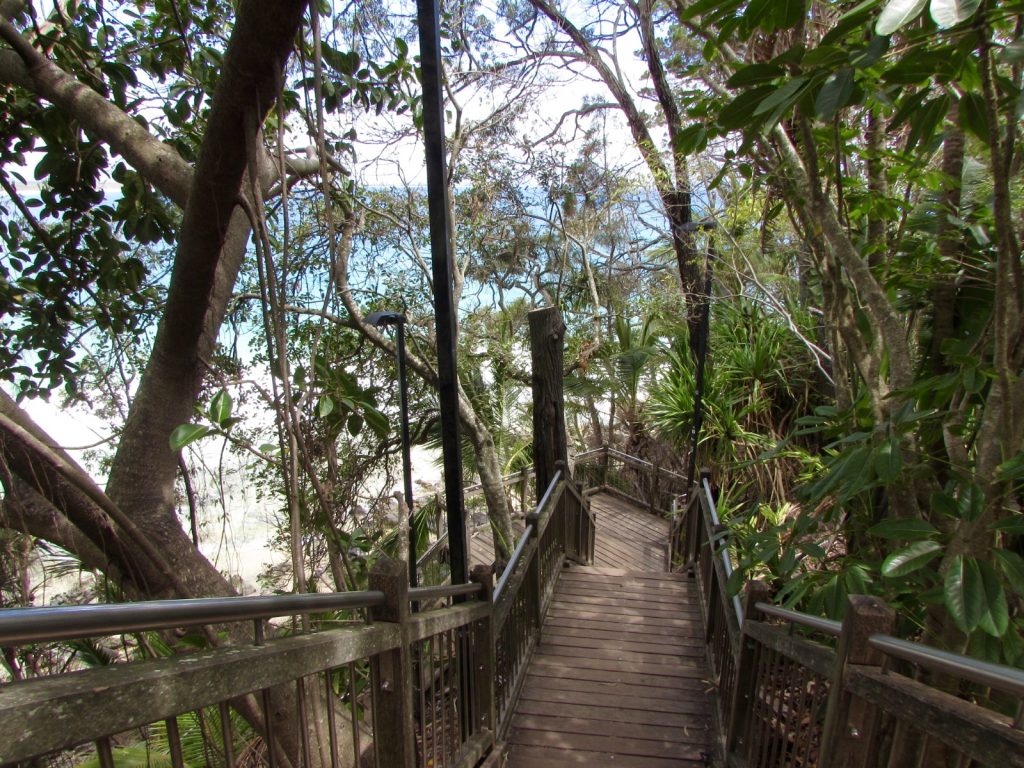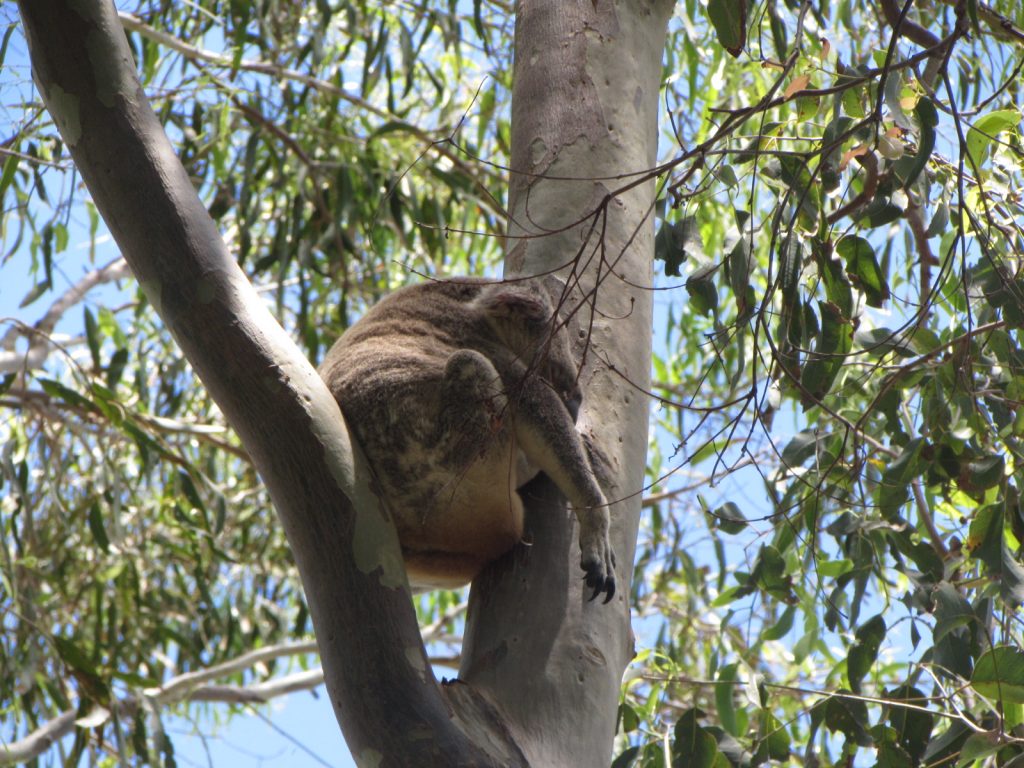 The Noosa National Park is the epitome of Sunshine Coast beauty. The park lines the coast and is made up of many cliffs and hills. There are lots of great hikes you can do and small beaches to take breaks at along the way. If you are a surfer, Noosa National Park has some great surf spots where you may even be able to surf alongside some dolphins! Speaking of cute Aussie animals, this area is also one of the best spots around to see wild koalas. Keep your eyes up in the trees and you will most likely see some napping up there!
One of the highlights in the park is Tea Tree Bay. It's a beautiful beach surrounded by cliffs and bright blue water. Tea Tree Bay is a great spot to take a break and watch some surfers in action. Little Cove is a small beach close to the entrance of the park. It's a great family-friendly spot. A little further along the walk are the beautiful Fairy Pools. These are a couple of natural pools formed into the cliffs, overlooking the ocean. I don't think it gets more scenic than this!
Noosa National Park has some of the most beautiful views I've seen in my travels around Australia. A trip to the Sunshine Coast isn't complete without doing some coastal walks here. Just make sure to carry lots of water with you, especially if you visit in summer as it gets really hot!
Noosa Main Beach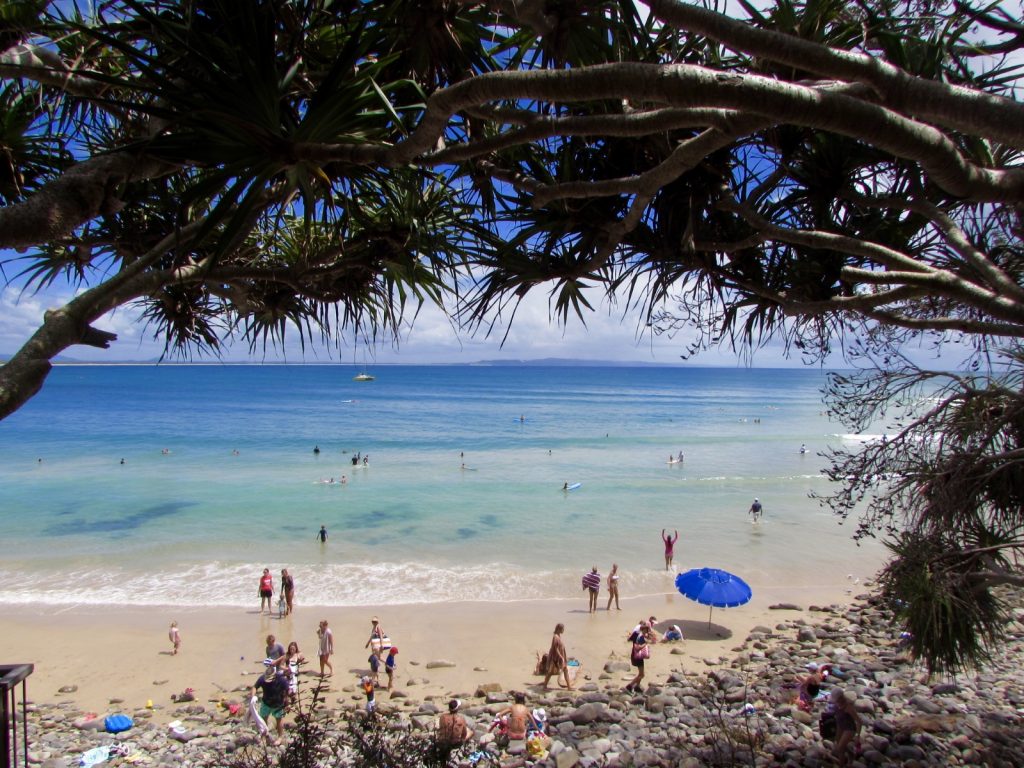 This is the most iconic beach to visit in Noosa. It's complete with super soft sand, palm trees, bright blue water, and lots of water sports. Because of the way this beach faces, it doesn't get huge waves like some other spots around Noosa. So that makes it the perfect beach for beginner surfers to take a lesson. It's also a great beach for paddle boarding and kayaking. Main Beach is a short walk from Hastings Street, so right near most of Noosa's dining and shopping spots.
Local tip: The sun in Australia is much stronger than most other places around the world. This is because the ozone layer covering the country is thin. Make sure to apply sunscreen regularly and wear a stronger SPF than you normally would. In the USA, I typically wear SPF15, but in Australia I always stick to SPF50. Wear waterproof sunscreen as well because you'll definitely get sweaty in the Sunshine Coast!
Mooloolaba Beach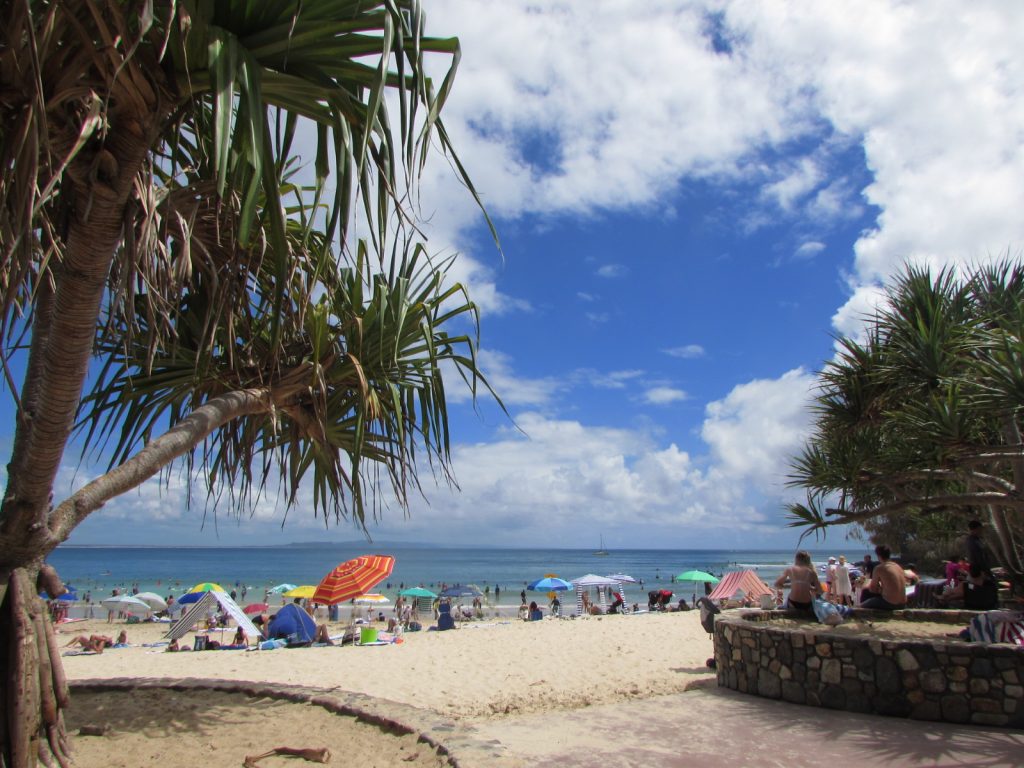 Mooloolaba is a small beach town and is the perfect place to go for a relaxing Sunshine Coast getaway. The town's beach is its main star where you can lay in the sand and watch people surf. If you're looking for a relaxing Sunshine Coast beach to spend time at, this is it. The walk along the beach gives you gorgeous views of the ocean, and the town has some nice beachside restaurants and cafes.
Alexandra Headland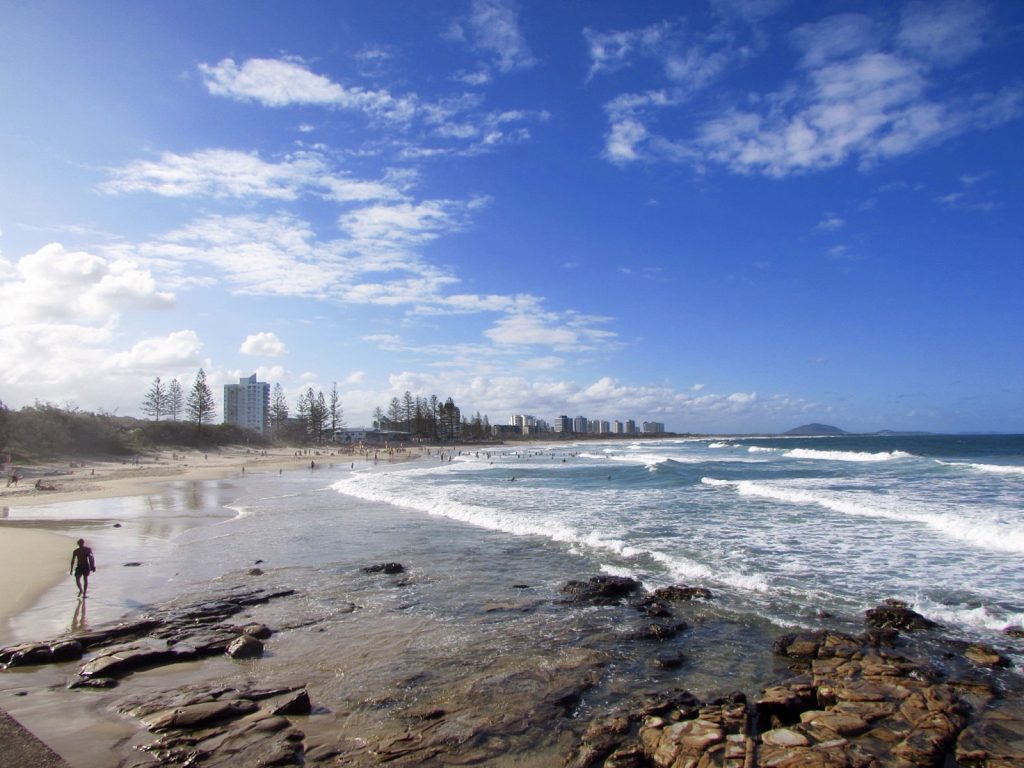 Just north of Mooloolaba is another beautiful town called Alexandra Headland. This is another pretty town with a beautiful beach that's perfect for surfing. The town has a quiet, sleepy vibe that I love. The town is full of gorgeous views, my favourite being a spot called Alex Corner at the edge of the beach.
Glass House Mountains
While the ocean is the pride and glory of the Sunshine Coast, there are plenty of beautiful inland places to visit as well! One of those spots is the Glass House Mountains. The small mountain range is made up of 11 dramatic peaks that are full of great hikes and views. Hike up Wild Horse Mountain for the prettiest 360 degree views over the Queensland countryside and other mountains. The hike is short but intense! Also take a hike on the Glass House Mountains Lookout Circuit. You'll get more beautiful views and maybe even see some Aussie wildlife!
Australia Zoo
The Australia Zoo is the most famous one in Australia, founded by the country's most loved daredevil Steve Irwin. Sadly, Steve isn't around anymore but the zoo is still run by his family. If you want to get up close and personal with some native Australian animals, this is the place to do so. It's also a popular place to get that perfect photo cuddling a koala! In addition to Aussie animals, you can also see all the other animals that are typically found in zoos. The zoo plays a role in animal and nature conservation around the world which is really great! If you are visiting the Sunshine Coast with kids, a day at the Australia Zoo will be a favourite for everyone.
Tickets are $59 AUD for adults, $35 for children, and $47 for students.
Kondalilla National Park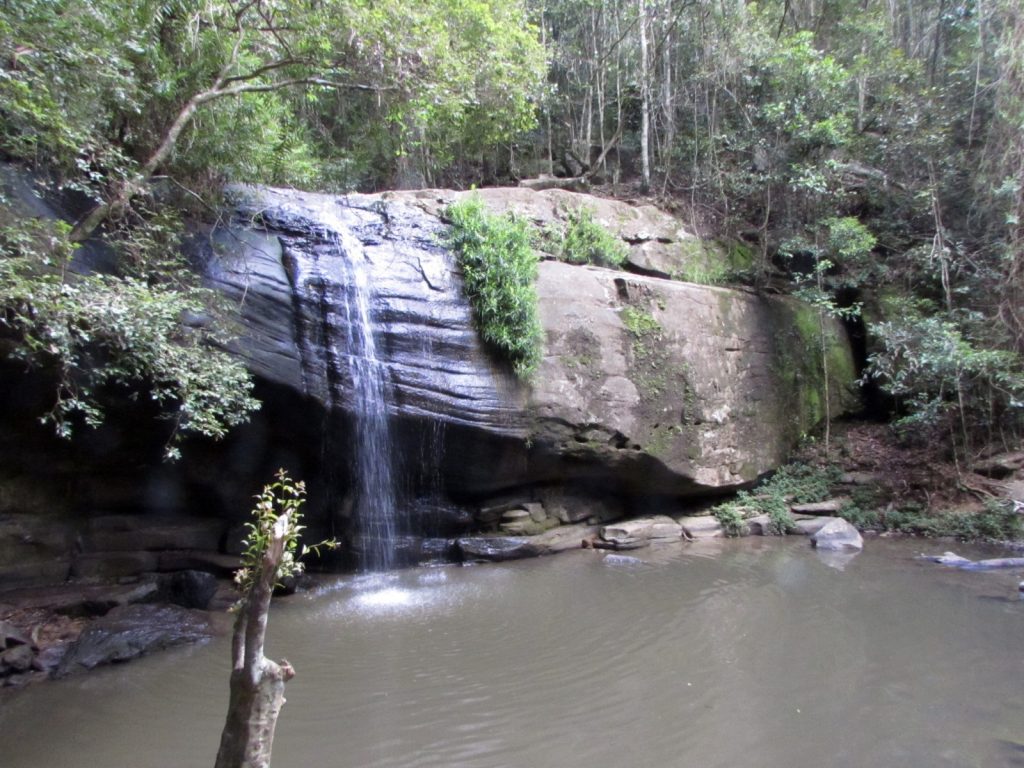 For another inland change of scenery, Kondalilla National Park is full of beautiful nature. The main point of interest in the park is its namesake, the Kondalilla Falls, which in Aboriginal means "rushing waters". The waterfall is almost 300 feet tall and flows into a rainforest below it. In addition to the waterfall, the park is full of some great walks and hikes. There are a bunch of different hikes ranging in difficulty and distance, but they all offer stunning views of the rainforest, waterfalls, and surrounding countryside.
Sunshine Coast Great Beach Drive
I'm a massive fan of scenic drives, and one of Australia's greatest goes from Noosa to Rainbow Beach. Rainbow Beach is north of the Sunshine Coast and is one of the launch-off points to visit Fraser Island. What makes this drive unique is the fact that you don't just drive along the beach, you drive ON the beach! You will need a 4×4 to drive this route, and you will also want to plan your journey to happen during low tide. Without stopping, the drive is about an hour and a half from Noosa to Rainbow Beach. But of course you'll want to stop a few times along the way to take in the beautiful views around you. Driving this route is the perfect shortcut to take you from the Sunshine Coast to your next adventure further north in Queensland!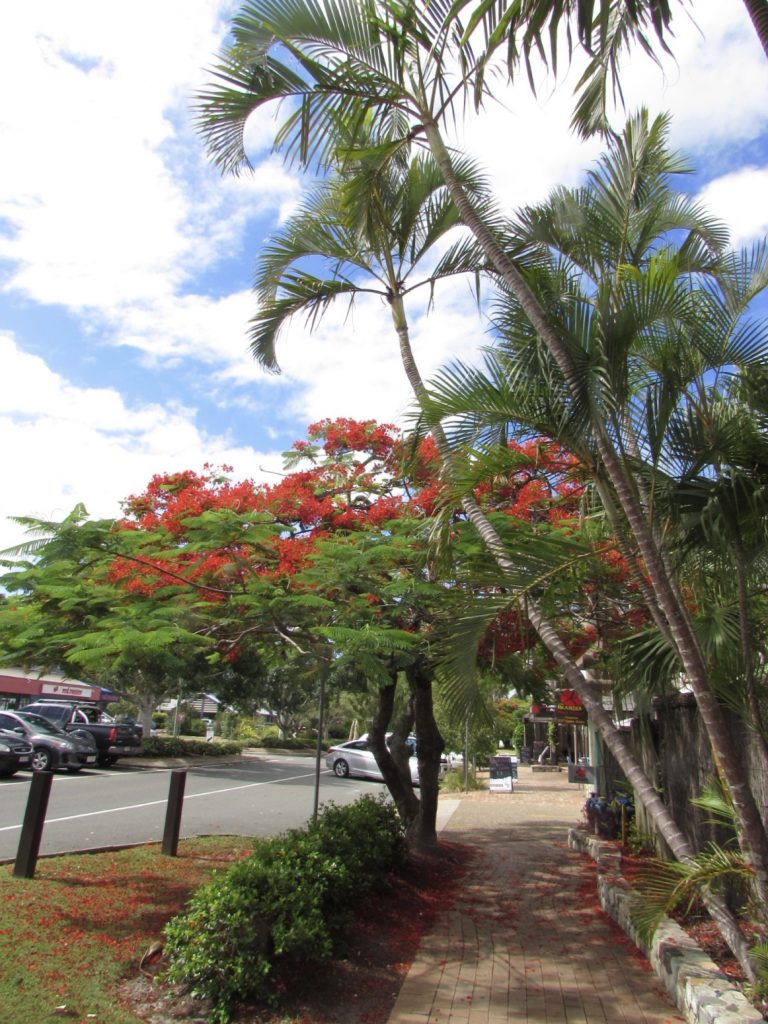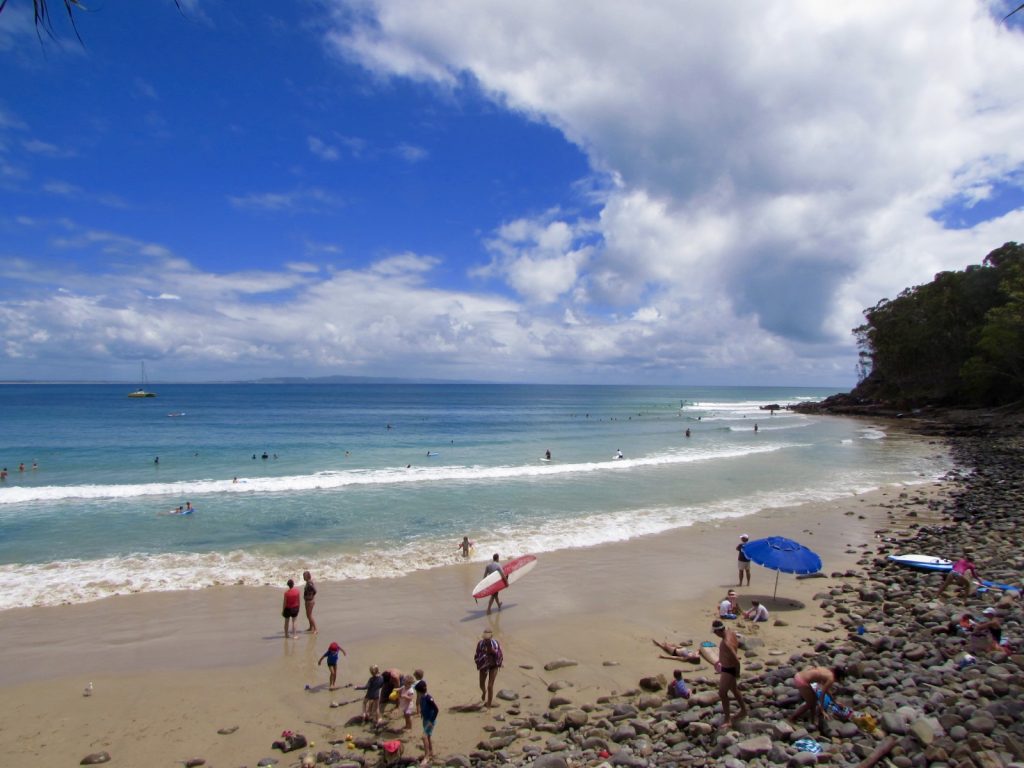 The Sunshine Coast really is a little piece of paradise right in Australia. When you think of Australia with its gorgeous beaches, perfect weather, and relaxing atmosphere, the Sunshine Coast is the place that embodies all of that. If you are visiting Brisbane or spending some time travelling the east coast of Australia, be sure to spend a few days in the Sunshine Coast. It will make you fall in love with Australia all over again.
Have you visited the Sunshine Coast or another beautiful coastal spot in Australia? Tell me about your experience in a comment!
Like this post? Pin it!
Hi I'm Christie, a 28-year-old girl originally from Boston who has spent time living in New York City, North Carolina, France, Australia, New Zealand, and London. I love moving to new places and exploring them as a local, and I can't see my nomadic expat life stopping any time soon! I have no greater passion than travel, and when I'm not exploring I spend my free time reminiscing on past trips and daydreaming about future travel.