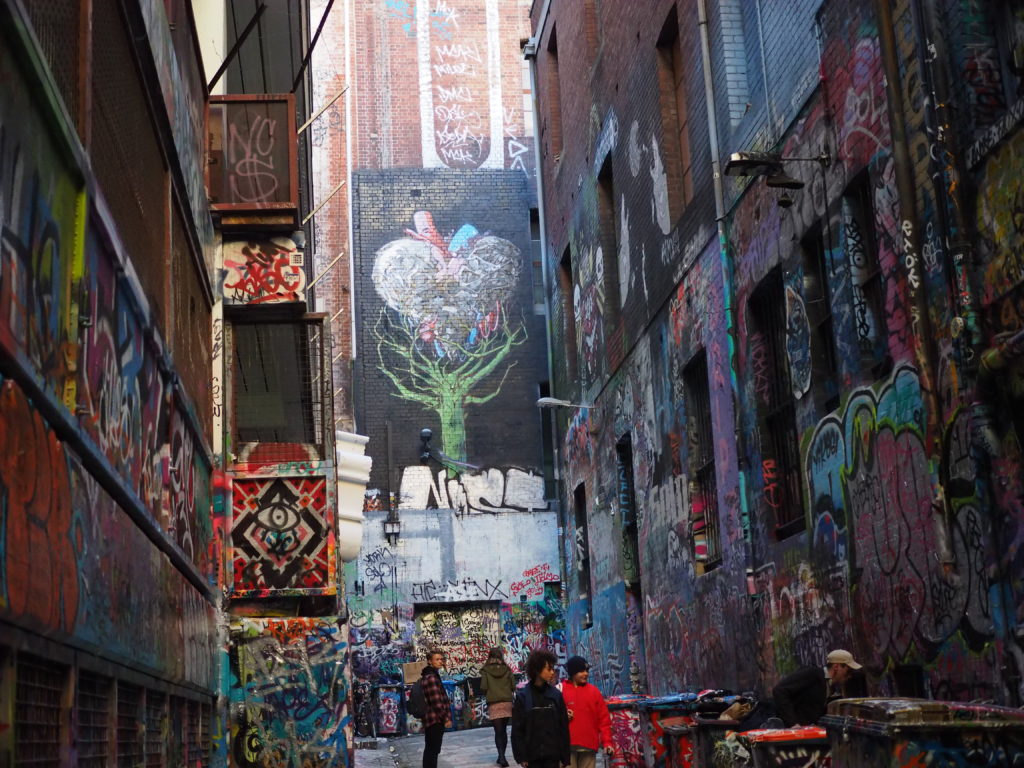 You may have seen on social media but Melbourne, Australia was recently ranked the most liveable city in the world for the sixth year in a row. Overseas Melbourne seems to be pretty under the radar, definitely less popular than its rival to the north, Sydney. But to anyone who has spent some time living in Melbourne, it's obvious that it's an amazing city to call home. So many different elements combine to make it the world's most liveable city. While there are less tourist attractions compared to some other places, the unique culture is what makes Melbourne so special. It probably has the best food, drink, and shopping scene I've seen in any city. And that means a lot considering I spent some time living in New York! If you really want to experience the city's culture, the best way to do it is by exploring all the Melbourne laneways that are hidden around the city centre. Venture into the inner suburbs like Fitzroy and Richmond, and you'll find even more. Keep on reading for some of the most popular Melbourne laneways and my favourites!

Hosier Lane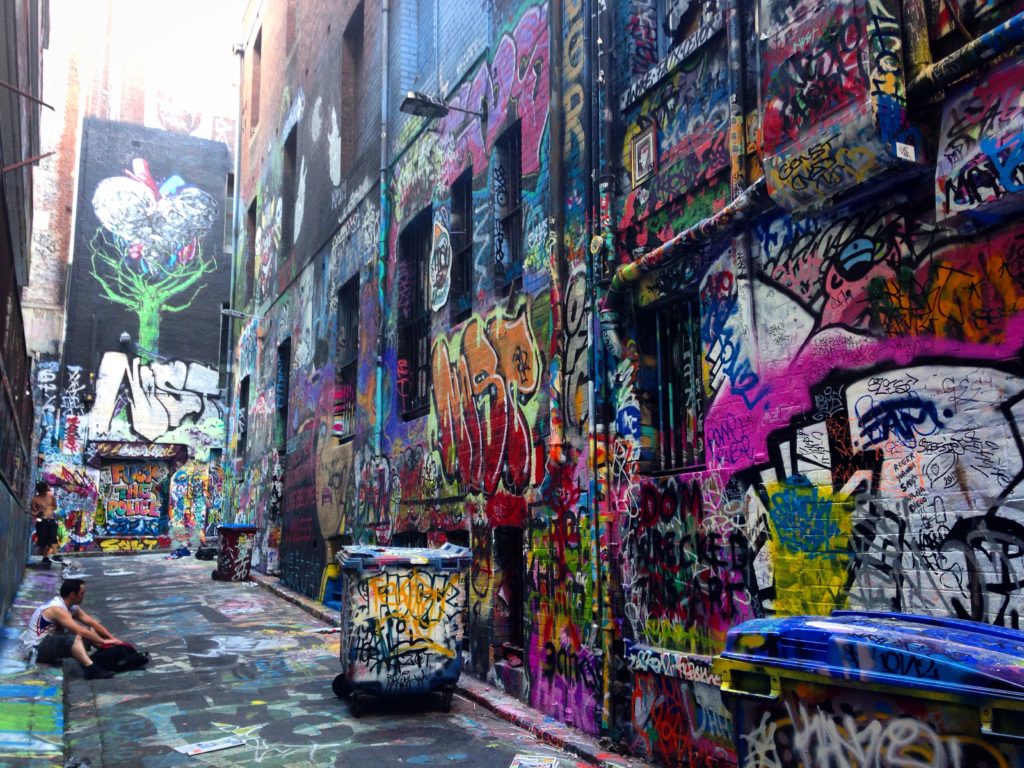 Hosier Lane, which is full of colourful street art, is definitely the Melbourne laneway that I have revisited the most. It's probably one of the most recognisable spots in Melbourne for non-locals because of how many Instagram feeds it fills! A big reason why it's so popular is that it's constantly changing. You could go there every day and see something totally new. You may have seen photos of Taylor Swift graffiti recently on social media, and Hosier Lane was where that was. The laneway is broken up into two parts, the main strip where the art may be there for a month before getting painted over, and a smaller practice laneway that changes every day. In fact, you can almost always see someone in the practice laneway adding to all the graffiti art!
Degraves Street and Centre Place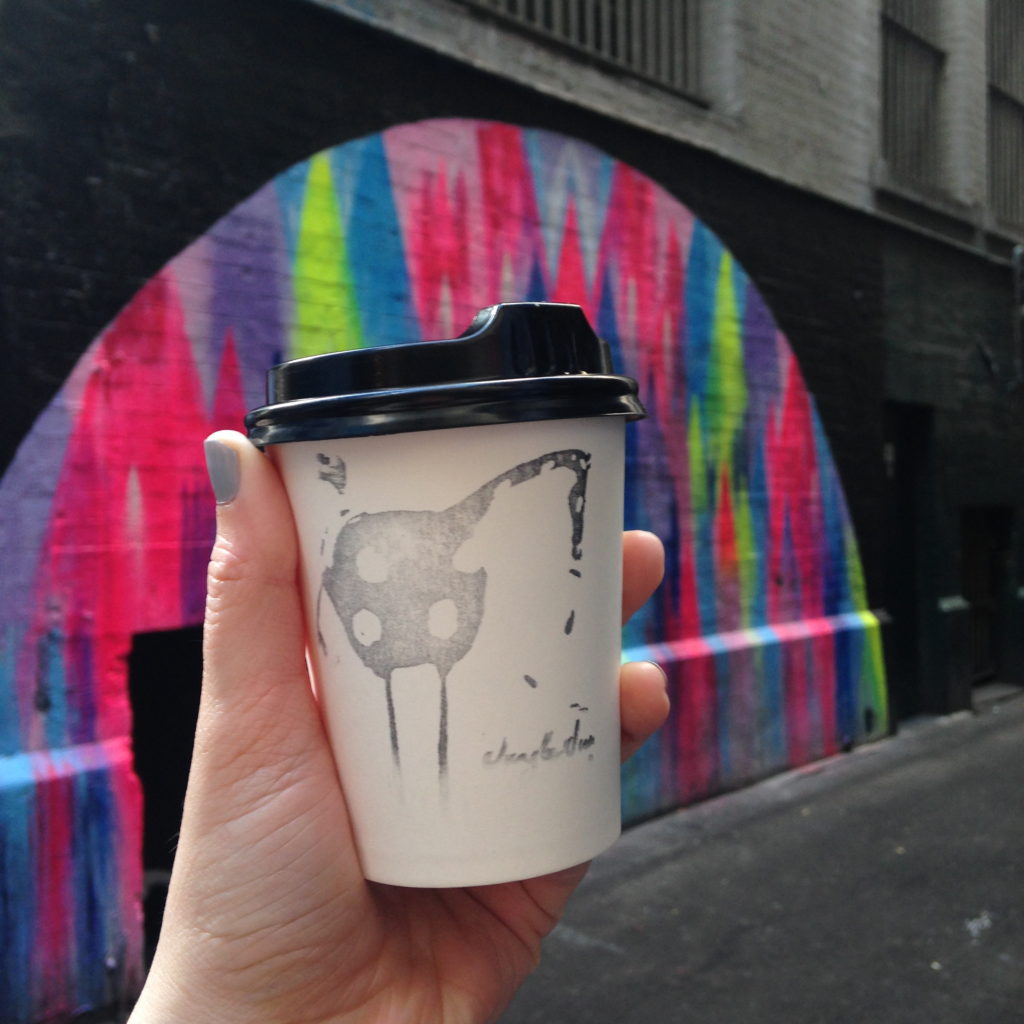 Degraves Street is a cool little laneway right across the street from Flinders Street Station. I've walked by it probably 100 times while living here, but somehow never walked through until a couple weekends ago! It's a really narrow laneway but filled with some of the best cafes and restaurants. Walking through, it almost feels like some of the tiny streets in Greenwich Village and Soho in New York. It's the perfect place to stop for an afternoon snack, with Doughnut Time and Little Cupcakes offering lots of yummy treats, as well as places to get great coffee. I'd never been a fan of coffee back in the US, but since Melbourne is so famous for its coffee culture, I made it my mission to try some on Degraves Street. I got a cappucino from a place called Jungle Juice and really liked it!
Hardware Lane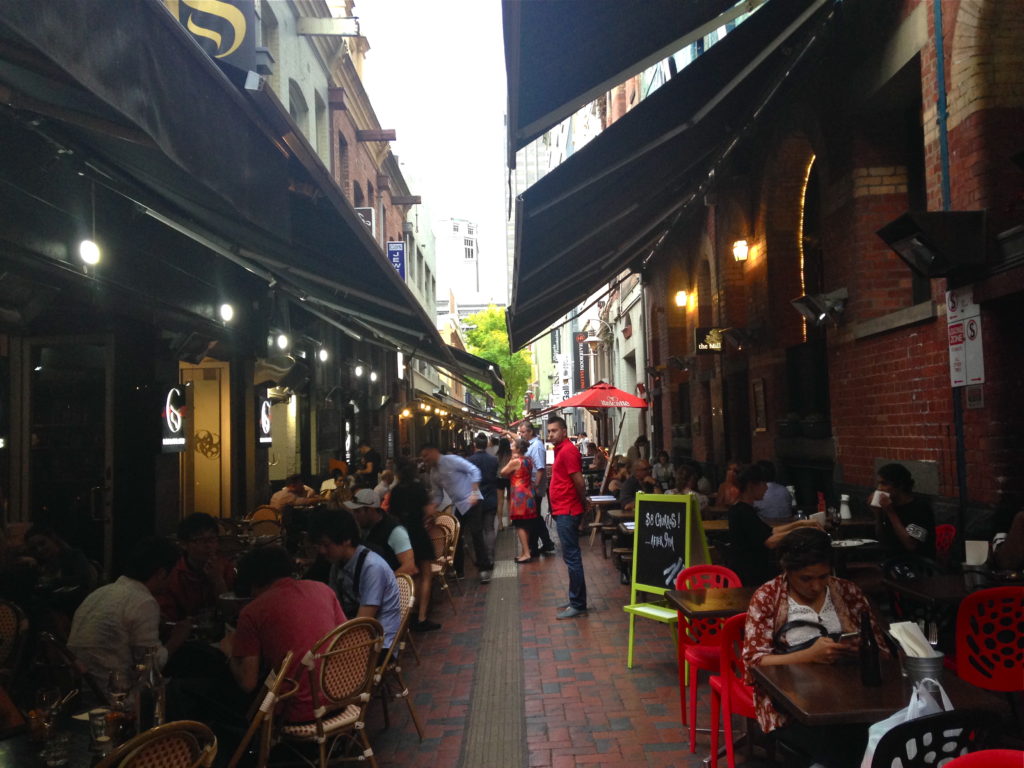 The other amazing laneway destination for cafes and restaurants is Hardware Lane. I've visited this one a few times for lunches and happy hours. All the restaurants have outdoor seating, and it's always packed no matter what time you visit! The feeling in Hardware Lane is actually a lot like the narrow streets in France that are lined with outdoor cafes and people taking long lunches!
ACDC Lane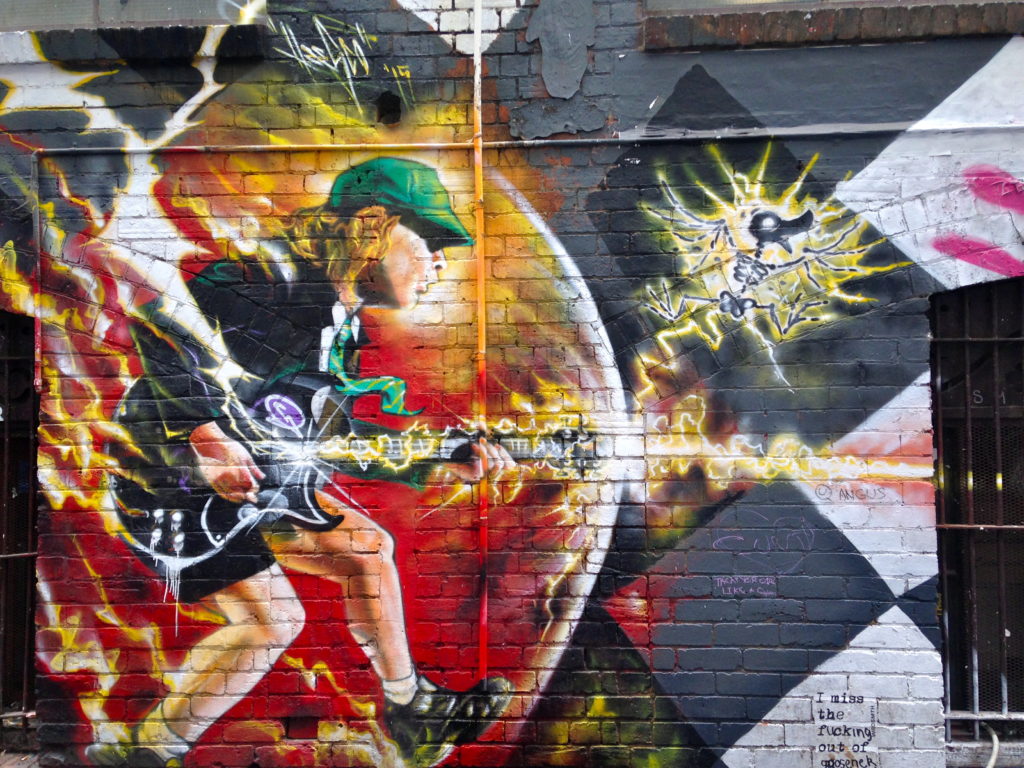 For another cool graffiti laneway that isn't nearly as busy as Hosier Lane, head to ACDC Lane. There is a lot of awesome rock n roll inspired art, and it was started as a tribute to what is probably the most famous Australian band of all time. Also in ACDC Lane is a popular bar called Cherry Bar that acts as a rock music venue. Some well-known bands and musicians have been known to drop in from time to time.
Royal and Block Arcades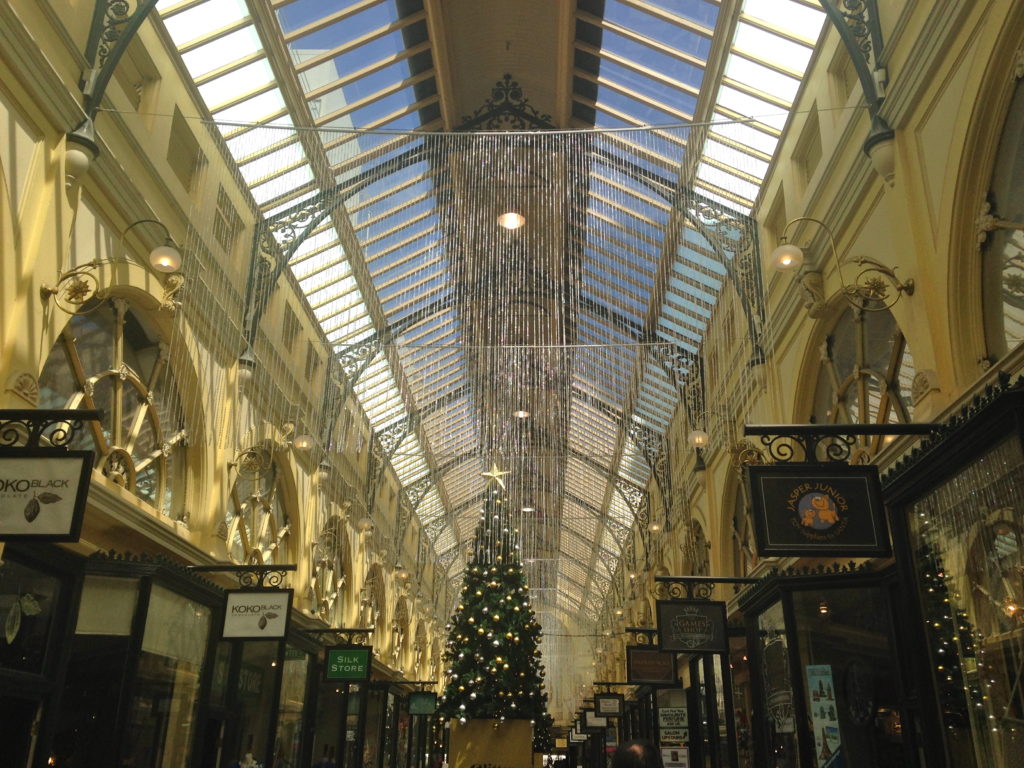 For a fancier "laneway" experience, you can head to the Royal Arcade and Block Arcade in the CBD. While they're technically arcades, they show up on lots of Melbourne laneway lists so I thought I'd include them too! The Royal and Block Arcades have been around since the 1800s and are lined with nice shops and cafes. The architecture inside both is so beautiful and is a nice contrast to the more gritty laneways around the city. They were the place to see and be seen back in the day, and it really feels like you're being transported back in time to the Victorian era as you stroll through them.
Madame Brussels Lane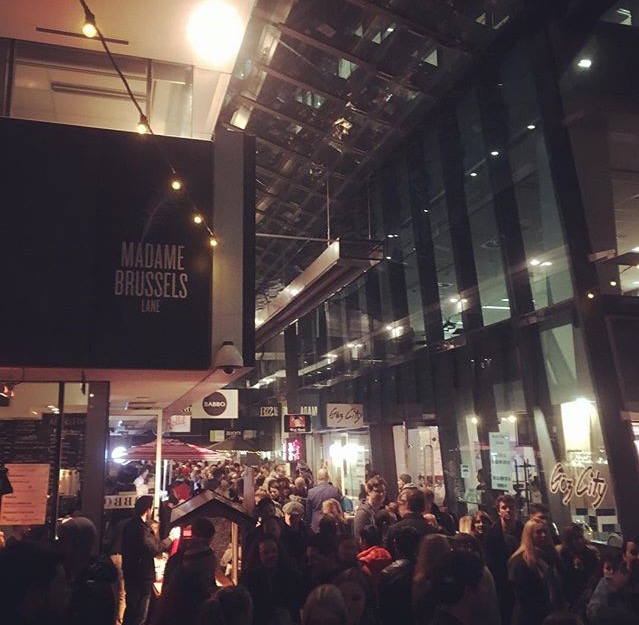 Madame Brussels Lane is a lot smaller than some of the others on this list, but offers some cool things to check out. The most popular is of course Madame Brussels itself, a bar based around a famous brothel owner from the 1800s. I haven't been there yet, but it's definitely one of the places I have to visit before leaving Melbourne! They have unique cocktails as well as a famous high tea garden party that I really want to check out. Apart from the bar, there are some other cafes scattered throughout the laneway. There are special events in the laneway sometimes as well, most recently a European Night Market that took place over a few weekends. I went on the first night it was held and got some amazing food from a bunch of different European stands!
Union Lane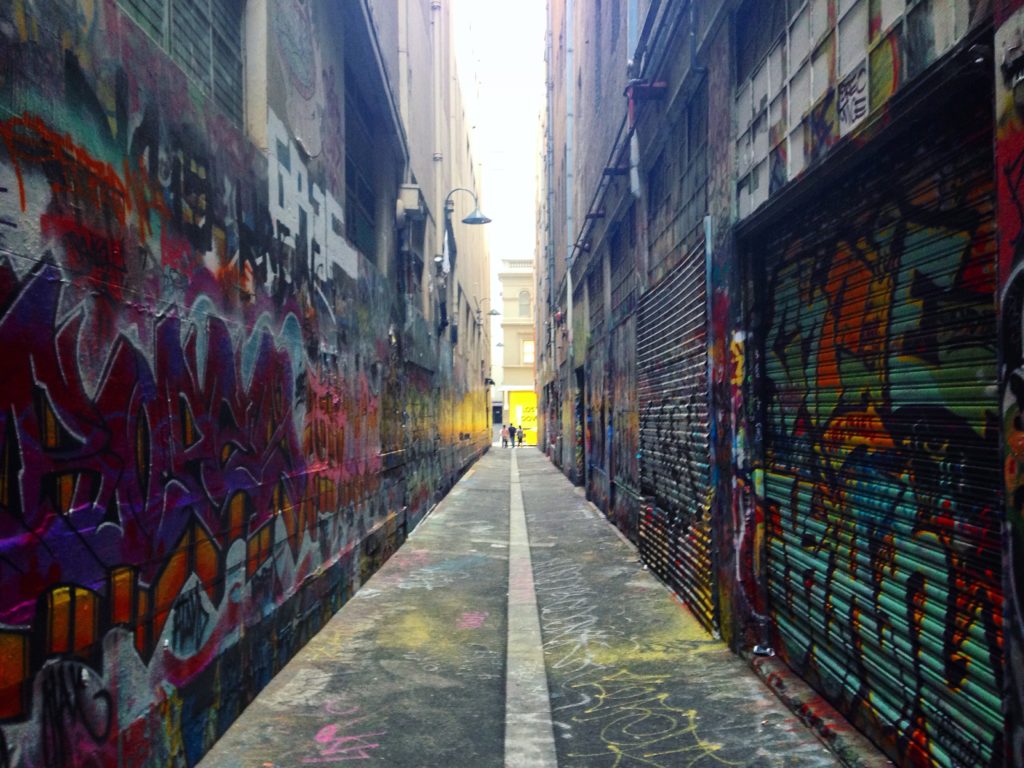 Union Lane is one of the lesser-known graffiti laneways in the city, but one that you'll most likely stumble upon by accident at some point. I've walked through it a bunch of times, but didn't realise what it was called until fairly recently. Union Lane is a long, narrow alleyway full of colourful graffiti that makes for some pretty awesome pictures!
Croft Alley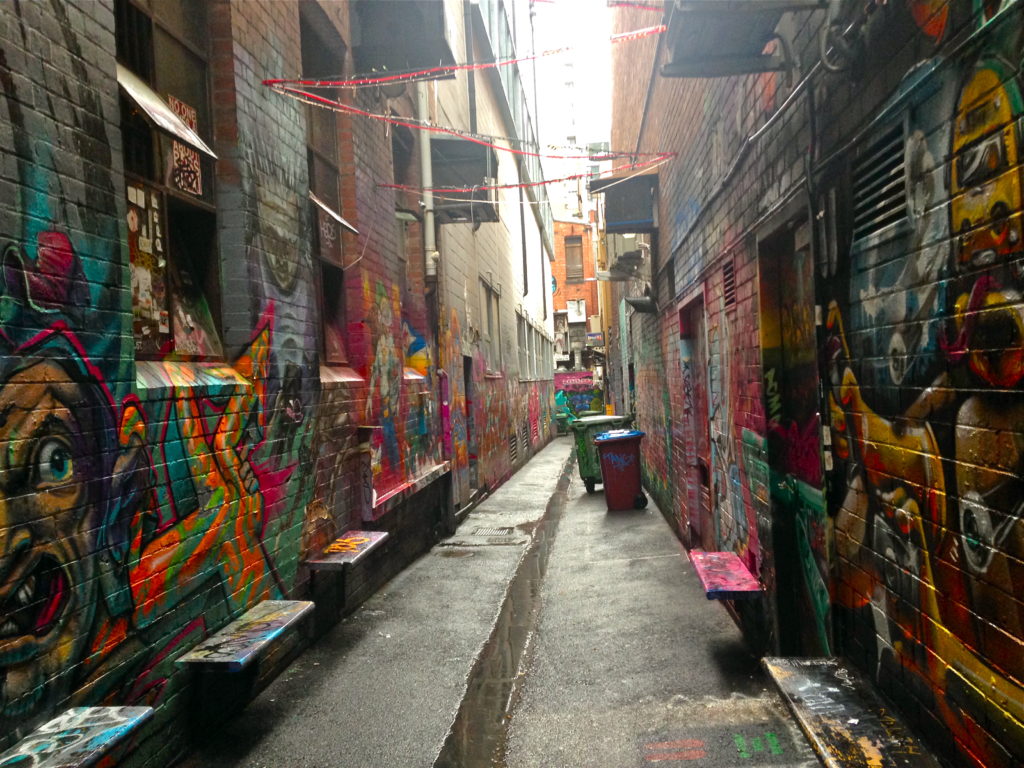 Right in the heart of Chinatown, there's a laneway called Croft Alley. But it's so well hidden, that you can walk by several times without even noticing it! There's some cool graffiti in the winding alley, but the best part is definitely the secretive bar at the end called the Croft Institute. It's a chemistry-themed bar that serves syringe cocktails and has a bathroom modelled after a mental institution! It's one of my favourite bars to visit in the city, and even if you don't want to check out the bar at night, it's still a cool laneway to walk through during the day.
Check out all of these Melbourne laneways, and you'll get a much better feel for the city's amazing culture! I have now explored most of the laneways around the city centre, but I'm finding new ones all the time, so I don't think you can ever really see them all. It's turning into Spring, and we've been getting lots of sunny days. So I'm taking full advantage of my time in Melbourne while I can! Keep an eye on my blog and Instagram to see all the other adventures I get up to in Melbourne over the next couple months!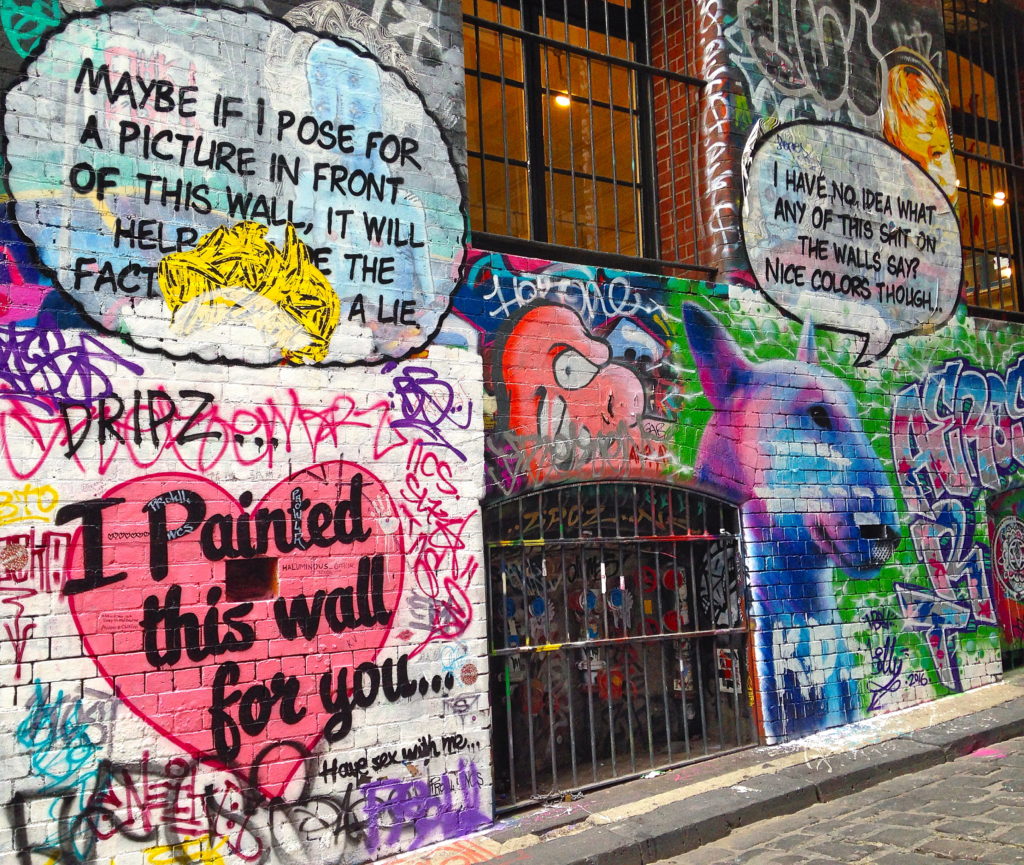 Have you explored any of the Melbourne Laneways from this list? Where else do you think is a must-see in order to get a good feel for the city's unique culture? Let me know in a comment!
Hi I'm Christie, a 28-year-old girl originally from Boston who has spent time living in New York City, North Carolina, France, Australia, New Zealand, and London. I love moving to new places and exploring them as a local, and I can't see my nomadic expat life stopping any time soon! I have no greater passion than travel, and when I'm not exploring I spend my free time reminiscing on past trips and daydreaming about future travel.