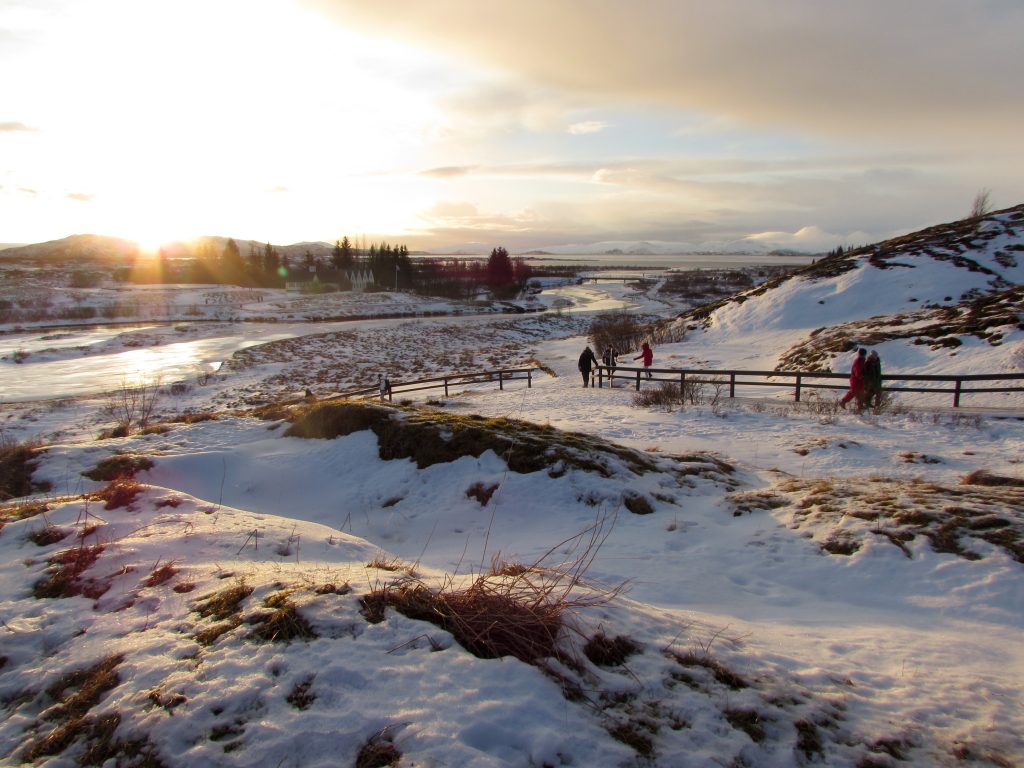 If you follow lots of travel bloggers and Instagrammers, no doubt you've seen Iceland popping up left and right! In the past year or so, Iceland has become one of the hottest travel destinations, and it's easy to see why! It's one of the most beautiful, unique, and natural countries I have visited. It's the land of Vikings with such a unique culture to it, and some of the warmest locals you'll meet. And with more international budget airlines becoming mainstream, you can also get some amazing flight deals to Iceland. You can book flights through WOW Air for as low as $200 round trip from Boston and New York, and much cheaper if you are departing from Europe.
Once you have made the decision to visit Iceland, the time of year you visit could make for a completely different experience. As a first-time visitor, I would recommend going in the winter, as this is when you can get the true Iceland experience. The weather is cold, and you'll definitely get snow. But that's ok, because you don't come to Iceland to lay on the beach! In winter, you will also only experience about 6 or 7 hours of daylight, so you need to take advantage of the light you have. But the long nights also mean prime viewing of the Northern Lights. Visit in summer, and you won't get to see the Northern Lights, but you will experience almost 24 hours of daylight and some incredibly green nature.
This guide is based on a winter visit to Iceland, but all of these places are beautiful to visit in the summer as well. You can see Iceland in as little as 5 days. But to truly explore the country and experience everything it has to offer, a 10 day road trip would be ideal. If you're planning a trip to Iceland, be sure to include as many of these spots as you can.
Local tip: If you are visiting from the US, an easy way to convert Icelandic krona to US dollars is to add a decimal before the last 2 digits. So if a price is 1000 krona, it is about $10.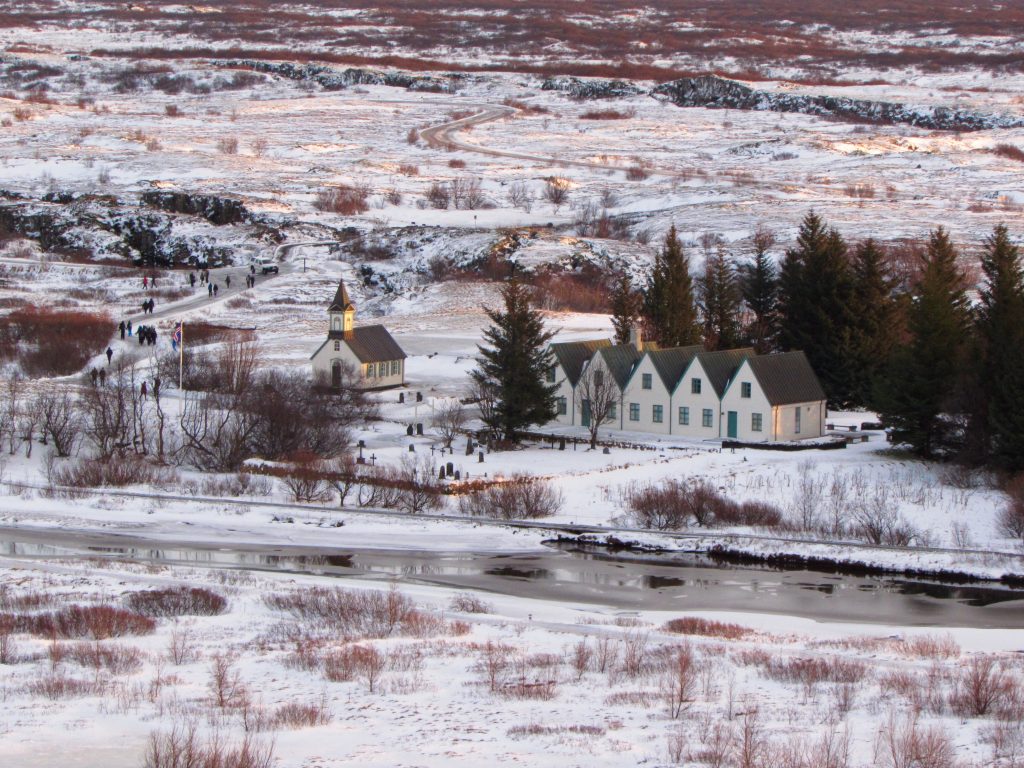 Reykjavík
As the capital and only real city in Iceland, Reykjavík is the perfect spot to base yourself for the majority of your trip. With a population of just over 100,000, calling Reykjavík a city would be a stretch in most parts of the world. But with its compact city centre, Reykjavík's size makes it the perfect city to explore on foot. Everywhere in the city centre is within walking distance. It's also a trendy city with an abundance of cool bars, restaurants, and shops. The houses and architecture are classically Nordic with lots of colour, and from most spots around Reykjavík, you can see gorgeous mountains off in the distance.
Hallgrímskirkja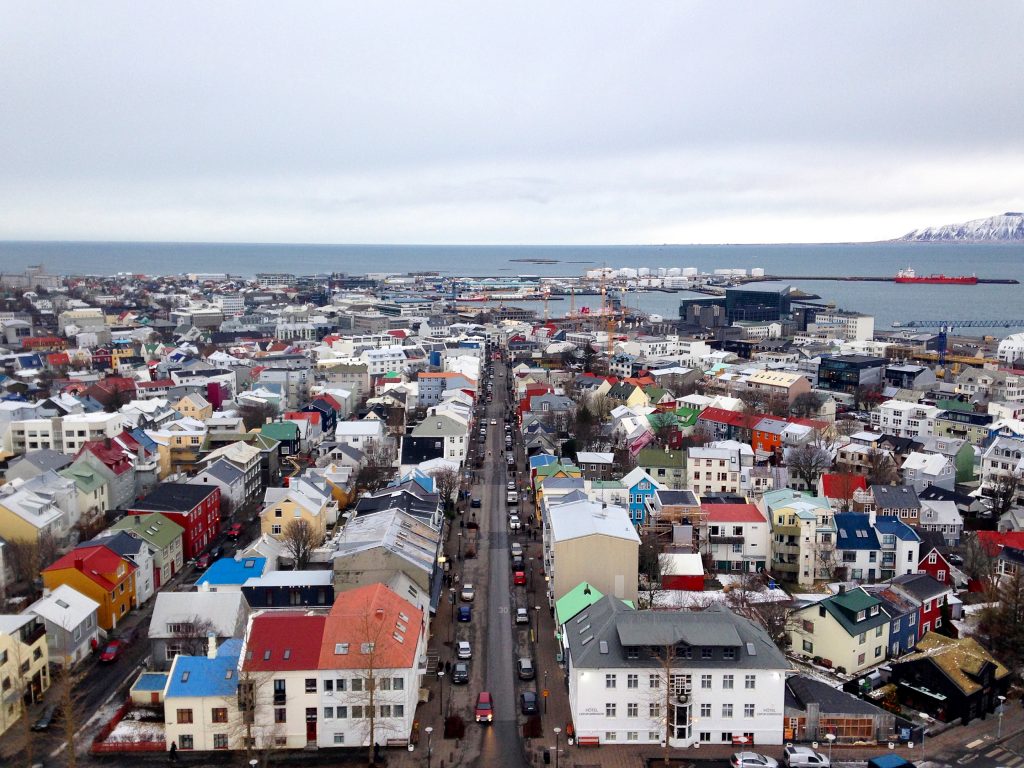 For that iconic view over Reykjavík with all the colourful rooftops, head up to the top of Hallgrímskirkja. It is the main church in Reykjavík and is located up on a hill with a beautiful view of the city below, the waterfront, and the mountains. Signs advise you to buy a ticket, but I think it's more of a recommended donation, because tickets weren't checked. So you may be able to get away with visiting the top of the church for free. Downstairs, be sure to check out the interior of the church as well.
Laugevegur
https://www.instagram.com/p/BLMcSt_FVq-/?taken-by=reykjavikinsider
Laugevegur is the go-to street for shopping, eating, and drinking in Reykjavík. It is a great street to walk down and explore. Some highlights of the street are a Christmas shop that is open year-round, Bar Ananas—a cool tiki bar with well-priced happy hours and yummy cocktails, and Lebowski Bar for burgers and drinks.
Eat Icelandic Hot Dogs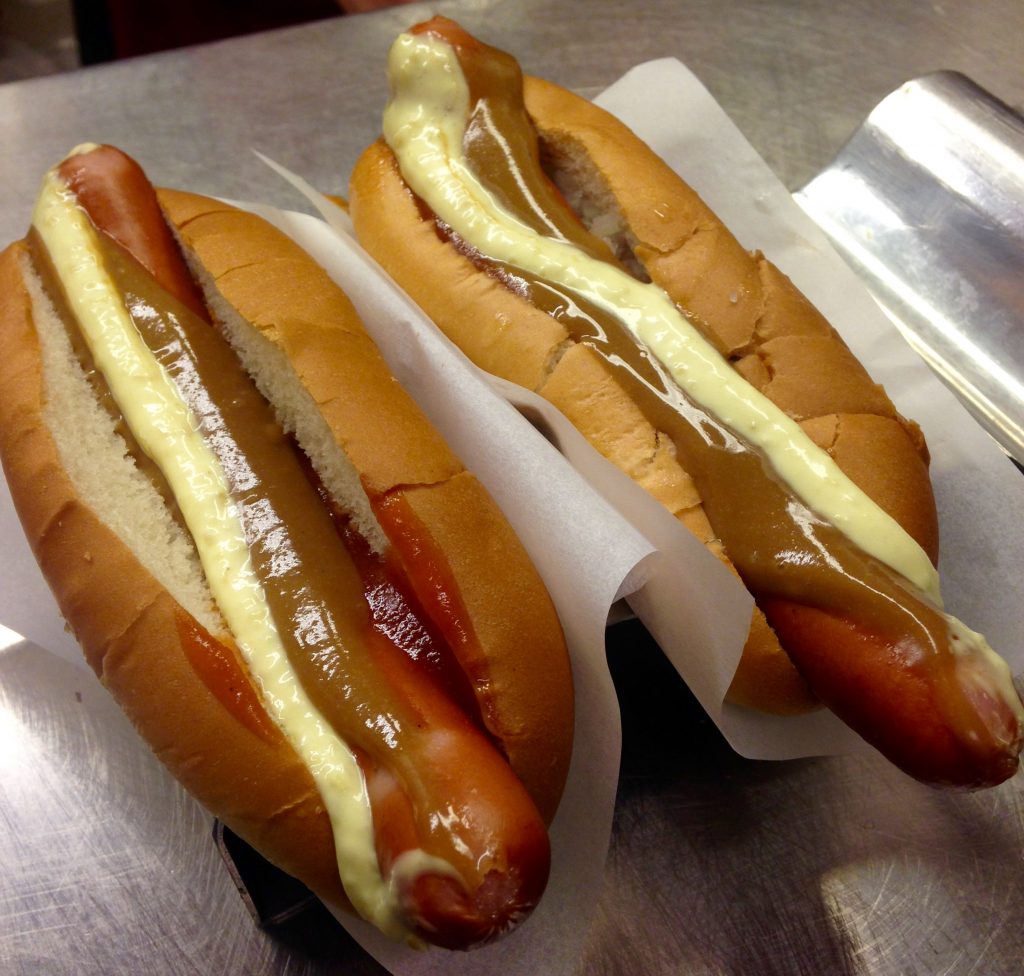 You would never guess it, but Iceland is known for having some of the world's best hot dogs. And I must say, they are pretty delicious! They differ from American hot dogs because of the different meats in them. Rather than just pork, Icelandic hot dogs are mostly lamb with some pork and beef. Since Iceland can be expensive, they are also the perfect meal for budget travellers. My favourite hot dog place is Bæjarins Beztu Pylsur, and another good one is called Pylsuhúsið. For the best hot dog, order it with everything: fried and fresh onions, mayo, and Icelandic brown mustard, which is delicious.
The Waterfront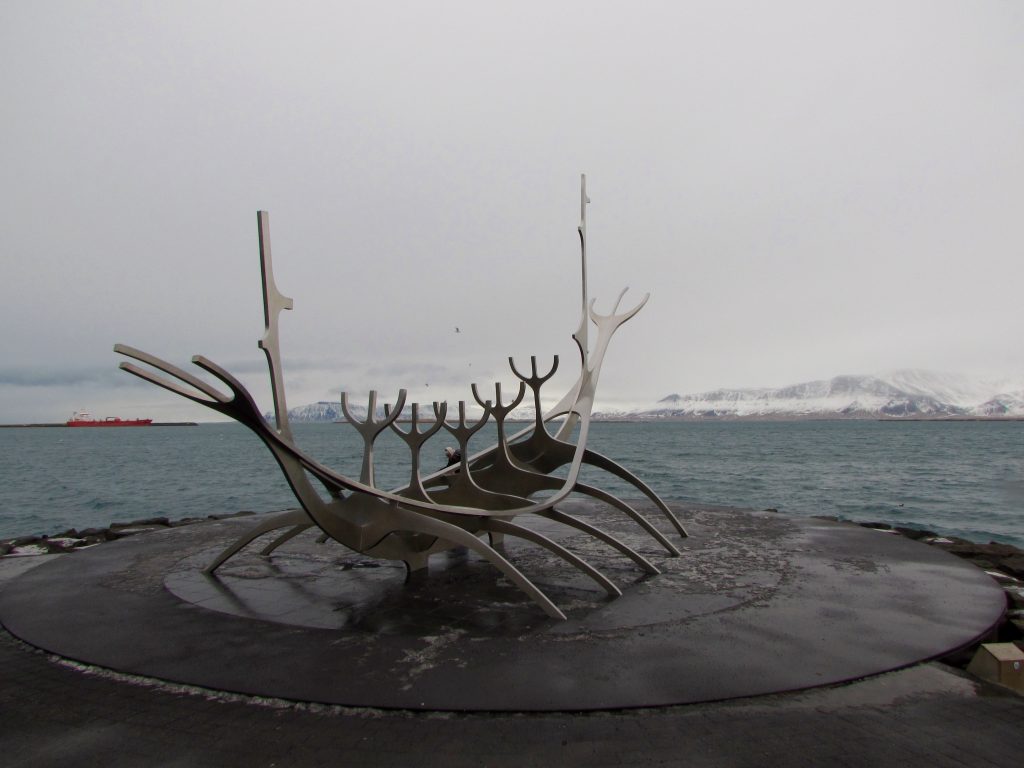 Reykjavík is a coastal city and has some beautiful views along the waterfront. Sunrise is especially magical, when you can see soft colours in the sky and ice covered mountains in the distance. And if you're visiting in the winter, you will most likely see sunrise every single day, since the sun rises around 10:30am! At one end of the city centre, there is a nice harbour full of boats. A bit further along, you'll see the unique Harpa Concert Hall. Walk a bit further, and you'll see the Sky Voyager, which is a sculpture of a Viking ship. But beware that if you're visiting in winter, you don't blow away! The Reykjavík waterfront has some extremely strong winds.
Tjörnin Pond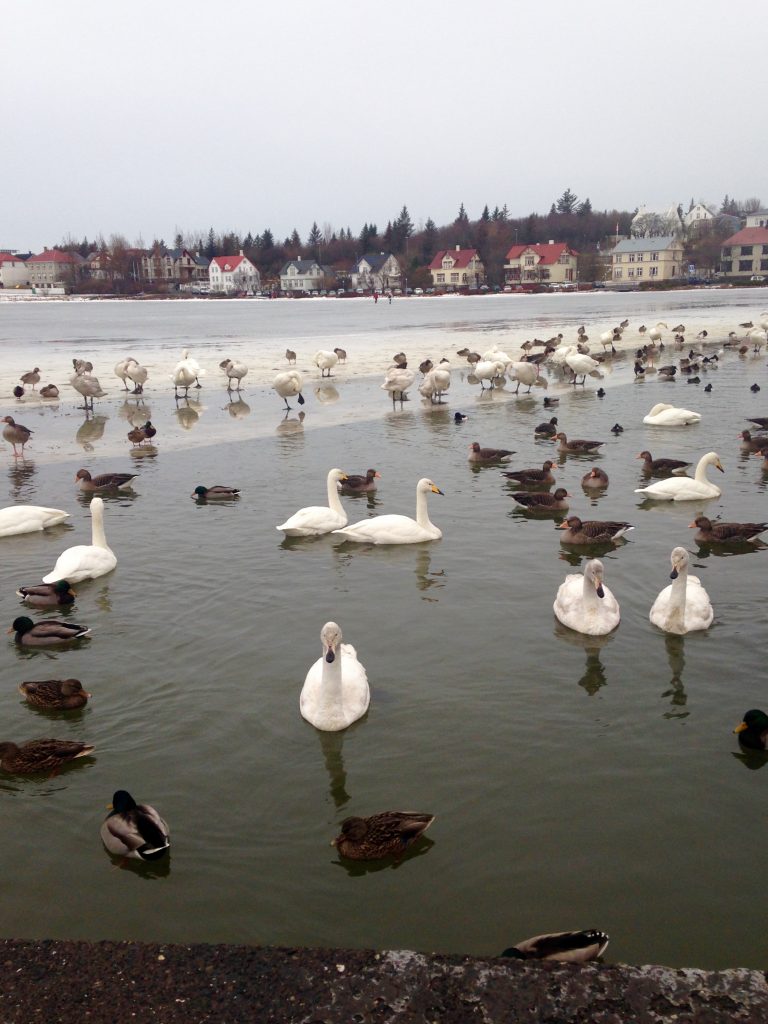 This pond is located right in the city centre and a really pretty spot to visit in Reykjavík. It is surrounded by colourful Nordic houses, city hall, and the National Gallery of Iceland. The pond is home to lots of ducks and swans, and in winter when the pond freezes over, the city heats a corner of it to make sure the birds have access to the water. I find that completely adorable!
The Golden Circle
Just about an hour east of Reykjavík is an area known as the Golden Circle. It's made up of a series of natural elements and landscapes that will leave you speechless. Even the drive out takes you past some amazing mountains and fields of white snow as far as the eye can see. You can rent a car and self-drive the route, or you could join on a tour. In winter, I would recommend joining a tour, because the road out to the Golden Circle gets extremely icy, and we saw lots of cars that had spun out and got stuck in the snow. The tour we took was with Reykjavík Sightseeing and included a Northern Lights tour as well for $111 per person. The tour guides are full of great information and know all the best places to take you!
Gullfoss Waterfall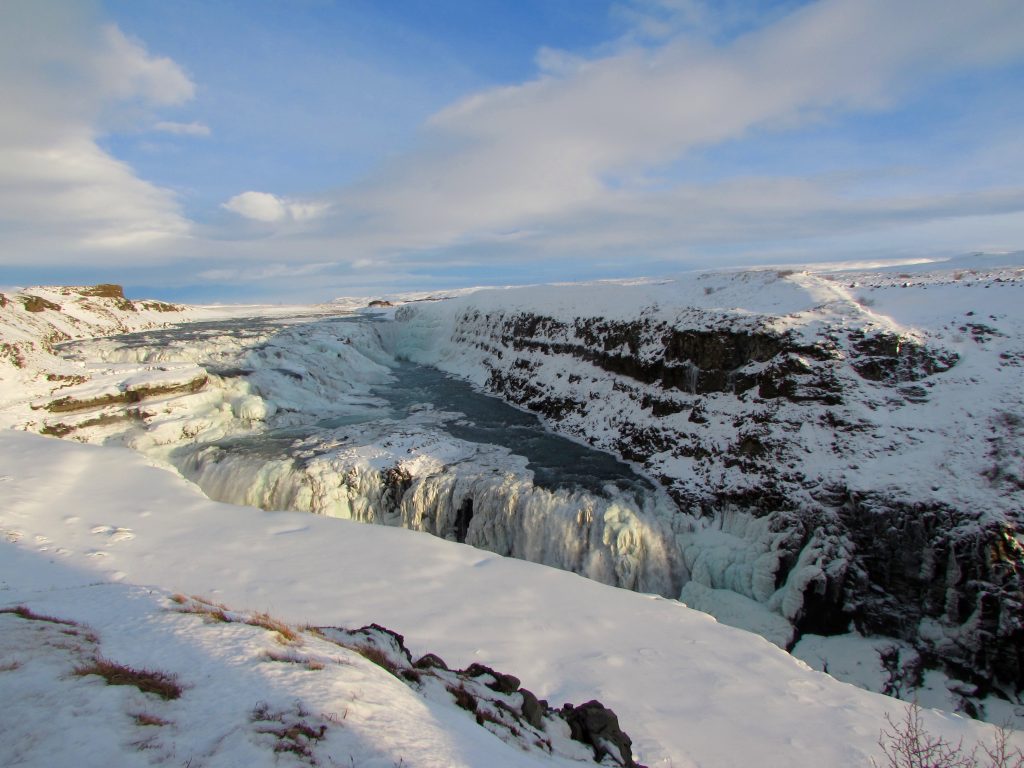 This is one of the most popular spots along the Golden Circle. It's a massive waterfall, and in winter it's frozen, which looks so cool! The name Gullfoss translates into Icelandic as "Golden Waterfall." On a sunny summer day, you can often see a rainbow over the waterfall, thus making Gullfoss the pot of gold! The waterfall is made up of a couple of layers and has two drops. And visiting in winter, be sure to dress warm, because the cold weather and strong winds are bone-chilling!
Thingvellir National Park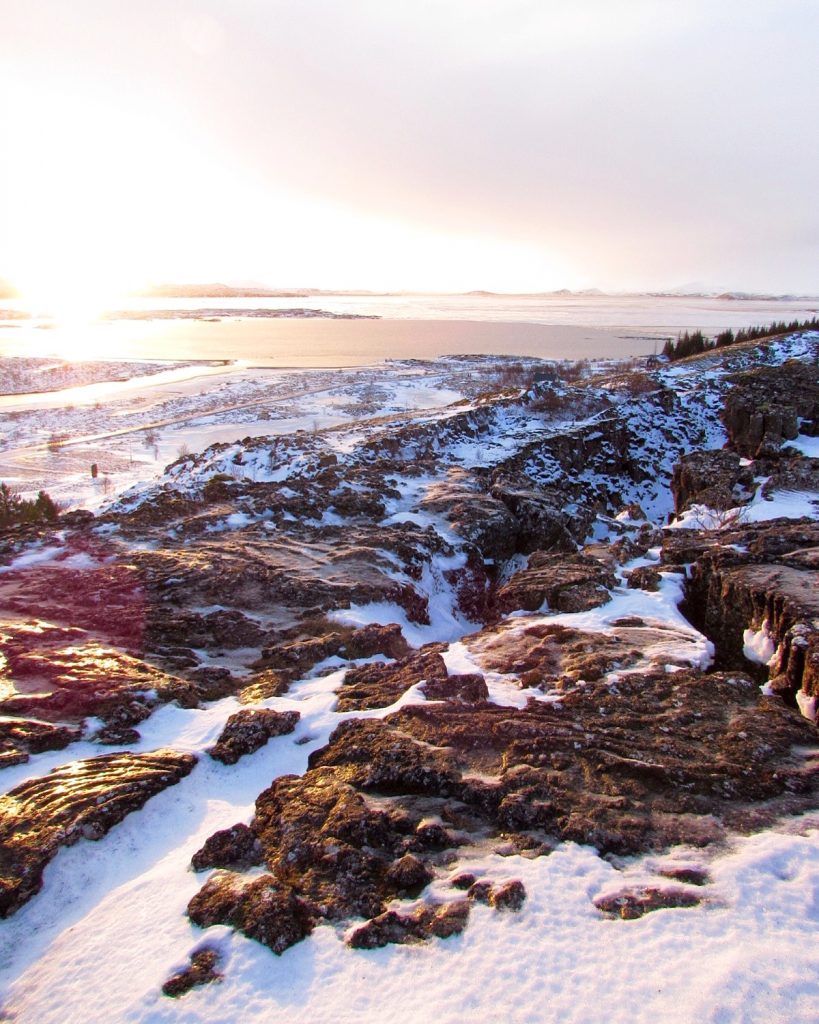 Thingvellir was the first of Iceland's three national parks to be established. It's made up of some pretty incredible geography that doesn't look like anywhere else you'll see in Iceland. Thingvellir is located right on the border of the North American and Eurasian tectonic plates, so as you drive through the park you are literally driving to a new continent. Millions of years ago, the movement of these plates is actually what created Iceland and what gave it its dramatic landscape. Another cool tidbit of information—Thingvellir translates as "fields of parliament." It is where the first parliament was held between the clans of Iceland over a thousand years ago. Thingvellir has some beautiful hikes and is the perfect place to watch the sunrise over the landscape.
Geysir Geothermal Area
https://www.instagram.com/p/BDpvlLFHOIz/?taken-by=reykjavikinsider
The last major stop along the Golden Circle is the Geysir Geothermal Area where you can see the Strokkur geyser. Iceland as a whole is full of geothermal activity, and there are few better places to see this than Geysir. Walking through, you see steam rising out of the ground as well as puddles of boiling water. The area is home to two different geysers. The first, Great Geysir, erupts infrequently and last erupted in 2016. So it will probably be years until it goes off again. However, its neighbouring geyser Strokkur erupts about every 10 minutes, so you will definitely be able to see that! The water shoots up so quickly, and can reach heights over 130 feet. And a warning, while standing in the path of the air coming off Strokkur is warm, when it erupts you'll be smacked in the face with the strong smell of sulfur!
The Blue Lagoon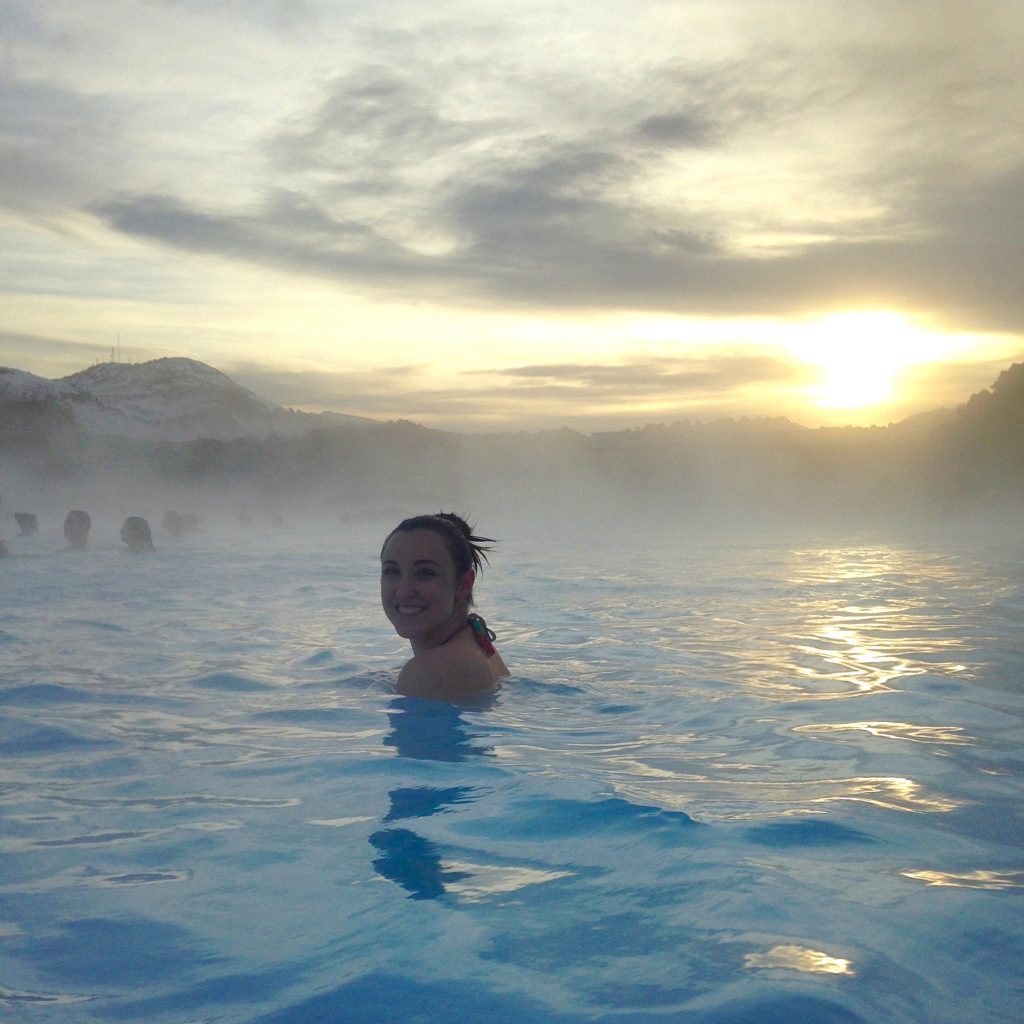 This famous hot spring tops bucket lists all over the world. The Blue Lagoon is a beautiful hot spring about 45 minutes south of Reykjavík, and only about 20 minutes from the airport. The water of the hot springs contains lots of natural ingredients that are beneficial to your skin. Silica and sulfur are a couple of those elements. The silica is what gives the Lagoon its pretty blue colour when it reacts with sunlight. The Lagoon is incredibly beautiful, surrounded on all sides by cliffs of lava. It's also one of the most relaxing places I've experienced, with water ranging in temperature between 37-40°C (98-104°F) depending which part of the Lagoon you are in.
While in the Lagoon, there are several things to keep you entertained and relaxed. There is a swim-up bar where you can get beer, wine, and smoothies and a swim-up face mask bar to apply face masks made with natural ingredients from the Lagoon. You can also get a massage in the water, which would be a pretty special experience. There are a range of tickets you can buy, the cheapest including just entry and a silica mud mask. For an extra $20, you can upgrade to the comfort package and also receive a towel, algae mask, and free drink. The guys in my group went for the standard entry, and the girls upgraded to comfort, which is 6990 krona (about $70). There is also a premium package, which includes everything in the comfort package, plus a robe, slippers, reservation at LAVA restaurant, and a glass of champagne with dinner.
The Blue Lagoon books out fast, so try to book at least 2 weeks before your visit to avoid disappointment. You can book and read more about the Lagoon here.
Local tip: Water in Iceland has a strong sulfur smell because of the country's geothermal activity. Expect your showers to smell like boiled eggs! But Icelandic tap water is also some of the best in the world to drink. To get the sulfur smell out of the water, let the cold tap run for about 20 seconds before filling your glass or bottle.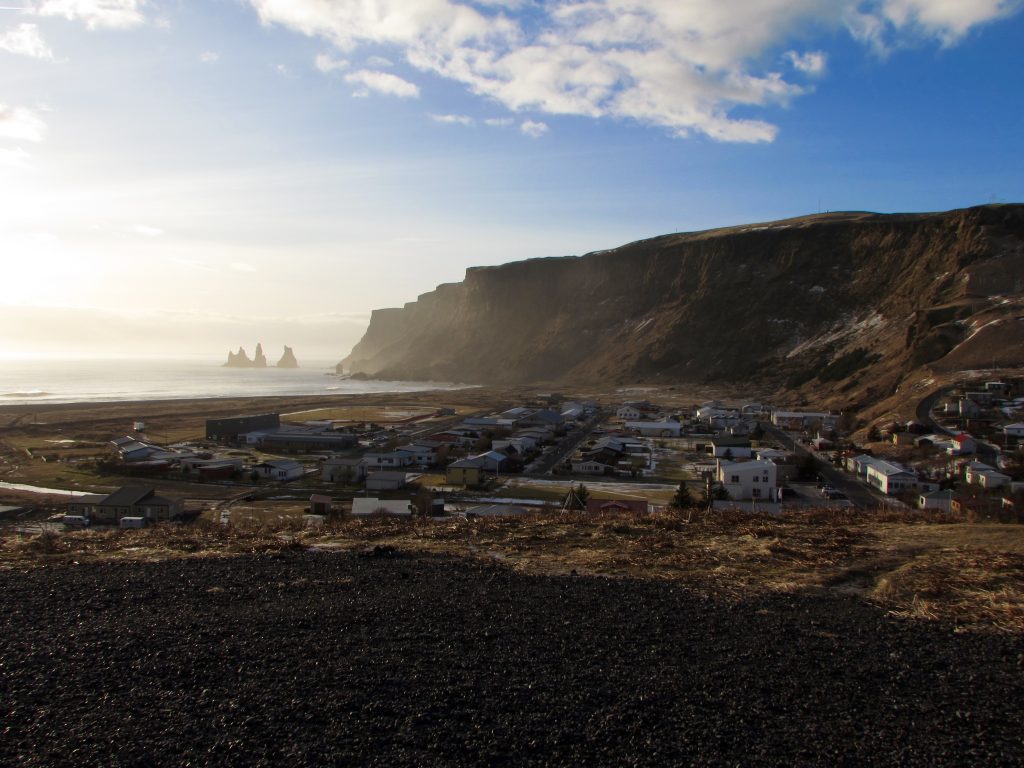 South Coast
Head a few hours down the coast, and there are some more incredible spots waiting for you to discover them. There are day tours you can take from Reykjavík, but the road heading down south is in much better condition than the one heading out to the Golden Circle. I would recommend renting a car, so you can explore the south coast at your own pace. Here are some spots to get you started.
Vík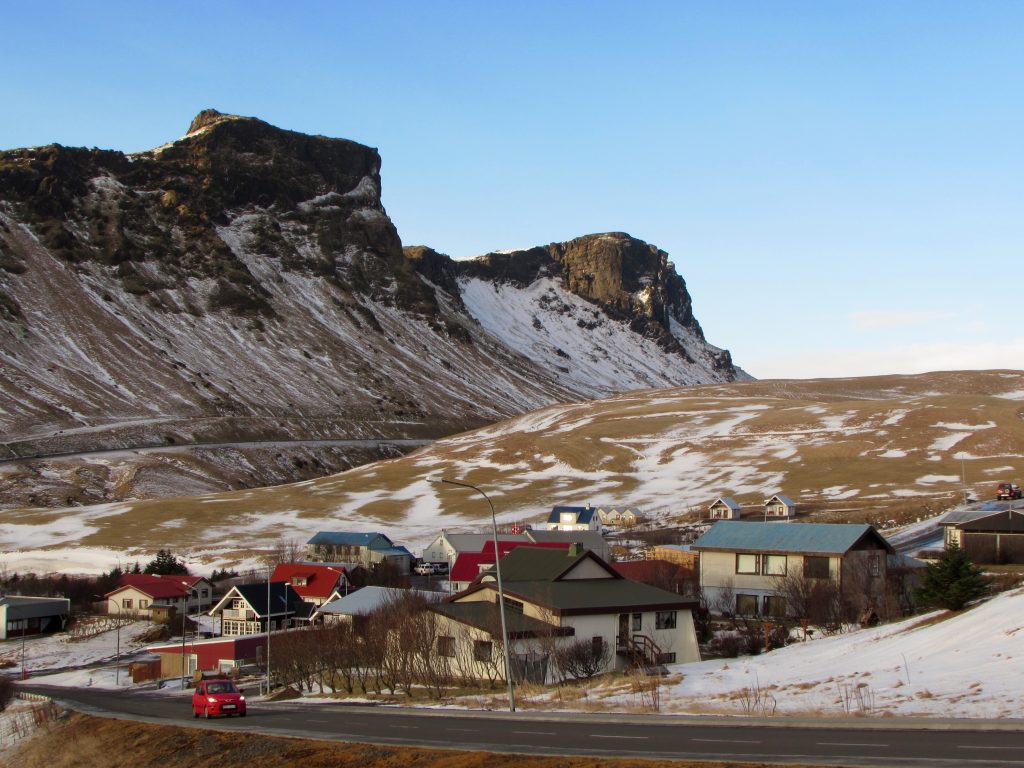 Vík is a cute village on the south coast of Iceland with the tiny population of about 300 people. The village is surrounded by some beautiful cliffs and the Atlantic Ocean. In the village, there are some adorable colourful houses and a red roofed church overlooking Vík from a hill. Vík is a nice typical Icelandic village to explore, and it is a great spot to see the Northern Lights in winter.
Reynisfjara Beach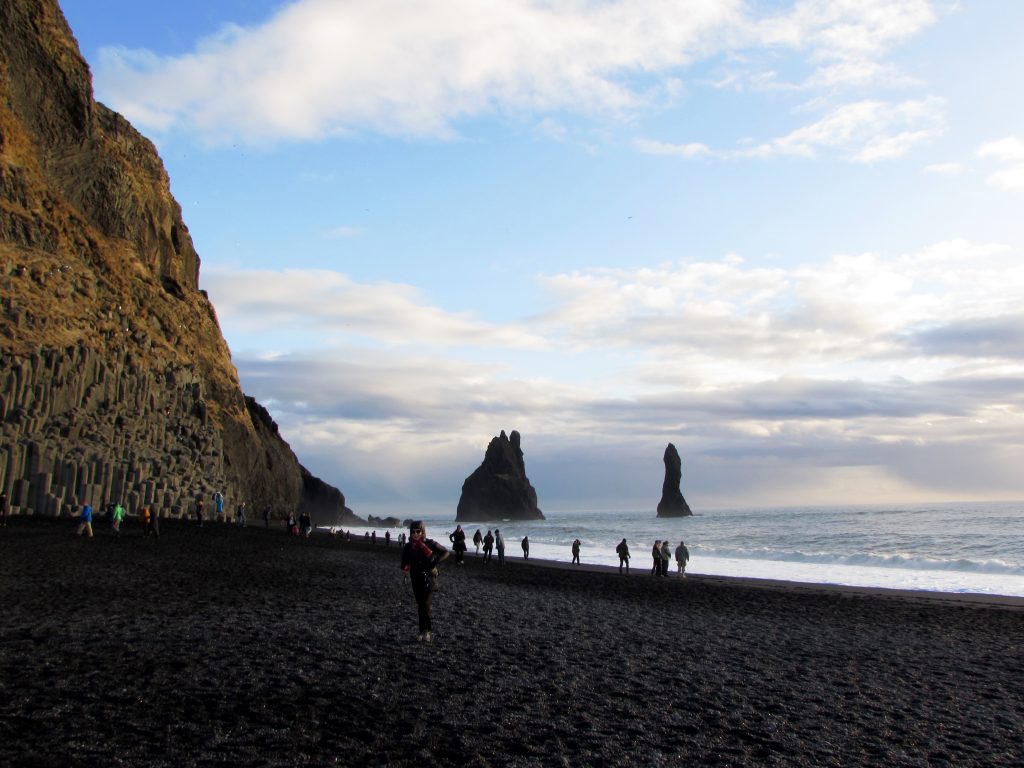 One of the south coast's most stunning spots is the famous black sand beach. It's located just outside Vík, on the other side of the large cliffs. The most notable part of the beach is of course the jet-black sand. Rather than typical sand, Reynisfjara is made up of tiny lava pebbles from nearby volcanos. It's such a unique experience to hold the lava in your hands. In addition to the black sand, the beach has huge caves and basalt stacks. These stacks are home to different birds, and if you visit in summer, you may even see some Icelandic puffins! But a word of warning: the water at Reynisfjara can be dangerous. The currents are strong and waves are large. Be careful not to get too close to the water's edge, and be careful of "sneaker waves"—huge waves that come far up the beach and sneak up on you.
South Coast Waterfalls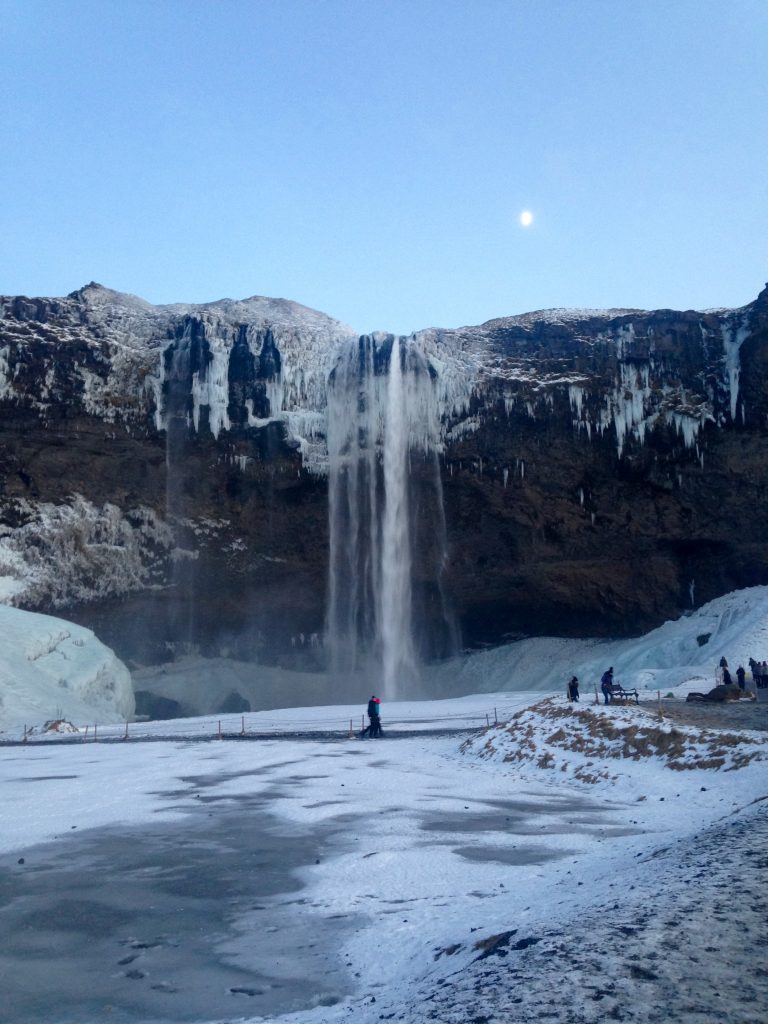 Iceland as a whole is full of waterfalls. And the south coast is no exception! On a day out in the south coast, there are several beautiful waterfalls you should make a point of visiting. Seljalandsfoss is probably the most popular. It is a tall 65 meters (213 feet). As you walk up to it, you'll probably get sprayed by some of the mist coming off the waterfall! In summer, there's even a path where you can walk behind it! However, in winter it is closed because it gets too slippery. Not too far down the road is Skógafoss, another popular south Iceland waterfall. It's 60 meters tall (196 feet) and wider than Seljalandsfoss. You can walk right up to the waterfall, and there is a tall set of stairs where you can climb to the top of the waterfall. The climb is tiring, but it gives you a great view of Skógafoss and the surrounding landscape. Another lesser known waterfall to see is Gljúfrabúi. It's more hidden than the other two, so it's a real local spot. In order to get to the waterfall, you walk through a gorge. It gets icy and slippery, but once you get to the waterfall, the view makes it worth the effort!
Hobbit Houses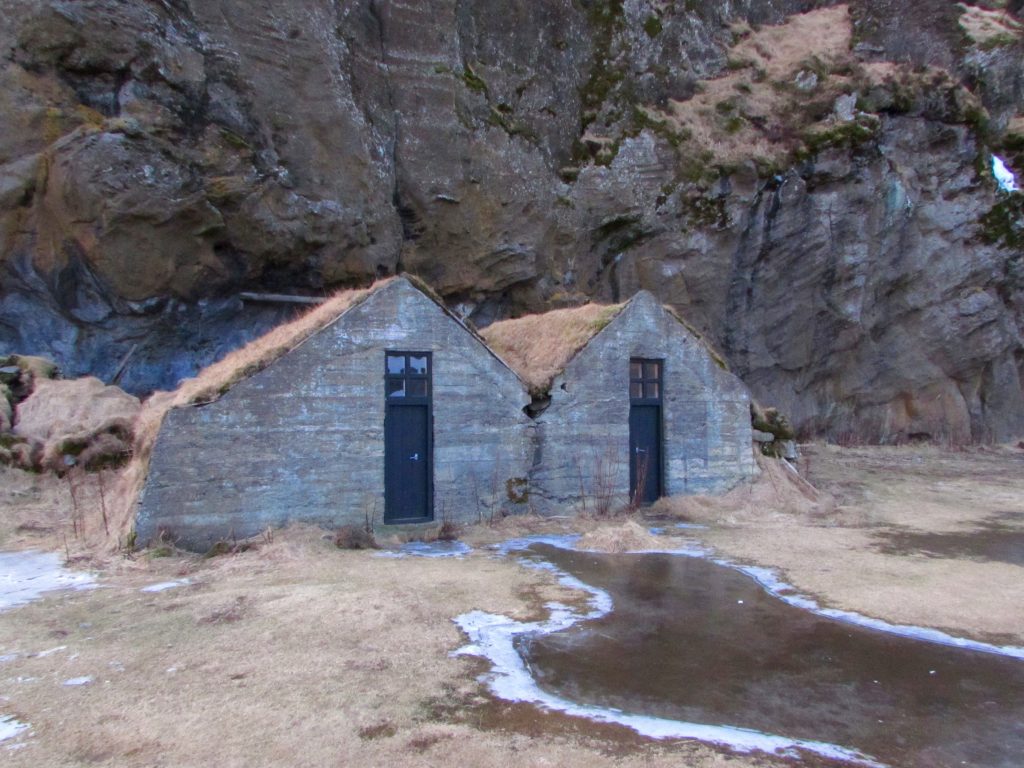 Driving through southern Iceland, one thing you'll notice is some of the unique houses along the road. My group nicknamed them hobbit houses and found them so cool. Turf houses were the most popular type of architecture in Iceland for many years. They are often built into cliffs and have turf and grass as the roof. Along the south coast, you will see some abandoned turf houses that you can go right up to! They're so cool, and I would happily stay in one if it meant waking up to that gorgeous view of the coast and mountains in the morning!
Icelandic Horses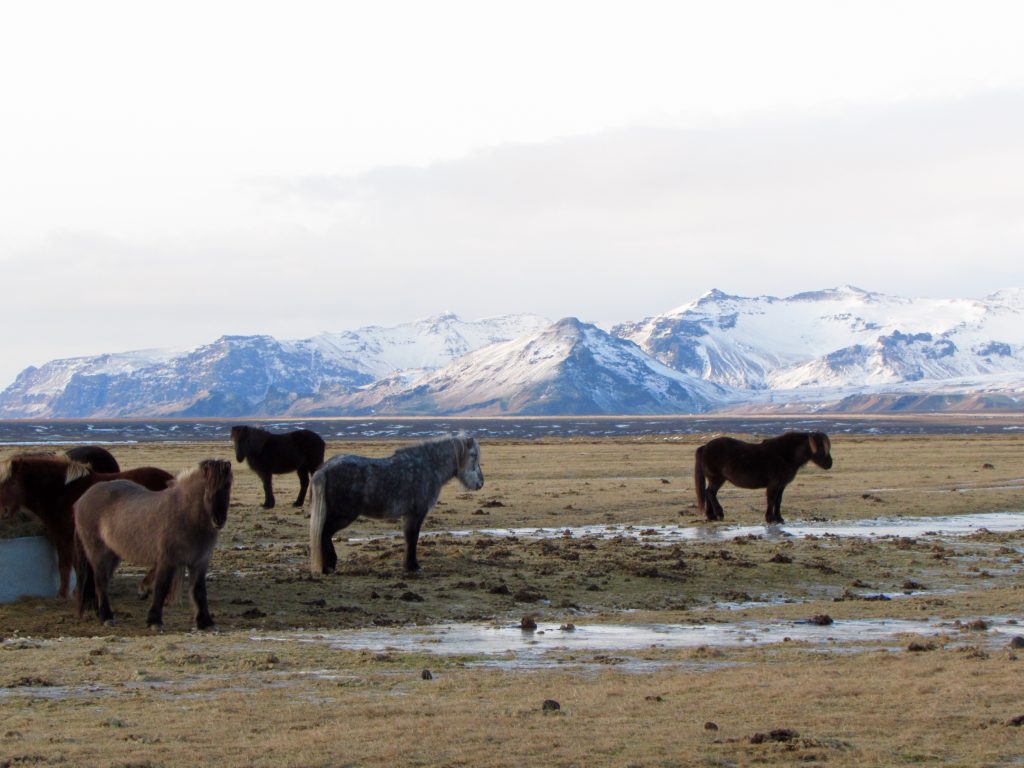 Icelandic horses are different than the horses you're used to. They are much smaller than the average horse—more similar in size to a pony. Icelandic horses were bred from ponies brought to Iceland by Norse settlers, and horses are highly respected in Norse mythology. They are hardy animals, and while most farmers bring their animals in for the winter, the horses do well outside in the cold weather and snow. They can be seen in many places around Iceland, but the south coast is full of opportunities to see them. As we drove along, we passed many farms of Icelandic horses and even saw some out for a ride. They are beautiful animals and one that you must see while you're in Iceland.
Jökulsárlón Glacier Lagoon
This glacier lagoon is stunning and something you won't see many other places around the world. The lagoon is filled with massive chunks of ice. Next to the lagoon is Vatnajökull—the largest glacier in Europe. In the lagoon, you can also spot some cute Icelandic seals swimming around. Right by the lagoon itself is another beautiful black sand beach. This beach has chunks of ice on the sand resembling huge diamonds, and is known as Diamond Beach. This area has become a popular Hollywood filming spot and has featured in James Bond, Batman Begins, and even a Justin Bieber music video. Jökulsárlón is about 5 hours from Reykjavík each way, so it wouldn't be easy to visit as a day trip. If you have enough time to head out to the eastern side of Iceland during your visit, make sure to visit Jökulsárlón.
The Northern Lights
The Northern Lights can be a hit or miss when you visit Iceland. But you have to try to see them! The Northern Lights are colourful dancing lights in the sky caused by particles from the Earth's atmosphere colliding with particles from the sun's atmosphere. The result is a beautiful light show that's usually green, but sometimes pink, purple, blue or red. The Northern Lights are only visible during the winter when nights are long, and are best seen far from the city where there is less light pollution. Their forecast changes hourly, so the best way to see them is to join a tour. The tour guides study the forecast across Iceland and take you to spots that are most likely to have a show. Travelling from Reykjavík, Thingvellir National Park is known to get some great views of the Northern Lights.
Photographing the Northern Lights requires a bit of preparation and skill. You'll get the best photos on a DSLR or mirrorless camera set to take long exposure shots. Place the camera on a tripod (as you always should when photographing in long exposure) and keep the camera as still as possible. There are also some great apps you can download to take Northern Lights photos on your phone. Use a tripod as you would with a camera and try out the app Slow Shutter Cam, which costs $1.99 in the app store.
Unfortunately, I wasn't able to see the Northern Lights as it was too cloudy. However, many tours offer the opportunity to come back as many times as it takes to see them! We went twice on this trip with no luck, so next time I'm in Iceland, I can go on another Northern Lights hunt with that same tour. We bought a combined tour with the Golden Circle through Reykjavík Sightseeing, and they also have great Northern Lights only tours.
More Hot Springs
While the Blue Lagoon is by far the most popular hot spring in Iceland, there are many more hidden around the country. If you include the north on your visit to Iceland, be sure to visit Mývatn Nature Baths. This is probably the most similar to the Blue Lagoon, both in colour and properties of the water. Closer to Reykjavík is the Secret Lagoon, which is located in the Golden Circle. This hot spring is extremely beautiful, and you can even see the Strokkur geyser erupt! Seljavallalaug is in the south of Iceland, so you could add it into a south coast road trip. This one is man-made, but it was built into the side of a mountain and has some stunning views.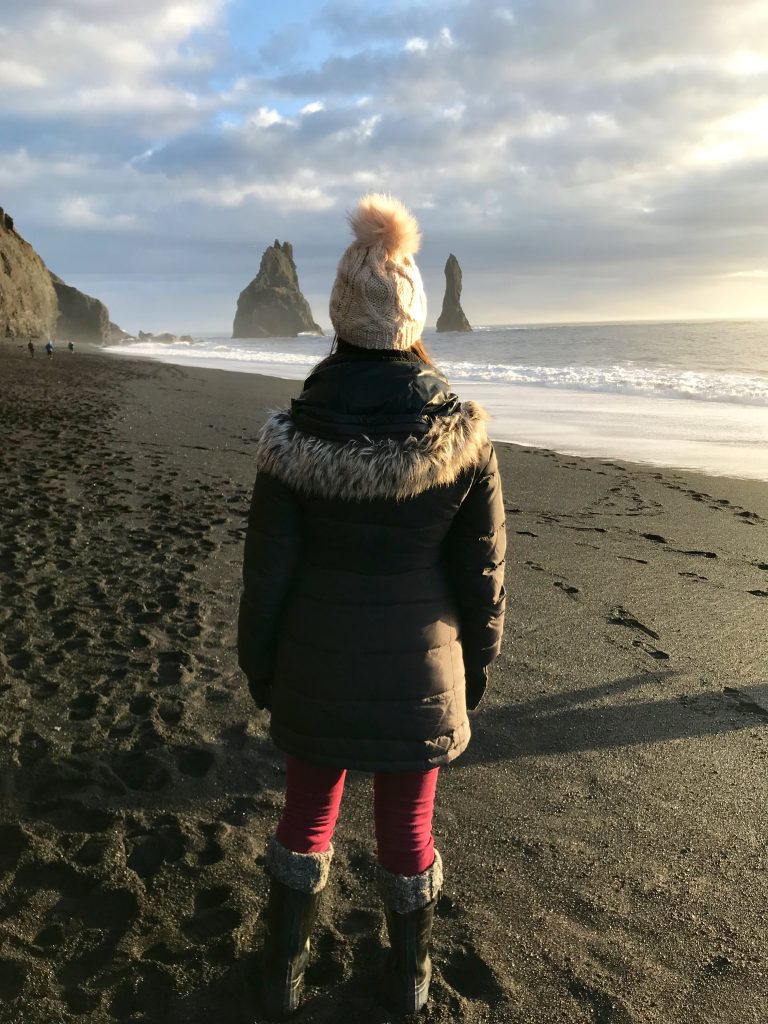 Iceland is one of the coolest places I have visited with one of the most unique landscapes. I couldn't recommend a trip to Iceland highly enough. Check out as many of these places as you can, and you are sure to have an unforgettable time.
What are some of your favourite places in Iceland? If you haven't been yet, what intrigues you most about the country? Let me know in a comment!
Like this post? Pin it!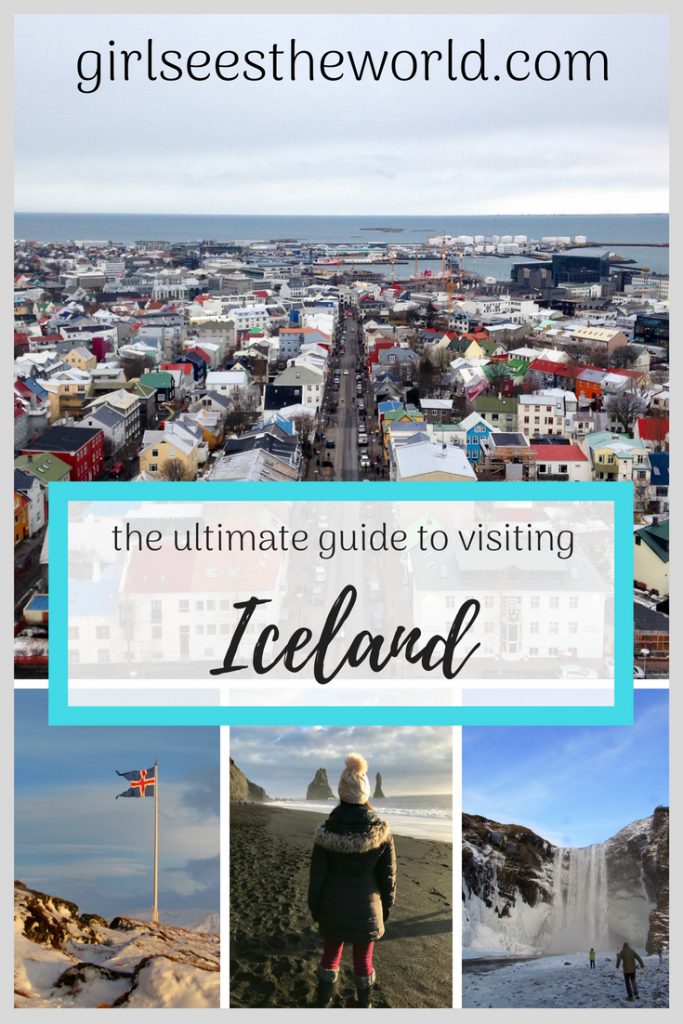 Hi I'm Christie, a 28-year-old girl originally from Boston who has spent time living in New York City, North Carolina, France, Australia, New Zealand, and London. I love moving to new places and exploring them as a local, and I can't see my nomadic expat life stopping any time soon! I have no greater passion than travel, and when I'm not exploring I spend my free time reminiscing on past trips and daydreaming about future travel.