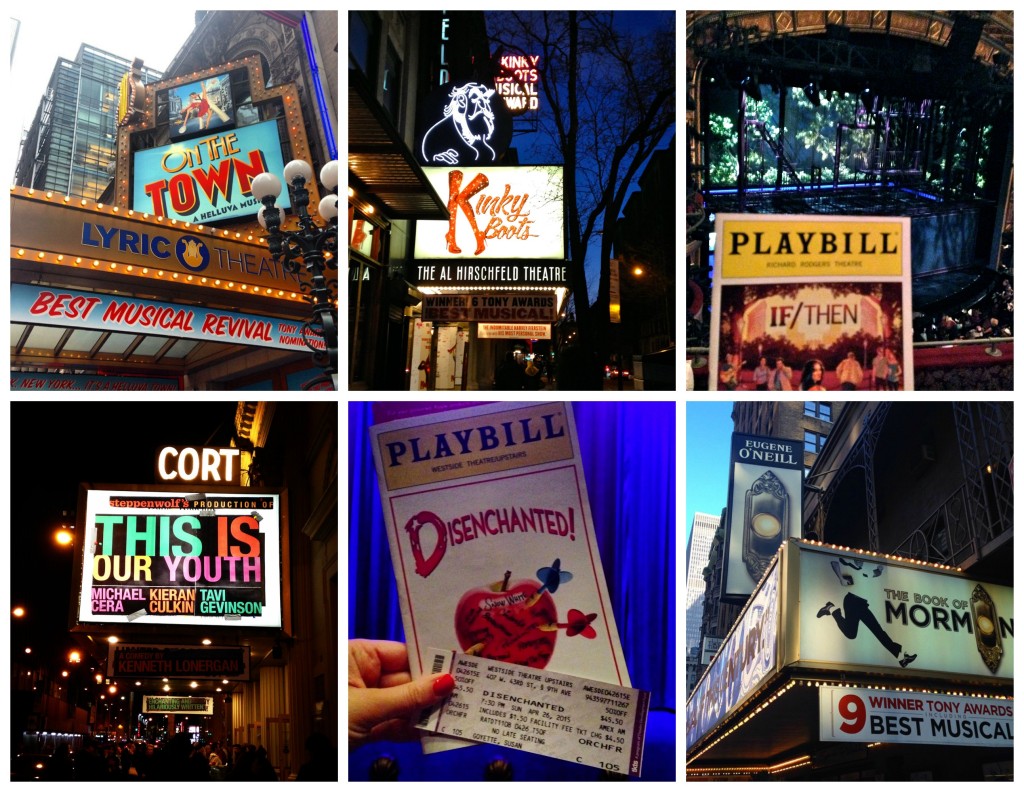 No trip to New York City is complete without seeing a Broadway show, and even after living here for 9 months, I still haven't gotten tired of them! There's just something so magical and exciting about going to see live theatre! But if you've looked for tickets online, you might have been discouraged when you saw the prices. The most popular shows like Book of Mormon, Wicked, and Lion King can sometimes go for hundreds of dollars per ticket, and amazingly sell out every single night. Even if you're looking to see a less popular show, you could end up paying an outrageous amount for a seat way in the back if you book ahead of time through the show's website or box office.
I have seen 13 Broadway shows so far (and plan to see even more soon), so I have become a bit of a pro when it comes to saving money on tickets. If you're hoping to pay a visit to Broadway in NYC anytime soon, keep on reading to learn the tricks to seeing a show without breaking the bank.
Visit the TKTS Office in Times Square
I first discovered the TKTS office when my family visited New York a few years ago. This office is right under the red stairs in Times Square and offers discounted tickets to same-day Broadway and Off-Broadway shows. You can line up around 11am to buy matinee tickets or 3pm to buy evening show tickets, and you will end up paying 40-60% less than you would online or in the box office! There are a few shows that will never be on offer at TKTS because they sell out way in advance (Wicked, Book of Mormon, Aladdin, Lion King), but there is always a huge selection of tickets and they are usually orchestra seats with a great view of the stage! This is by far my most-used method for buying Broadway tickets.
General Rush Tickets
Several shows offer same-day General Rush tickets through their box office. Tickets are available as soon as the box office opens and are limited, so make sure to get there early if you want to be guaranteed a ticket! Prices vary depending on the show but are typically between $30-$40 each. Most of the shows that do not have a lottery (which I will tell you about a little further down) offer General Rush tickets. As I'm writing this, there are currently 9 shows offering General Rush including Chicago, Gigi, Les Misérables, and Something Rotten.
Student Rush Tickets and Student Discounts
If you have a student ID, you are eligible to even more discounts! Several shows offer Student Rush tickets in the box office on the same day as the show that aren't available to the General Rush crowds. These tickets are around $30-$40. Some shows that offer Student Rush tickets are Gentleman's Guide to Love and Murder, Jersey Boys, The Audience, The King and I, and The Visit. And if you book tickets through the website Tix4Students.com, you can get discounts to even more shows! You can get great prices on some of the most popular shows on Broadway: Wicked, Kinky Boots, Something Rotten, and The Phantom of the Opera. There is a membership fee to join the site, but it's only $5 and is valid for an entire year, so you will more than make up for that with the amount you will save on tickets!
Broadway Ticket Lottery
If you're feeling lucky, you can try entering the Broadway ticket lottery for one of the most popular shows that are often sold out. If you go to the theatre two and a half hours before the show starts, you can enter your name into a drawing for tickets in the front row or in one of the boxes. The number of lottery tickets is limited to around 20, and there are usually huge crowds of people trying to win, but if you have your heart set on seeing one of those shows, give it a shot! Somebody has to win after all! The most popular lotteries to enter are Book of Mormon, Wicked, Aladdin, and Matilda. Some shows even have digital lotteries! You can enter for Something Rotten online and for Fun Home, On the Town, An Act of God, and Grounded through the phone app TodayTix. All of the lottery tickets are majorly discounted and are usually under $30. Some can even get as cheap as $10! I actually won a lottery ticket to On the Town, so if you keep entering, you're bound to win eventually!
Standing Room
If you are dying to see a show but don't have any luck with the lottery or General Rush, some shows offer standing room tickets that are extremely discounted. Like the name says, you do have to stand for the whole show, but it really isn't as bad as you may think! There are a limited number of standing room tickets so you are guaranteed to have a good view of the stage, and you can lean against a railing while you watch. Plus, once the show starts you will be so involved in it that you won't even notice how tired your legs are until it ends! I did standing room for Book of Mormon after having no luck with the lottery, and only had to pay $27. It was so worth it, and I couldn't believe that the people sitting right in front of me probably paid around $300 for their tickets! Some other shows offer standing room too, and I am definitely planning to take advantage: Chicago, Hand to God, Hedwig and the Angry Inch, Mamma Mia, Matilda, and Phantom of the Opera. 
Let me know how you save money on Broadway show tickets and which shows are your favourites! I have seen so many great shows lately, and I am planning on writing a guide to Broadway shows once I've checked a few more off my list!
For updated information on General Rush, Student Rush, Lottery, and Standing Room check this website: playbill.com They update the list and pricing pretty often!
Hi I'm Christie, a 28-year-old girl originally from Boston who has spent time living in New York City, North Carolina, France, Australia, New Zealand, and London. I love moving to new places and exploring them as a local, and I can't see my nomadic expat life stopping any time soon! I have no greater passion than travel, and when I'm not exploring I spend my free time reminiscing on past trips and daydreaming about future travel.