As the cultural heart of Scotland and a crowd favourite among places to visit in the UK, Edinburgh offers a much different experience than fellow Scottish cities, such as Glasgow and Aberdeen. It's full of amazing history, stunning architecture, and out-of-this-world food.
I first visited Edinburgh this past December—and what a perfect time to visit! The city is magical at Christmastime. Holiday markets and an all-around festive atmosphere light up the night. Edinburgh is a quaint city, which makes it the perfect place to explore on foot. You can experience the city in a weekend, but with so much to see, I recommend an extended stay.
Check out my top tips on what to see and do during your visit to Edinburgh.
1. Explore Edinburgh Castle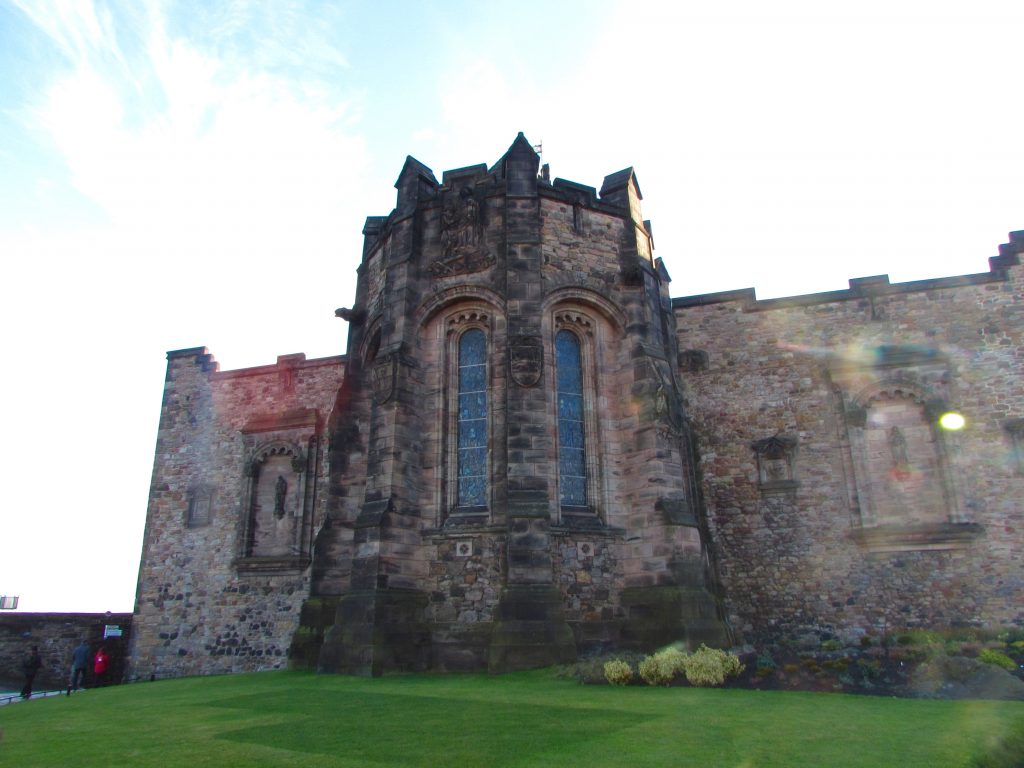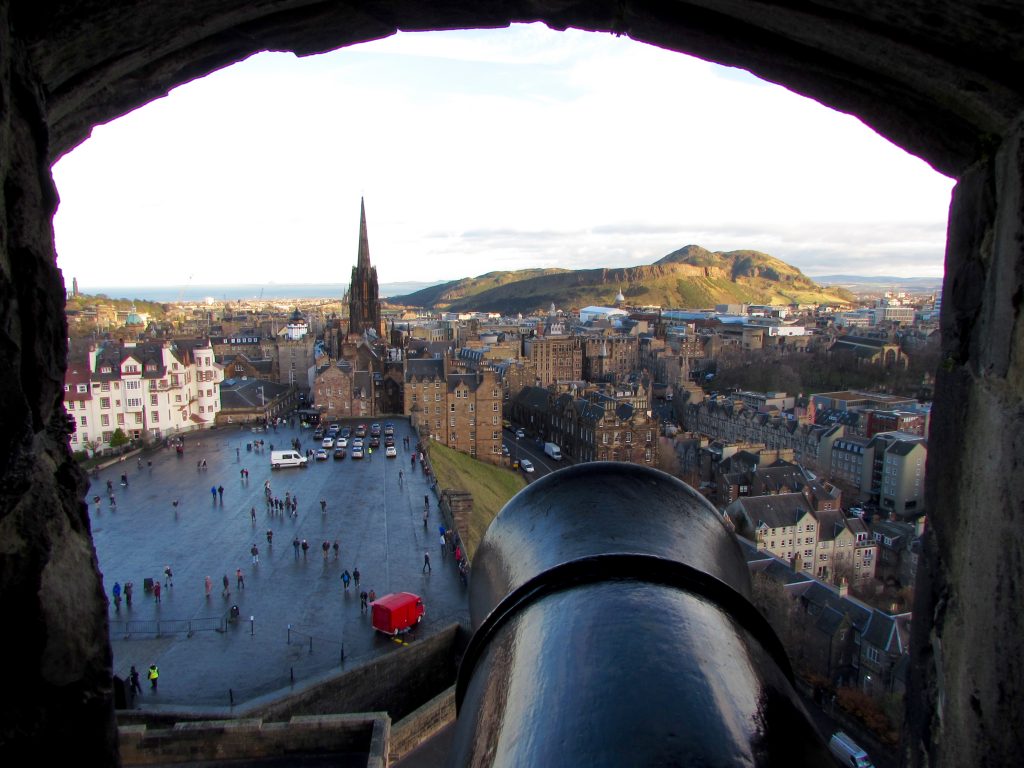 Edinburgh Castle, the crown jewel of the city, sits atop a hill at one end of the Royal Mile and can be seen from vistas all around Edinburgh. I don't explore every castle I come across, but Edinburgh Castle is one you must see from the inside! The castle is impressive and takes a couple of hours to fully enjoy. Edinburgh Castle boasts quite a complex history since its construction in the 1100s under the reign of King David I. There's a lot to see in the castle, including views of the city from the battlements, the royal apartments, the 1 pm gun show, a Prisons of War exhibition, and getting a peek at the crown jewels.
Tickets to Edinburgh Castle are £18.30 at the castle and £17 online.
2. Stroll Through Old Town and the Royal Mile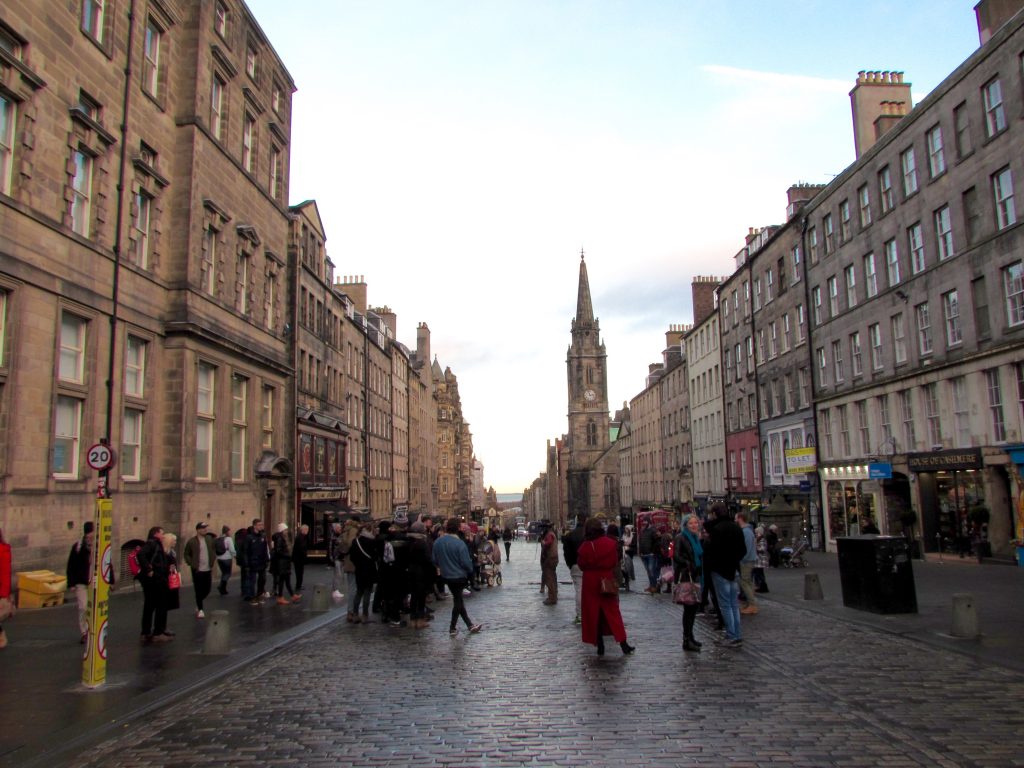 Edinburgh's Old Town is jam-packed with things to see and do. The main highlight of the Old Town is the Royal Mile—a meandering street that stretches from Edinburgh Castle on one side to Holyrood Palace on the other. Holyrood is the queen's official residence in Scotland, although she prefers to spend her time at Balmoral Castle in the Highlands. The street is lined with quaint shops and lively street performers, including men in kilts playing the bagpipes. St. Giles Cathedral is a stunning church worth visiting, and Mary King's Close is a cool underground street for true adventurers to check out. It was sealed off from the rest of the Royal Mile a few hundred years ago, but take a tour and learn about the street's creepy history.
Just off the Royal Mile is Victoria Street—a winding street lined with colourful shops. As you may know, J.K. Rowling moved to Edinburgh while writing the first Harry Potter book, and many spots around the city acted as her muse. In fact, Victoria Street is said to have been the inspiration for the famous Diagon Alley in the books and movies.
3. Watch the Sunset at Calton Hill
For one of the best views over Edinburgh—and one of the best sunset spots—hike to the top of Calton Hill. The walk is quite steep in places, but not difficult. Once at the top, take in the breathtaking view and be sure to check out the National Monument and Old Observatory House. I highly recommend bringing along a picnic basket and a bottle of wine to enjoy while savouring the view.
4. Take a Walk Along the Water Leith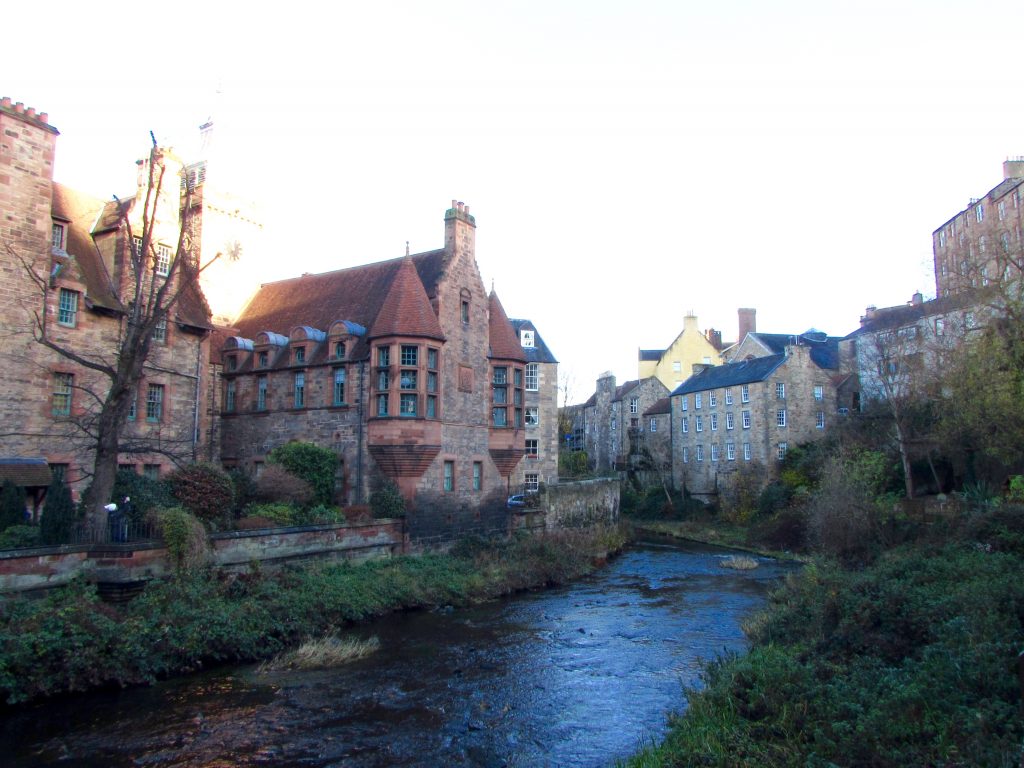 Many visitors to Edinburgh only stick to the super central areas, but they don't realise what they're missing. Just a short walk north of the city centre is this beautiful area to explore! The Water Leith is the small river that runs through Edinburgh and is bordered by a path you can follow for some great views. The area by the Water Leith is quiet, which makes for a relaxing afternoon stroll. By far, the most scenic spot along the river walk is Dean Village. Although you are right in the heart of Edinburgh, this tiny village will make you feel like you're in the countryside!
5. Snap Pics Along Circus Lane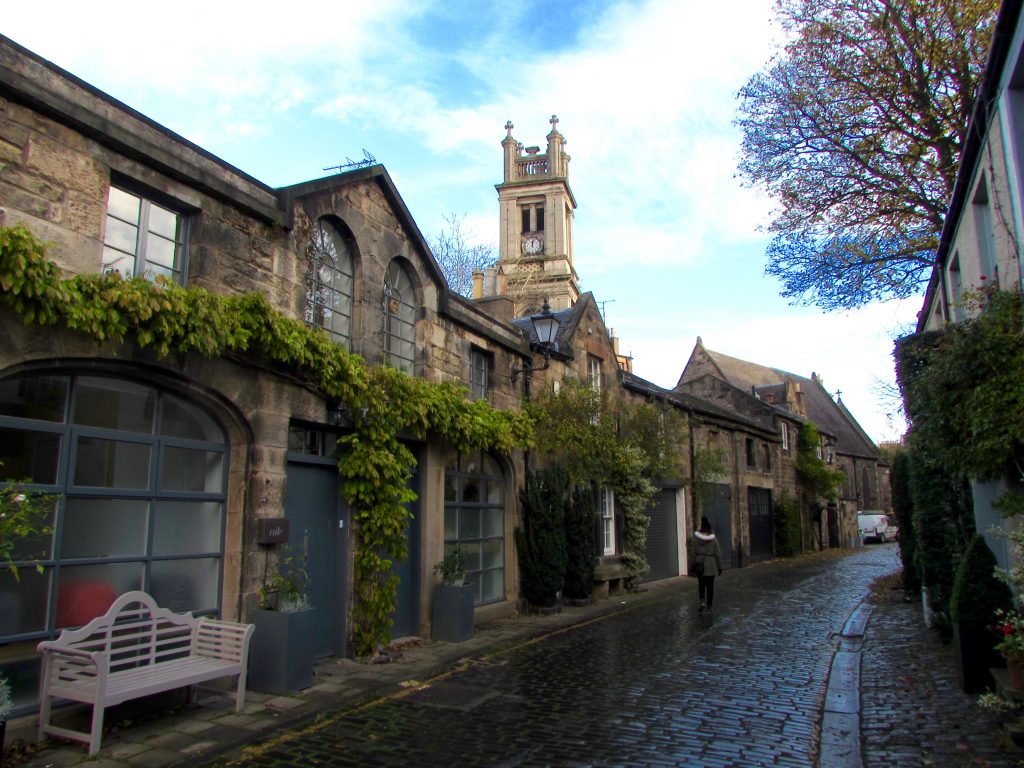 This is widely known as the prettiest street in all of Scotland, and I can see why! The curving cobblestone street is lined with beautiful stone houses on either side. Many of the residences have ivy and colourful flowers creeping up their sides. Towering high above the road is St. Stephen's Church. Circus Lane and its surrounding area are a photographer's dream, so keep your camera handy.
6. Hike Arthur's Seat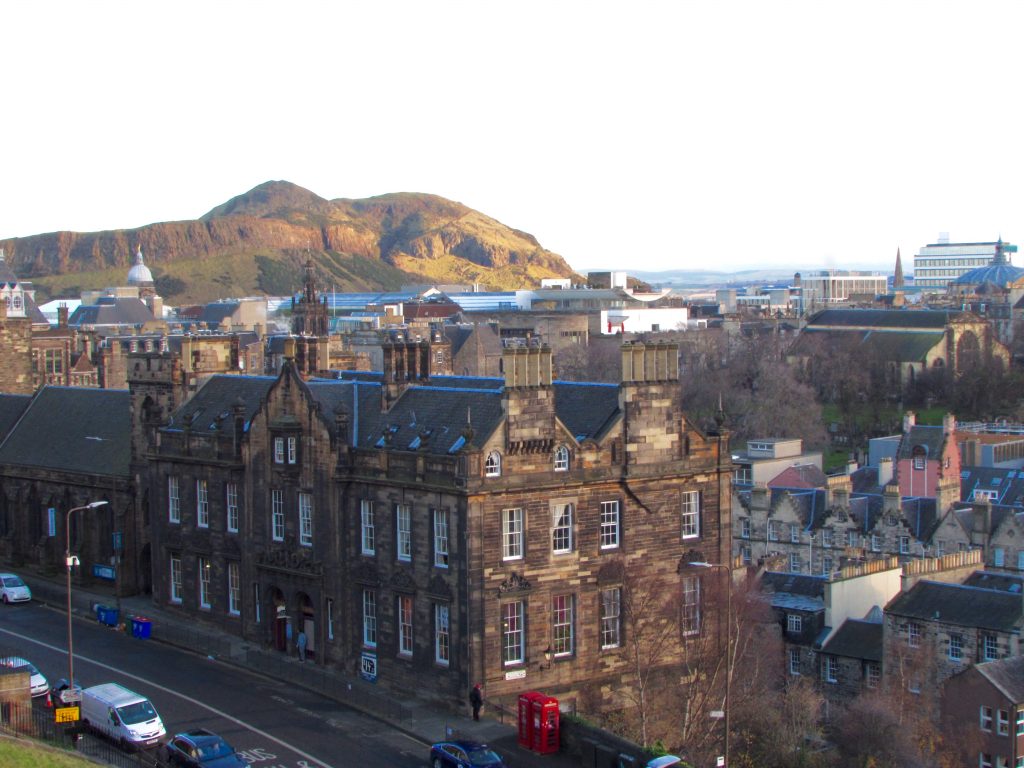 For an energetic hike and a truly awesome view over Edinburgh, climb to the top of Arthur's Seat. I wasn't able to explore this impressive hill due to a recent snowfall, but you better believe I'll be hiking it on my next warm-weather trip to Edinburgh! Just outside the city centre sits a series of hills, with Arthur's Seat being the tallest of these peaks. The levels of difficulty vary depending upon which side of the hill you start your hike from. Starting from the east (as you would do coming from Edinburgh Castle and the city centre) is the easiest route. If you're an advanced hiker, you can conquer rock climbing spots that require a free permit. You can spot this hill towering from a variety of viewpoints around the centre, and the sights from the top are incredible!
7. Museum-Hop
https://www.instagram.com/p/Bipc1rdBlX8/?taken-by=edinburgh_snapshots
Being the historical city it is, it's no surprise Edinburgh is home to outstanding museums. At the Museum of Edinburgh, you'll learn all about the city's history and local legends. At the National Museum of Scotland, study the country's history, and see some interesting exhibits on science, natural history, and foreign cultures. The rooftop restaurant is a popular spot to get a drink and take in the city skyline. Other interesting museums to check out include the Museum of Childhood, the Writers' Museum, and the People's Story Museum. Entry is free to all museums, so there's no reason not to pop in for a visit!
8. Indulge in the Local Delicacies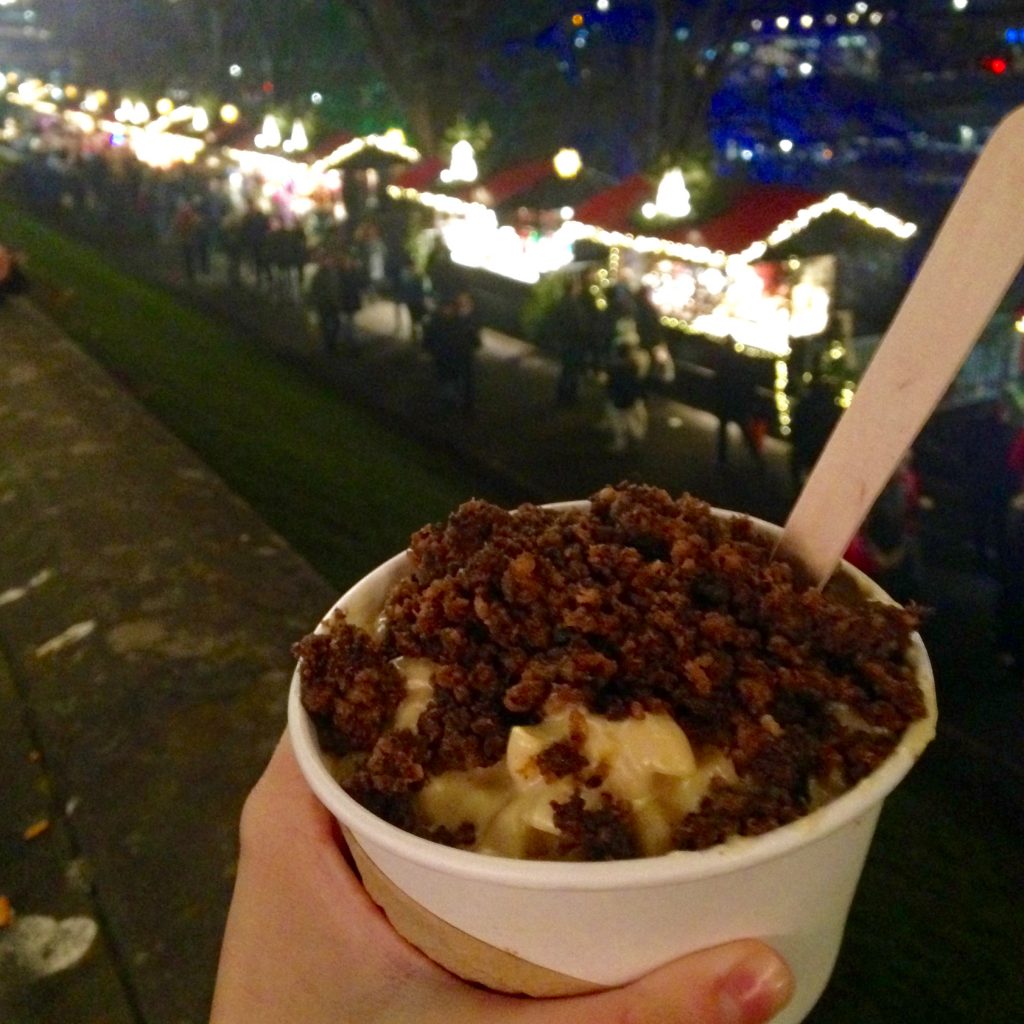 You can't come to Scotland without tasting the local food and drink! The most popular dish to try while in Scotland is haggis—ground-up sheep organs often encased in the lining of a sheep stomach. Don't let the sound of it scare you off—it's actually quite delicious! The most traditional way to eat haggis is with "neeps and tatties" (Scottish for turnips and potatoes). There are many modern takes on this classic Scottish dish. I had haggis mac and cheese that was by far my culinary highlight in Edinburgh! I would happily go back to Edinburgh for the haggis mac and cheese alone!
Scotch whisky is another local favourite. Take a whisky tour or order up some local Scotch whisky at a welcoming pub. Drink it with your haggis, neeps, and tatties if you want to look like a true Scottish native. Other Scottish favourites include black pudding, Full Scottish breakfasts, Scottish shortbread, Irn Bru (a Scottish soft drink), and, of course, the local Scottish beers.
Local tip: The best night to indulge in some Scottish haggis and whisky is on Burns Night, which falls on January 25 this upcoming winter. This Scottish holiday celebrates poet Robert Burns, and the tradition includes eating lots of Scottish food, drinking Scotch whisky, and reading the works of Robert Burns. Bonus points for wearing a kilt!
9. Escape to the Shore
For a quiet afternoon away from the hustle and bustle of the city centre, head over to the Shore. This area has plenty of great shops, bars, and restaurants (mainly seafood). The views along the Shore are mesmerising, especially in spring and summer. While at the Shore, look for the HMY Brittania—a royal yacht that formerly belonged to the queen. And if you're visiting in summer and fancy some sand and sea, head to Portobello Beach. To get to The Shore, take the 22 bus from the city centre, which is only about a 20-minute ride.
10. Climb Scott Monument (If You Dare)
The Scott Monument was built to honour Scottish author Sir Walter Scott, and happens to be the world's tallest monument to a writer! Its gothic architecture has a slightly eerie look to it. Climb the narrow, winding staircase and be rewarded with a great view from atop the monument. Make sure to visit the monument's small museum to learn more about Sir Walter Scott.
Tickets to access both the museum and the view from the top are £8 for adults and £6 for students.
Bonus: The Brilliant Christmas Markets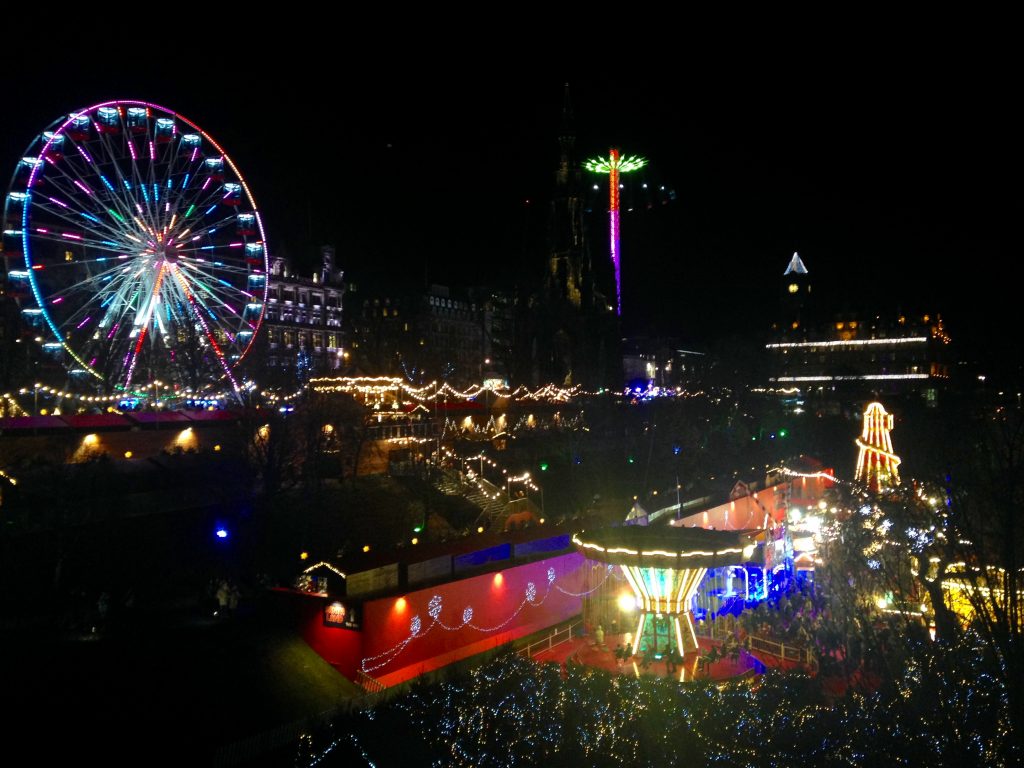 If you happen to be visiting Edinburgh in late November or December, you simply cannot miss the city's Christmas markets and festivities! There are several large markets, the highlight being the East Princes Street Gardens near the train station. The park is lined with hundreds of market stalls where you can indulge in food, drinks, souvenirs, and Christmas gifts. Get Bailey's hot chocolate to savour while exploring the different stops. I treated myself to mouth-watering haggis mac and cheese one night and a classic German sausage the next. You can't go wrong with whatever you choose. The market also features a kids' amusement area and more daring rides for brave older kids and adults. Another must-see market in the city is located on George Street. Besides market stalls, it offers ice skating and a dazzling ceiling made of LED lights.
Few places I've visited do Christmas quite as well as Edinburgh, so it's the perfect time to experience the city, especially as a first-time visitor.
Edinburgh is one of my favourite spots in all of Europe. If you haven't been yet, make sure to add it to your bucket list. I plan to explore more of the city in the warmer weather and venture outside the city to explore the Scottish countryside. That's the thing about Edinburgh—its incredible history and stunning sights will leave you wanting more!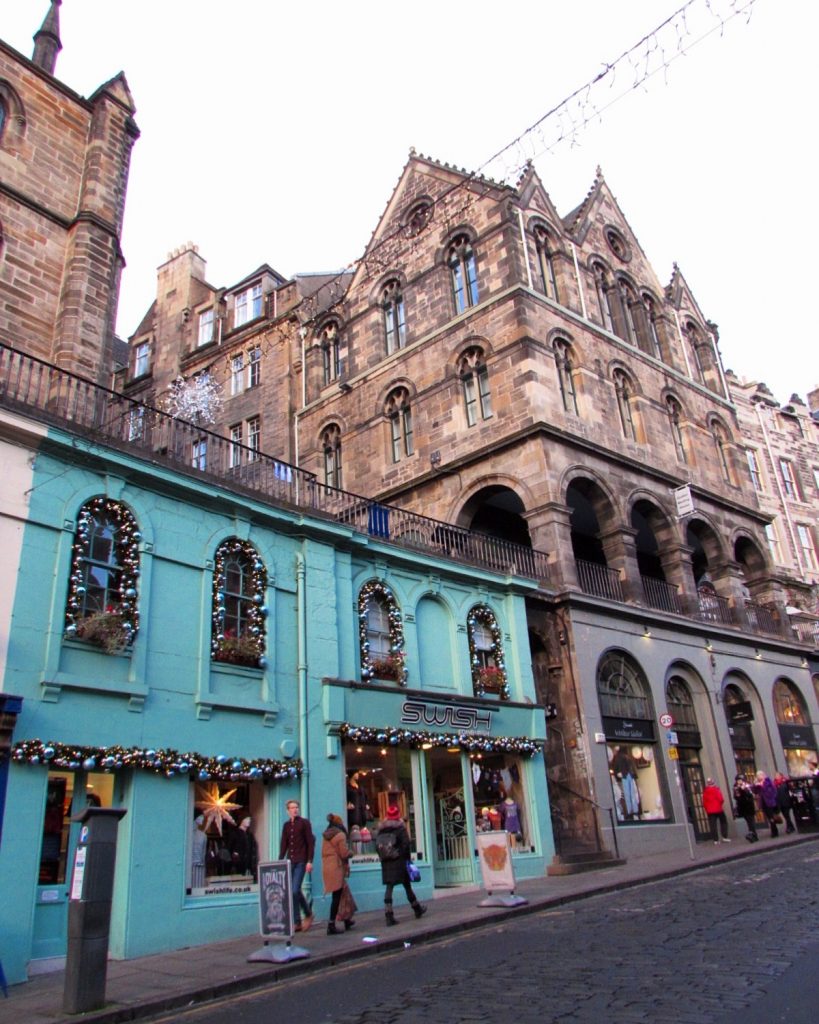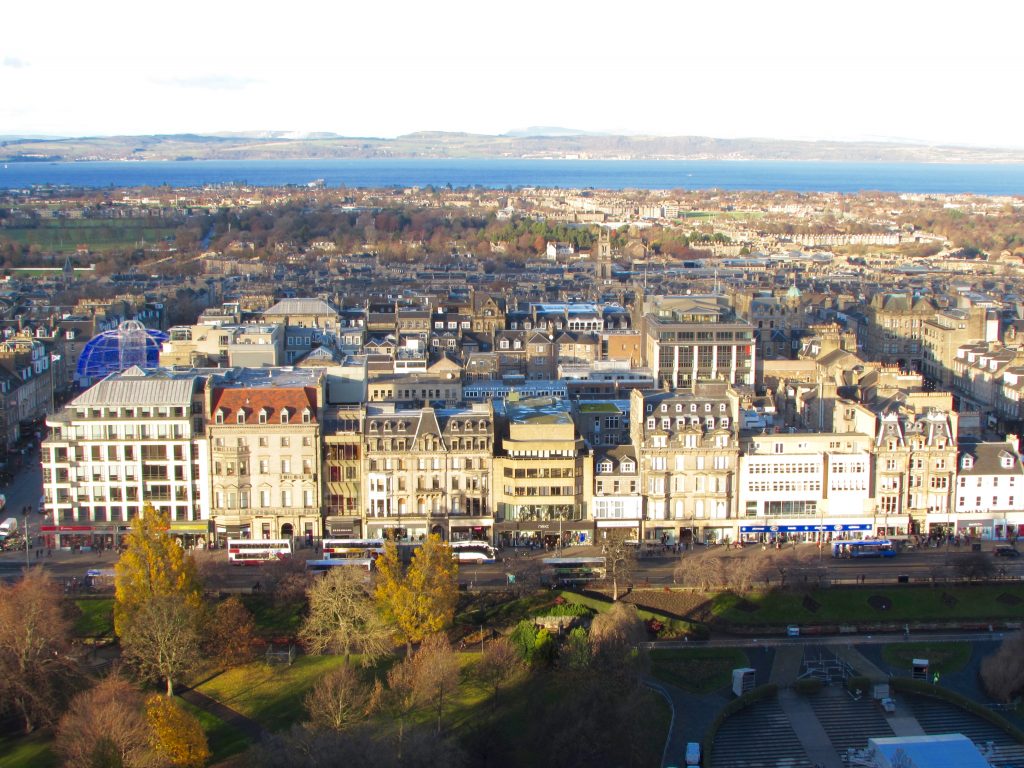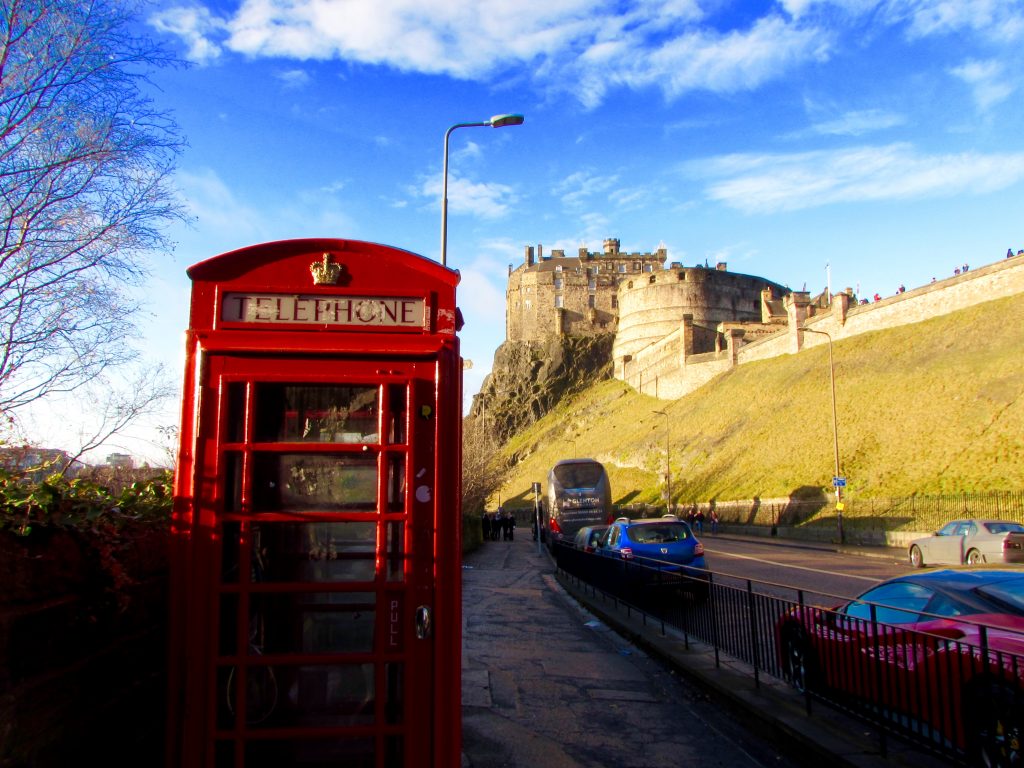 What are your favourite things to do in Edinburgh? And what should my next Scottish destination be? Let me know in a comment!
Like this post? Pin it!
Hi I'm Christie, a 28-year-old girl originally from Boston who has spent time living in New York City, North Carolina, France, Australia, New Zealand, and London. I love moving to new places and exploring them as a local, and I can't see my nomadic expat life stopping any time soon! I have no greater passion than travel, and when I'm not exploring I spend my free time reminiscing on past trips and daydreaming about future travel.