The entire continent of Australia is full of amazing roadtrip after amazing roadtrip. I made the incredible journey from Darwin to Melbourne by car, and a few months later was lucky enough to experience the East Coast of Australia too! Any backpacker who has spent time in Aus can tell you that the East Coast is the place to be. It's full of amazing beaches, awesome surfing, cute towns and exciting cities, and the most incredible sunrises. I spent a month up on the Gold Coast around Christmastime last year, which was amazing. We got to head a bit further up the coast as well to Brisbane and the Sunshine Coast. I'll write another blog post with more details on those, but for now I am going to focus on everything there is to see along the coastline of New South Wales!
New South Wales is a state in the south east coast of Australia. It's where Sydney is located, but the state is full of amazing things to see outside of the city too! You could spend weeks or even months road tripping through NSW without getting bored. There are endless beautiful and exciting things to do and experience. I visited in summer, which was a pretty awesome time to go. But the weather in NSW is really pretty nice all year round. There are plenty of towns to stop in overnight, but the best way to experience it is by camping, if you camp in areas near by you will be able to go fishing as well, but I do suggest to read the best fly rod reviews before going. There are heaps of nice campgrounds, plenty of which are right on the water!
Queensland tends to be the most popular spot to road trip on the east coast of Australia. But hopefully I'll be able to show you that including the NSW coastline on your itinerary is a must as well!
Byron Bay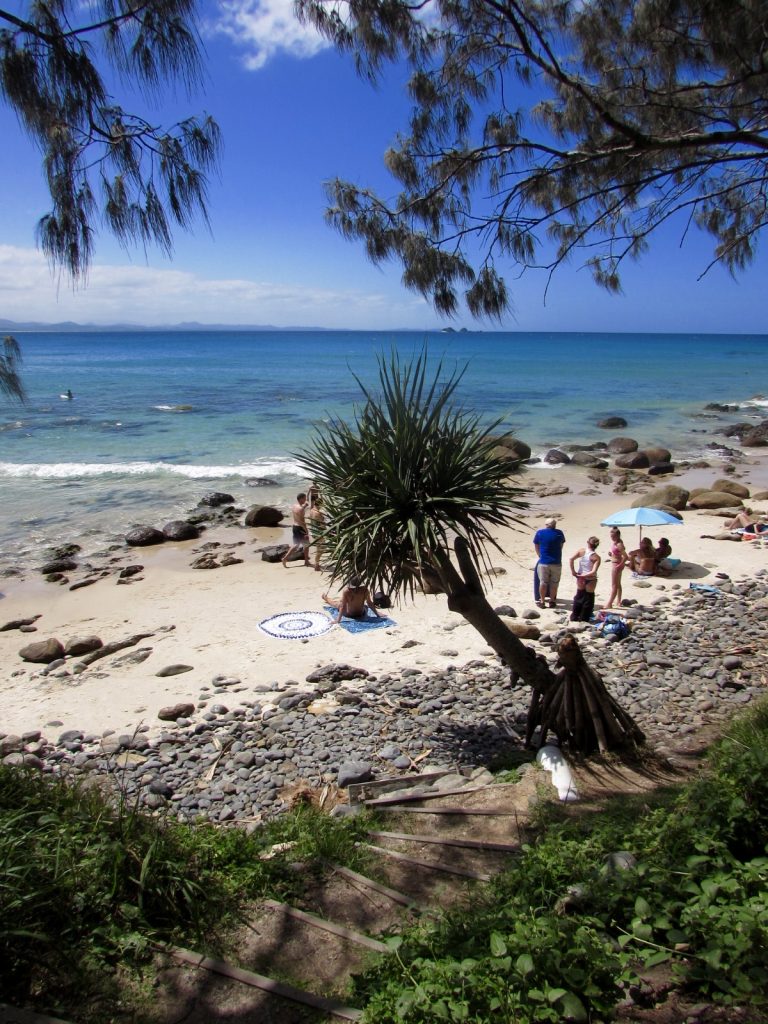 Byron Bay is one of those idyllic little seaside towns, just about an hour south of the Gold Coast. It gets a bit of a hippie reputation and is a favourite among the backpacking and surfing crowds. It's no surprise that the top things to do while you're in Byron are the beaches and coastal walks. I would recommend skipping the popular Main Beach as it is always packed. Instead, make the coastal walk from Main Beach to Wategos Beach, which takes about 30 minutes. The views are incredible, and Wategos is a much nicer beach in my opinion!
From Wategos, you can make the quick hike to the smaller and more secluded Little Wategos Beach. Then after relaxing on the beach, you can continue on the Little Wategos Track. This track will take you to Cape Byron, which is beautiful and is the most easterly point of mainland Australia. After a day of walking and chilling on the beach, get a smoothie or juice from one of the many amazing juice bars in Byron. A few to check out are Naked Treaties, Byron Juice Bar, and Goodies Juice Bar. Many backpackers go to Byron for a few days and end up staying for months. It's a beautiful town, so it's not hard to see why!
Coffs Harbour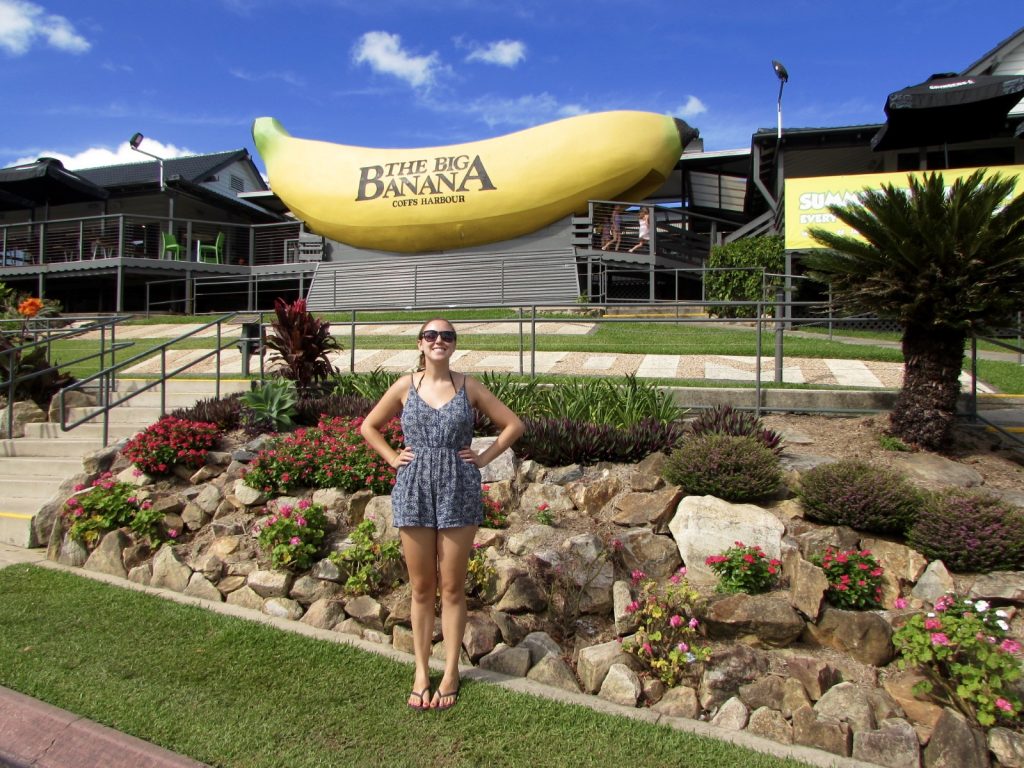 The next stop on your trip down the coast is Coffs Harbour, home to the famous Big Banana! It may sound random, but Australia is home to a lot of big things, including the Big Koala, the Big Prawn, and my personal favourite the Big Rocking Horse outside of Adelaide. But probably the most well-known of them all is Coffs Harbour's Big Banana. It's located on a banana plantation, and there are a few attractions to entertain kids. There is a small amusement park with a few rides and a small water park.
Beyond the Banana, of course the main attractions are coastal! Take a walk along the Marina and Jetty to see all the different boats coming and going. You can also take the quick 1km walk to Mutton Bird Island. It's a small island, but has some pretty beautiful views once you reach the top. You can even spot some humpback whales from here if you visit between May and November. And if a day at the beach is what you're after, check out Park Beach, Diggers Beach, and Charlesworth Bay Beach.
Port Macquarie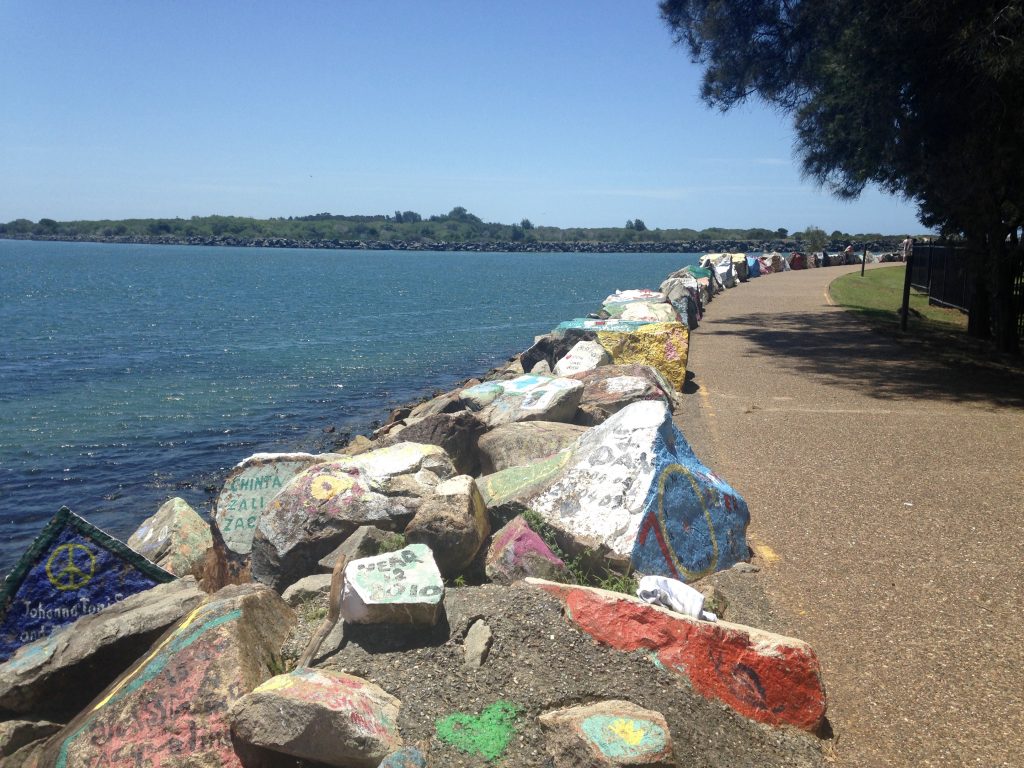 Port Macquarie is another cute little town along the east coast of Australia. To be honest, there's not a massive amount to do there, but it is pretty and worth stopping in for a few hours. The main attraction in the town is the Breakwall. It's a coastal walkway lined with painted rocks, some with really cool designs on them. At the end of the Breakwall you can watch kite surfers on the beach, which is really cool! You may also notice some painted koala structures scattered around Port Macquarie. They are part of the Hello Koalas Public Sculpture Trail. And it's not an east coast stop if you don't visit the beach! Two of the prettiest beaches to visit in Port Macquarie are Pilots Beach and Town Beach.
Port Stephens and Nelson Bay
Just a bit further is another beautiful stop along the NSW coast. Port Stephens is actually a big body of water, with Nelson Bay at the mouth of the harbour. Surrounding it are beautiful white sand beaches. The area is pretty quiet and known for its charm. It's the perfect spot if you're into outdoor activities, including paddle boarding, kayaking, and hiking. This is also the dolphin-watching capital of Australia, so keep your eyes peeled! You can even kayak with dolphins at Soldiers Point. For a relaxing trip to the beach, check out One Mile Beach, which is great for both lounging and surfing. Or visit Wreck Beach for a more secluded feel. Then take a coastal walk along Shoal Bay to the top of Tomaree Headland where you can see some incredible views. And make sure to wake up early to catch the unbelievable sunrise over the water!
Newcastle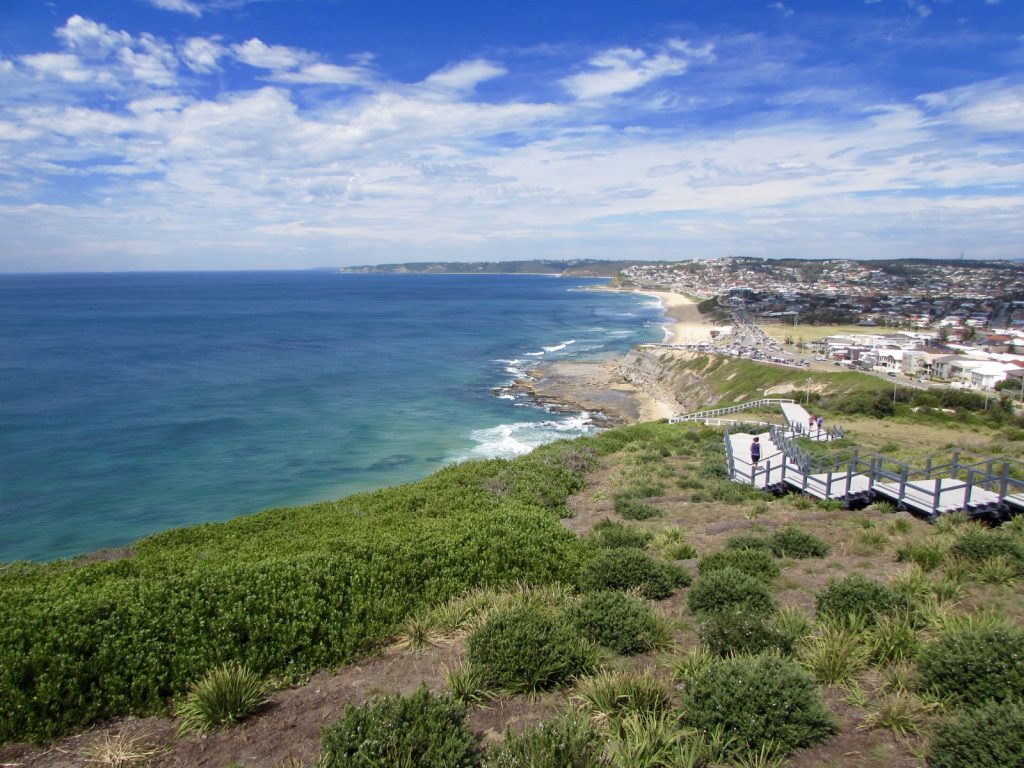 Newcastle is the second largest city in New South Wales, and is full of excitement! We spent a day here, but you could easily spend several days in Newcastle. The coastline is beautiful, and it feels very quintessential Australian. Since it's a small city, Newcastle actually has a CBD with some great restaurants and cafes. Probably the most popular attraction in Newcastle is the ANZAC Memorial Walk. It's a walkway commemorating the Australians and New Zealanders who fought in WWI. The walkway is located right on a cliff, with beautiful ocean views on one side and city views on the other. Another spot to visit for beautiful views is Fort Scratchley, an old defence fort that's now a museum.
Another must in Newcastle is to take a bath in the ocean. Yup, you read that right! Newcastle has some amazing ocean baths that you can visit, which are essentially pools in the ocean. Newcastle Ocean Bath and Mereweather Ocean Bath are the most popular, but Bogey Hole is definitely the best! It feels much more natural than the others. But be warned, the water is absolutely freezing!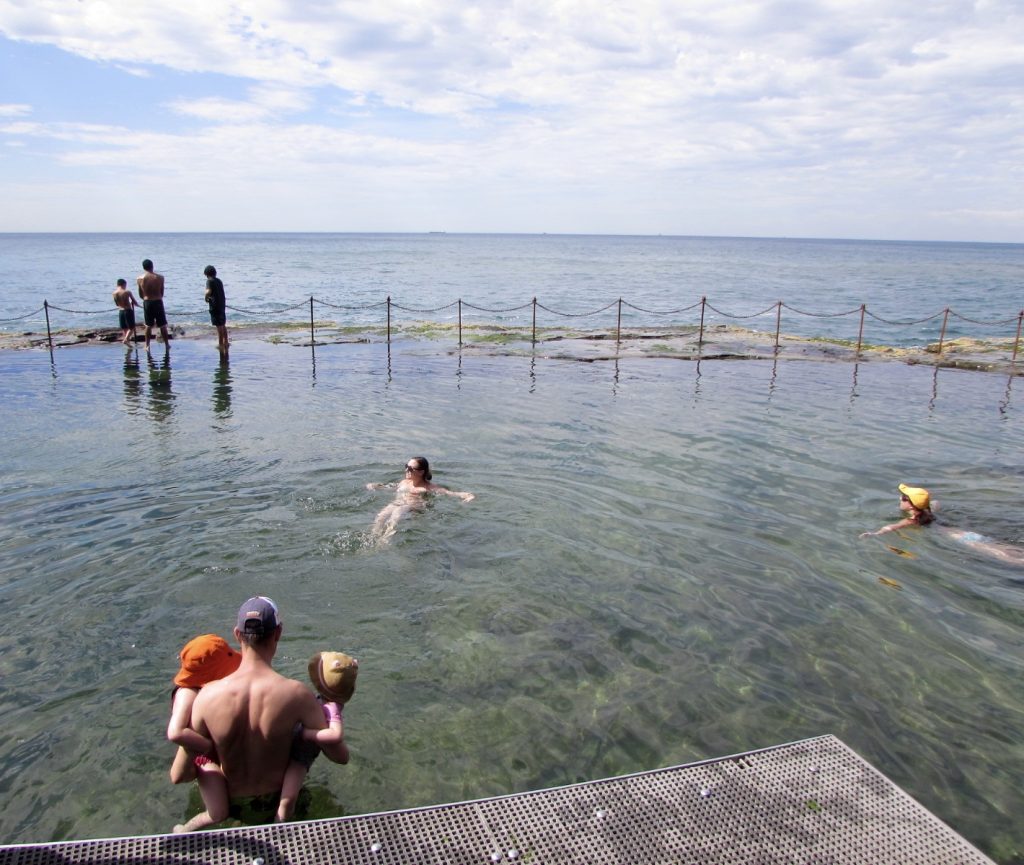 Newcastle is a major surf spot (in fact, there was even an Australian movie based off that subject!), so visiting the beach is another must-do. Bar Beach, Nobby's Beach, Newcastle Beach, and Caves Beach are just some of the many to see. And something else that Newcastle is known for? A hideous building you can spot from around the CBD, which has been nicknamed the Giant Penis for its unfortunate design. It's an observation deck as well as a joke among locals, so you can get some great views from it. Newcastle is a really great city, and one that can't be missed on a road trip along the east coast of Australia!
Sydney and the Blue Mountains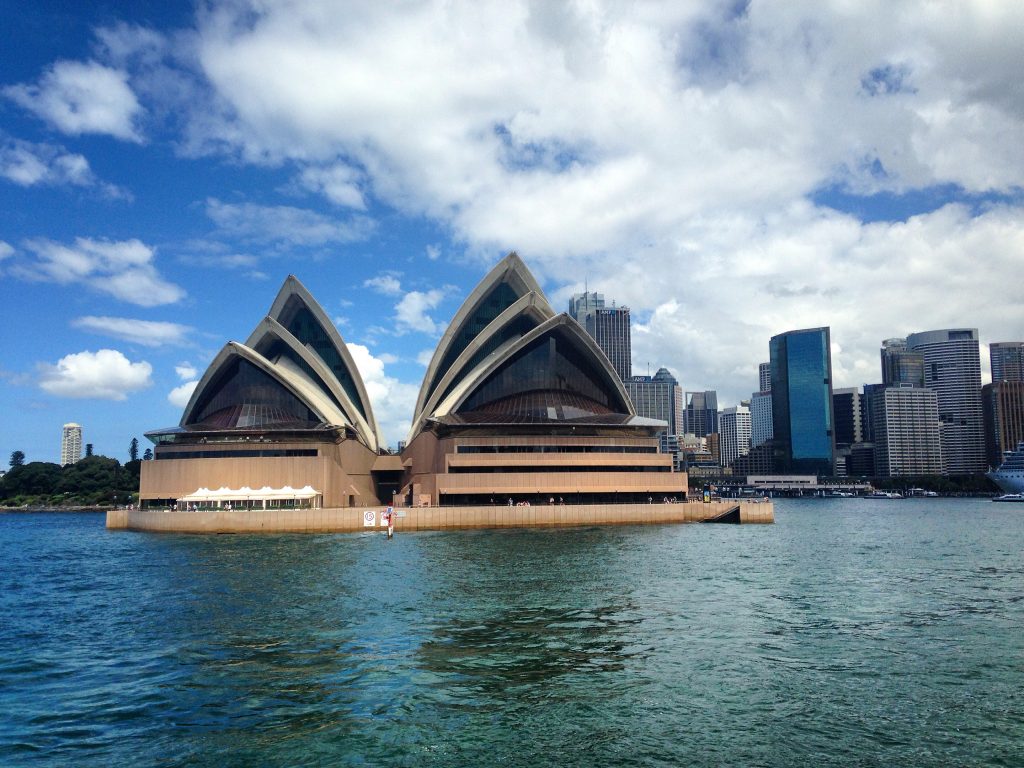 And if Newcastle is a can't-miss city, Sydney is like 100 times that! Sydney has to be the most popular Aussie city internationally and is full of some of the country's top things to do. Of course the most iconic are the Sydney Opera House and the Sydney Harbour Bridge, which dominate the central part of the city. And located just next to the harbour is the cool area called the Rocks. This is a historic area full of charm, beautiful architecture, and some of Sydney's best cafes and shops.
But what Sydney is probably most well-known for are its amazing beaches. Bondi Beach is so beautiful and one of the most popular in the whole country. It has amazing surfing, great people watching, and some incredible bars and restaurants. From there, you can take a coastal walk to Bronte Beach and Coogee Beach, which are almost as popular as Bondi. For a smaller beach that the locals prefer, you can catch a ferry from the CBD up to Manly Beach. This area has a similar vibe to Bondi, but much more relaxed.
While you're in Sydney, you also can't miss out on a day trip to the Blue Mountains.You can catch the train there from the city, or make the easy drive. The Blue Mountains have incredible hikes and some famous spots to see, such as the Three Sisters. It has a much different feel out here than in central Sydney, so if you are a nature-lover, you have to visit. Overall, Sydney just has a very glamorous and cosmopolitan feel to it, and is a city that you absolutely can't miss on a trip down the east coast.
Read more: Free Things to do in Sydney and 10 Things I Learned From My First Few Days in Sydney
Royal National Park and Grand Pacific Drive
http://instagram.com/p/BHHABHMj1xB/?taken-by=royalnationalpark
Not too far south of Sydney is Royal National Park, which is a favourite day trip for Sydneysiders. The park is full of great hikes and some of the most Instagrammable scenery. The coolest and most unique spot is the Figure 8 Pools. The rocks are carved out in the shapes of figure eights, and inside them are pools of water that you can swim and lounge in. Be aware of low tide if you choose to visit this spot though. Only spend time at the pools at the lowest point during low tide. The hike down takes time too, so you should start your hike about an hour and a half before low tide. Wedding Cake Rock is beautiful as well. It's a large white cliff that, like its name suggests, looks like it could be a wedding cake!
Then heading out of the park is the Grand Pacific Drive. It's a beautiful winding coastal road that goes from Royal National Park down to Wollongong. We were unlucky, and it was cloudy and stormy the day we made this drive. But based on photos I've seen, the view typically rivals those you'll see on the Pacific Coast Highway in California!
Jervis Bay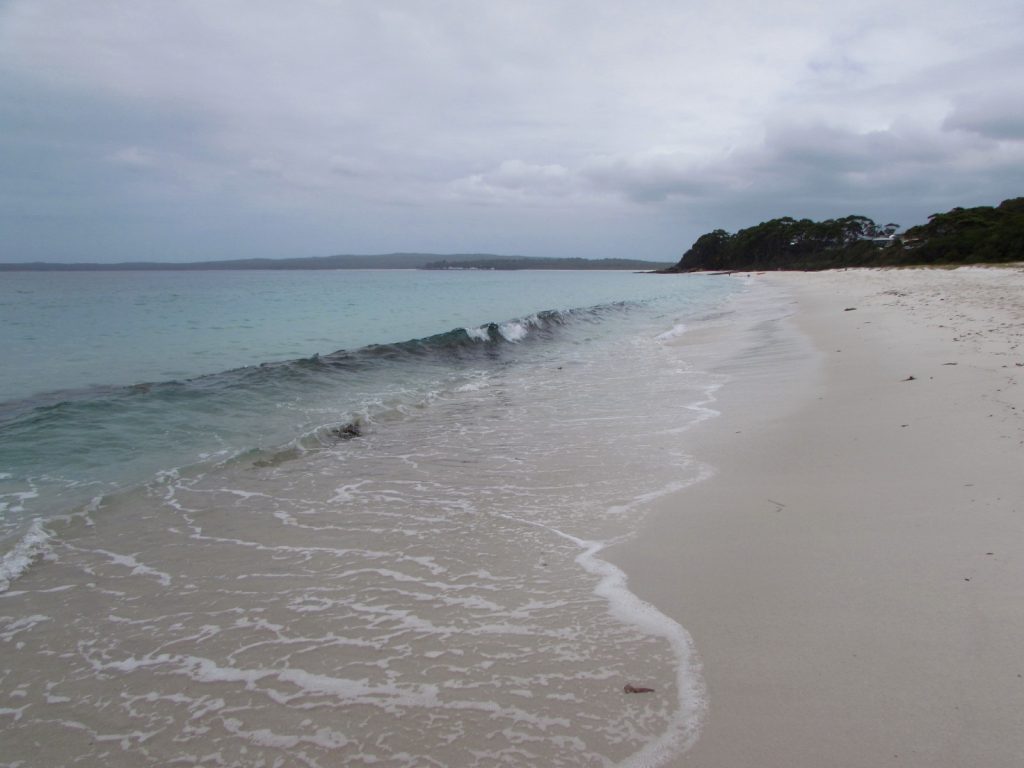 And the final stop I recommend visiting is Jervis Bay. While Jervis Bay is nestled into NSW, it's actually its own territory which I found interesting! Jervis Bay is beautiful and home to what has been rated the whitest sand in the world. Alongside the bright white sand, the water is a beautiful turquoise colour—the perfect contrast! It feels like you could be in the Caribbean rather than the south east coast of Australia! The best way to experience Jervis Bay is by taking the White Sands Coastal Walk through all the connected beaches. Start the walk at Greenfield Beach and just keep on walking until you reach Hyams Beach. This takes about 45 minutes and will take you through one beautiful beach after another as well as untouched forest and eucalyptus trees. During the spring months, you may be able to spot humpback whales off the coast as well!
From Jervis Bay, you could head a bit further down the coast to Batemans Bay, or take the inland route toward Canberra and Albury. And since I am a Melbourne girl, I couldn't tell you to do an east coast road trip without including Melbourne in your itinerary! It's amazing how many beautiful road trips there are around Australia, and I can't wait to be back there again to experience even more!
Have you done a road trip in Australia? What places did you visit and love? Let me know in a comment!
east coast of australia
Like this post? Pin it!
east coast of australia

Hi I'm Christie, a 28-year-old girl originally from Boston who has spent time living in New York City, North Carolina, France, Australia, New Zealand, and London. I love moving to new places and exploring them as a local, and I can't see my nomadic expat life stopping any time soon! I have no greater passion than travel, and when I'm not exploring I spend my free time reminiscing on past trips and daydreaming about future travel.