If you've been following my blog for a while, you'll have read about the amazing adventures I had around Australia, New Zealand, and Asia in the past two years. But as they say, all good things must come to an end. Almost a month ago, I made the long journey from Wellington back to Boston. The past month has been a roller coaster of emotions and changes, but for now I'm happy to be home. It was long overdue since I hadn't been on US soil since the beginning of November 2015! The past two years of travel and living abroad have been absolutely incredible. You could say the adventure is coming to an end. But the way I see it, it's just the end of one chapter of all the adventures I have to come in my life. And this new chapter is shaping up to be pretty awesome!
To start off this new chapter, I'm doing something very exciting and, some may say, pretty daring. I am working on launching my own online business. Between my university degrees, jobs and internships, and through my hobby of travel blogging, I've learned quite a bit about website/blog design and management, social media management, basic graphic design, and online marketing. Since being home, I've thrown myself into several online courses to improve and refine these skills even further. And later this month, I will be launching a website for my new service-based online business. I am so excited to see where this next adventure will take me!
And of course travel is another major passion of mine as well. In addition to my business website I mentioned above, I will be launching a business section to this website. I love writing about all things travel-related and plan to start pitching some travel articles to different publications. Travel planning is another thing I love. Whenever family and friends are planning a big holiday, I'm the one they go to for advice and recommendations on what to do, where to stay, and how to find the best flight deals. So many people have told me "You're so good at planning trips! This is what you should be doing for work!" So in addition to travel writing, I will also be offering trip planning and travel agent services!
Everything is still a work in progress at the moment, but by the end of the summer, I am planning to be a fully up-and-running solopreneur! Of course I have moments when I doubt myself and wonder if I'm crazy to go the solopreneur route rather than find a stable job. But then I remember all the things I'm passionate about, which would make this lifestyle perfect for me. Being a solopreneur will open up so many doors for me to live abroad and travel as often as I want. I'll work remotely and have the freedom to design my own schedule. Wake up when I want and even be able to manage my apnea better. CPAP machines are a greaty way to address your obstructive sleep apnea problems.
So now you're probably wondering what plans I have for my new work-while-travelling lifestyle. Well, first off I am planning to stay at home while I get my business up and running. Plus, I am actually super excited about experiencing a winter Christmas for the first time since 2014! But even though I'll be based in the Boston area, I already have some trips planned.
In September, I will be going to San Francisco for a week. For years, SF has been the top destination on my USA bucket list, so I'm pretty pumped to finally visit! Also, not to brag about my awesome travel planning skills or anything, but I managed to get round-trip flights for a total of $11.20! Then in December, I'm jetting off to my favourite city for a couple of weeks. (That's London in case you didn't know!) I am so excited to see friends over there, and I can't wait to experience the city in the lead-up to Christmas. I'm planning a couple of smaller trips as well to visit Brighton and Edinburgh, and I will be celebrating my 26th birthday while I'm in London!
Then in spring of 2018, I hope to return to expat living. I have been able to speak a bit of French for most of my life, but in the past few years I have really lost a lot of it. I've always loved French culture and spent a semester abroad in France while I was in university, which was such an amazing experience. And my goal has always been to become fluent. So I will be heading off to France for a few months to really immerse myself in French culture while still working online. I am planning to go to the south of France and am leaning toward Nice at the moment. Then after France, I hope to finally fulfill my lifelong dream of living in the UK!
My plans may seem a little crazy to some people, but when I set my mind on something, it's rare that it doesn't happen. The next six months will be far from easy while I launch my business and hustle hustle hustle. But as the famous quote goes, "Life is either a daring adventure or nothing at all". I can't wait to see where this solopreneur journey takes me, and I will be sure to keep you updated along the way!
If you've tried living the solopreneur digital nomad lifestyle, all of your tips and advice would be much appreciated! I would love to hear all about your experience becoming a digital nomad in the comments!
Becoming a digital nomad
Like this post? Pin it!
Becoming a digital nomad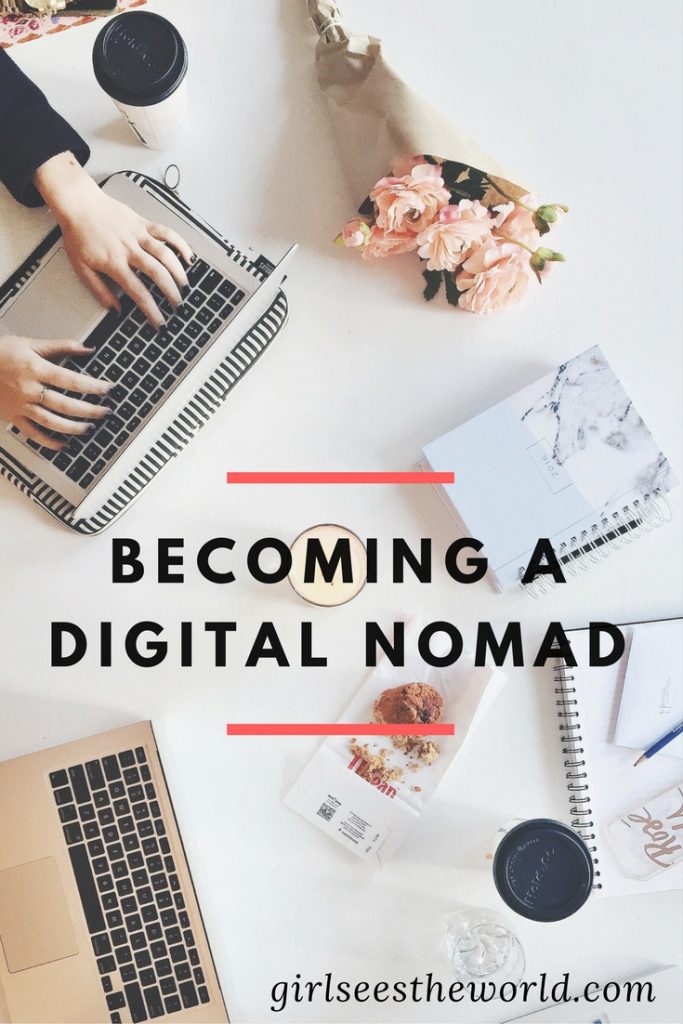 Hi I'm Christie, a 28-year-old girl originally from Boston who has spent time living in New York City, North Carolina, France, Australia, New Zealand, and London. I love moving to new places and exploring them as a local, and I can't see my nomadic expat life stopping any time soon! I have no greater passion than travel, and when I'm not exploring I spend my free time reminiscing on past trips and daydreaming about future travel.