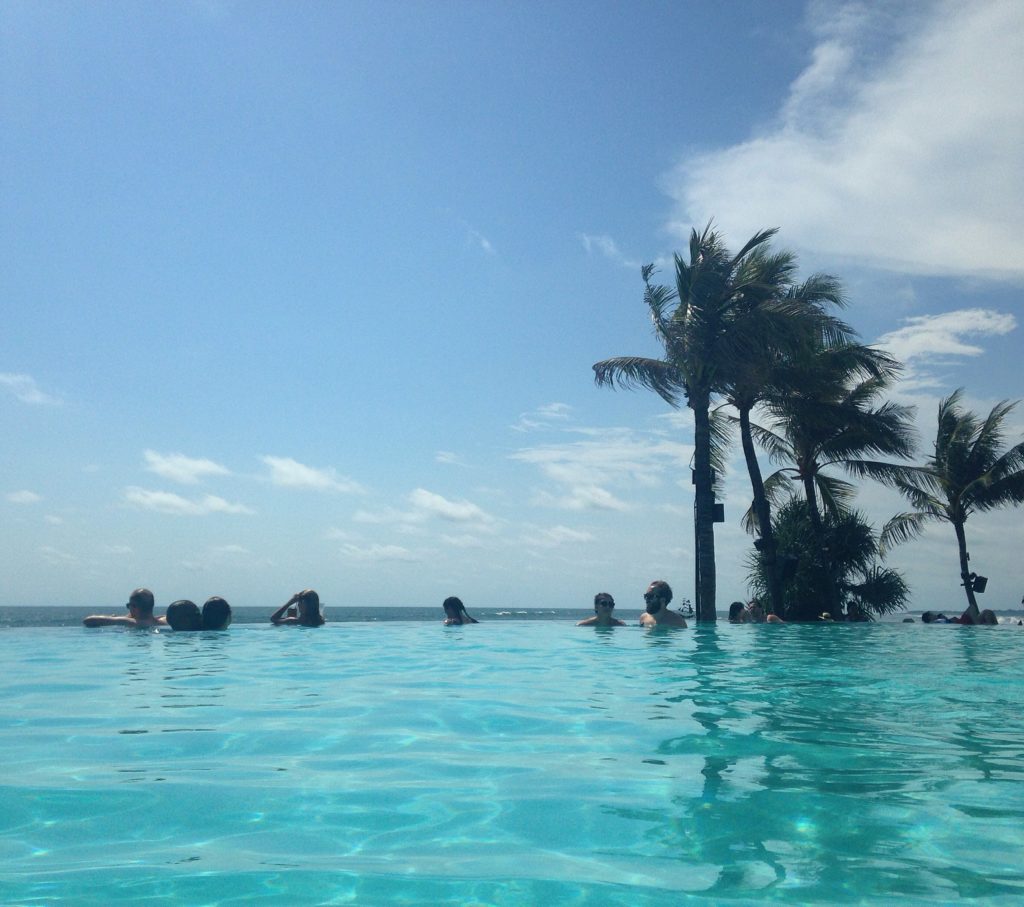 Back in November, my boyfriend Will and I set out on the adventure of a lifetime! First stop on our agenda was Bali. I've been wanting to visit Bali for as long as I can remember after seeing photos that really make it look like paradise. And one of the amazing things about living in Australia is how cheap and easy it is to get to Bali. You can fly there for less money than you would spend flying to New Zealand. And depending on what city you're flying from, you might be able to fly to Bali for less money than a nice dinner out! Our flight from Melbourne was around $300, but flying back into Australia, we got flights to Darwin for a ridiculous $58 each!
We spent ten days in Bali, which I think was perfect for a first visit to the island. It gave us plenty of time to experience the culture of the island and visit lots of areas as well. Different parts of Bali are good for different things, and we really got to experience a bit of each in the three places we stayed: Seminyak, the Gili Islands, and Ubud.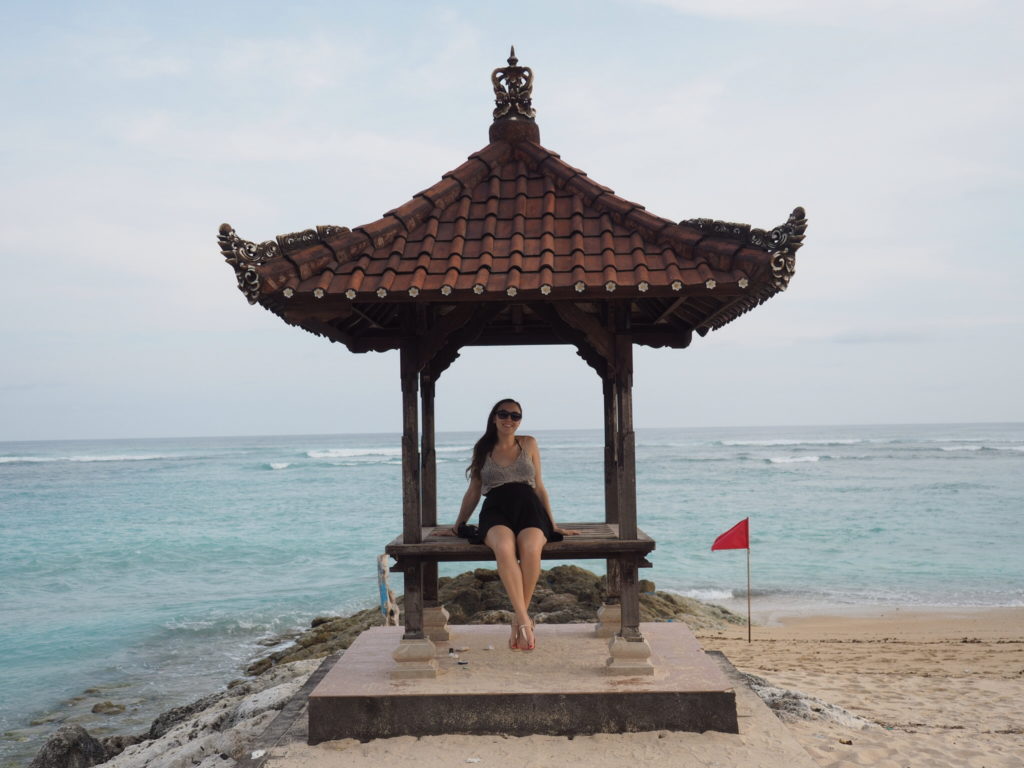 Seminyak
First stop during our time in Bali was Seminyak. This is really the hub of the island with so much happening. There are some beautiful beaches, great food, exciting nightlife, good shopping, and it's an easy start-off point for day trips to Tanah Lot and Uluwatu. It's the perfect spot to start your holiday and get excited for what lies ahead of you on the trip.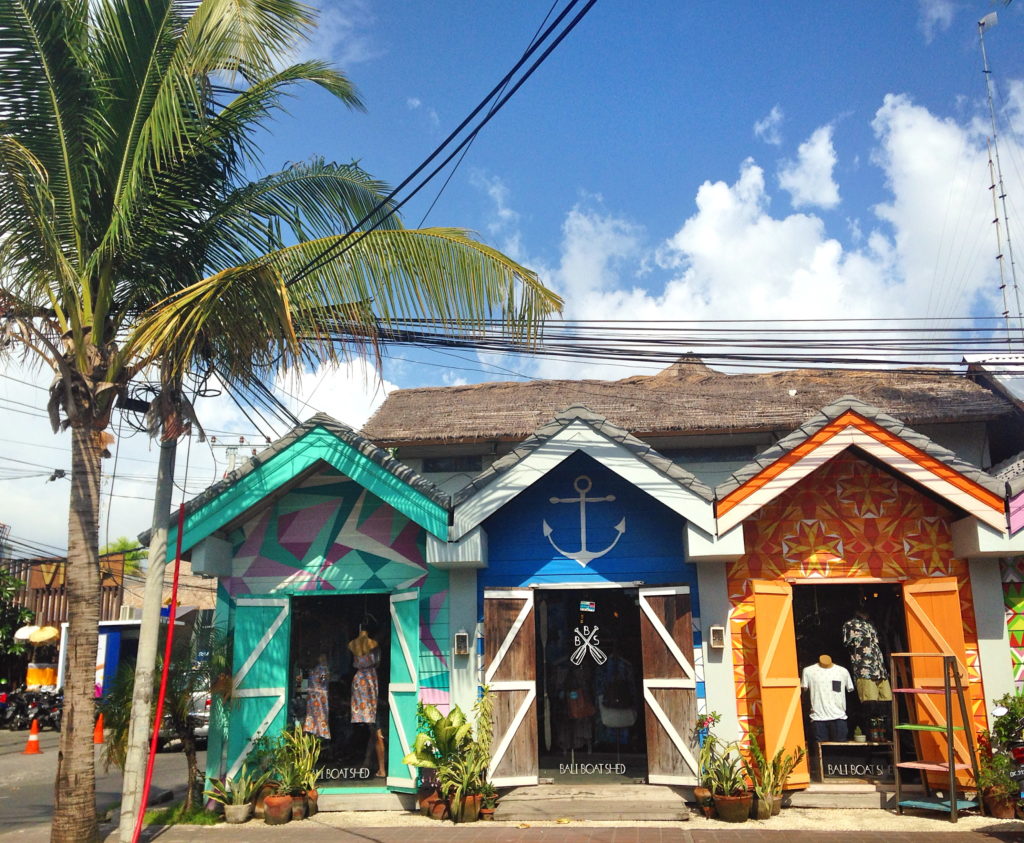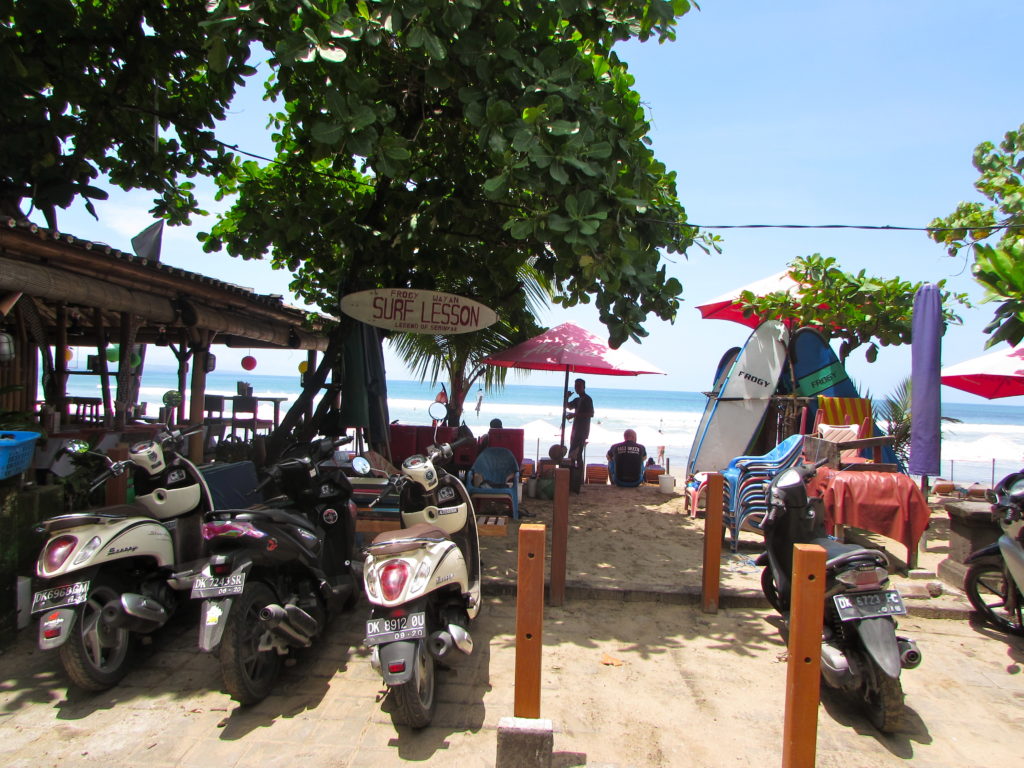 Things to see and do:
Lounge on the Beach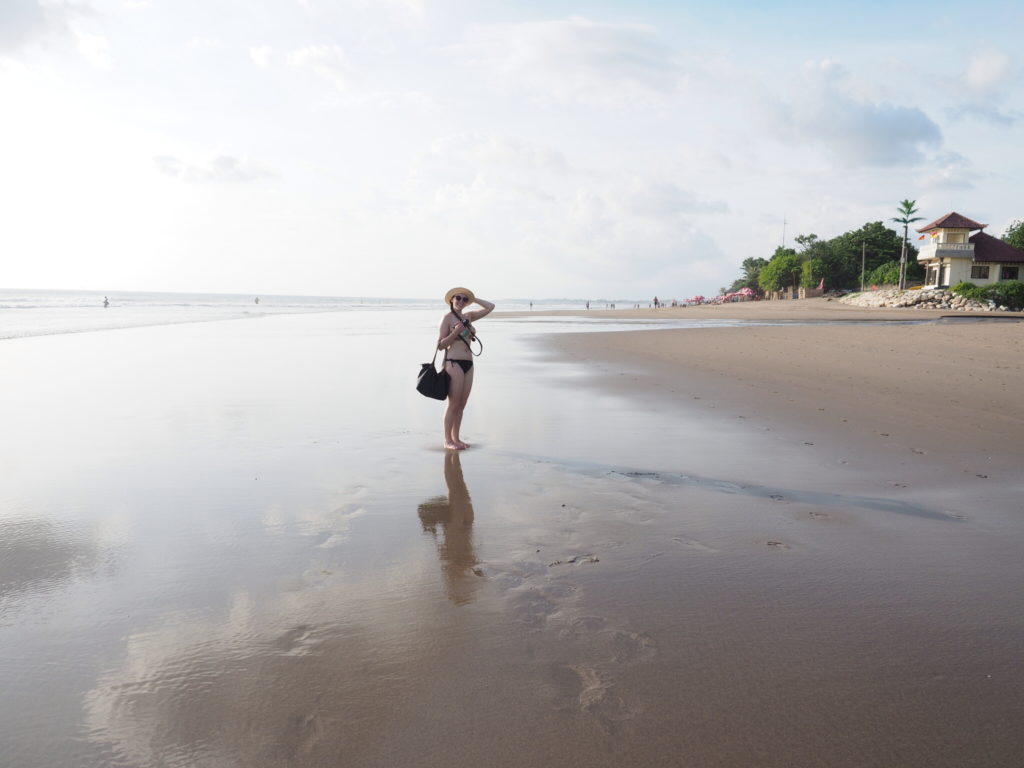 While you're in Seminyak, the main thing to do is beach, beach, food, and more beach! The area is very walkable, so it's easy to explore the town centres and all the different beaches around. The main ones to check out are Seminyak Beach, Double Six Beach, Legion Beach, and Kuta Beach. You can rent a beach chair and if you're feeling really fancy, there are even people offering to give massages or foot rubs on the beach!
Beach Clubs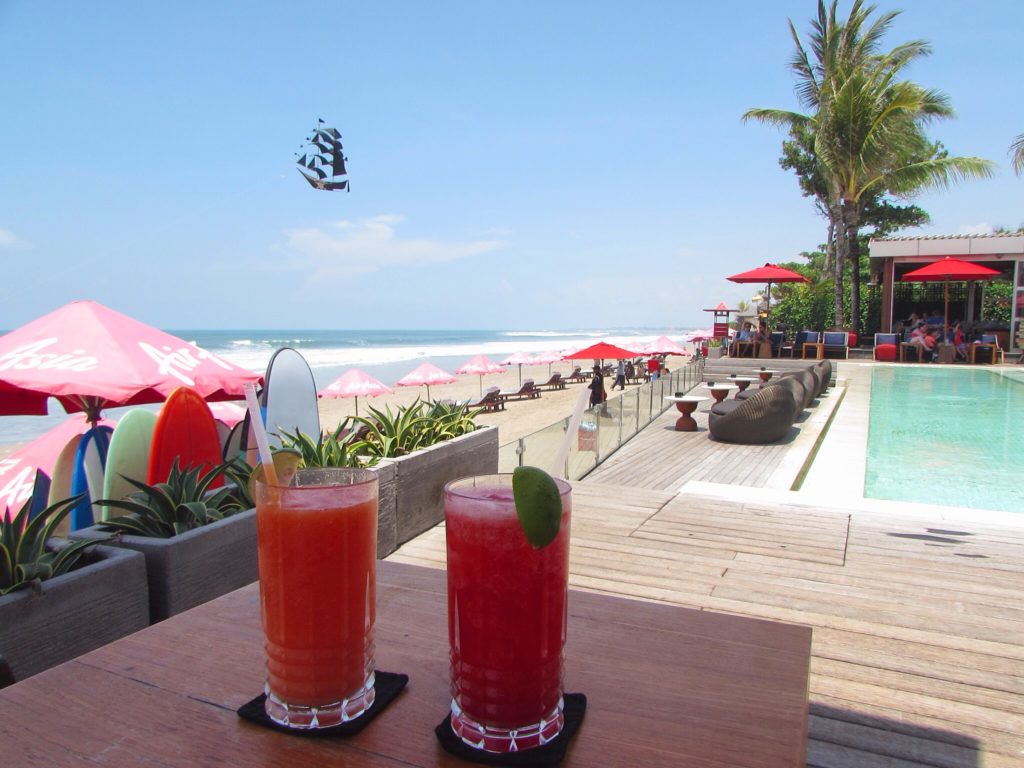 While the beaches are beautiful, the beach clubs are even better. There are a bunch lining the shores of Seminyak and Kuta. Most of them are free to get in and offer decently priced drinks. And if you want to make a day of it, there are VIP areas in each of the best clubs with perfectly located sun beds. All you have to do is spend a minimum amount during the day, which is usually around $50. Not too bad for your entire day's worth of food and drinks! The beach clubs all have pools overlooking the ocean, and some even have swim-up bars right in the pool! My favourite was the Potato Head Beach Club, and the Ku De Ta and Karma Beach Clubs are worth checking out too.
Where to eat and drink: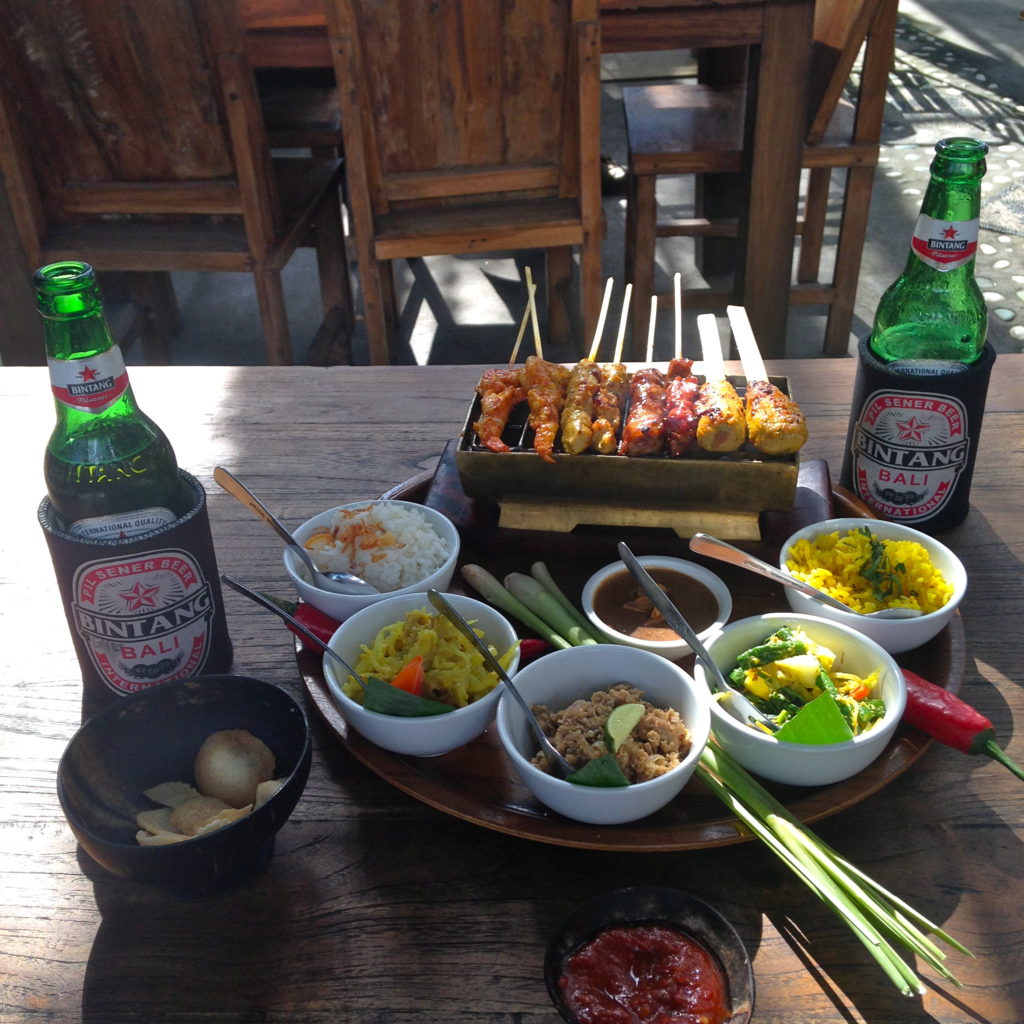 When looking for something to eat, you can't go wrong with anything that has "warung" in the name! Warungs are local restaurants where you can get the most authentic Balinese and Indonesian food. They are usually super affordable as well! You can easily get an amazing meal for under $5. Our favourite warung in Seminyak was called Warung Aswin, which was located right next to our hotel. It's so good we went back there three different nights!
When looking for somewhere to eat, check out the area called Eat Street. It's lined with all different kinds of restaurants. And if you need your coffee fix, Revolver Cafe is really good. Their peanut butter cheesecake was delicious!
Where to stay: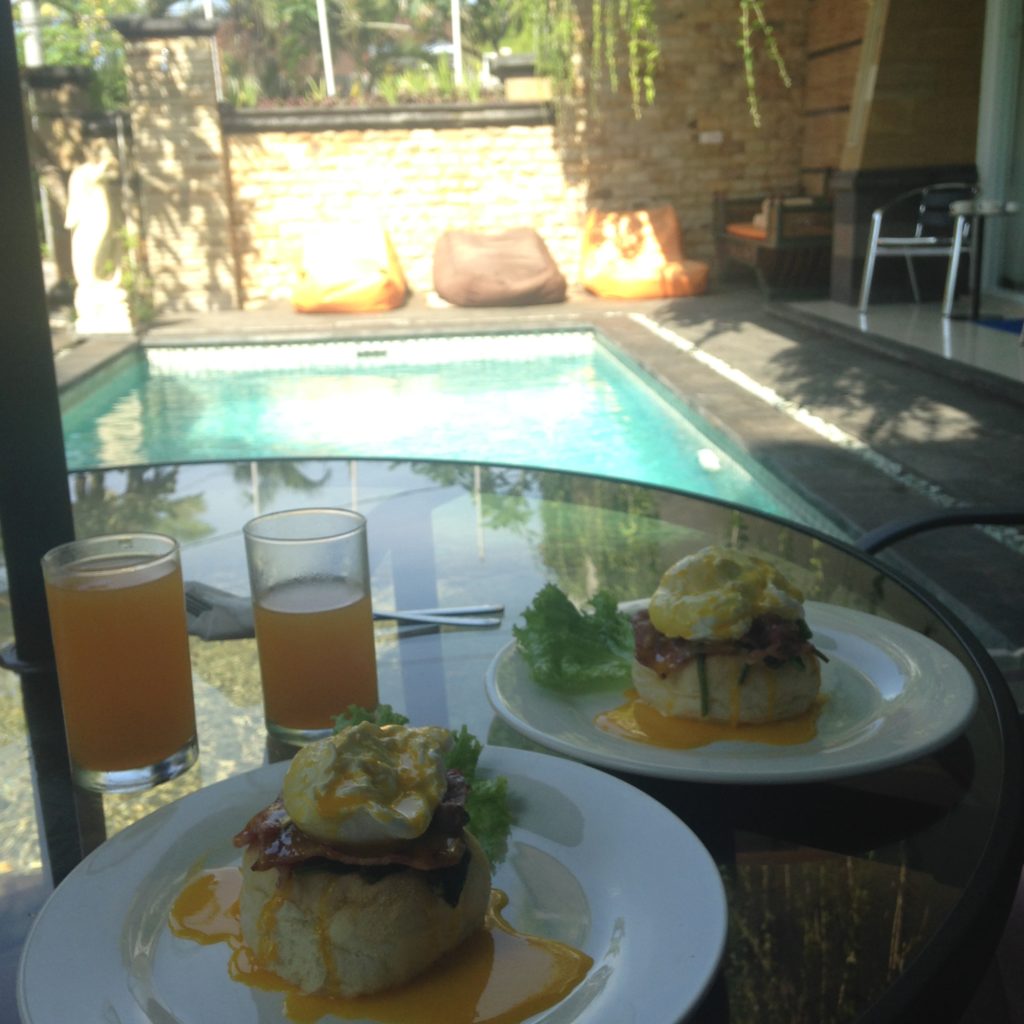 While in Seminyak, we stayed at the Lotus Tirta hotel. It was in a great location with an easy walk into town and to the beach. The room was simple but comfortable, the staff was as friendly as can be, and there was complementary breakfast served by the pool each morning. Best part is we only paid $29 a night, cheaper than a dorm bed in a shared hostel room in most places!
Day trips to take:
What's great about Seminyak being so central is how accessible it is to the rest of the island. It's usually around $50 for the group to hire a driver for the day, which is very reasonable by western standards. While staying in Seminyak, a friend of a friend named Nyoman took us to see all of these places, and it's very possible to fit into a day.
Uluwatu Temple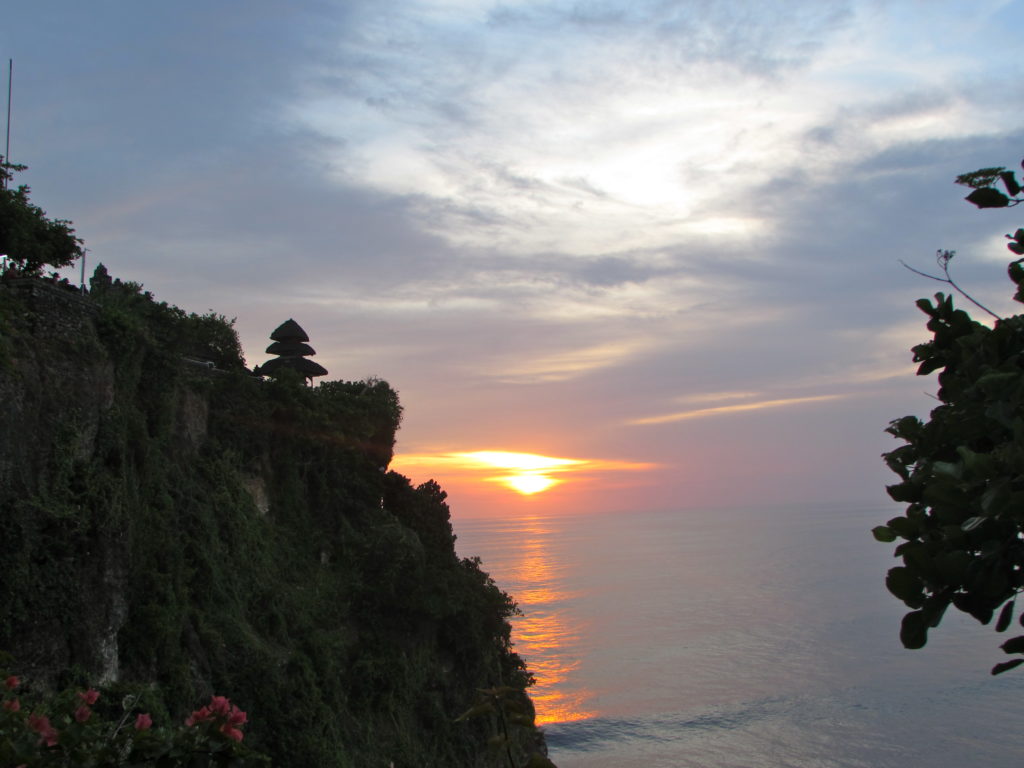 Of all the places to visit in Bali, Uluwatu Temple is probably the most iconic. It's a beautiful clifftop temple that looks especially magical during sunset.
Tanah Lot Temple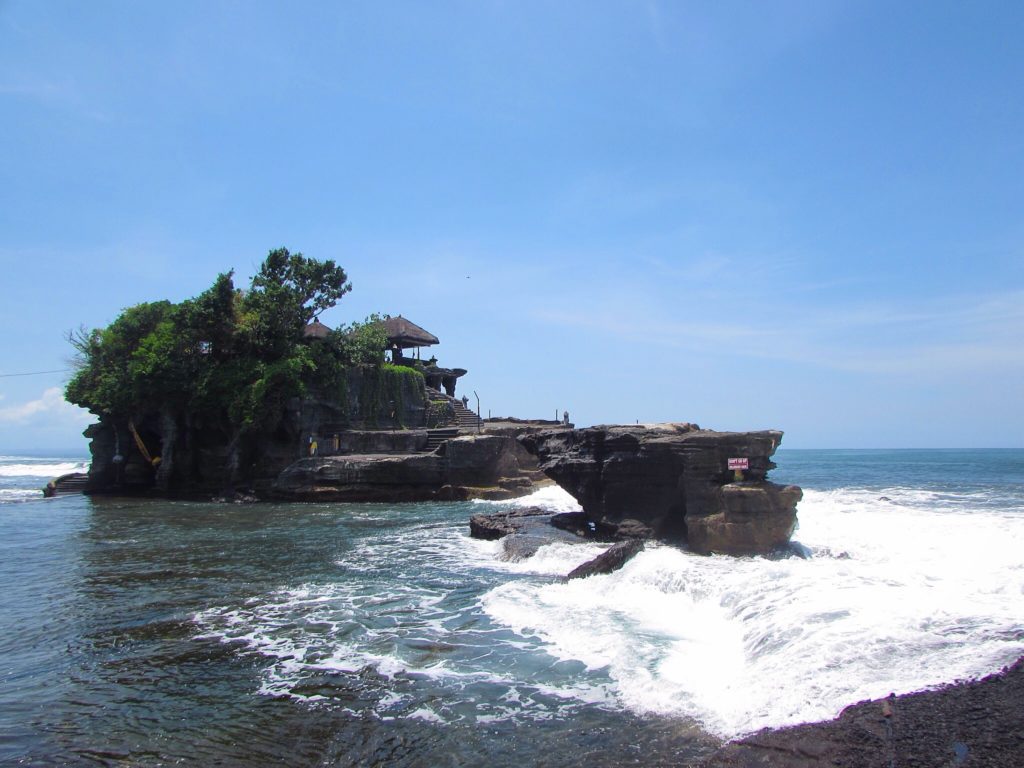 Another amazing temple, this one is right in the water! It's so beautiful and another of Bali's iconic temples.
Canggu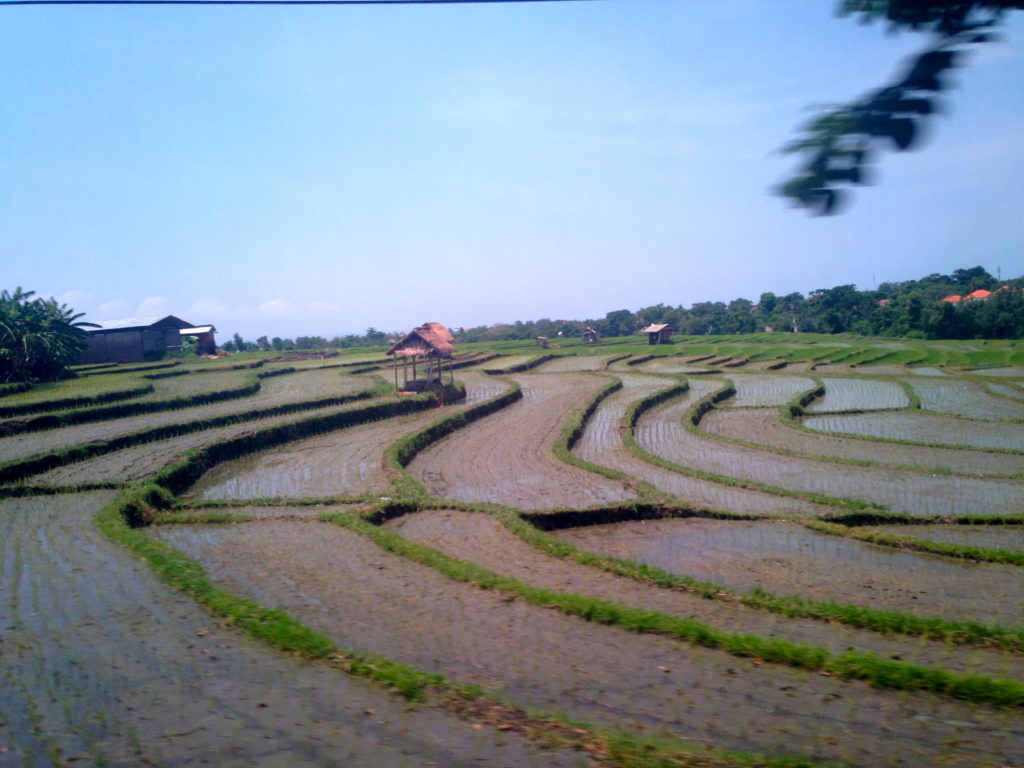 Canggu is a really cute little town that we stopped in for lunch. It is by the beach but is also full of rice fields, so it's like the best of both worlds for Bali! We ate at the Betelnut Cafe, which is perfect if you're craving something healthy. The smoothie bowls are delicious!
Padang Padang Beach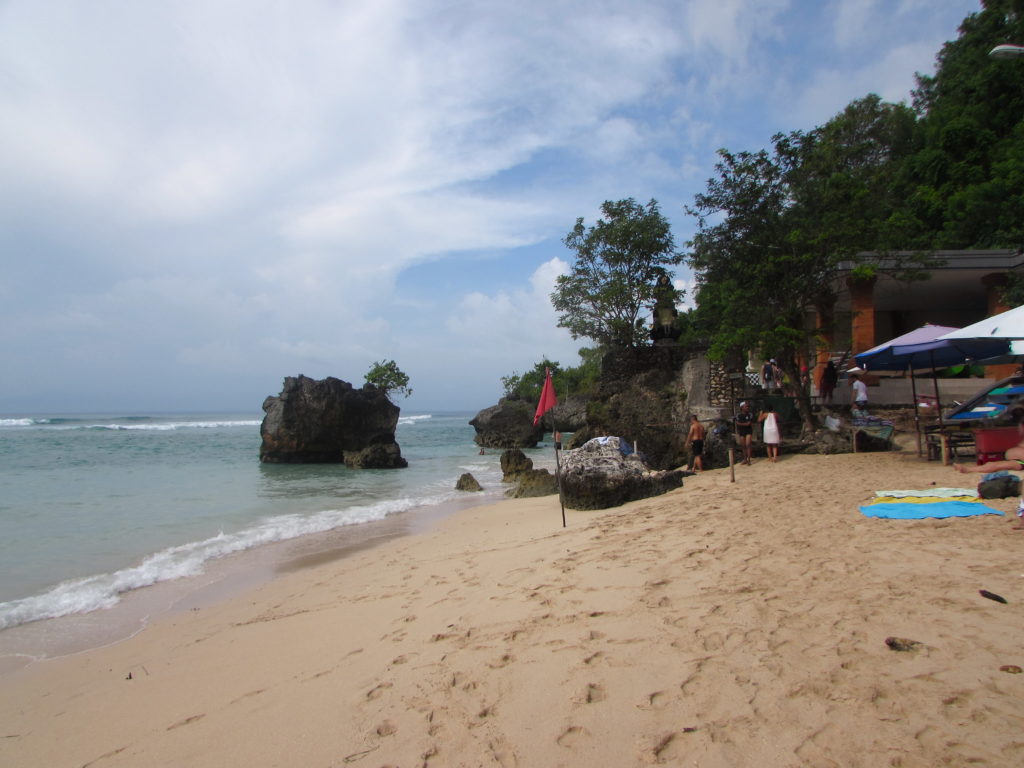 If you've seen Eat, Pray, Love you may recognise this beach, because it was one of the spots where they filmed for the movie. It's a really pretty beach that you walk down through a sort of rock tunnel to get to which is really cool!
Palawan Beach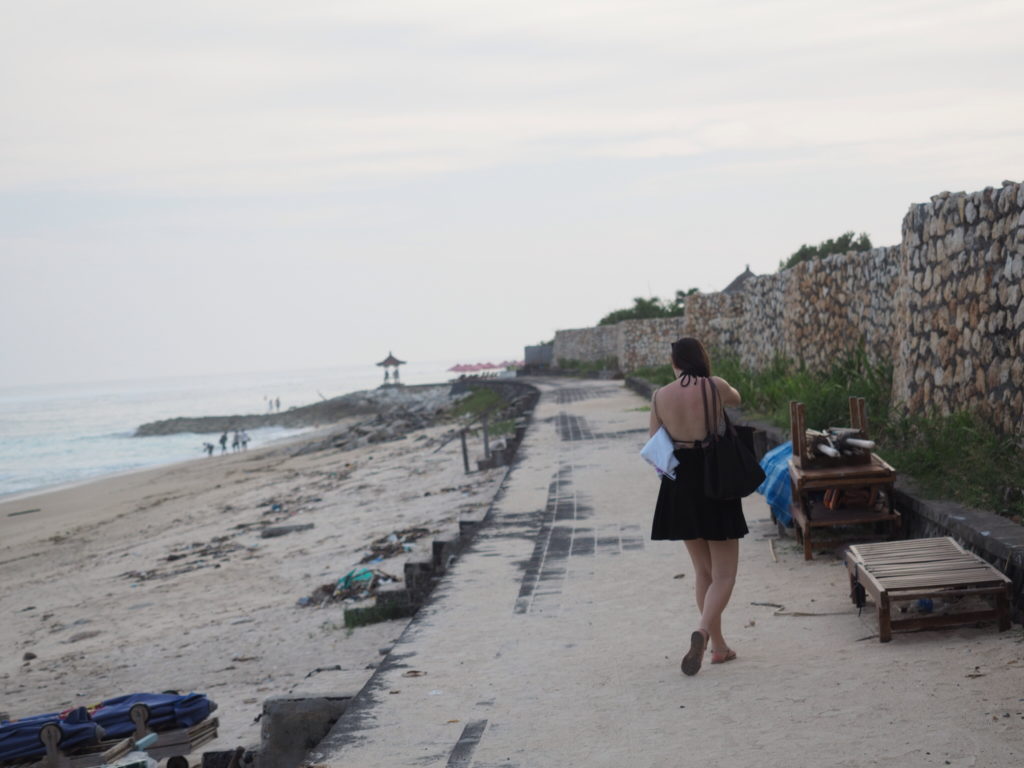 This is one of the newer beaches in Bali. Well I guess not necessarily new since the beach has probably always been there, but it's just starting to get built up. There are some resorts being built around the area but it's still pretty quiet and under-the-radar so it's a good spot to visit before it gets too popular!
Gili Islands
The Gili Islands are what you imagine when you think of a tropical paradise. Motorised vehicles aren't allowed so it feels like Bali might have before modern technology. You can easily walk everywhere if you want, otherwise you can rent a bike or take a horse and carriage ride. Gili Trawangan is the biggest, and while it has a reputation of being a party place, once you're away from the small area by the port, it's quiet and peaceful. There are lots of great restaurants, movies on the beach, and some good snorkelling. Gili Meno is the quietest island, perfect if you're looking for a secluded island getaway. And Gili Air is like a fusion of the two, quiet but with enough excitement to keep you entertained.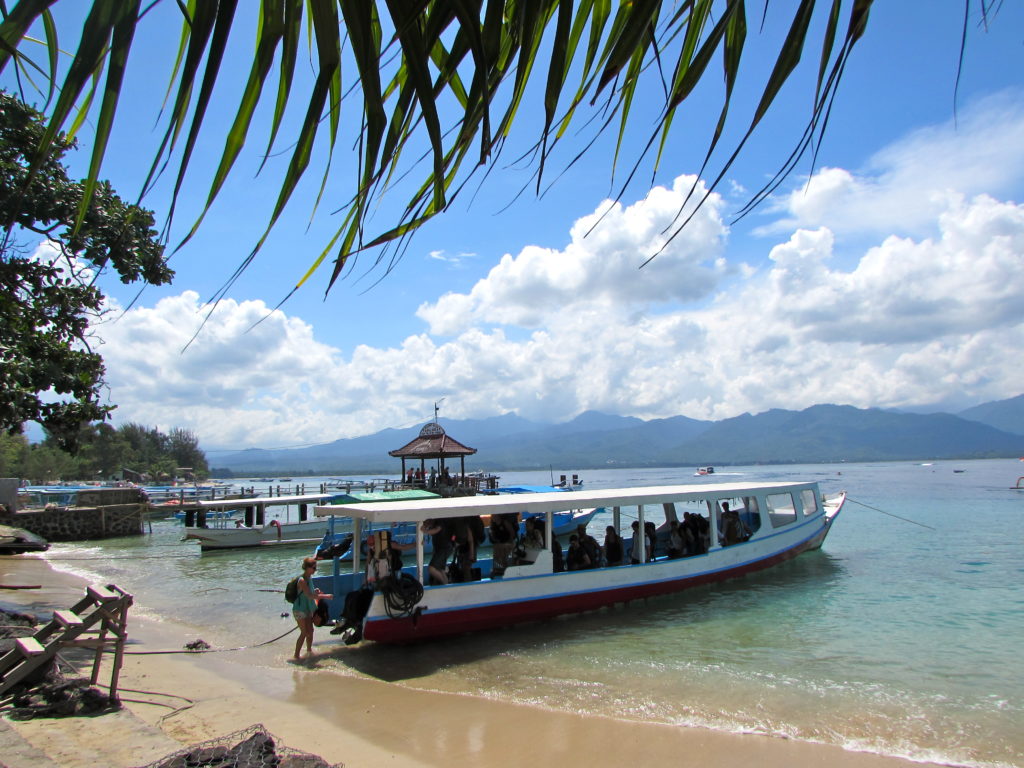 Things to see and do:
Go snorkelling or diving
No matter which Gili Island you visit, there will be great snorkelling and diving spots at each. There are plenty of day tours on offer that take you to the best spots, or you can rent some snorkel gear from a vendor along the beach. In Gili Trawangan, the northeast corner of the island has the best snorkelling.
Island hop to the other Gilis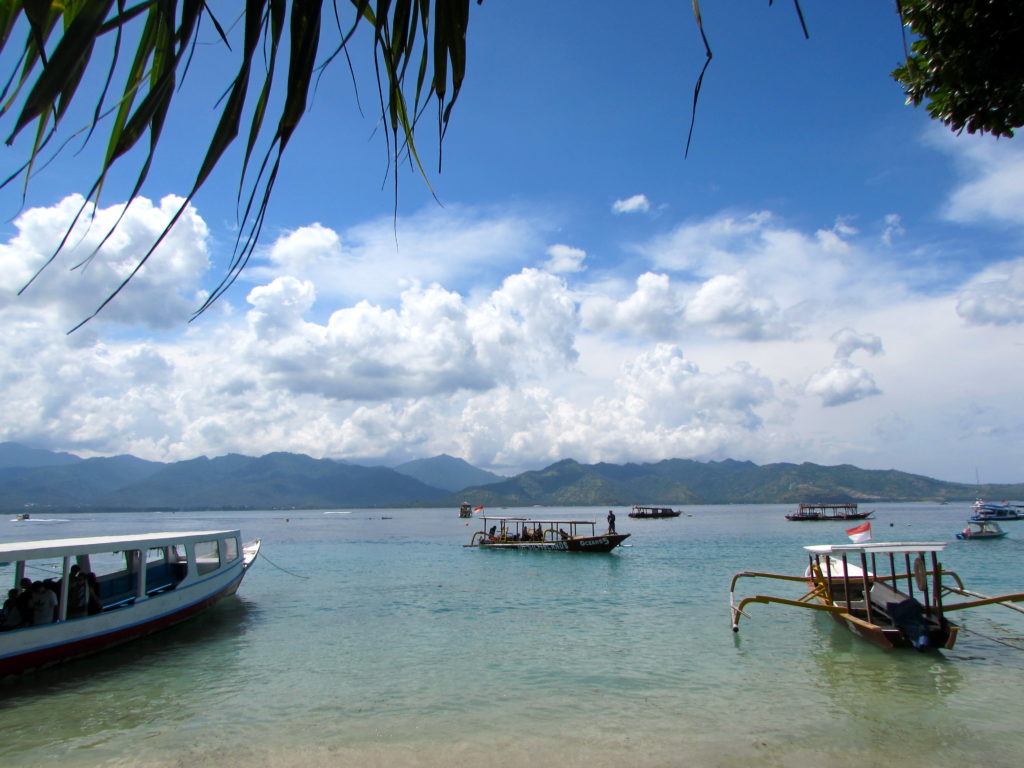 Since the Gili Islands are all so close together, it's so easy to island hop over to another one for the day. Every morning, there are island-hopping boats from the main port of your island to take you to the others, and then a return boat in the afternoon. We stayed on Gili Trawangan and took a boat over to Gili Air for a day, which was a nice change of scenery.
Walk or bike around the perimeter of the island
All of the islands are small and very easy to get around. There will be a dirt path going around the perimeter of each island that passes through all the cool areas. You can walk it in about an hour and a half for Gili T (less for the other two), or you can rent a bike for the day.
Go for a swing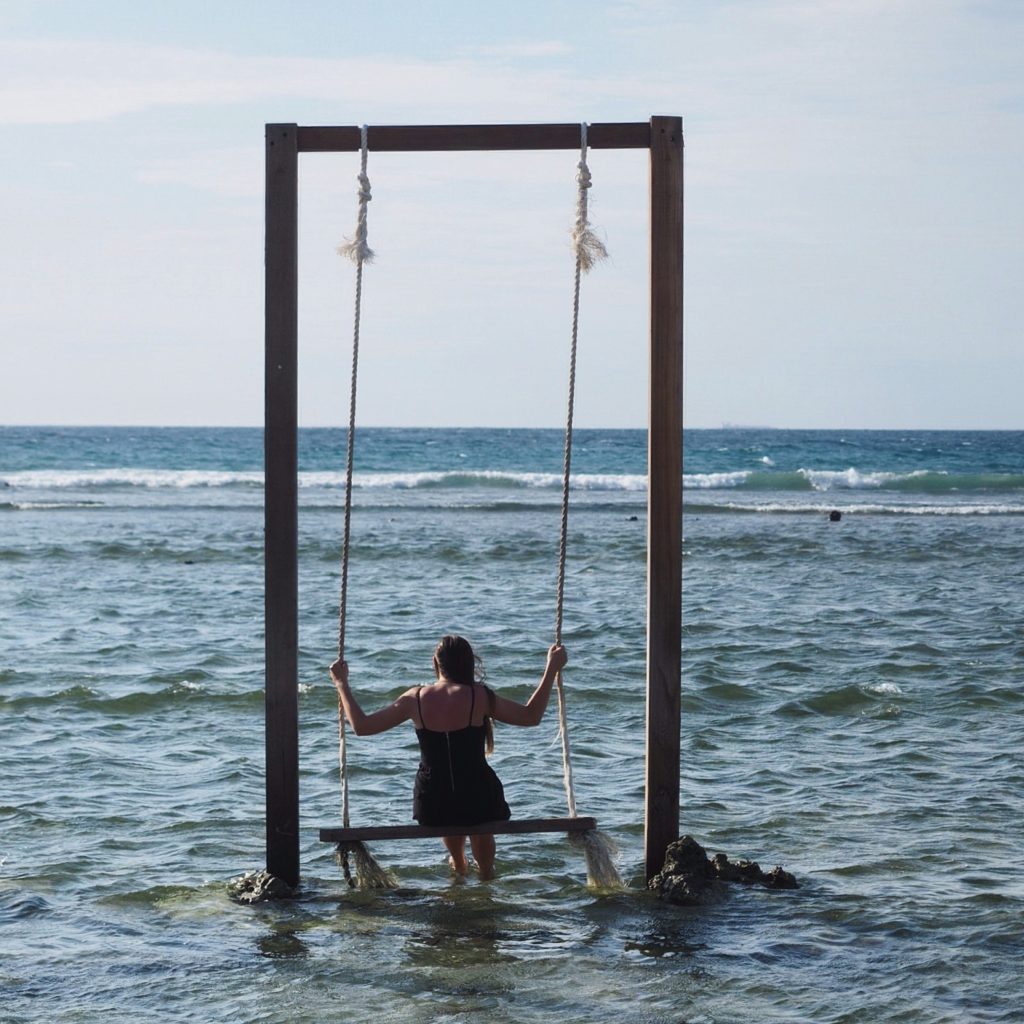 You've probably seen some of the iconic Gili Island pictures of people swinging in the water! Getting a photo on one is a must, and they are especially scenic at sunset.
Watch sunset from the west side of the island
No matter what island you're on, the sunset in the west will be beautiful. On Gili T, you see the sun setting over Bali, and from Gili Meno and Gili Air, you see it setting over the neighbouring island.
Watch a sunset movie on the beach
While on Gili T, we saw so many beach bars that show movies on the beach at night! There were similar signs on Gili Air, so it must be a thing that every island does. It honestly felt like the ultimate paradise, lounging on the beach watching a film, piña colada in hand!
Where to eat and drink: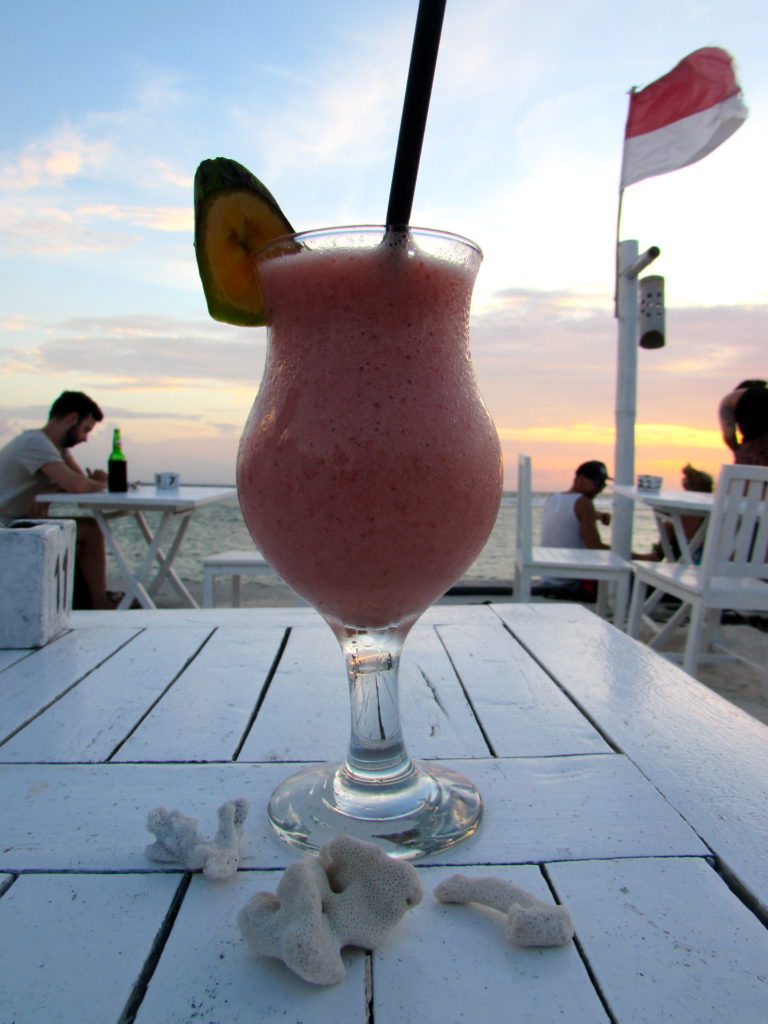 Like everywhere else in Bali, look for restaurants with "warung" in the name. On Gili T, there are places scattered around the perimeter of the island, with the majority of restaurants by the port and along the northwest side of the island. The port has more options, but is also a lot rowdier, so we preferred the peaceful north side of the island. For drinks, we enjoyed the Ombak Sunset bar where there was a great sunset view and Le Pirate for yummy cocktails and movies on the beach. We weren't looking for any big nights out, but if you are, there is a big backpacker scene along the port.
Where to stay: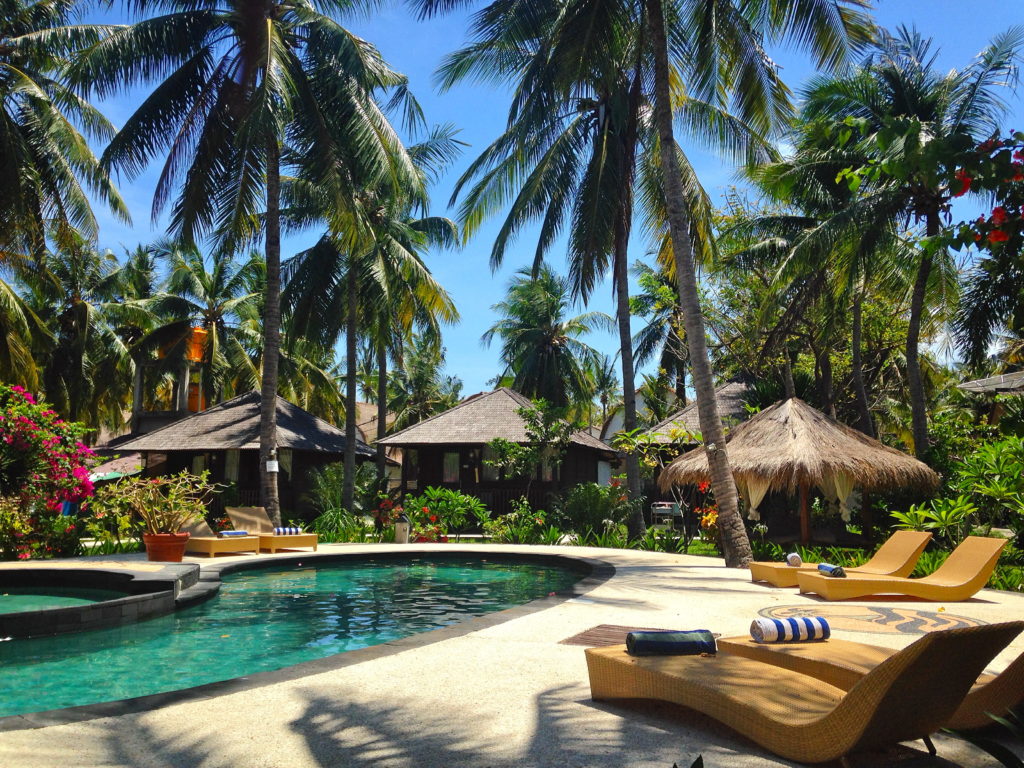 We stayed on Gili T at the Trawangan Oasis on the north side of the island. I think it was honestly one of the nicest hotels I've stayed in and one of the cheapest too! The pool area felt like a tropical oasis and the room was huge! The bed was honestly like two double beds put together, so four people could have easily stayed there comfortably! There is a great complimentary breakfast each morning and bikes available for hire. We only paid $36 per night as well!
Ubud
Ubud is considered the cultural hub of Bali. Rather than being surrounded by beaches, you're in the heart of rice fields. There's lots of history and cultural icons to visit around the city, and you're close enough to take days trips to sights further north. To me, this was the spot that felt the most "Bali".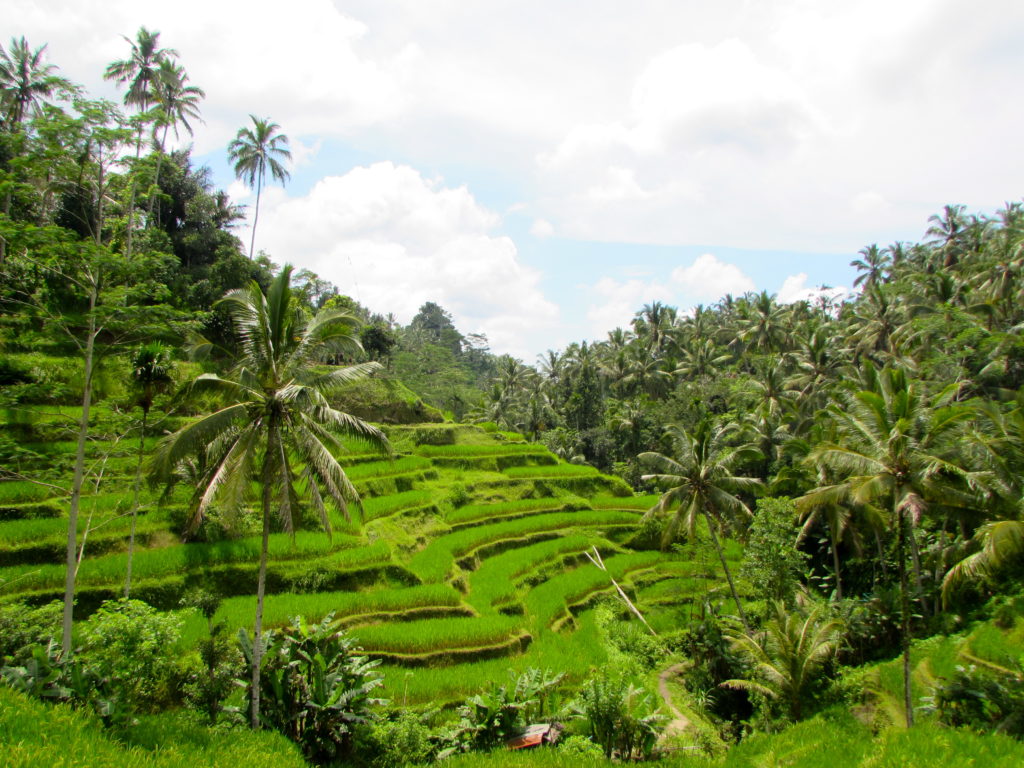 Things to see and do:
The Sacred Monkey Forest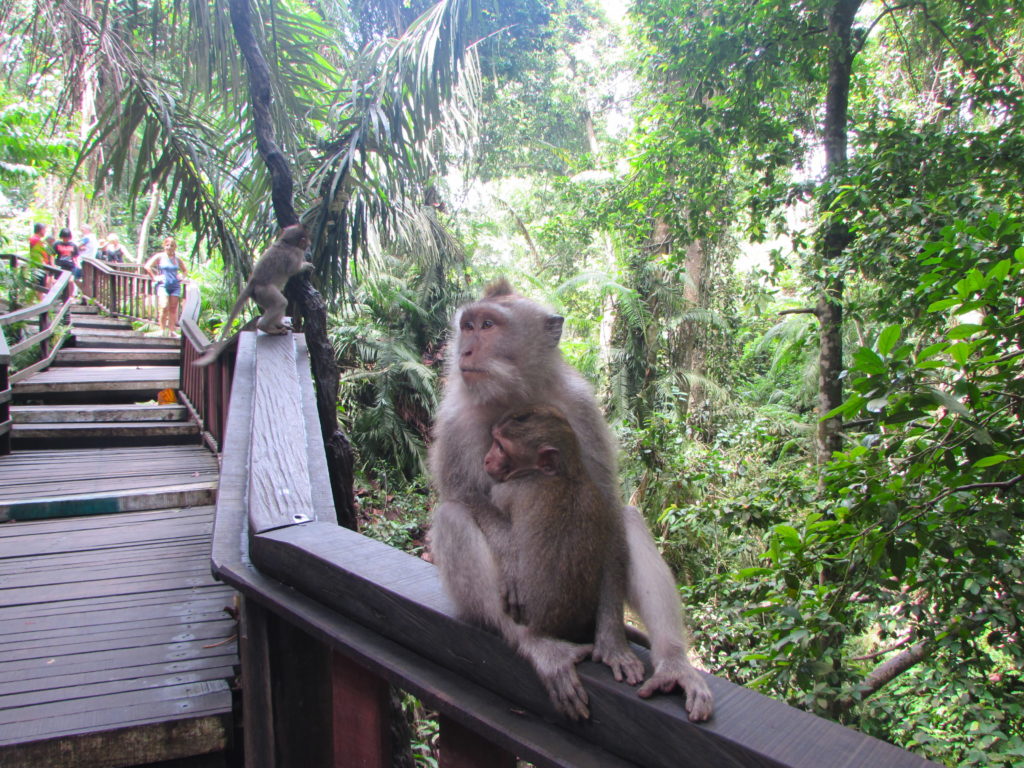 One of the coolest things to do in Ubud is visiting the Monkey Sanctuary! It's a forest and series of temples with hundreds and hundreds of monkeys. They're used to people so most of them are very friendly and curious. They'll come right up to you and even jump on your head or shoulders! A word of warning though: be careful not to step on any monkeys' tails. I was surrounded by monkeys at one point and accidentally stepped on one's tail who then proceeded to start biting and scratching my leg. The monkeys are all vaccinated against rabies, but it still isn't fun! Also make sure you don't have any food in your bag. The monkeys will smell it and won't give up until they get it.
Pura Dalem Agung Temple
Ubud has lots of historical and cultural places to visit, including several temples. This is one of the most famous and is located right in the Monkey Forest.
Saraswati Temple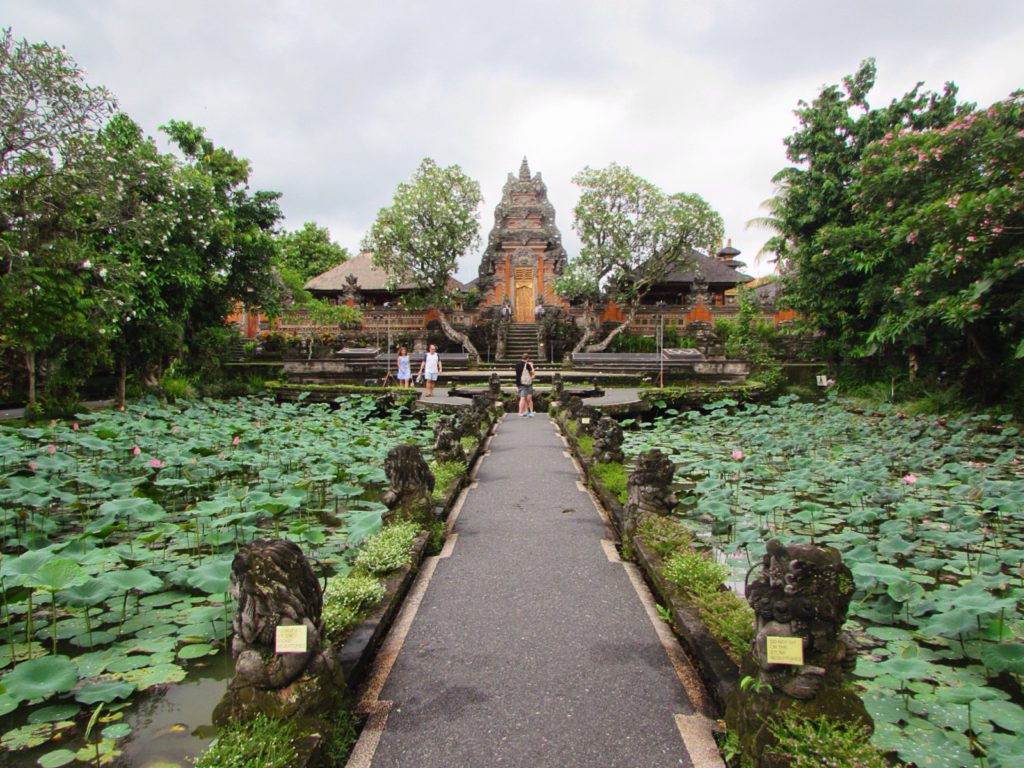 I think of all the temples we visited, this was one of my favourites. To get right up to the temple, you walk through a walkway between ponds covered in lily pads. It's beautiful and makes for some pretty great pictures.
Ubud Old Town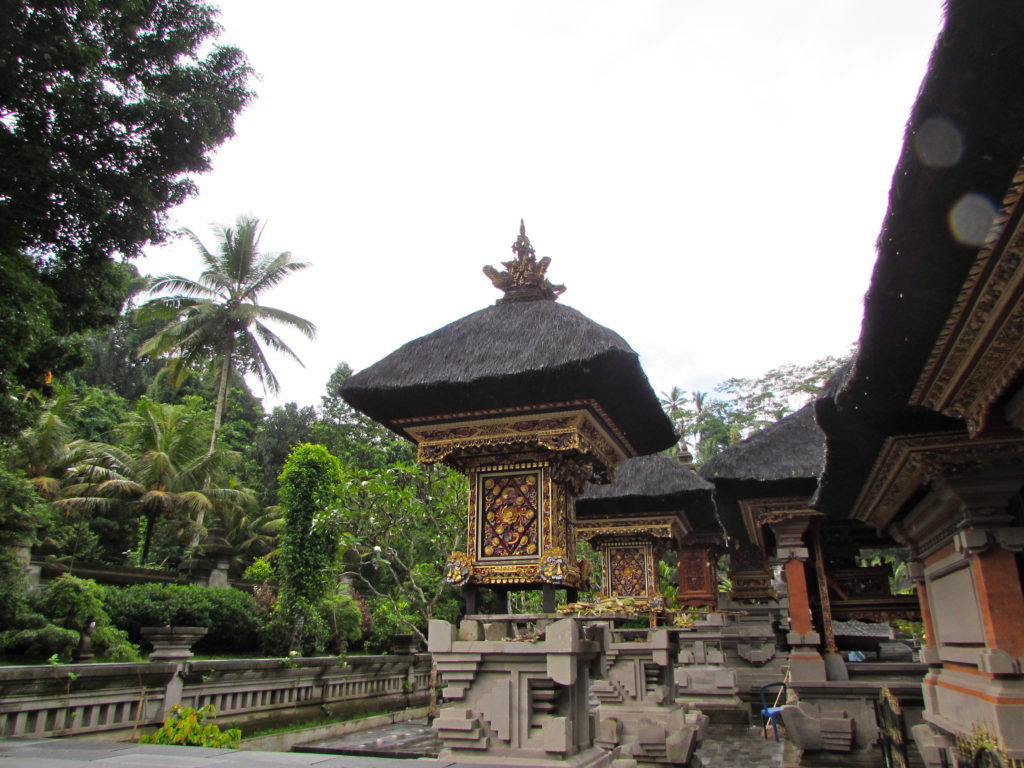 Ubud isn't a big city, so it's easy to walk around. The central bit of the city is considered the Old Town and is full of beautiful architecture. Ubud is a very artistic town, and this area of the city can attest to that.
Pasar Seni Market
If you're looking for some souvenirs from your trip or just feel like doing some shopping, this is the place to go. It's massive and has so many different vendors selling everything from clothes and jewellery to art and traditional Balinese artifacts.
Ubud Palace
This was once the home to the royal family of Ubud. It was this spot that transformed Ubud into the artistic town it is now when lots of artists from around the world were hosted in the palace to work on their art. You can walk through the beautiful courtyards and see some traditional Balinese architecture and art.
Get a massage on a rice field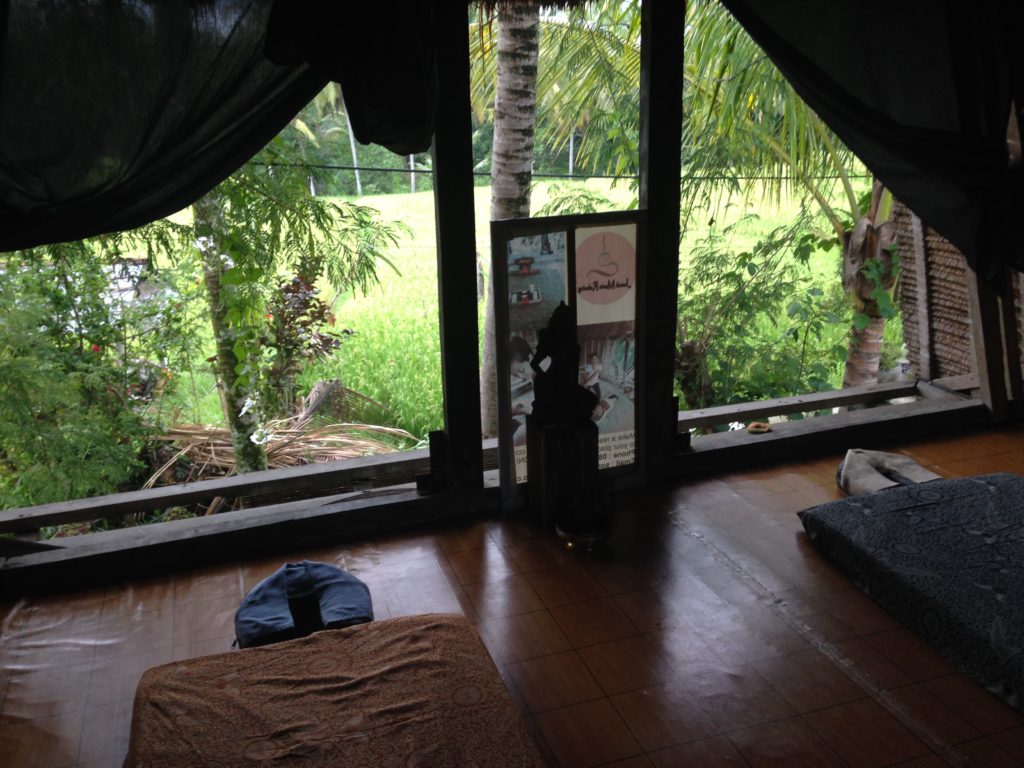 And of course you can't leave Bali without getting a massage! We went to a place called Juwuk Manis and it was so perfect. We were taken to a room overlooking a rice field and got the most relaxing massages. It was only $9 as well, which was incredible! I had never had a massage before and have been so wanting another one ever since. Too bad they're so much more expensive in Australia and New Zealand.
Where to eat and drink: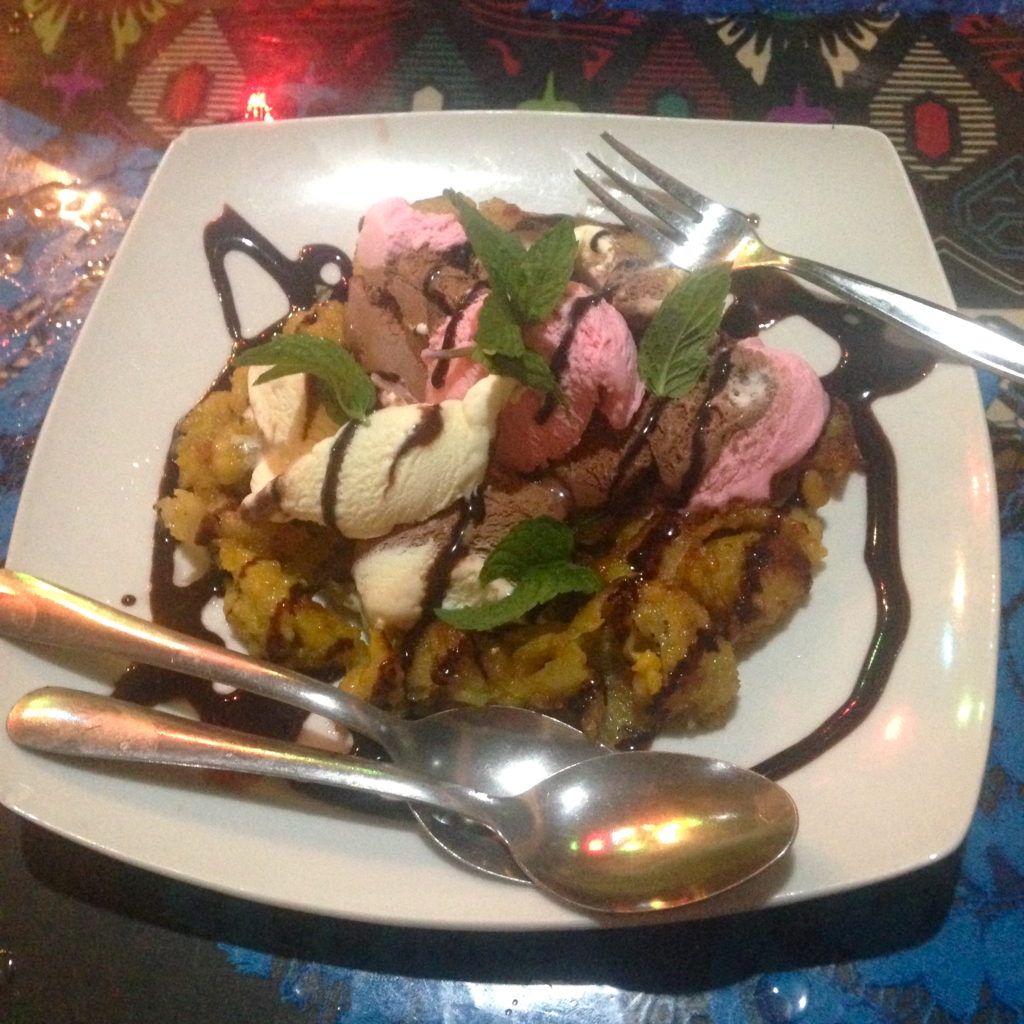 I know I sound like a broken record, but go anywhere with the word "warung" in the name! They're honestly the best and super cheap as well. Our favourite was a place called Warung Adji that had just opened a few months earlier. The owner is from Jakarta and was one of the friendliest people we met on the trip! His food was great and authentic and it's priced by local standards rather than tourist standards. If you like spicy food, you can take on some of his insanely spicy Indonesian noodles that range in level 1-12 in spiciness. The pisang goreng (fried banana) dessert is delicious to finish off your meal. There are also notes on the walls from all the travellers who have eaten there, so be sure to leave a message of your own!
Where to stay: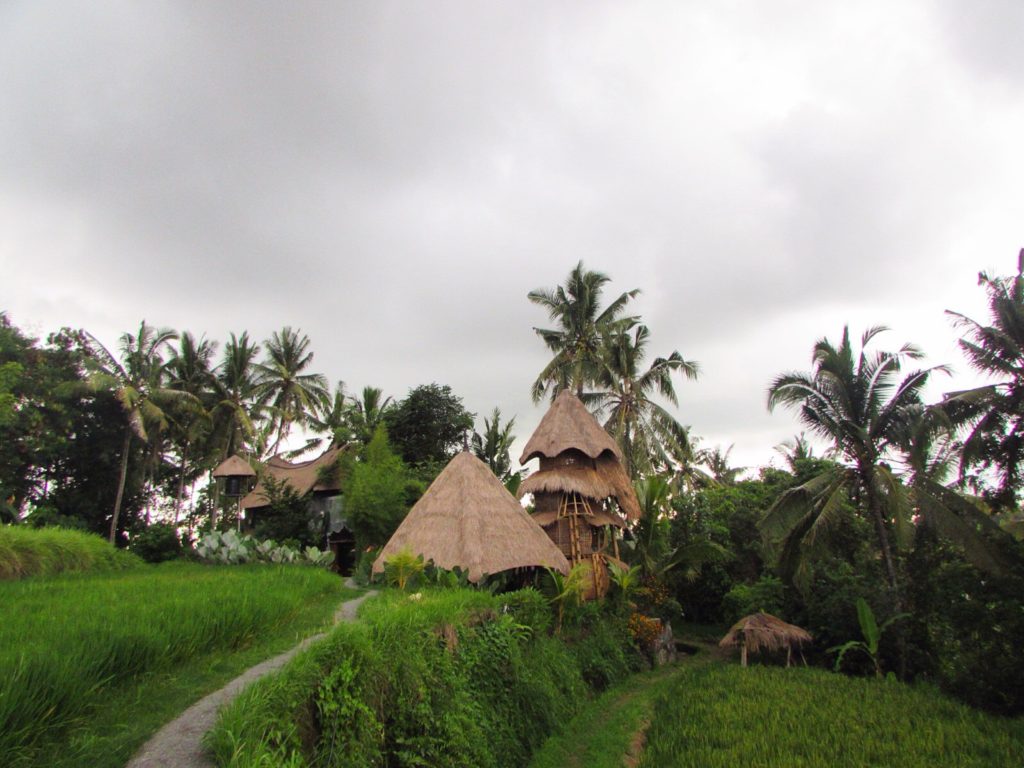 For a really authentic experience, book into the Firefly Lodge. It's literally smack dab in the middle of a rice field and the views are so pretty! It can be hard to find, but if you plan a time with the managers of the hotel, they can pick you up by motorbike from a nearby restaurant. We found the lodge through Airbnb (one of my favourites when travelling!) and stayed in a room called the "Bamboo Bird's Nest." It was insanely cool! There were small rooms made of bamboo stacked up into four levels. We were on the bottom level, but for the higher ones, there is a bamboo ladder to climb. It felt like glamping at its finest! We paid $27 a night for the Bamboo Bird's Nest, and they have different types of rooms and cottages that are also well priced.
Day trips:
Tegallalang Rice Terraces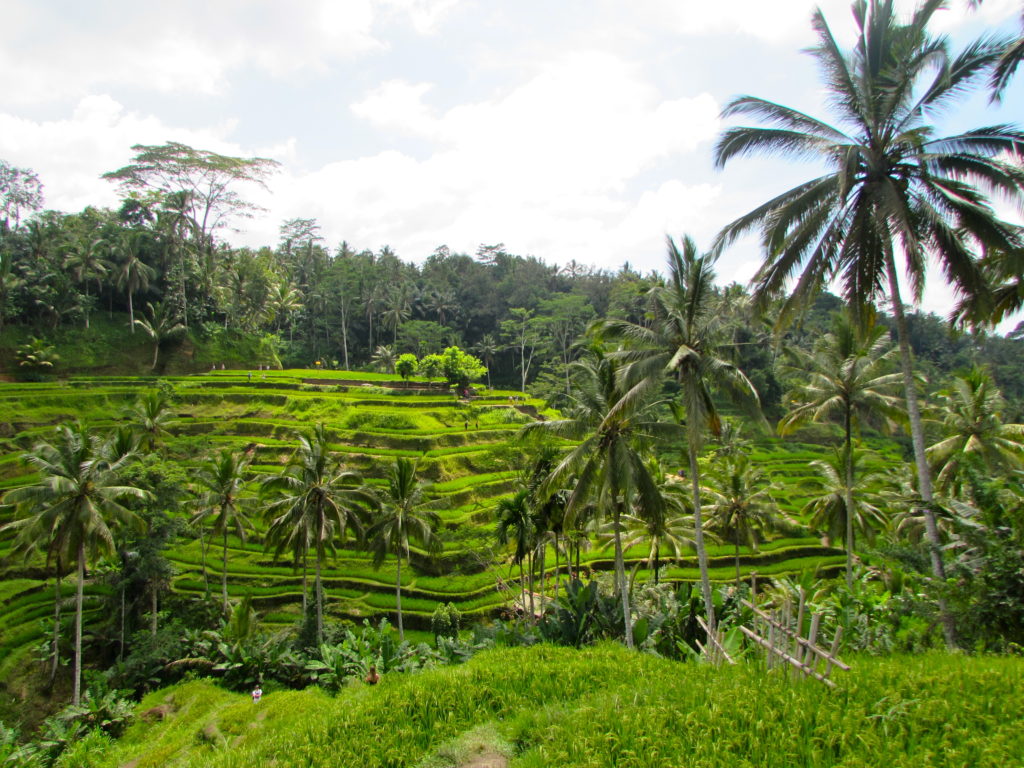 These are probably the most famous rice terraces in Bali and for good reason! They are so beautiful and you can hike all around them. It does get pretty muddy though so careful not to slip!
Goa Gajah Cave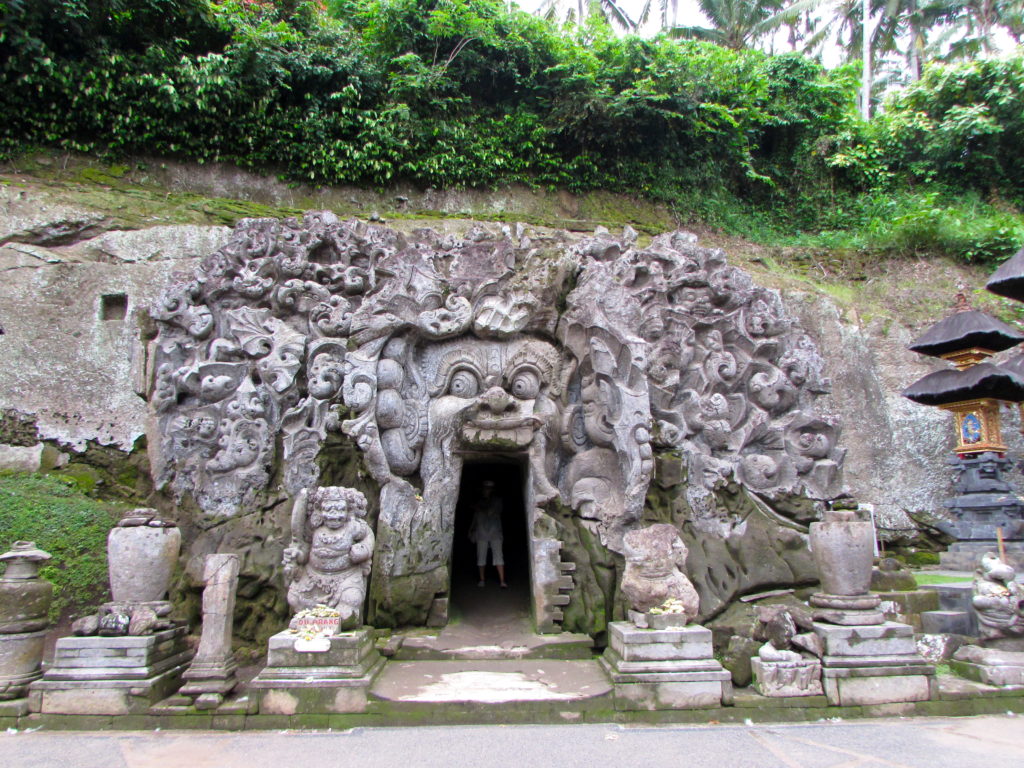 This is one of the temples near Ubud. There are some different features to the temple, the most iconic being the "Elephant Cave." There are also fountains and an area you can walk down into that feels like a tropical rainforest.
Mount Batur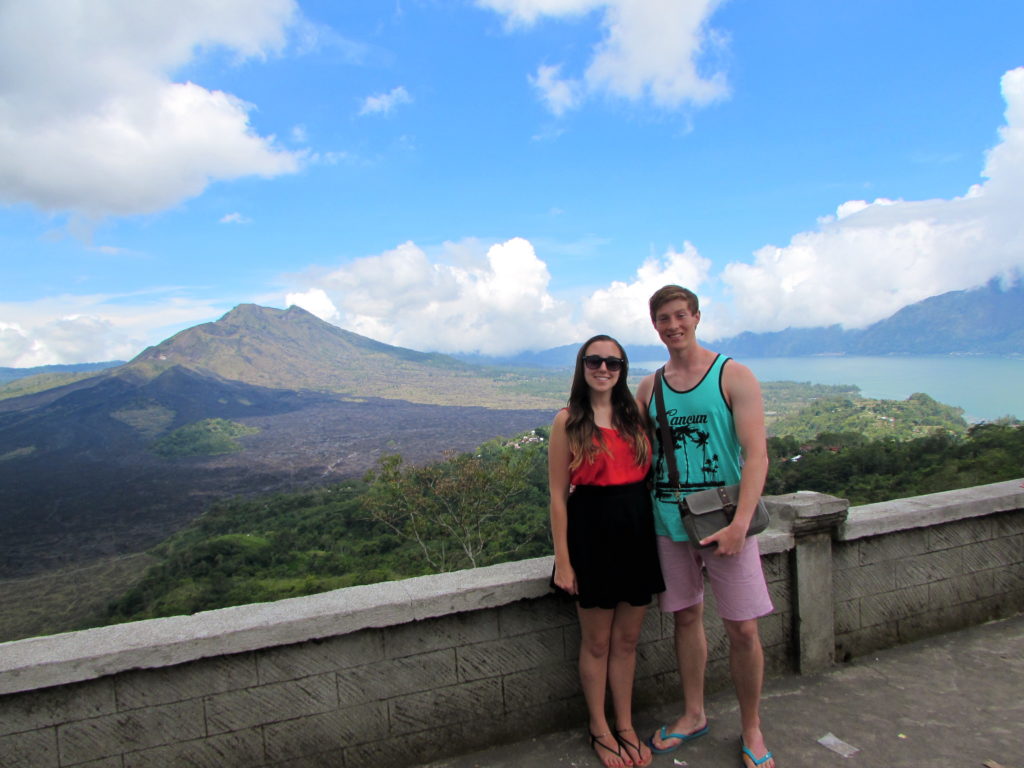 This is a volcano that is on the north side of Bali. It's really pretty and is sacred in the Hindu religion (which most Balinese people follow). If you are feeling truly adventurous, there are some companies that will pick you up early from your accommodation and take you to the volcano for a sunrise hike.
Pura Tirta Empul Temple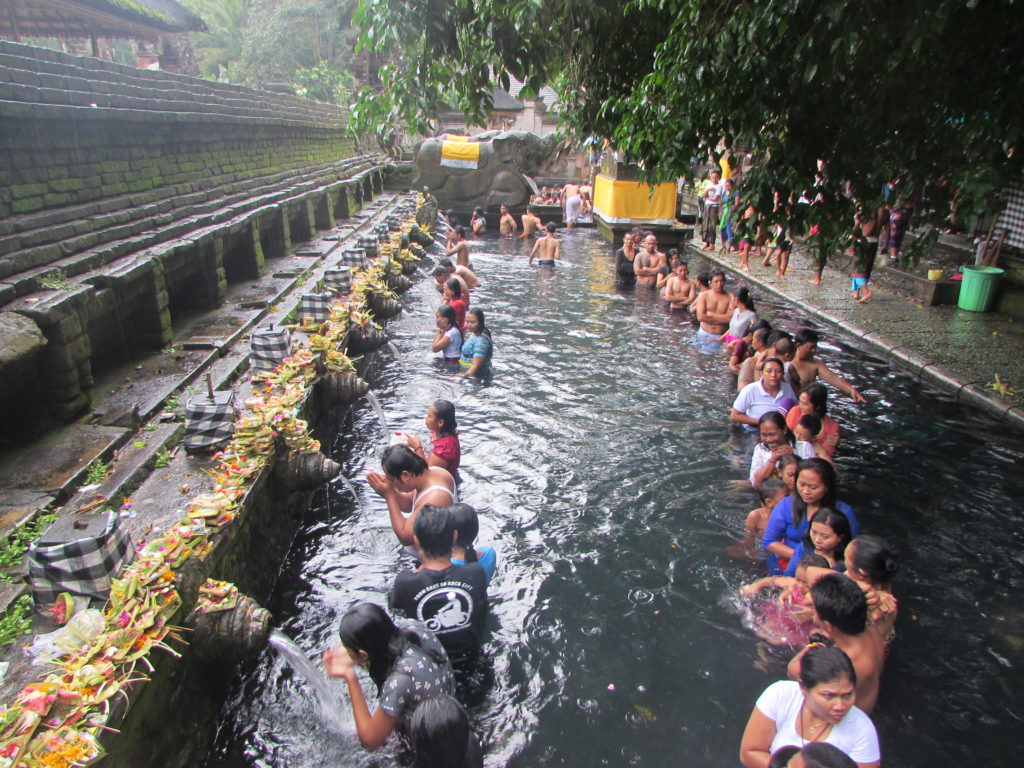 This is another one of the more well-known temples in Bali. At this temple, Balinese people will pray and then bathe themselves in and drink from the pools of holy spring water. This is meant to wash away any bad thoughts or curses that were placed on them by others.
Satria Coffee Plantation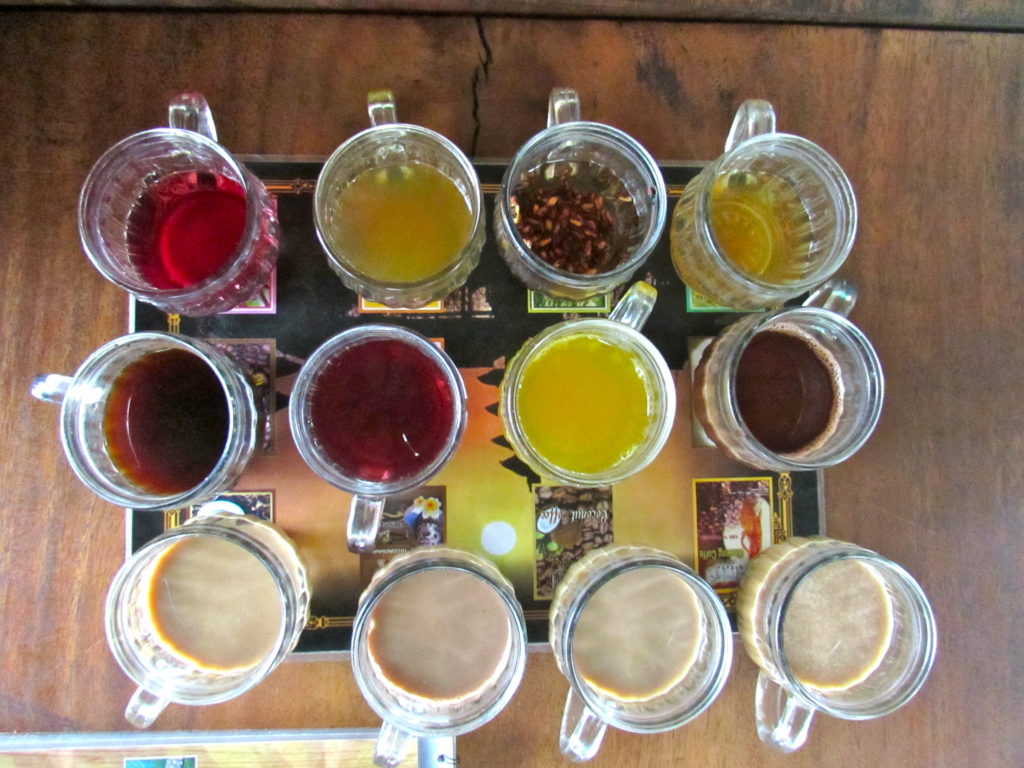 Bali makes some really great coffee and tea, and the coffee it's especially known for is "kopi luwak." This coffee is made from beans that are digested through a mongoose. The mongoose eats the coffee beans, which are later collected from their poop and cleaned well before being made into coffee. Sounds pretty gross, but it's really popular and pretty good actually! I'm not a coffee person, so that coffee was a bit strong for me but we got to sample different flavoured coffees and teas that they make which were delicious. We also got to see how they make the coffee, and I had a go at roasting some coffee beans!
Blangsinga Waterfall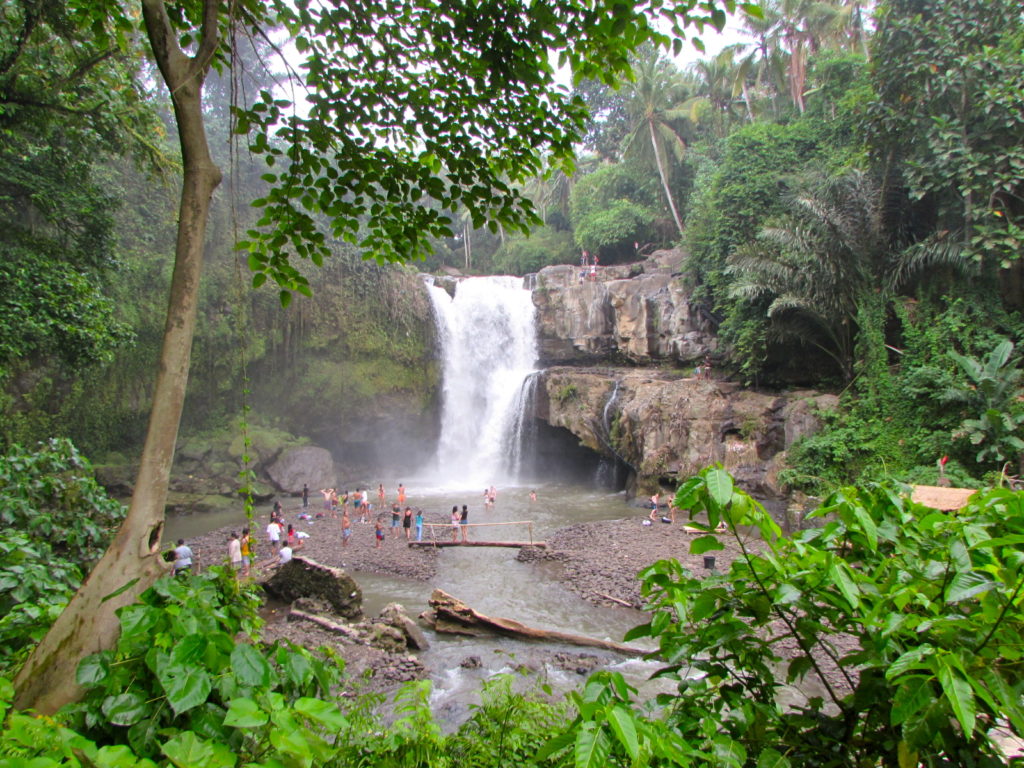 You can't go to Bali and not visit at least one waterfall! There are several all over the island, and one that we visited was the Blangsinga Waterfall. It's really pretty and if you want to escape the heat, you can go for a swim under the waterfall!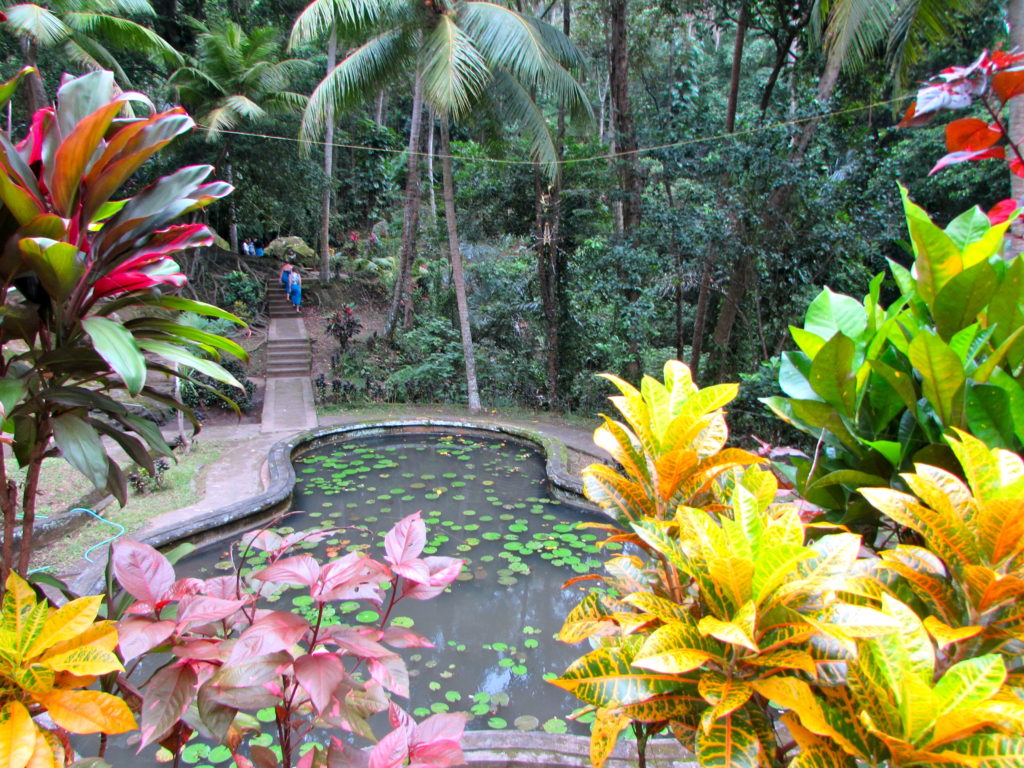 Between Seminyak, the Gili Islands, and Ubud you really do get to experience the best of what Bali has to offer—beaches, culture, history, food, adventure…
I had such an amazing time visiting Bali. Everywhere you visit is so pretty and the culture is really interesting to learn about. This was my first visit to Bali, but I can assure you it won't be my last! I can't wait to return and see even more of Bali as well as the rest of Indonesia.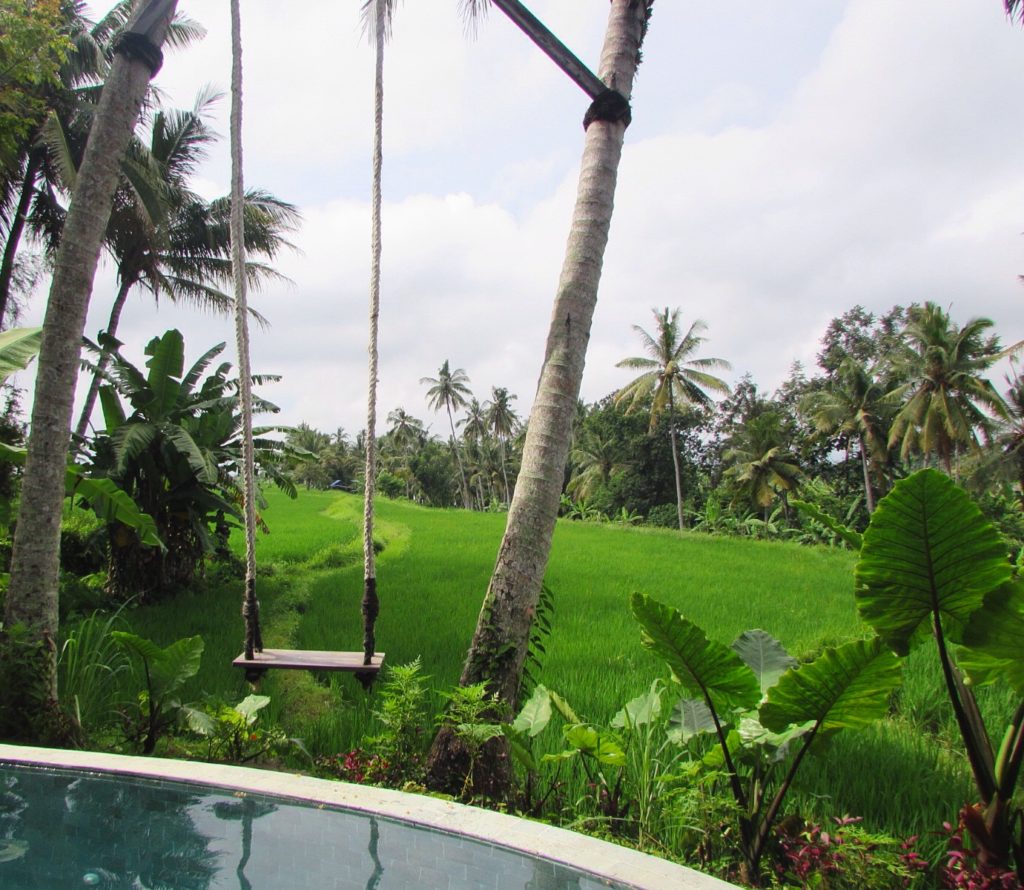 What are some of your favourite places to visit around Bali? Or if you haven't been yet, what interests you most about visiting Bali? Let me know in a comment!
Hi I'm Christie, a 28-year-old girl originally from Boston who has spent time living in New York City, North Carolina, France, Australia, New Zealand, and London. I love moving to new places and exploring them as a local, and I can't see my nomadic expat life stopping any time soon! I have no greater passion than travel, and when I'm not exploring I spend my free time reminiscing on past trips and daydreaming about future travel.